White Chocolate Cranberry Oatmeal Cookies
White chocolate cranberry oatmeal cookies made with roasted slices almonds, jumbo oats, cranberries, orange zests and topped with melted white chocolate.
I love chocolate, and white chocolate is my soft spot. This oatmeal cranberry cookie recipe frosted with melted white chocolate is a slightly adapted version by one in Ottolenghi & Helen Goh's new baking book, Sweet: Desserts from London's Ottolenghi. They are so easy to make you just need to mix the ingredients in a certain order. Plus chilling the dough in not necessary, it is easy to roll out and to work with. Hope you love them as much as I do. It makes a beautiful gift 😊.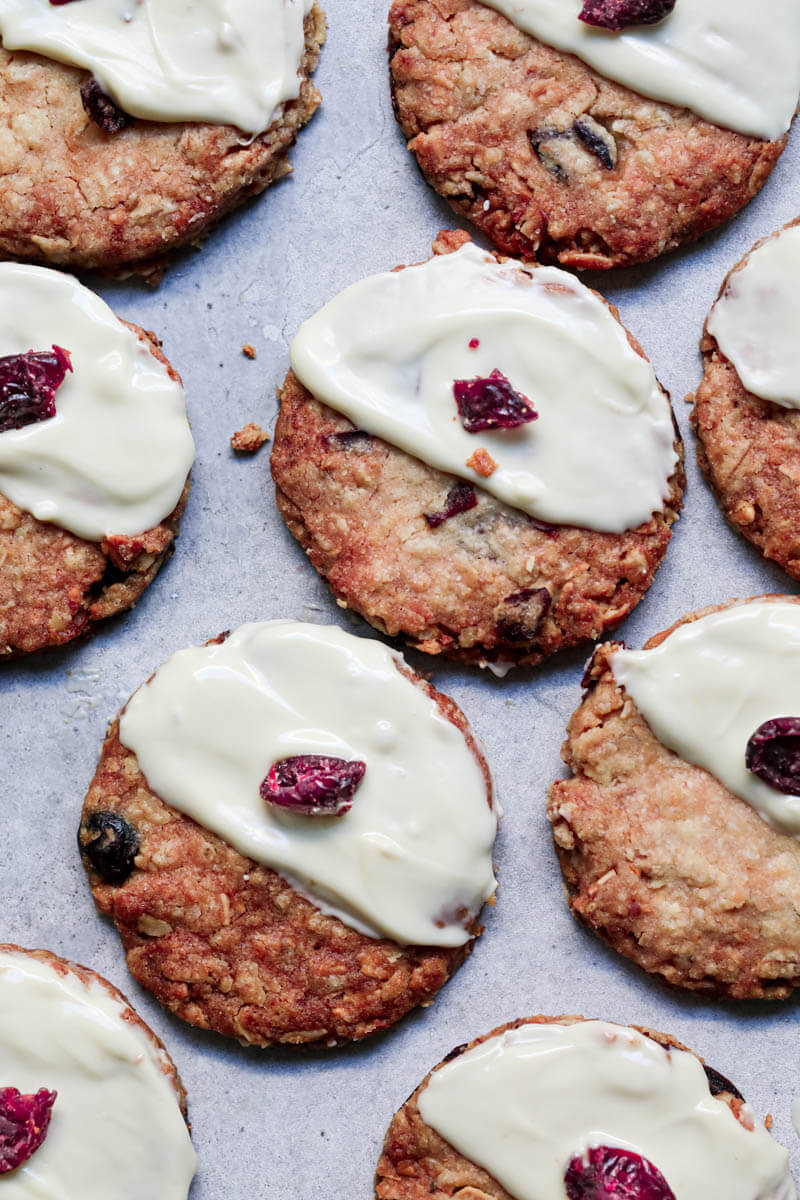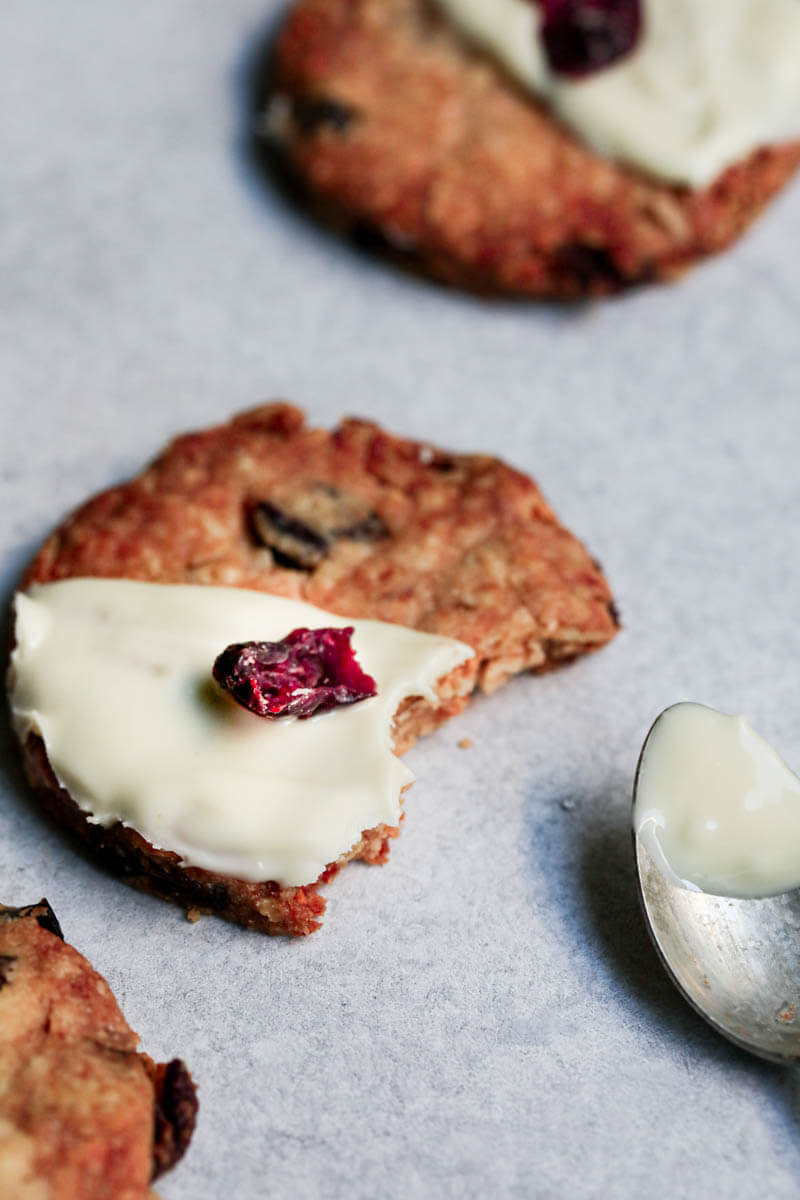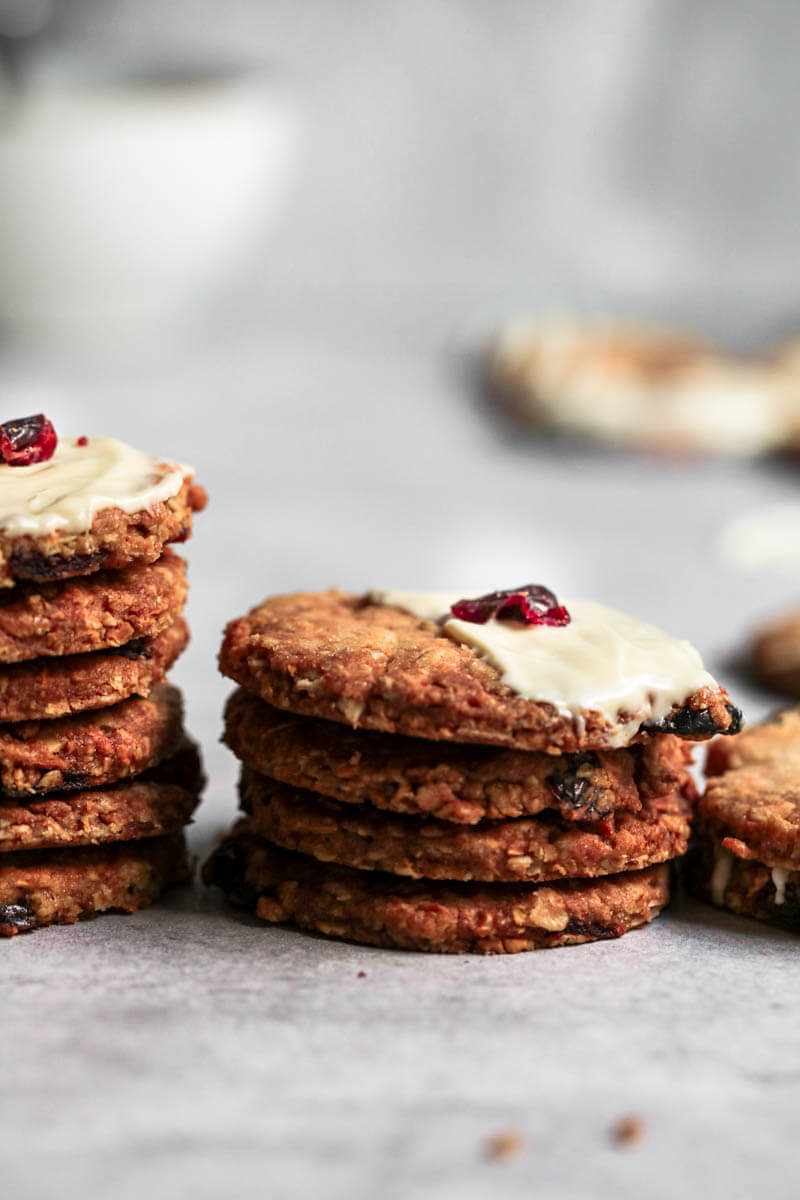 What will you need to make this oatmeal cranberry cookie recipe?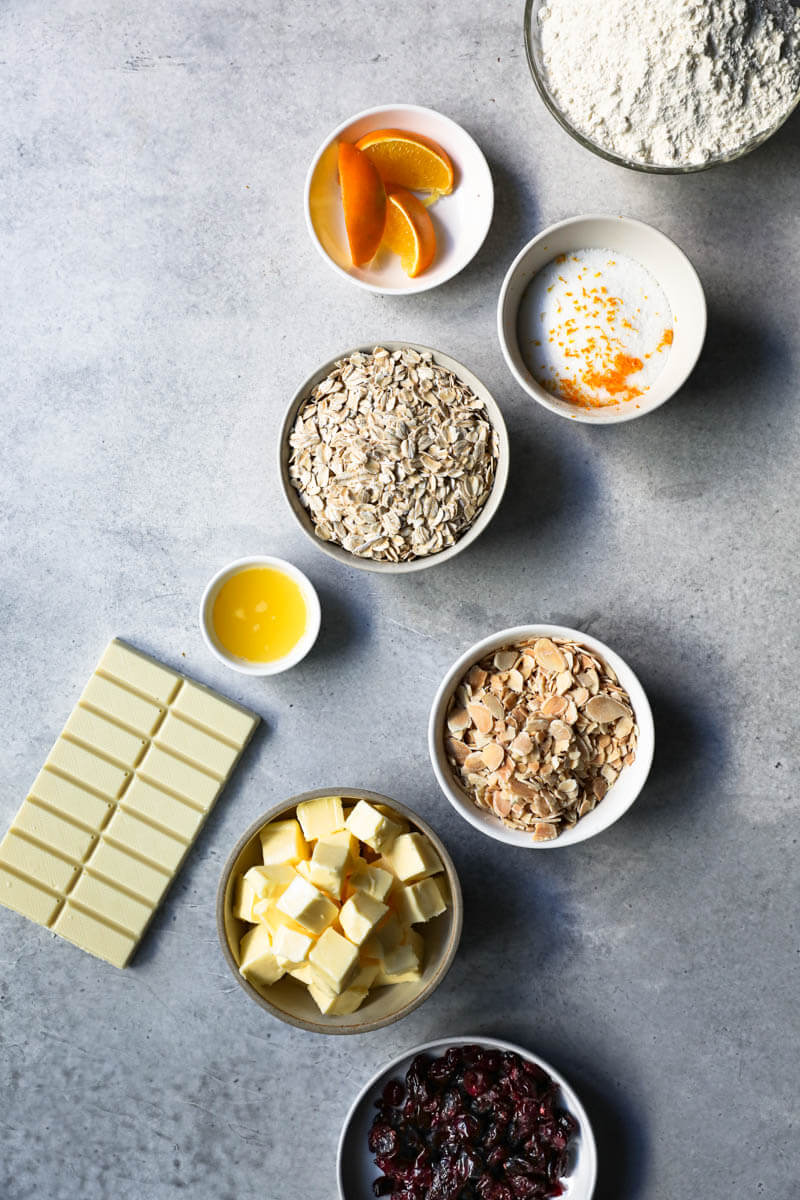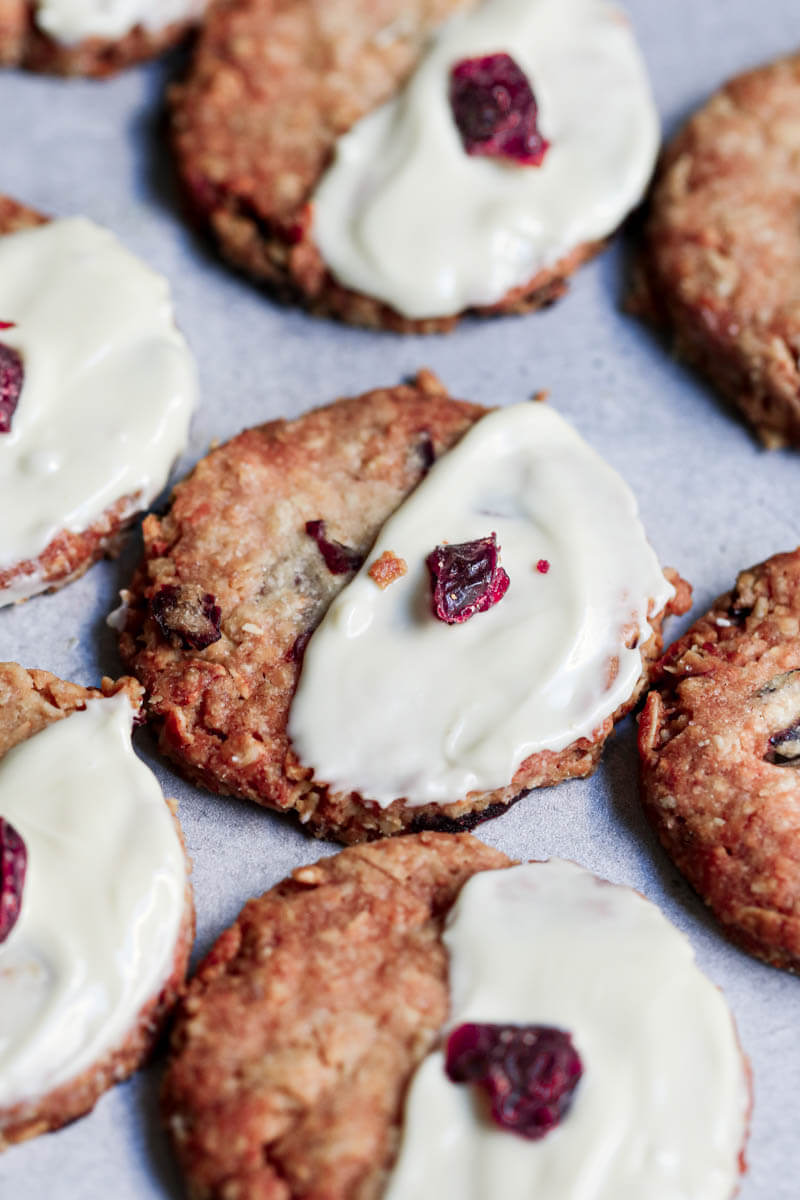 How to make oatmeal cranberry cookies?
This recipe is so simple it only requires mixing the ingredients together, rolling out the dough, cutting and baking the cookies.
This dough is extremely easy to work with and it requires no chilling. You can put them together in no more than 30 minutes.
To make these simple oatmeal cookies:
Mix the softened butter, the sugar, and the freshly grated orange zest until combined about 3 minutes. Do not overmix, not looking to create volume. Just mixing ingredients together.
Add the flour, crushed sliced almonds, the rolled oats and the salt mix until the dough has come together.
Finally add the cranberries and the orange juice and mix until combined.
Over a lightly floured surface roll out the dough to 4/5 mm (0.2 inches). Its best to divide the dough in 2 parts and work with each one separately. Easier to handle if the dough is not as big.
Cut 5 cm (2 inches) rounds, transfer to a baking tray lined with parchment paper and bake for about 18 minutes. They should be golden and evenly coloured.
Let them cool down over a wire rack and then frost with the melted white chocolate.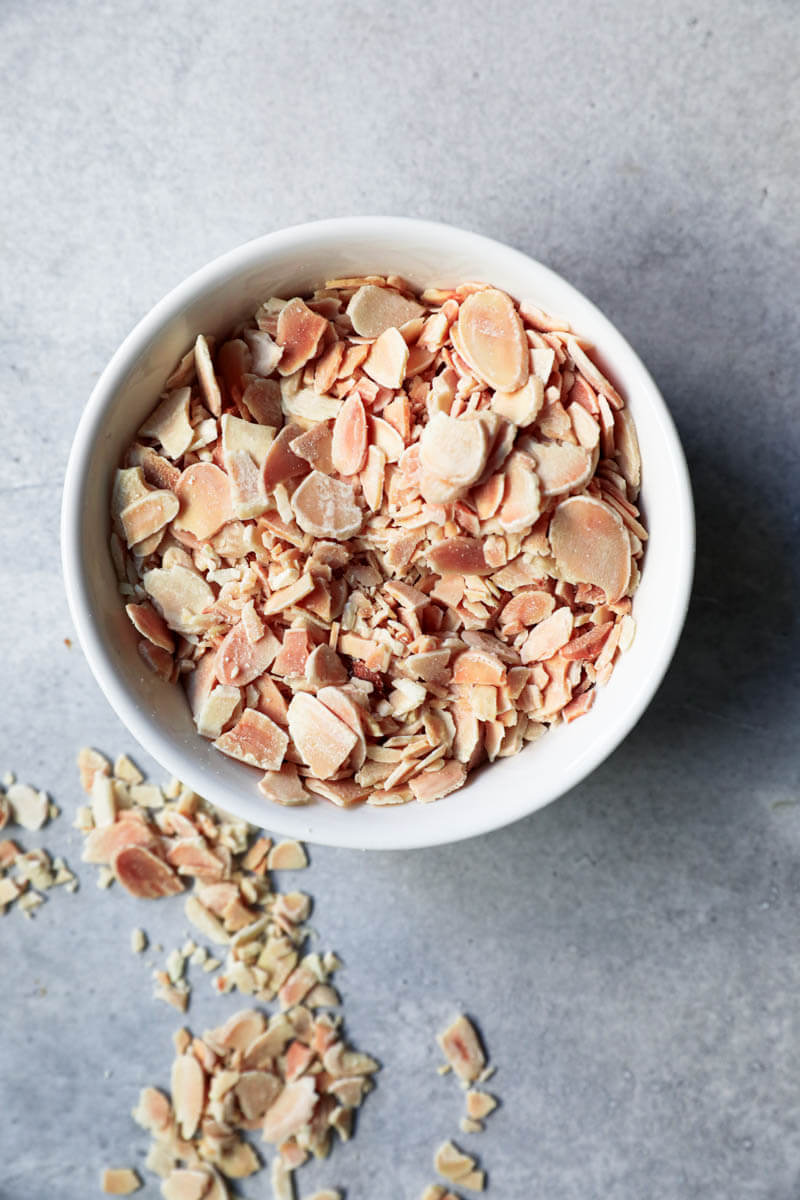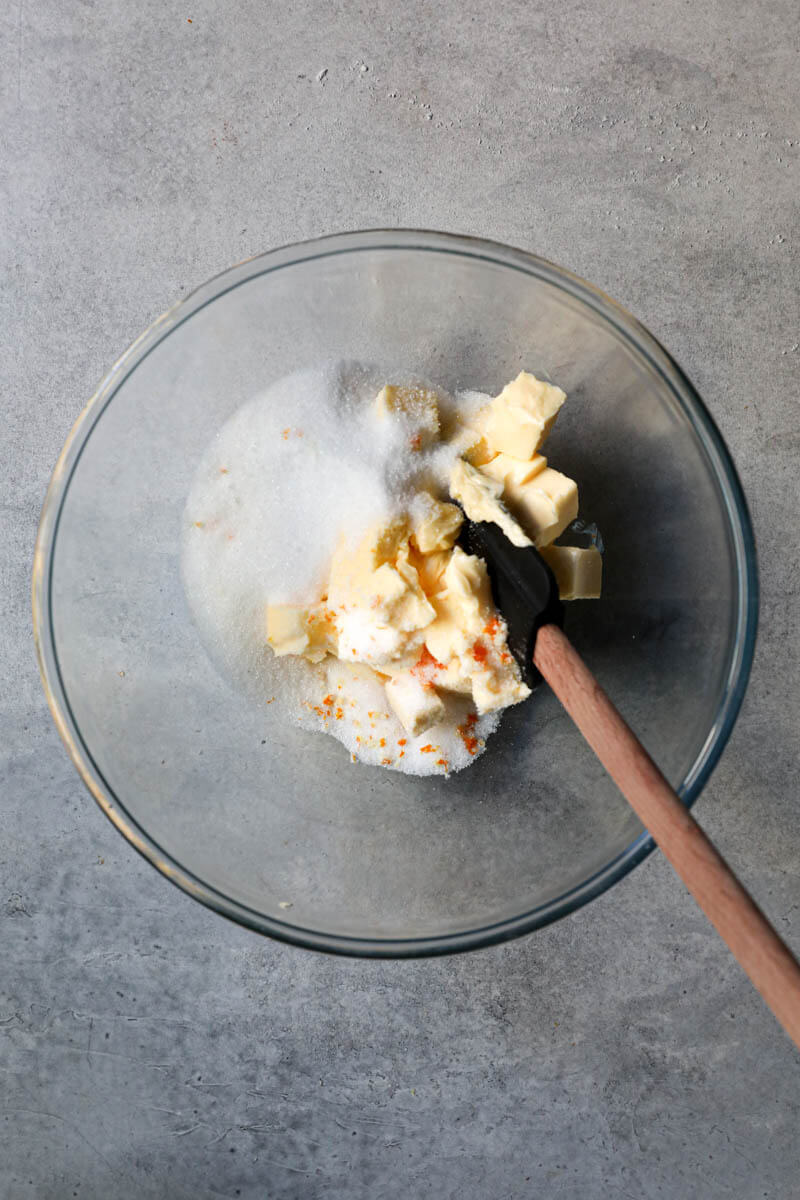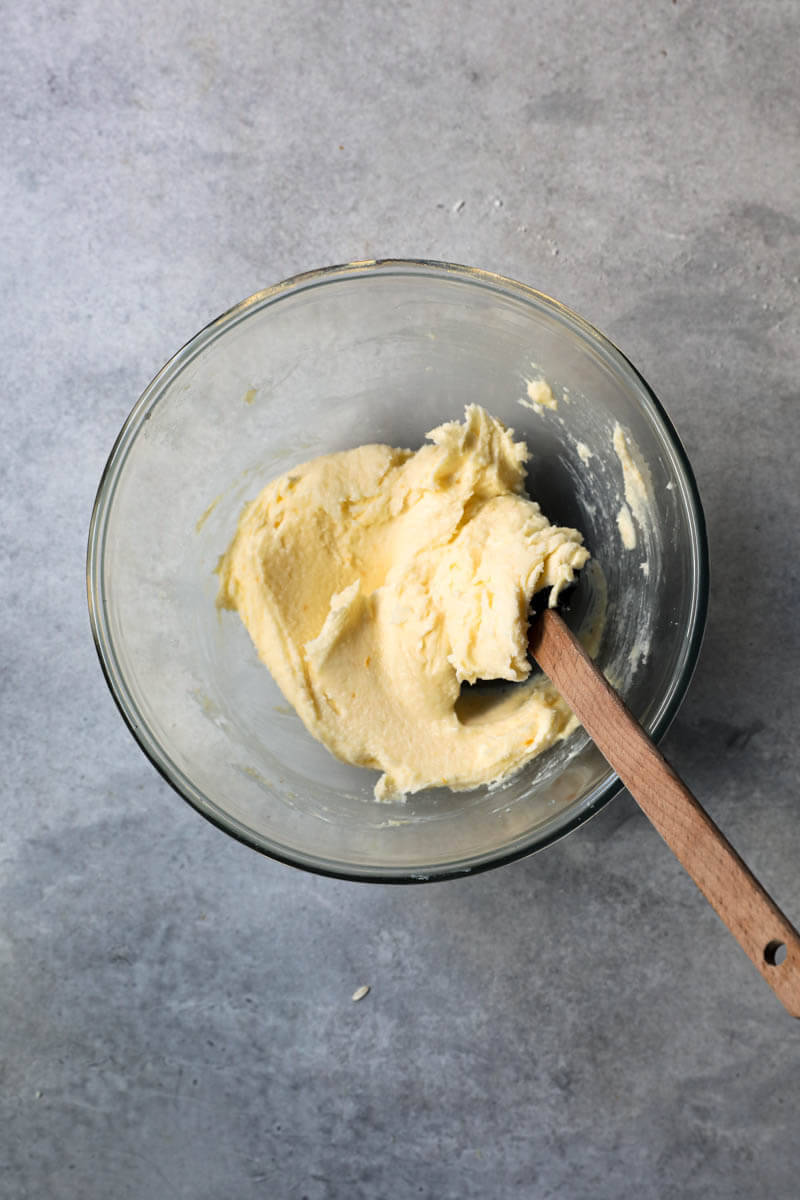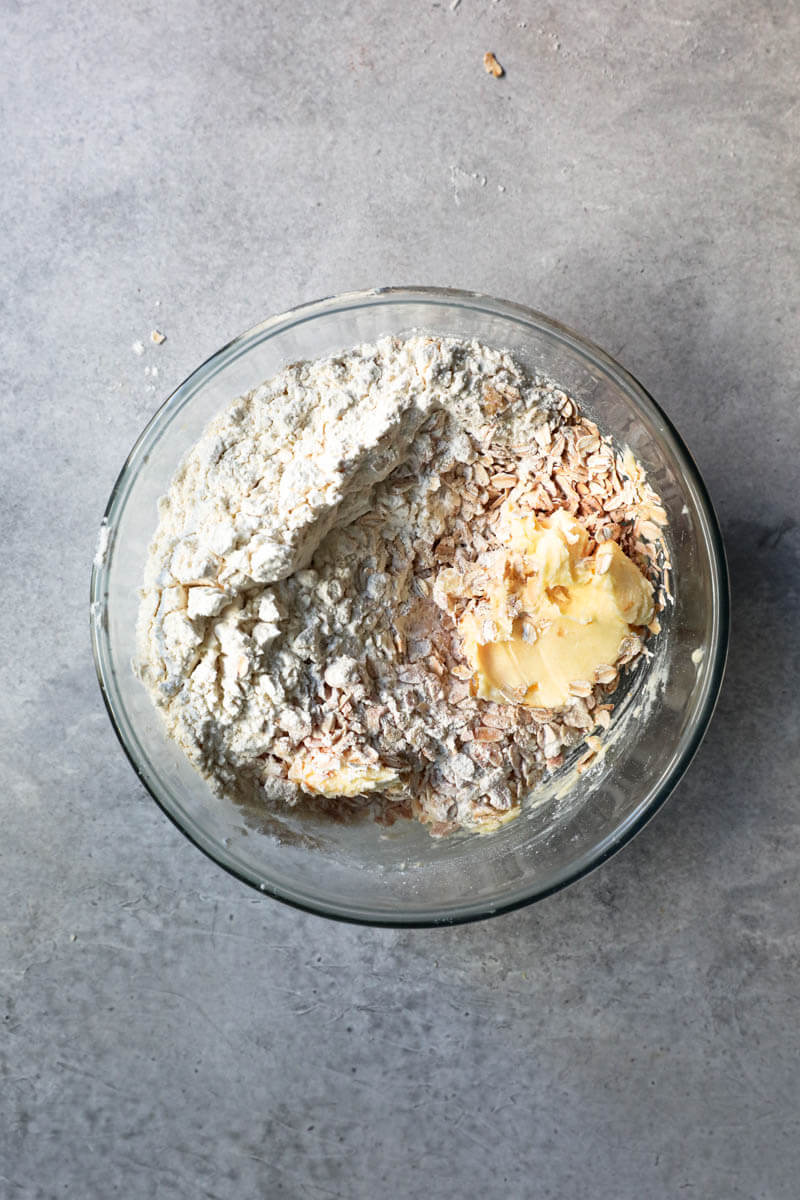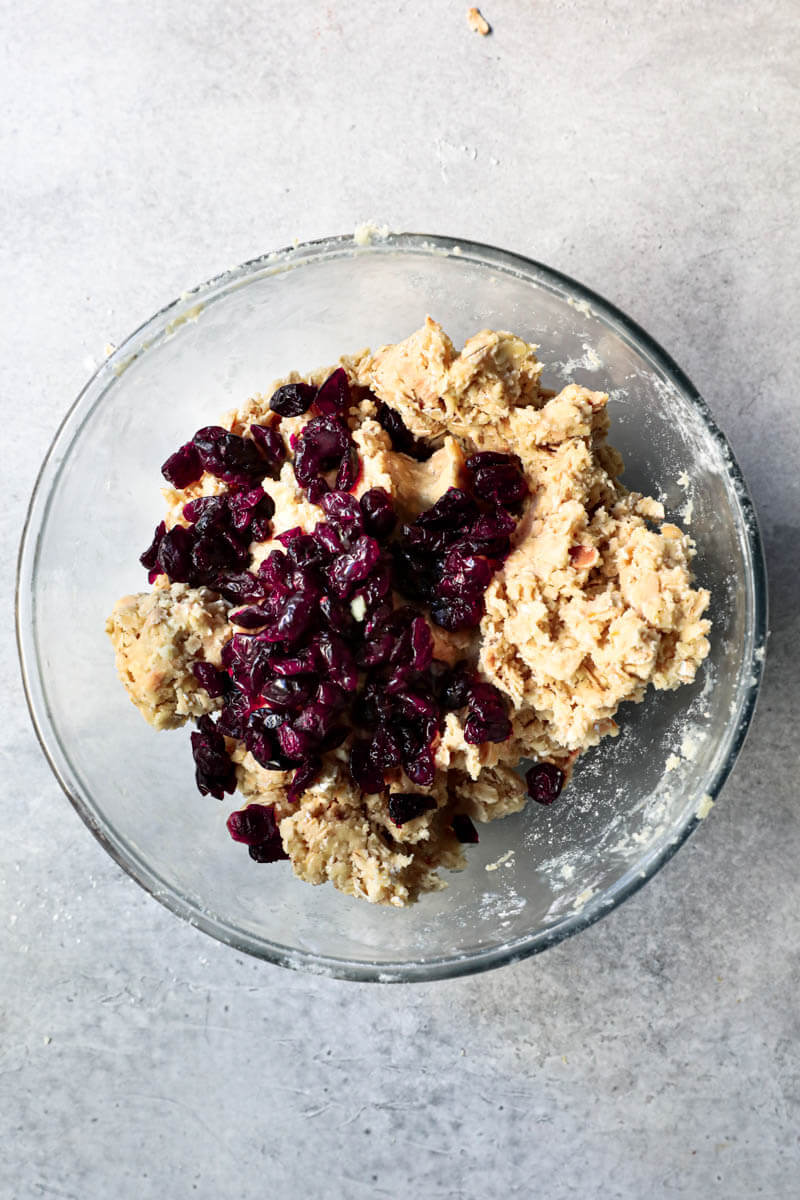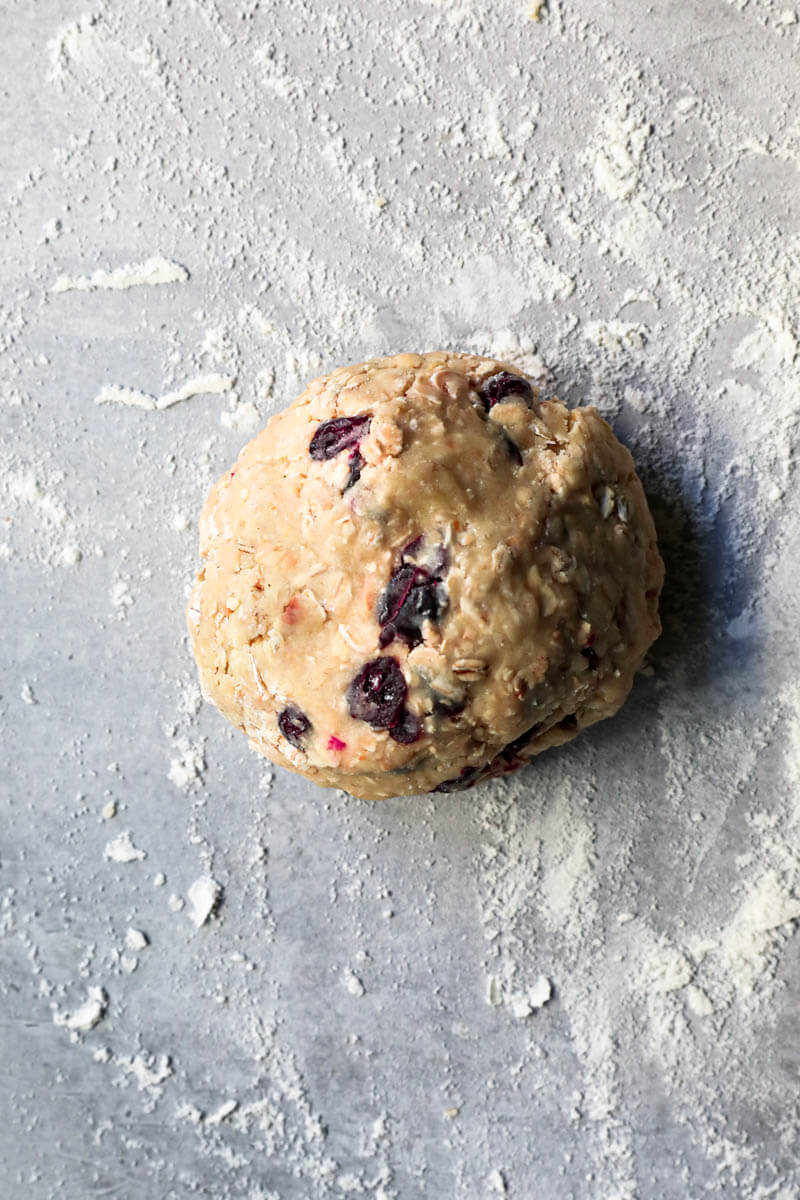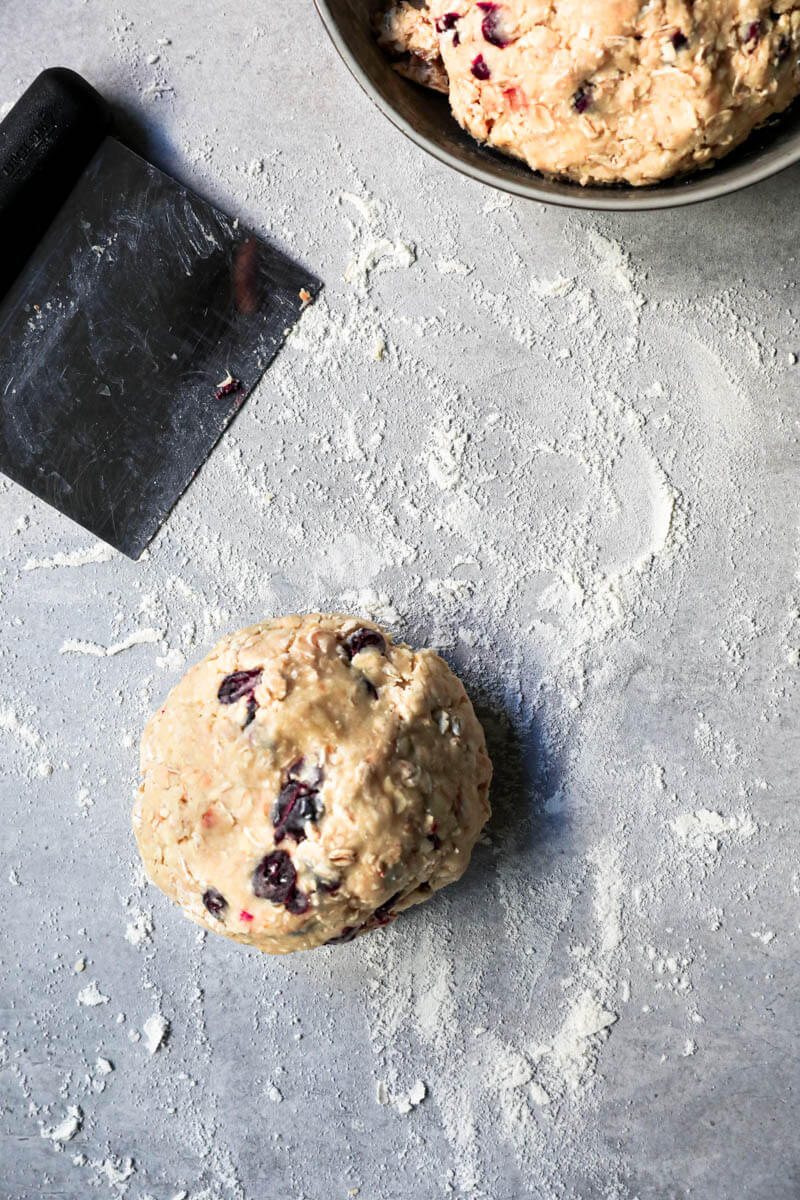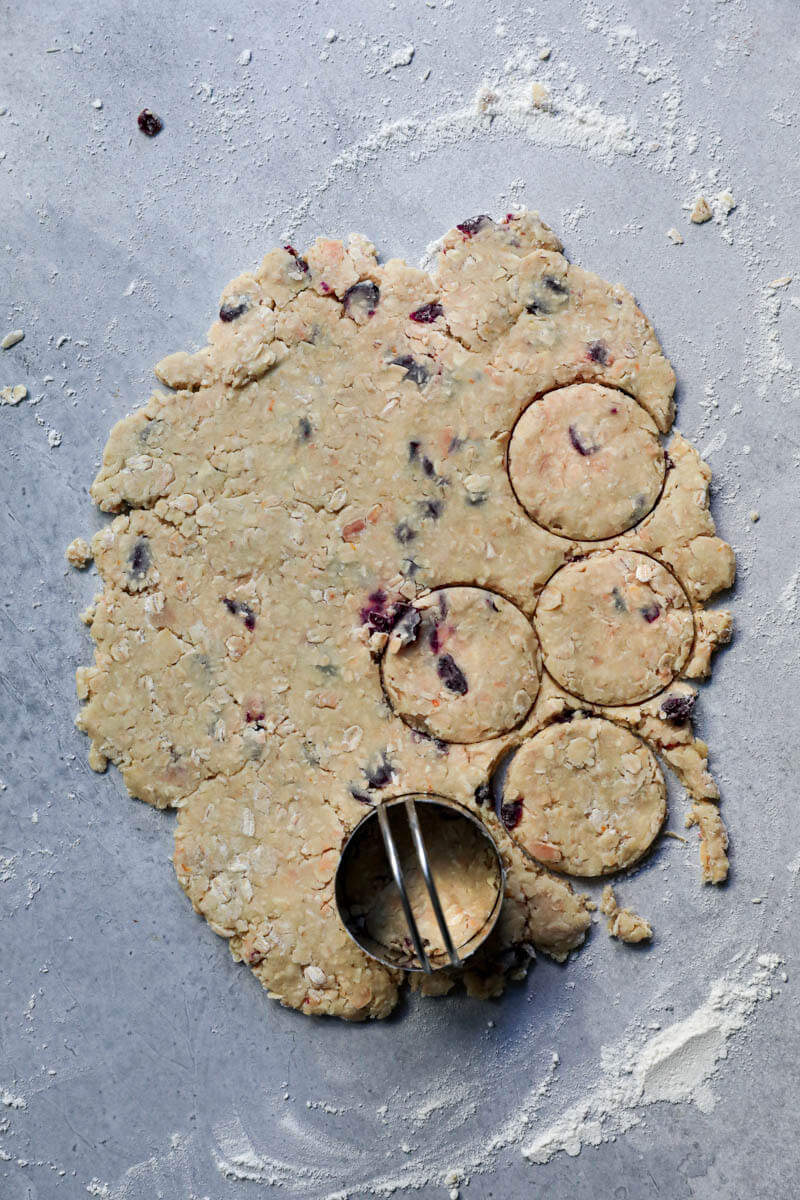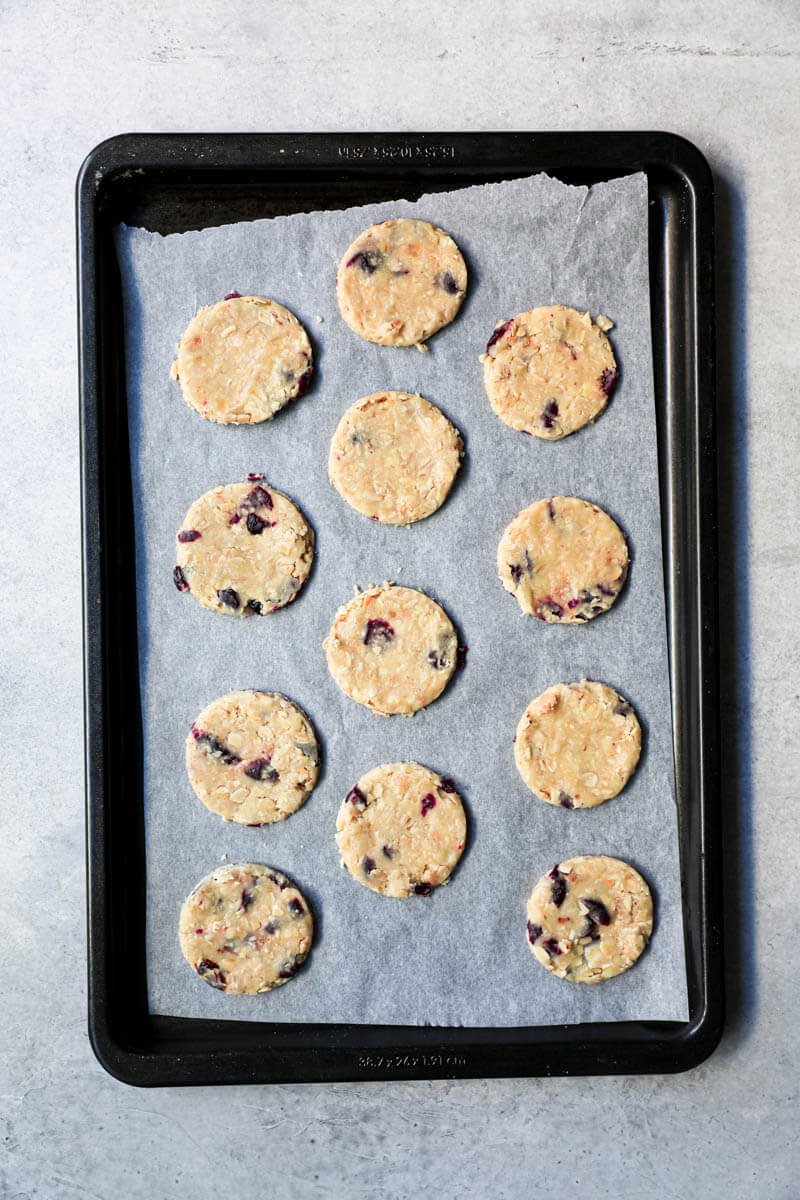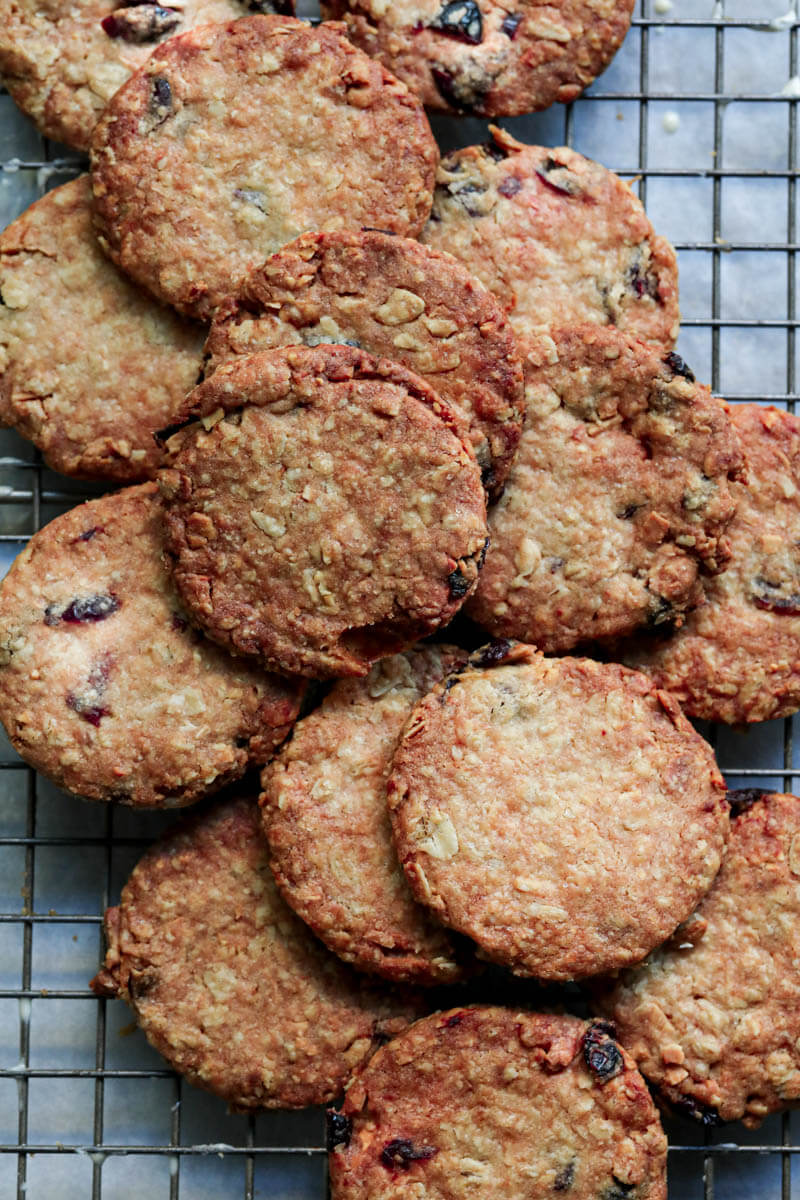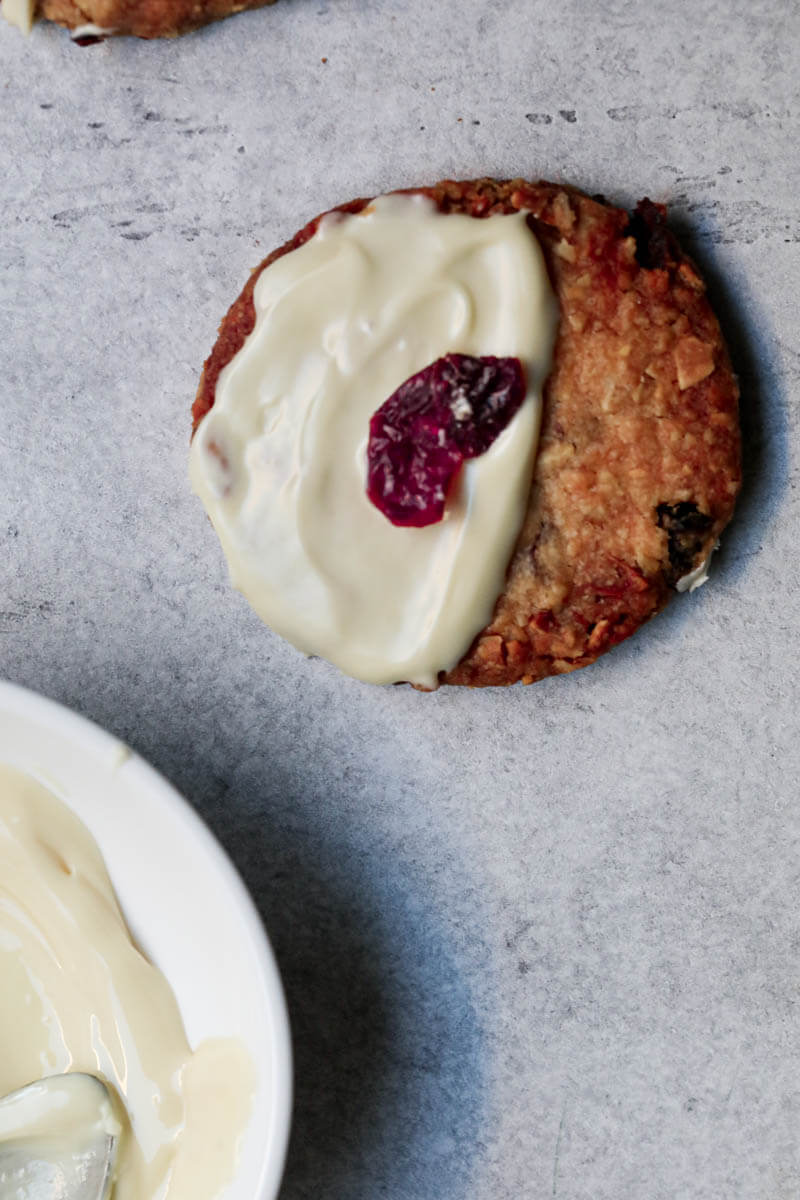 A word about the orange zest
Orange zest must be freshly grated when added to the dough. If you do this in advance the zests will dry out and lose their flavour.
How to frost these cranberry oatmeal cookies with white chocolate?
You can go 3 ways:
Cover the whole surface of the cookie with melted white chocolate using the back of a spoon.
Cover half the cookie with the melted white chocolate.
Using a piping bag drizzle the white chocolate over the cookies.
Pro tip: white chocolate hardens fast. Remove the water bath from the stove and keep the melted chocolate over the water bath while you work. If necessary, bring heat for a little while. Work as fast as you can.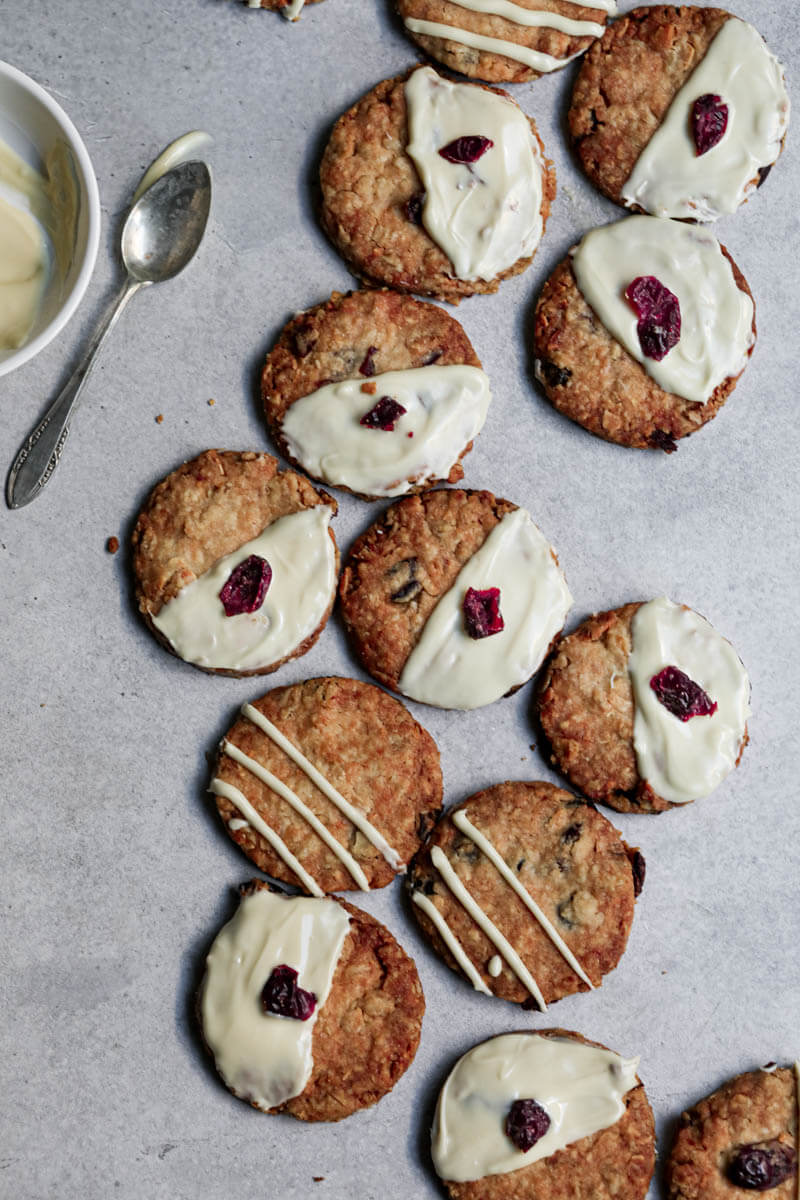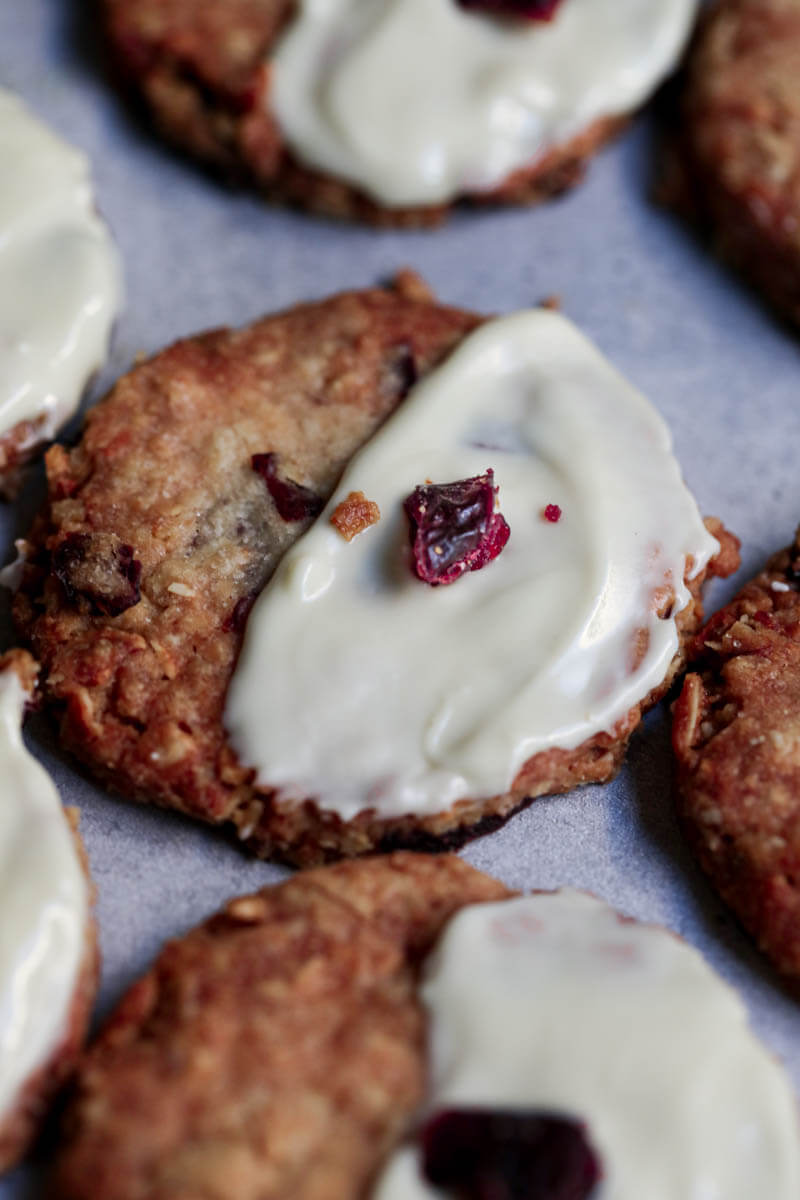 How long do these white chocolate cranberry oatmeal cookies last?
You can keep them for up to 5 days stored in a hermetic container.
About freezing these cookies
You can freeze the raw oatmeal cookies (already cut) for up to 3 months.
To defrost: place on a baking tray lined with parchment paper and let them sit at room temperature for 30 minutes before baking.
How can you make them into gluten free oatmeal cookies?
Pretty easy. If you got your gluten free rolled oats, then all you need to do is replace the all-purpose flour by a gluten free flour mix (ex. Gluten Free Multipurpose Flour). It works every time! These frosted oatmeal cookies are a true delight! No one should miss out 😊.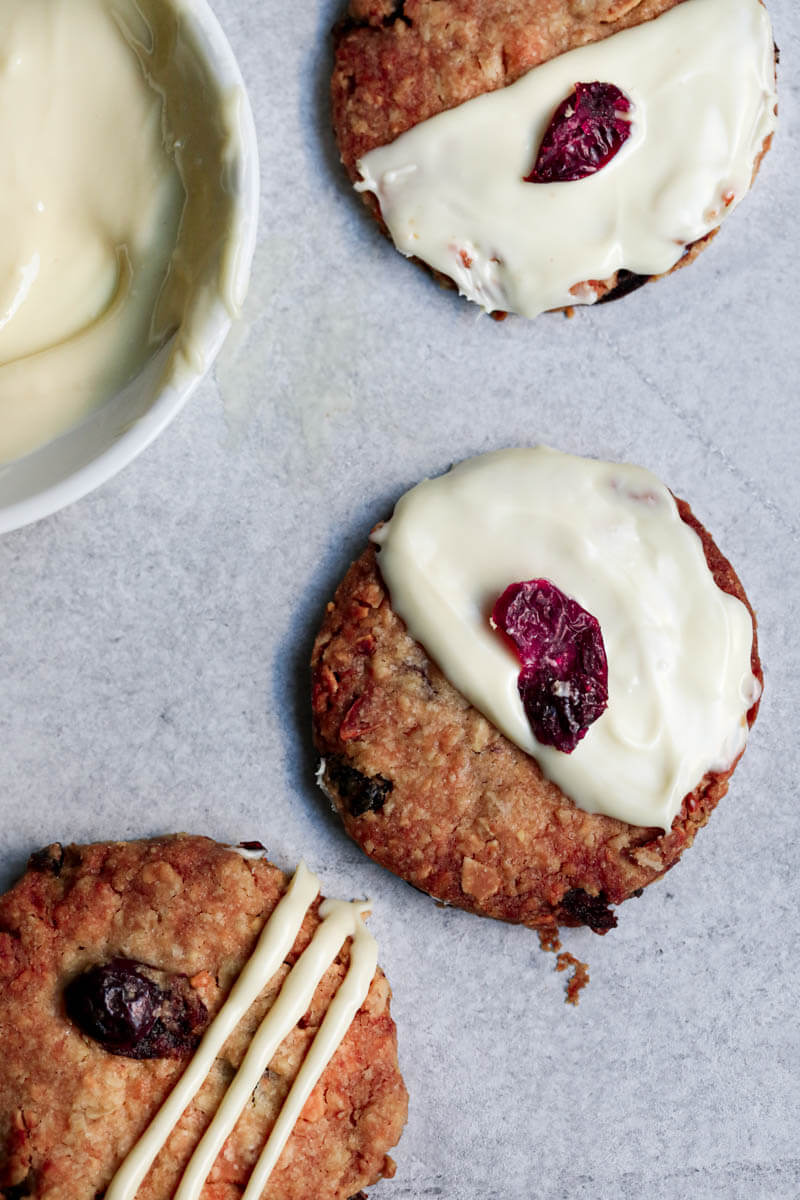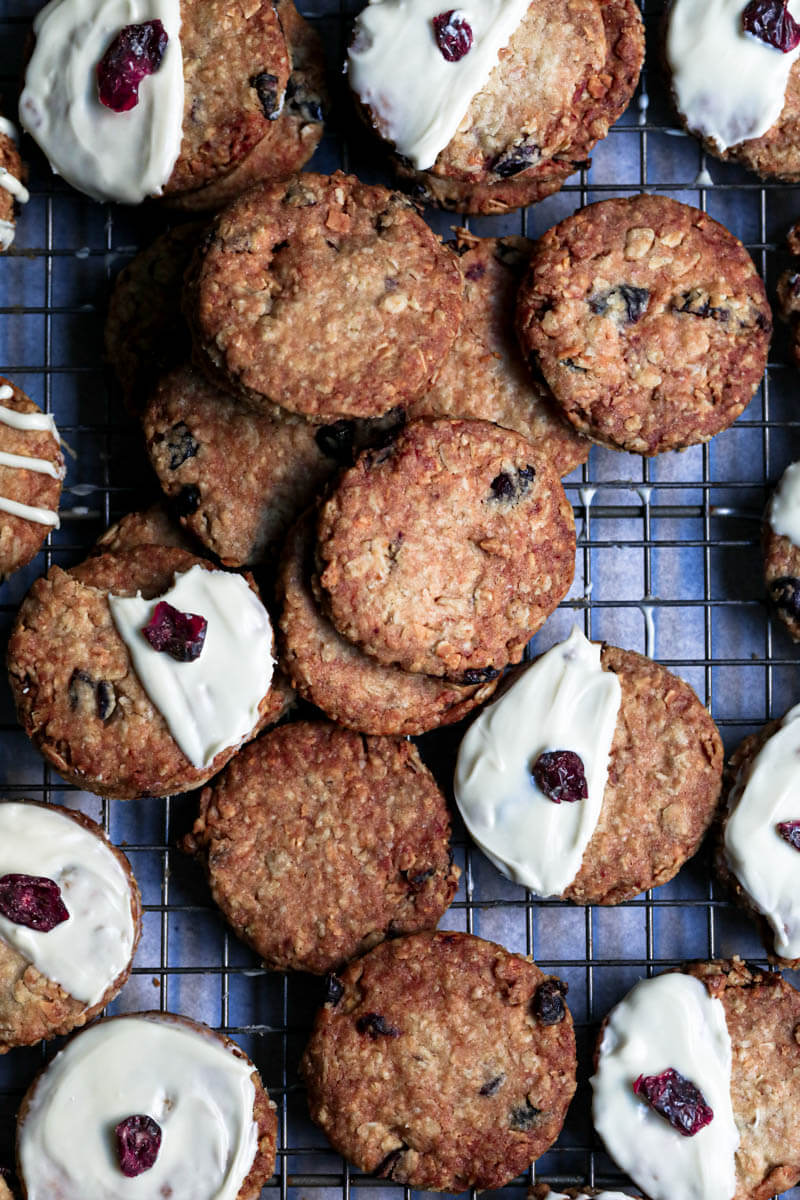 The ingredients used in all recipes on this site are measured using the metric system. I use a
scale
to be precise with my measurements and ensure good results. If you would also like to use a scale, here are some:
USA
,
Canada
,
UK
,
Australia
,
France
.
Subscribe to the newsletter
Sliced Almonds (roasted)

120 g

All-purpose Flour

225 g

Oats (Jumbo Rolled)

150 g

Salt

1 pinch

Butter

225 g

Sugar

100 g

Orange Zest (the zest of 2 oranges)

2

Dried Cranberries

100 g

Orange Juice

25 ml

White Chocolate

200 g
If you made this recipe I would really appreciate it if you leave a rating or comment below! Also, if you share on social media please use #cookwithbelula, I would love to see what you create!