This classic vanilla bean crème brûlée recipe has stolen my heart. Ever since I made this easy crème brûlée recipe it has been on repeat at home. It is one of my husband's favourite things to have an I get to make him happy with so little effort because this is such an easy and quick dessert: only 10 minutes to put together plus the baking time. This simple crème brûlée recipe can be made ahead, kept in the refrigerator, and caramelized with brown sugar just before serving. You can find some tips on how to caramelize it with or without torch below! A simple, easy, and classic dessert that is oh so silky smooth and never ceases to impress!
What is vanilla crème brûlée?
It a classic French dessert, formed by a rich custard and top with caramelized brown sugar. It is baked in the oven at low temperature to be able to get that creamy texture. The best part is when you get to crack it open with the spoon and hear that delicious, caramelized layer break.
Ingredients Notes
Ingredients to make vanilla crème brûlée
Whipping cream: must have full fat content (at least 30 %)
Vanilla bean: can be replaced with good quality vanilla extract.
Brown sugar: for caramelization. It makes the sugar layer extra crunchy! If you don't have, it can be replaced with regular granulated sugar.
A word on the crème brûlée ramekins and ramekins substitutes
The classic ramekins for this easy dessert are round and not very thick. If you don't have this exact type, you can replace them with:
Souffle ramekins. Just pay attention to the baking time. The deeper the mould, the longer it will take the vanilla crème brûlée to set and thus the baking time will be longer.
Smaller ramekins in different shapes, like the ones you see in the photo below, or any other you may have at home. They should be thin, about 3 cm/1.1-inch.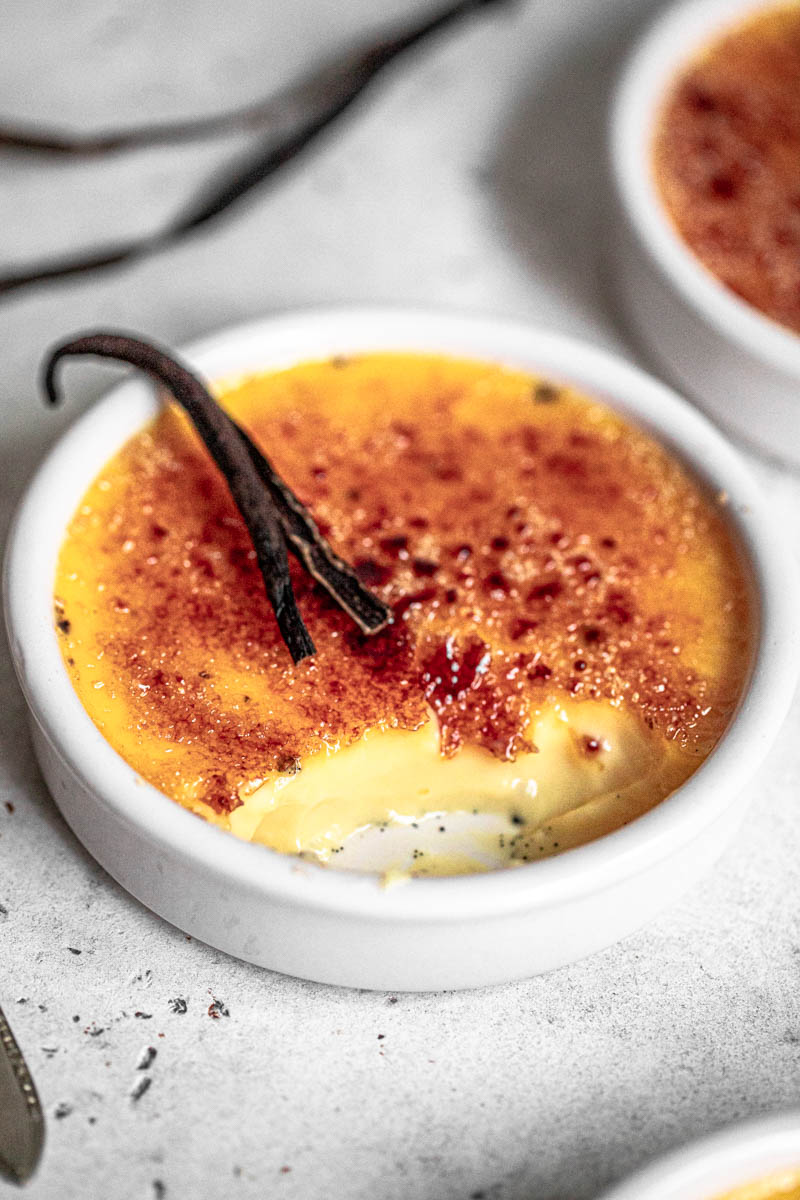 How to make this recipe
You only need 10 actual minutes of work to end up having this delicious vanilla crème brûlée.
First mix egg yolks, sugar, and a little cream.
Then bring the rest of the cream + vanilla bean to a boil and pour onto the egg yolk/sugar mixture.
Finally fill the ramekins and bake at 100 C°/212 F until set.
Keep in the fridge until you are ready to serve.
That is, it. Done. The only thing left is to caramelize it before serving.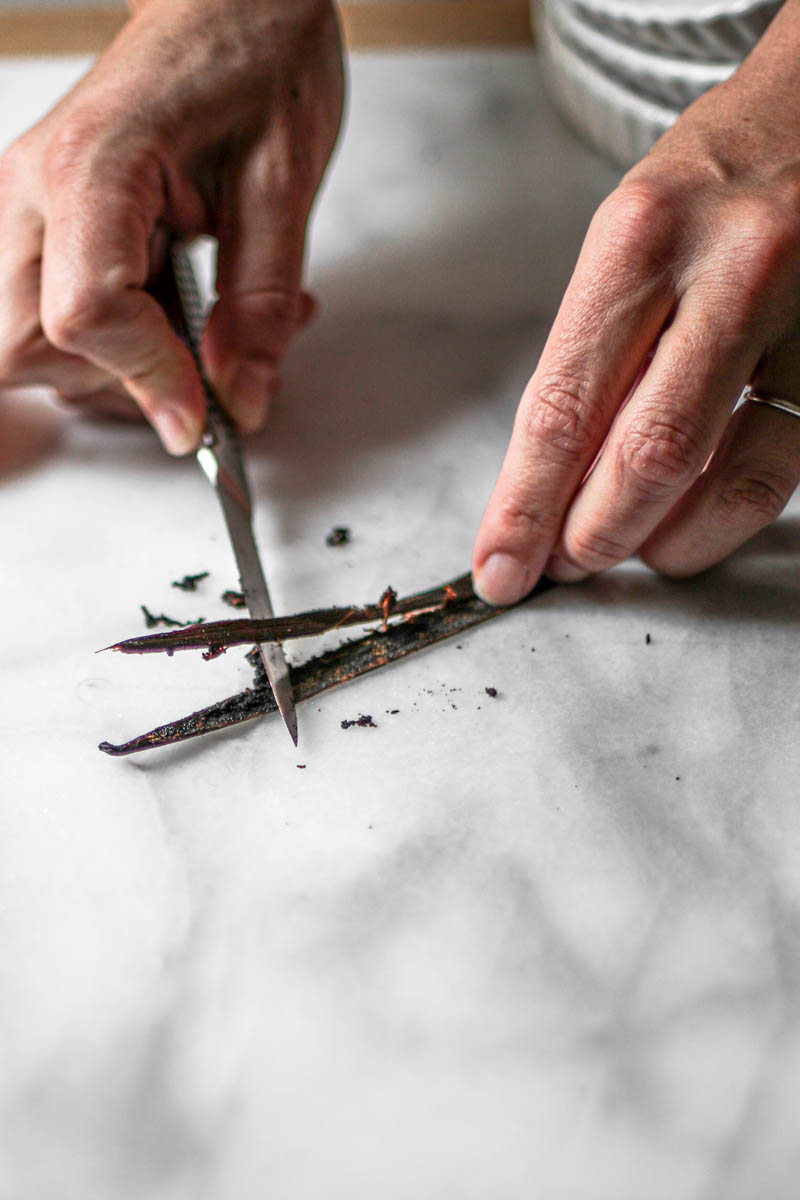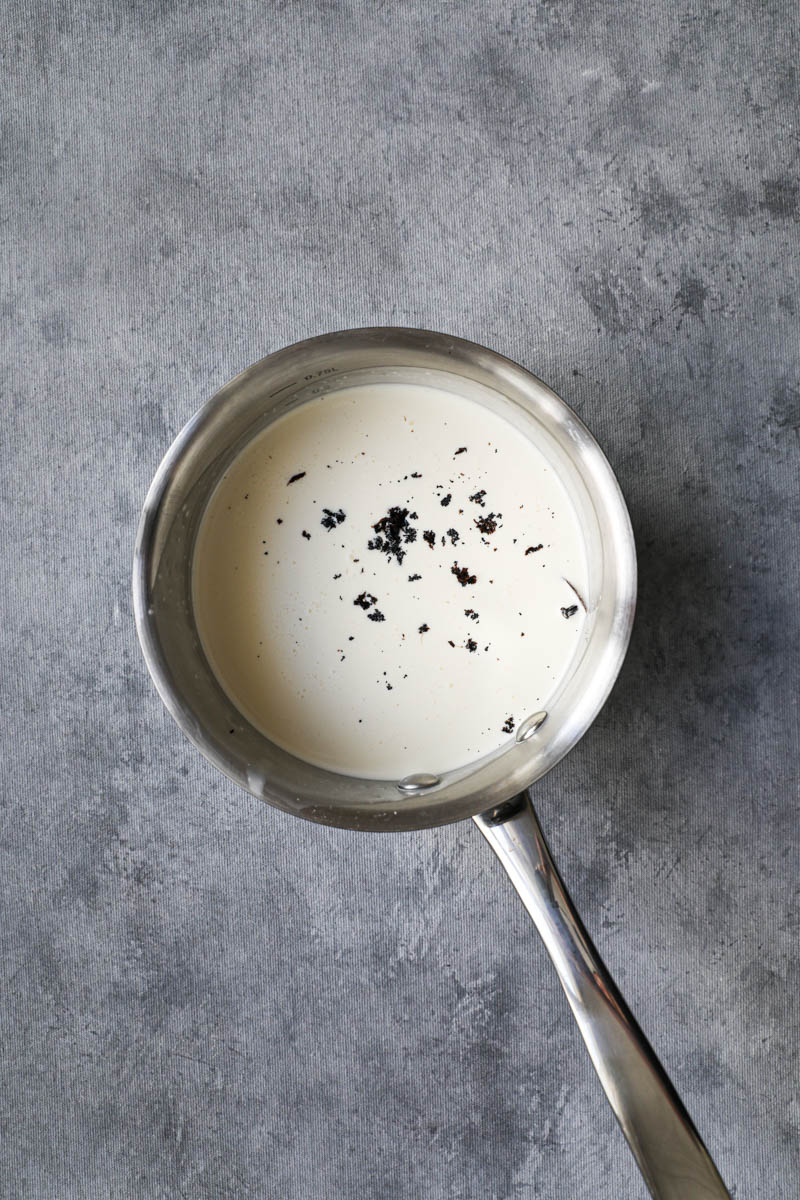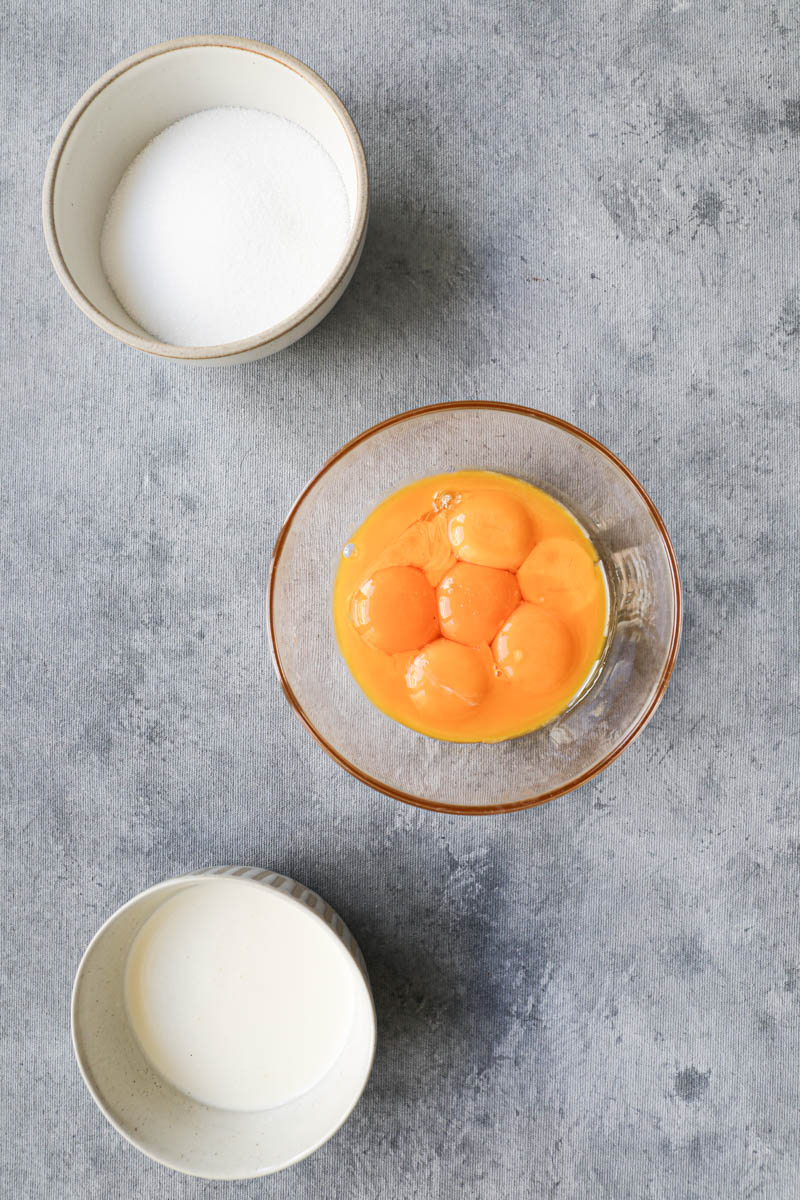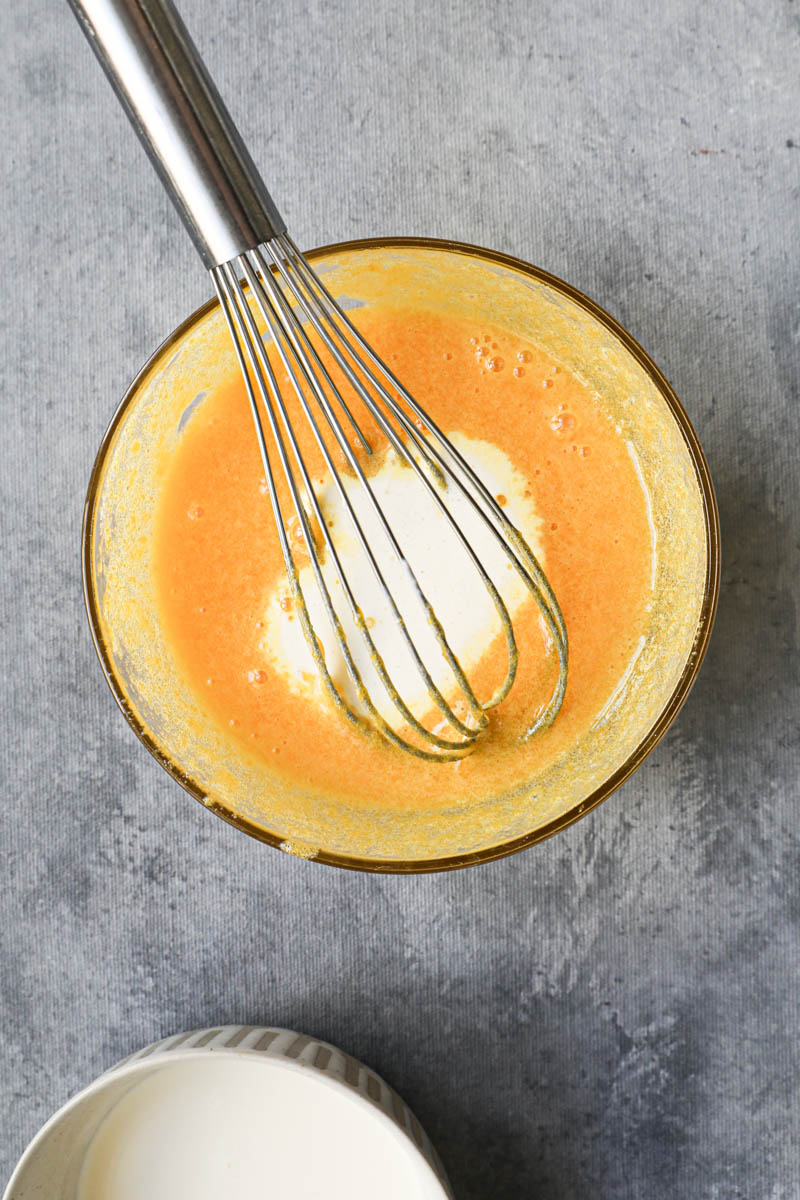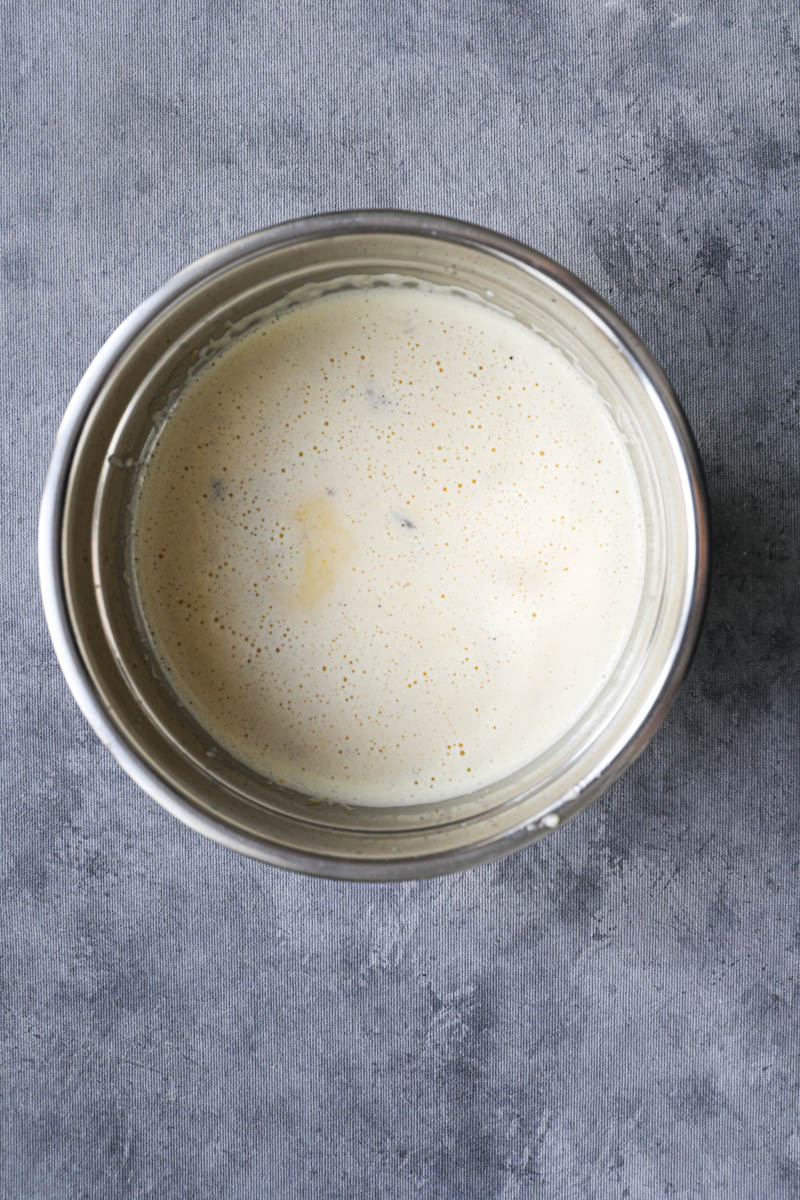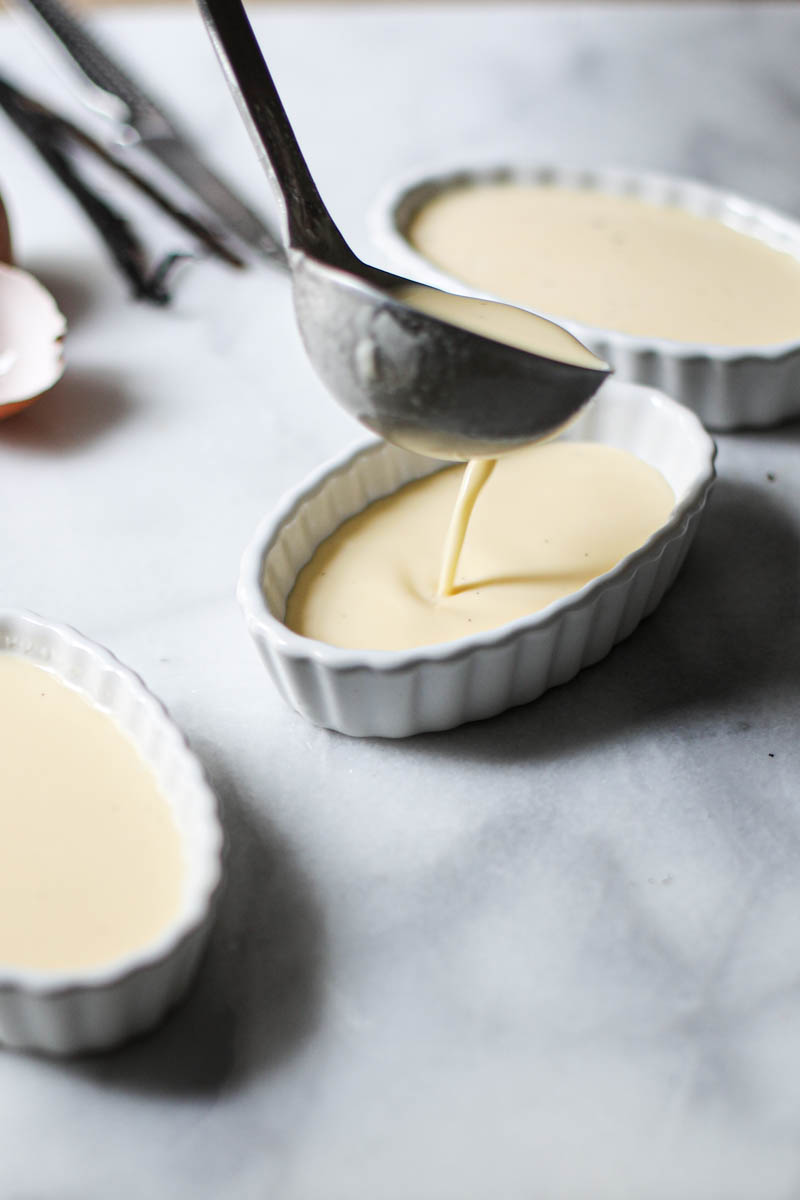 Baking tips for a silky-smooth crème brûlée
The easy way to bake this dessert is to set the oven to 100 degrees Celsius (210 F) and bake until set. Approximately 30 minutes if you use classic crème brûlée ramekins (they are quite thin).
The oven temperature is the key to obtaining a smooth and silky vanilla crème brûlée. If the temperature is too high, you will boil the crème brûlée and it will no longer be smooth or silky or taste particularly good.
How do you know when it has set, and you can remove from the oven? Make a test: open the oven and gently move one of the ramekins using a kitchen towel. If it is still wiggly and kind of "dances" then it needs some extra baking minutes. If on the contrary it does not move, your crème brûlée is set and ready to cool down.
Some Torching tips
The vanilla crème brûlée must be chilled before you caramelize. To torch:
Remove from the refrigerator and remove the plastic wrap.
Cover with a thin layer of brown sugar.
Blow the torch over the crème brûlée ramekin until sugar has caramelized.
Repeat this procedure a second time. Two layers of brown sugar make the perfect crunchy top to crack!
Enjoy!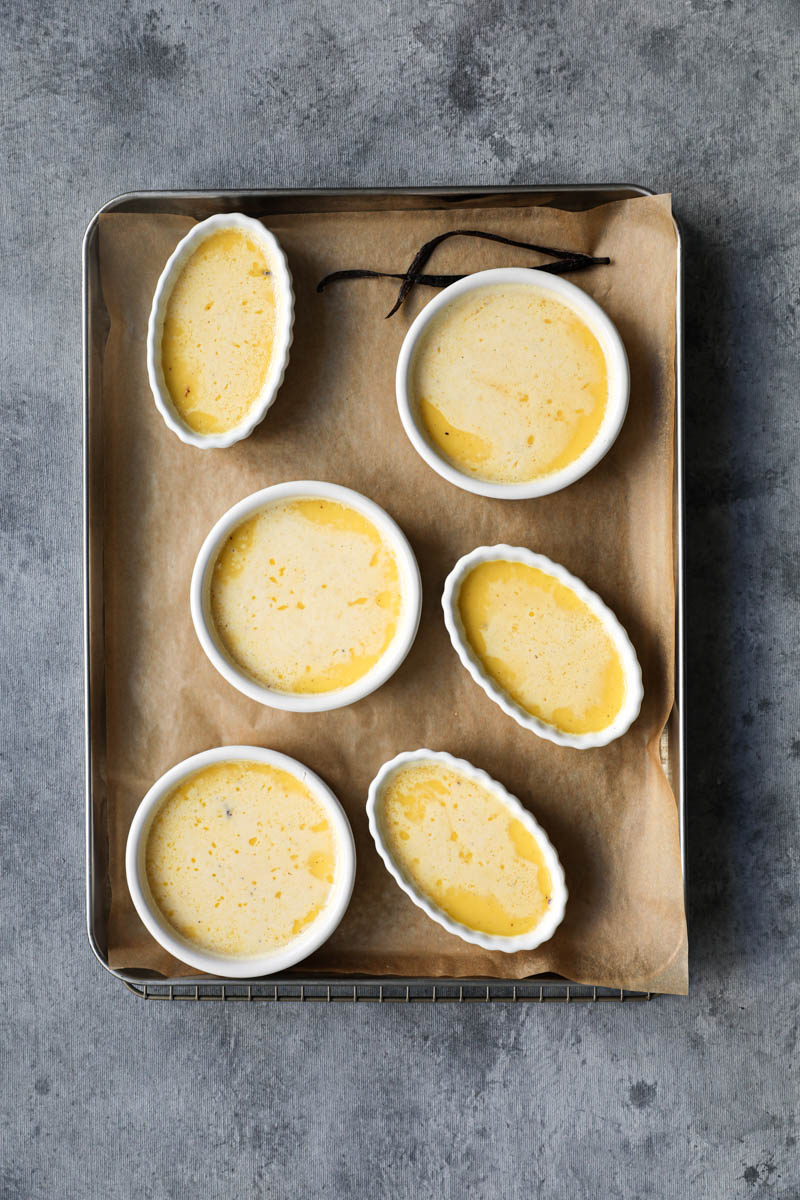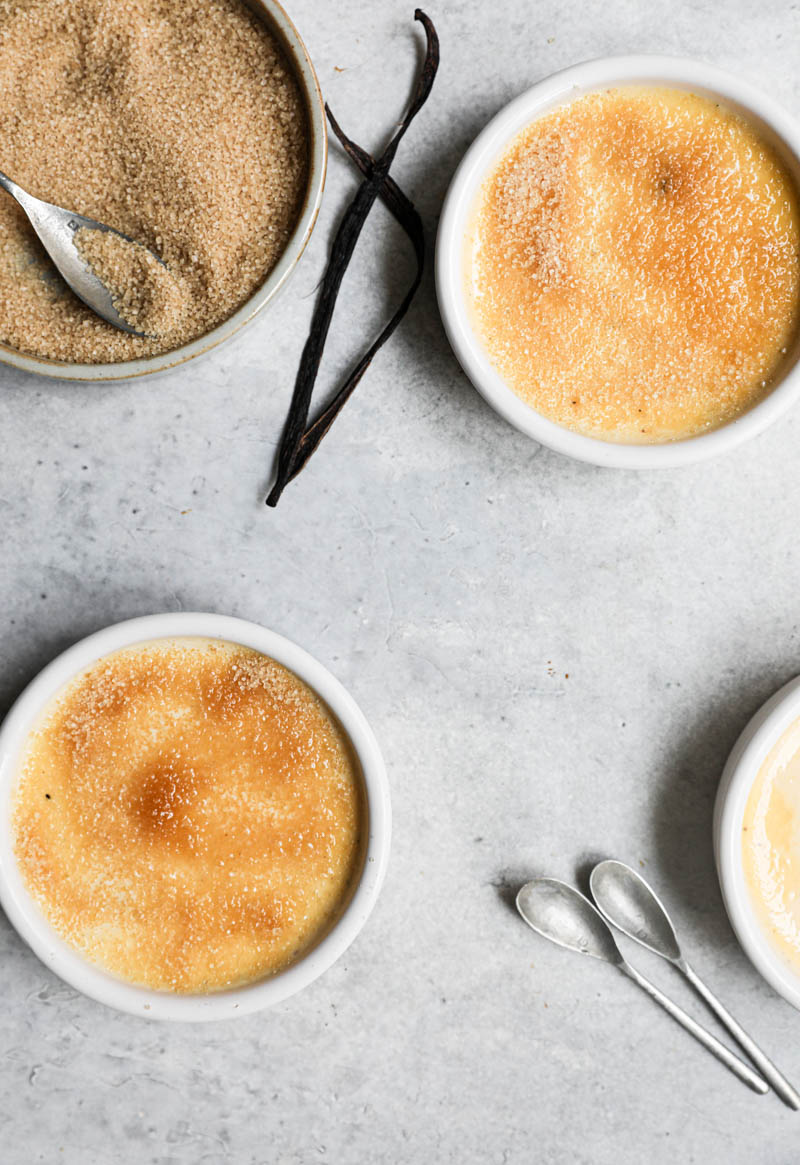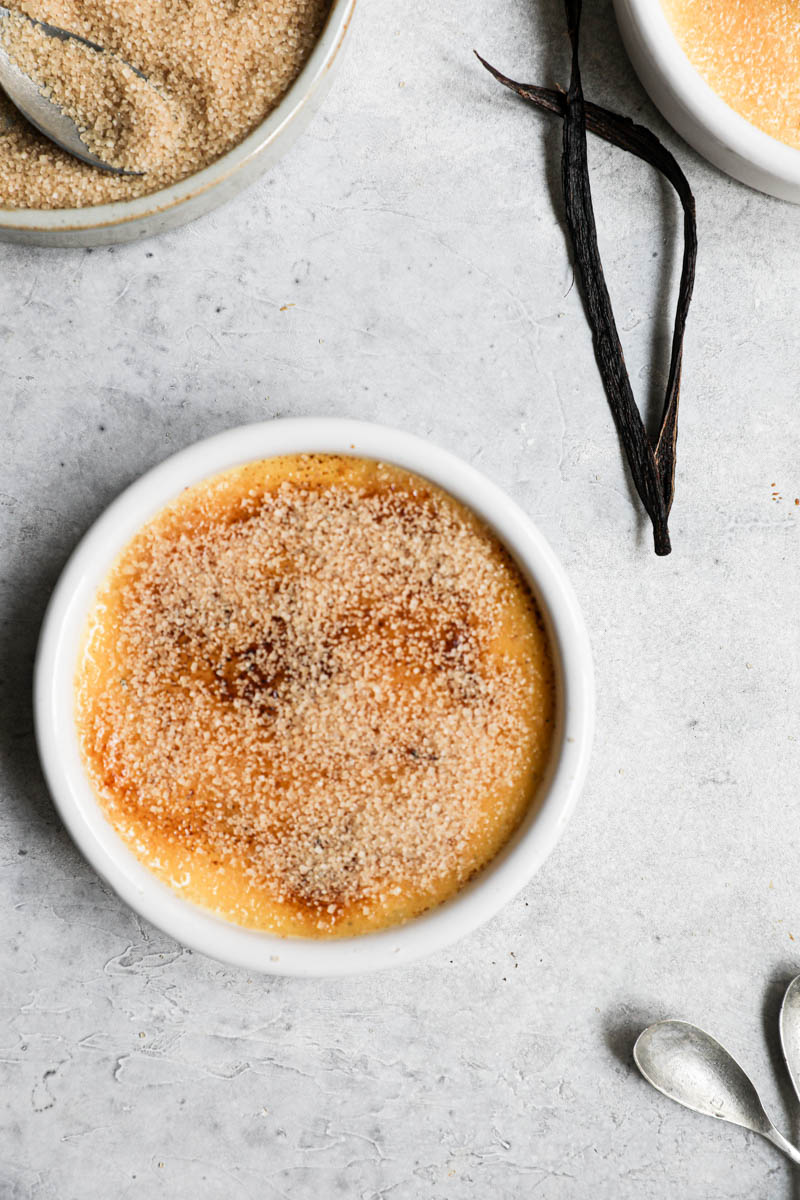 Recipe notes
Crème brûlée bust be served cold.
It must cold and kept in the refrigerator until you are ready to caramelize and serve.
Make sure to caramelize 2 layers of brown sugar to obtain that extra crunch.
Expert notes
You can have crème brûlée without a torch! To do so:
Sprinkle the vanilla crème brûlée with a thin layer of brown sugar.
Grab a metal spoon.
Using gloves heat up the back of the spoon over your stove at high heat.
Rub the back of the hot spoon onto the sugar until caramelized.
Enjoy!
Storage tips
Once you baked the crème brûlée and it has cooled down, cover in plastic wrap and keep in the refrigerator until you are ready to serve it.
It keeps for up to 1 week without the caramelized sugar layer on top.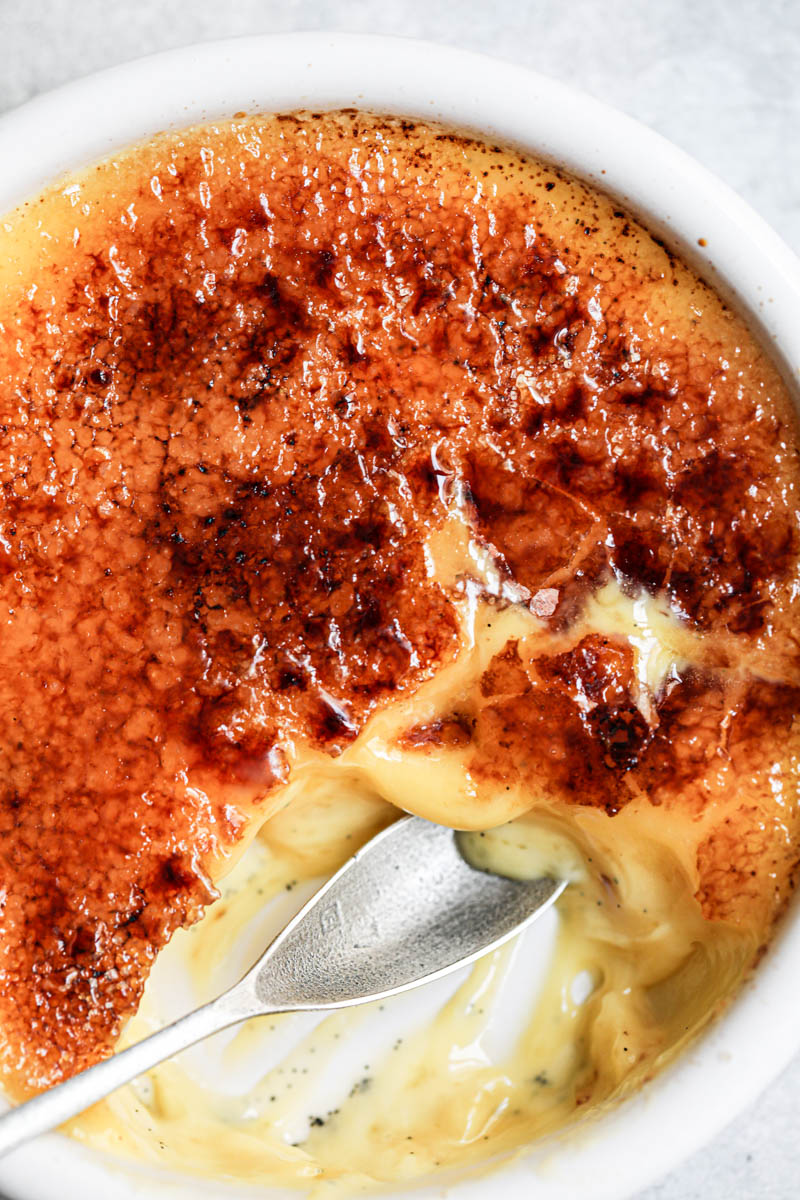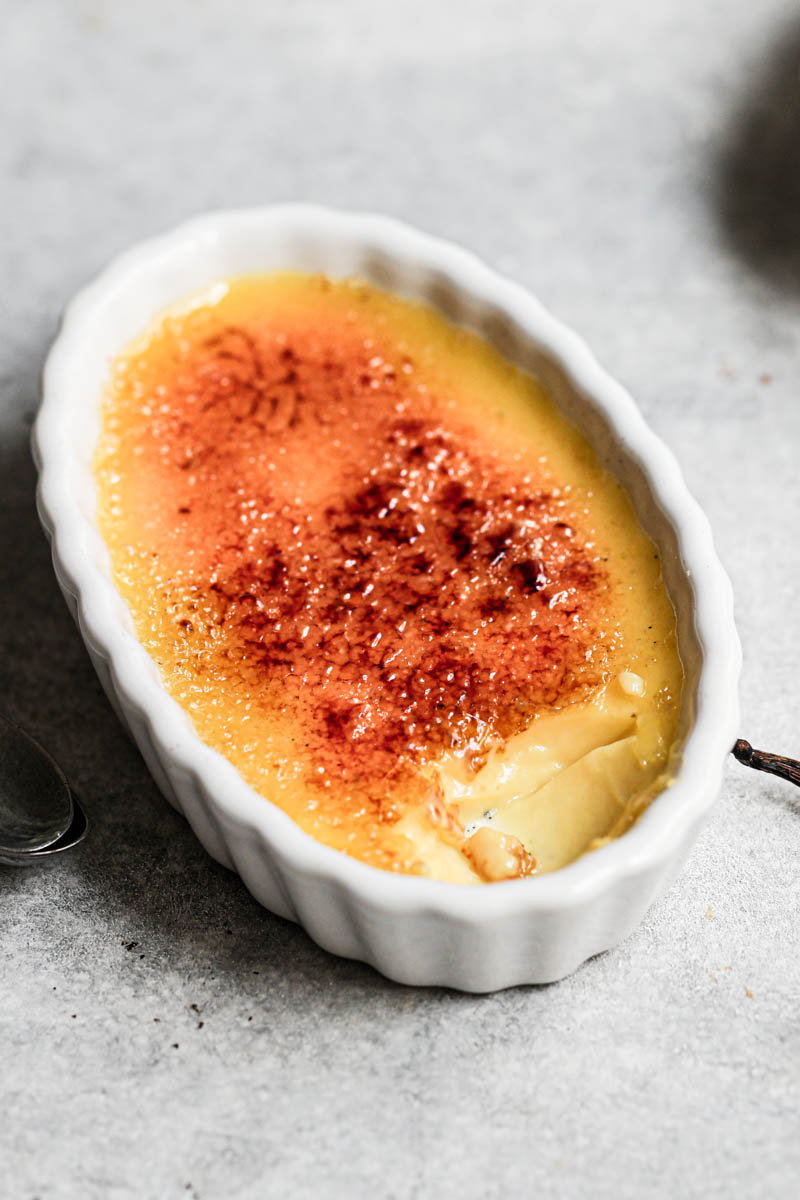 How to make ahead
This dessert is ideal to make ahead and keep stored in the refrigerator until you are ready to serve it (it keeps for up to 1 week). When hosting a dinner party, for example, I serve crème brulee quite often because it allows me to prep dessert with anticipation and then only take care of dinner on the day of the event. When dessert time comes, I only must caramelize the vanilla bean brulee and that is it! Such an easy treat to have in your back pocket!
If you made this recipe I would really appreciate it if you leave a rating or comment below! Also, if you share on social media please use #cookwithbelula, I would love to see what you create!