Roll cake is something we use to have growing up in Argentina, obviously filled with dulce de leche. When I moved to France, I learned you can fill your cakes with things other than dulce de leche! So, to celebrate summer I decided to make this strawberry roll cake that according to my husband (who might be a little biased) it is one of the best he has had to date! You should make it soon.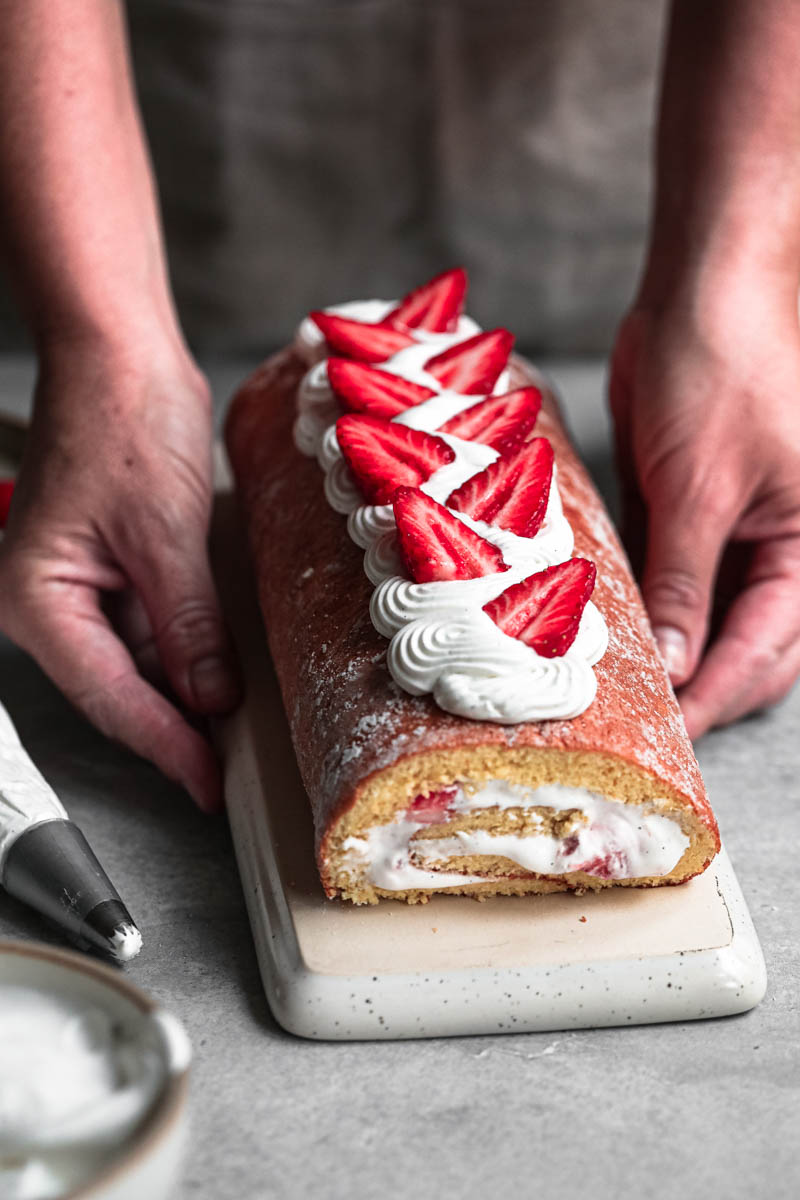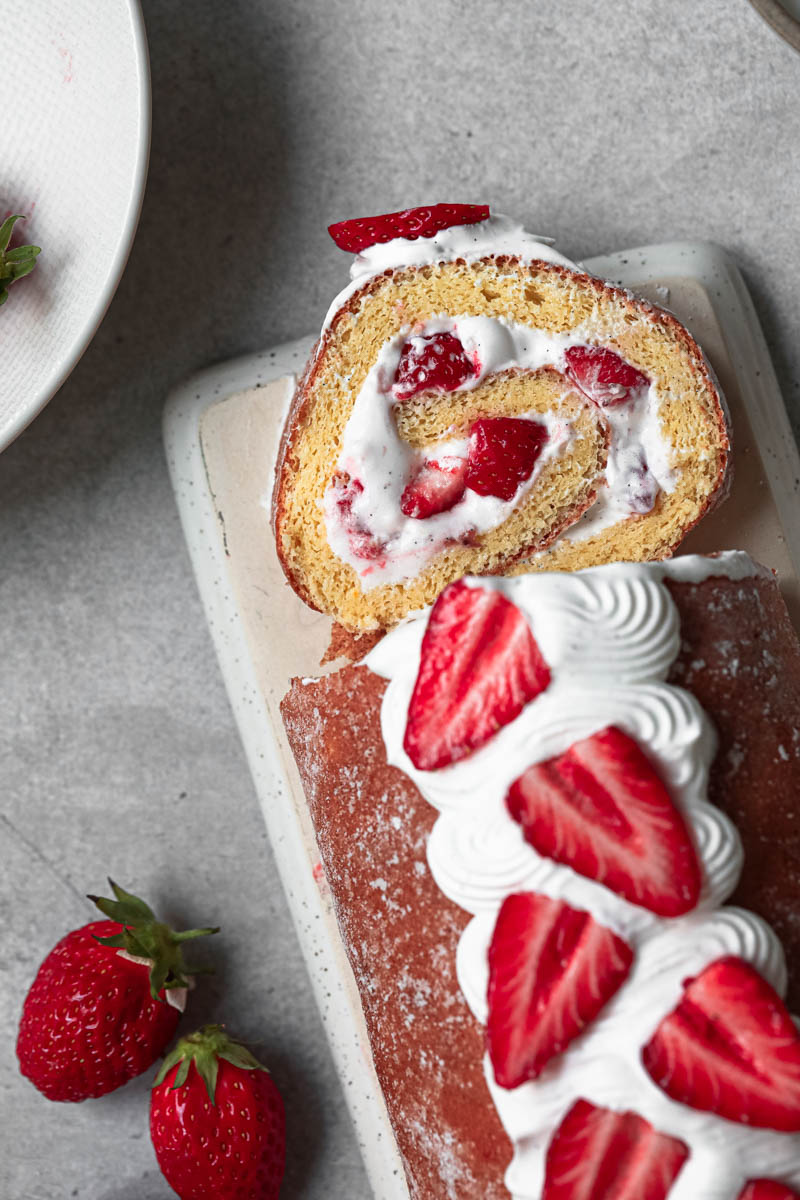 Ingredient notes
Whipping cream: use full fat content cream. It should be cold when you beat it.
Vanilla: I like to use vanilla bean. You can replace it with vanilla paste.
Strawberries: this recipe calls for fresh strawberries. They cannot be replaced with frozen strawberries because it will make the cake soggy.
Strawberry jam: you can either use store bought strawberry jam or you can make your own. You can find a recipe for raspberry jam here Raspberry Jam-Filled Brioche Donuts, simply replace raspberries with strawberries.
Cream Cheese: it is added into the vanilla Chantilly cream to stabilize the filling and allow it to set properly. It is important!
How to make a roll cake?
To make roll cake you need to put together three components:
Eggs/egg yolks/ sugar mixture: beat at medium speed, for about 10 minutes until it gas gained in volume and its color has changed to a pale yellow.
Beaten egg whites: this should take about 10 minutes. They should be room temperature. Begin to whisk the egg whites with 1/10 of the sugar at low speed and gradually up the velocity. Once they are foamy and there are no bubbles left at the sides of the bowl add the rest of the sugar and whisk at maximum speed for about a minute. This is when the egg whites will gain in volume and become shinny.
The flour. Sifted.
To properly do the mixture of the roll cake:
Fold in 1/3 of the egg whites into the eggs/egg yolk/sugar mixture to loosen it up a bit. The idea when you are mixing the 2 things is to try and have similar textures.
Fold in the rest of the egg whites delicately.
Finally fold in the flour. Make sure to scrape the bottom of the bowl, it tends to go there because its heavier.
That is, it. Now you are ready to bake it.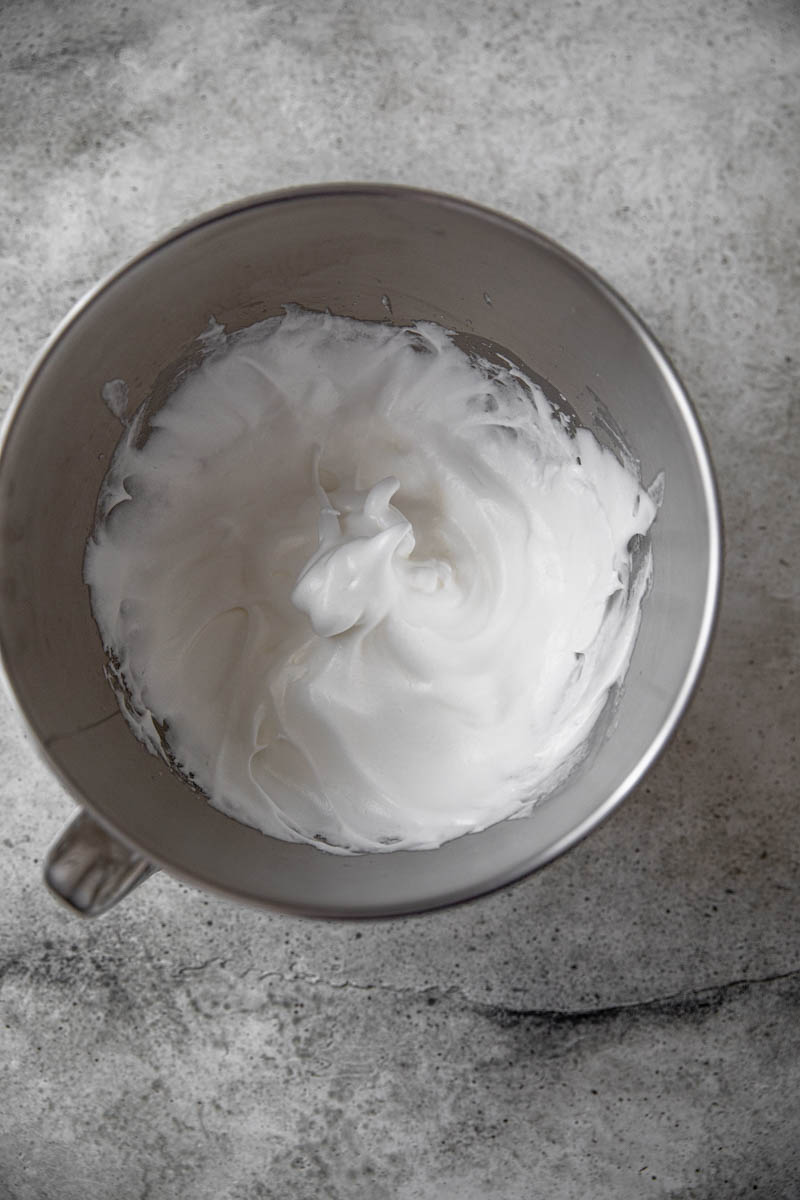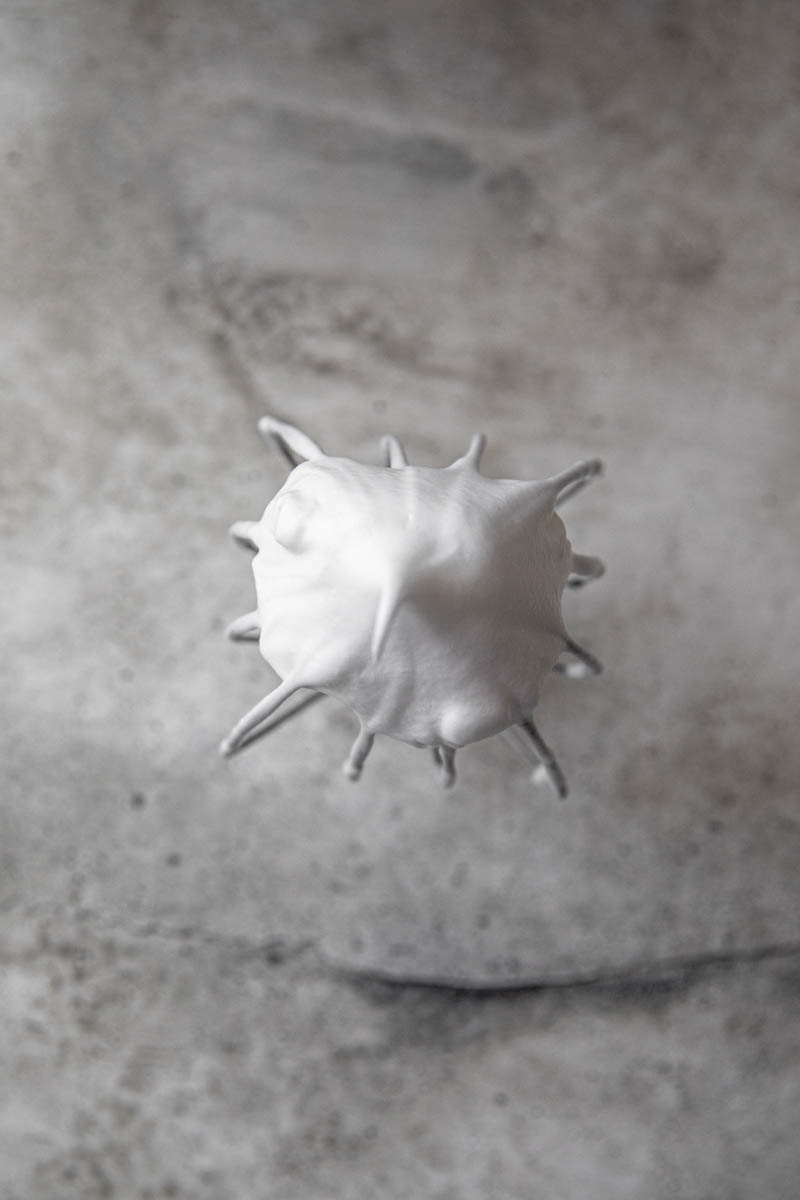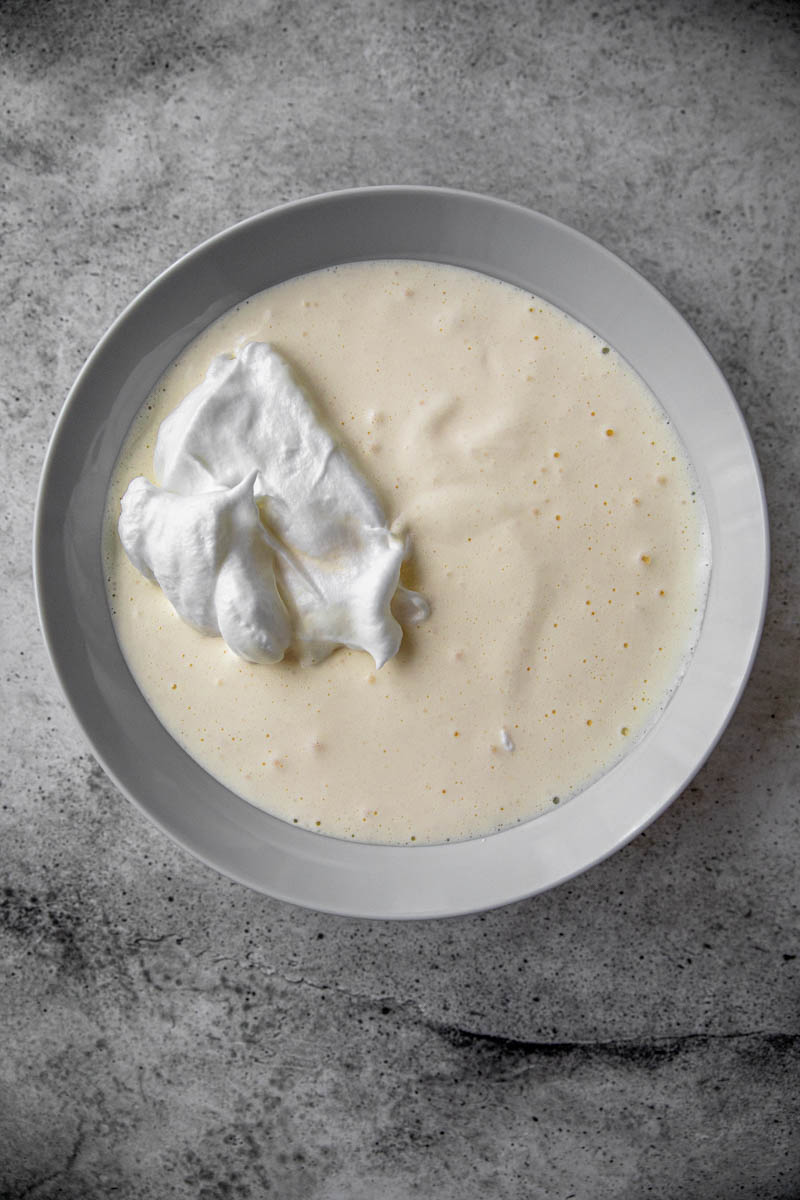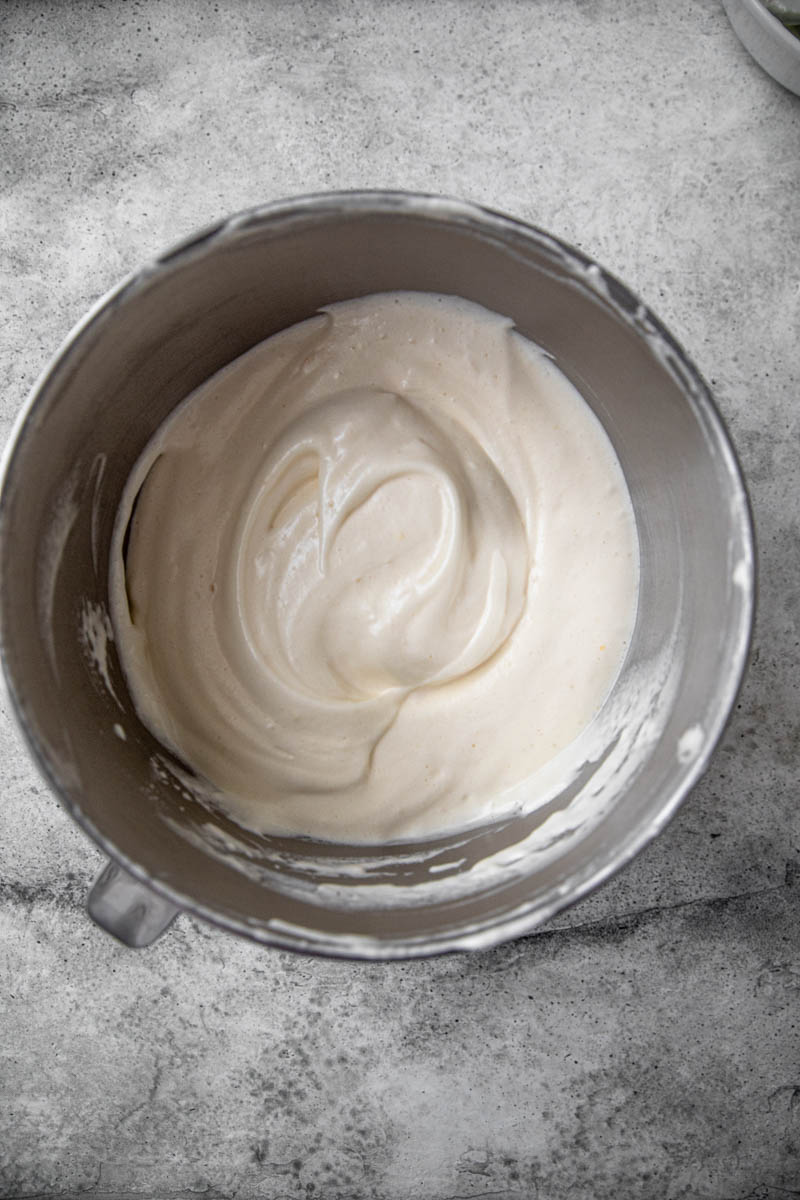 Baking: a few tips
Be sure to preheat the oven to 220 C°/430 F.
Line a 30x40 cm (12x16 inches) baking sheet with parchment paper. Spray with baking spray so the paper sticks to the tray. Then spray again the parchment paper, this will allow you to unmould the cake.
Once the batter is ready, pour onto the lined baking sheet and evenly spread until the whole surface of the sheet has been covered. You can do this using either an offset spatula or a scraper.
Bake for 12/15 minutes. Until golden. When you touch with your finger, it should not sink into the roll cake.
Note: if you remove the cake beforehand, it will deflate when Rolling it and will not hold its shape.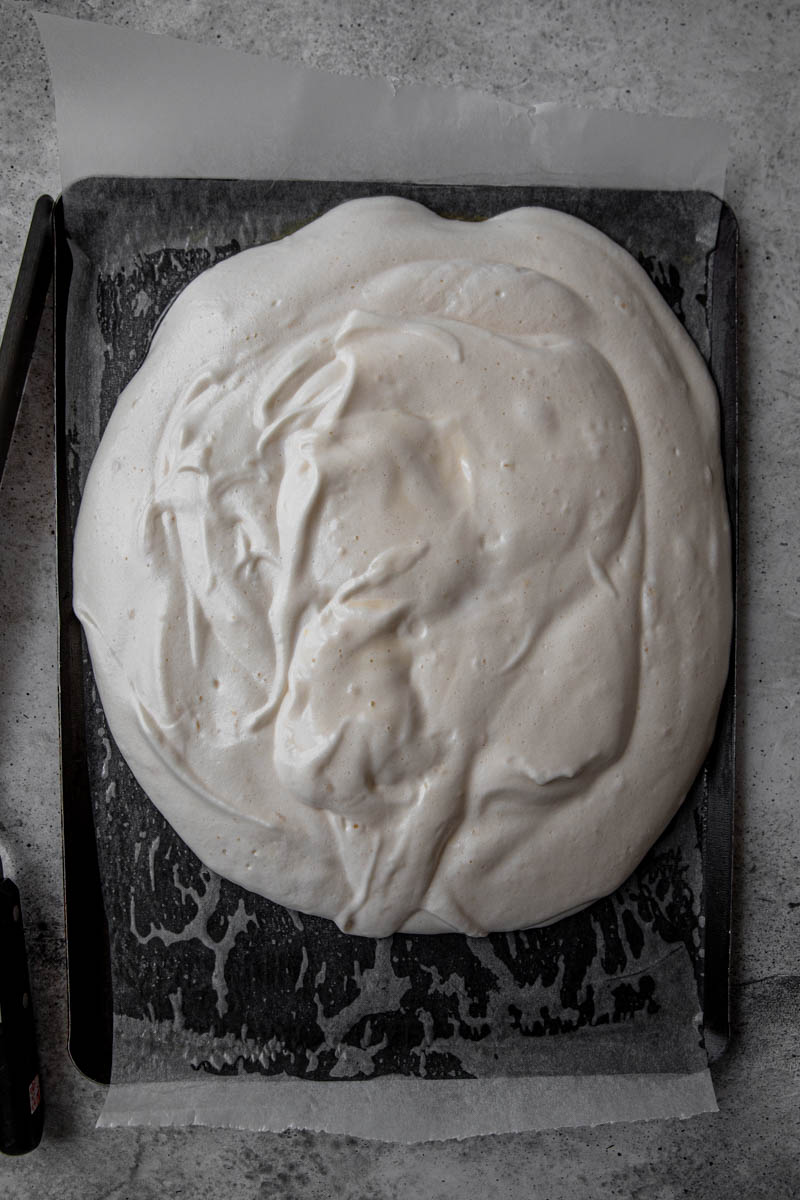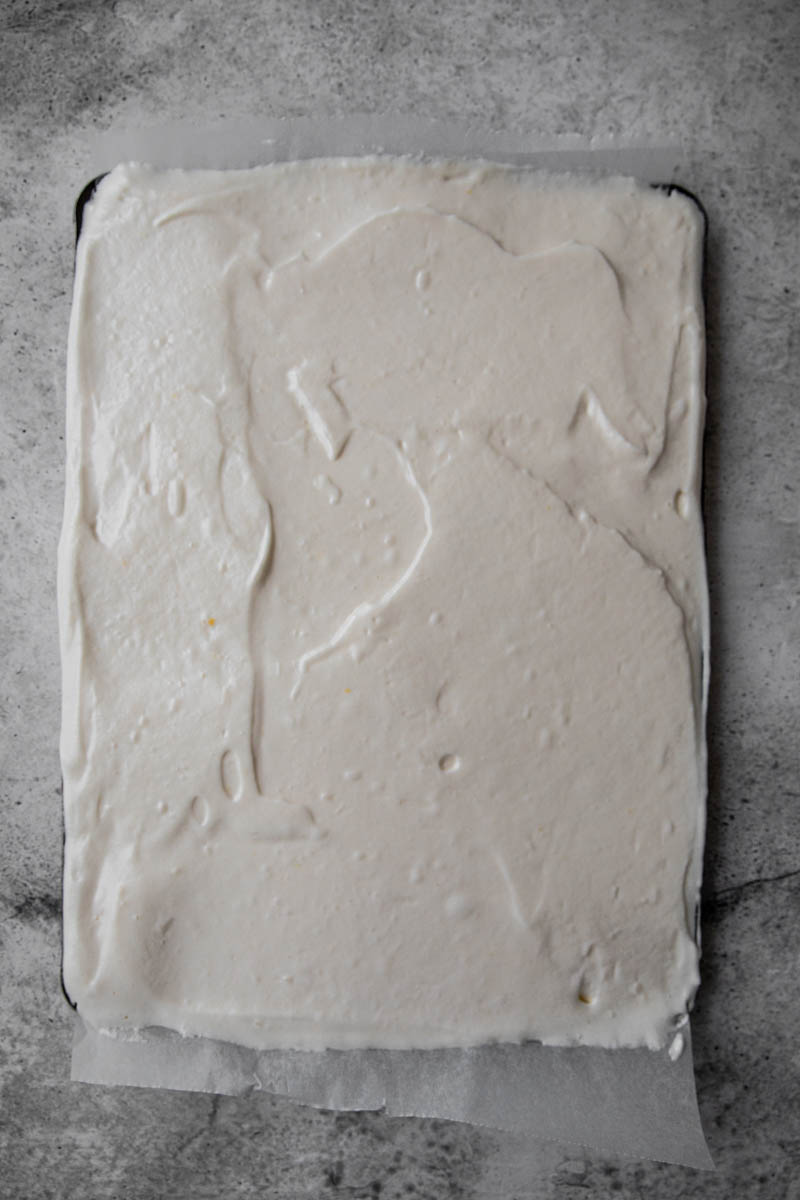 How to roll a cake without cracking it?
The most important thing to do to prevent cracks, and keep the cake moist when rolling it is to:
Turn over the cake it immediately after removing from the oven onto a piece of parchment paper sprinkled with powdered sugar. Leave 3 cm of paper on one of the short edges side.
Remove the parchment paper it was naked on delicately.
Trim the edges using a serrated knife. Trim one of the short edges diagonally.
Fold the 3 cm of parchment paper over the trimmed straight short edge.
Roll the cake as tightly as you can, real slow.
Let it cool down at room temperature rolled and covered in parchment paper.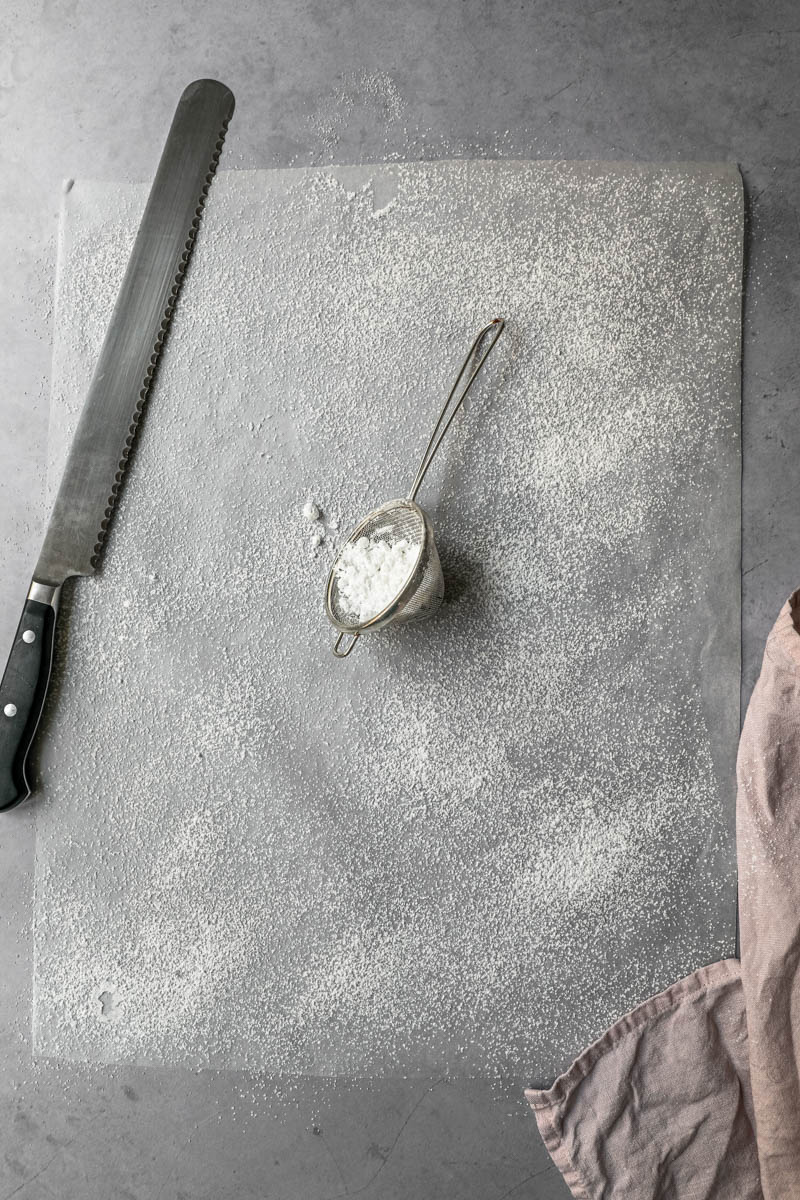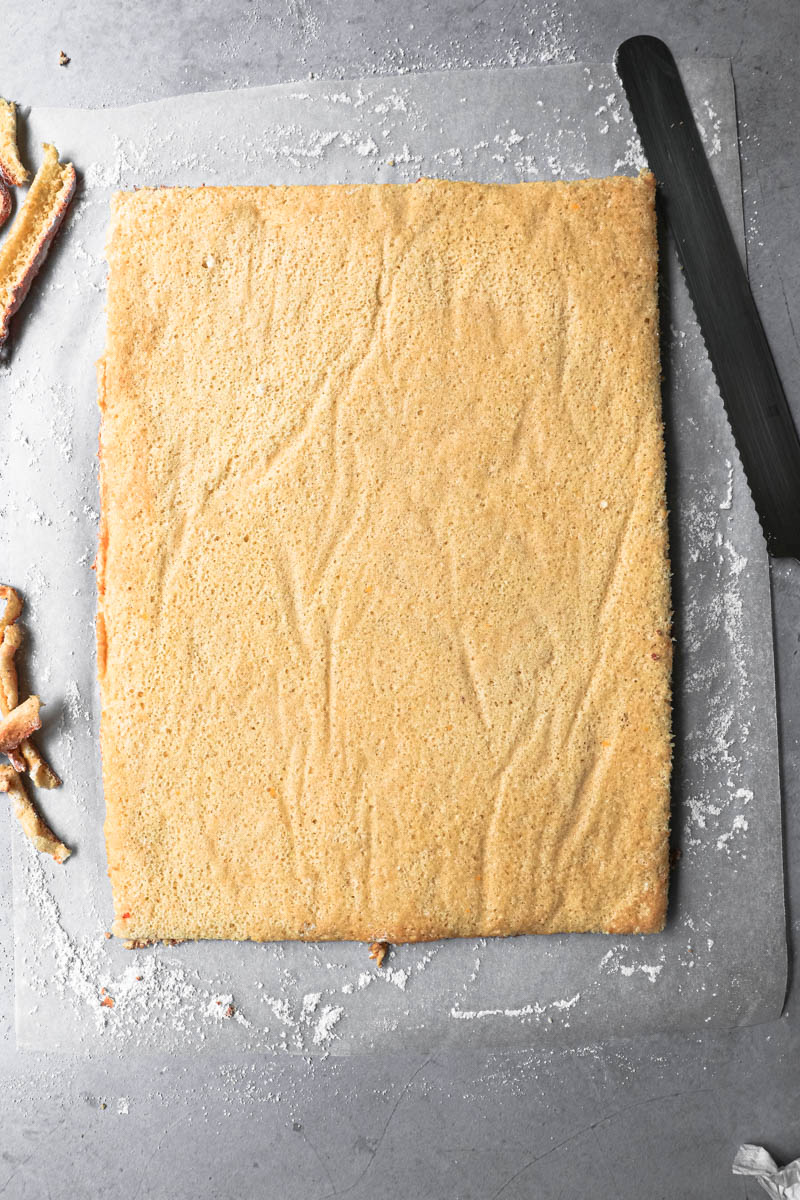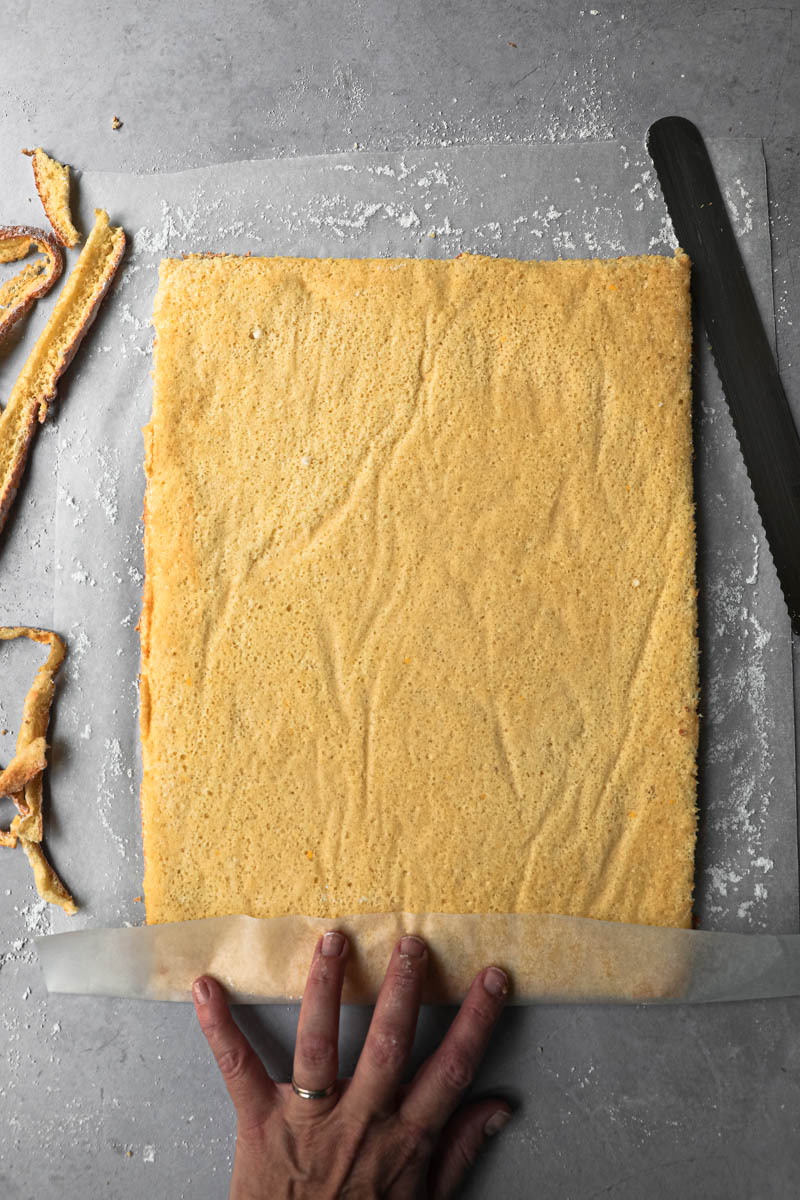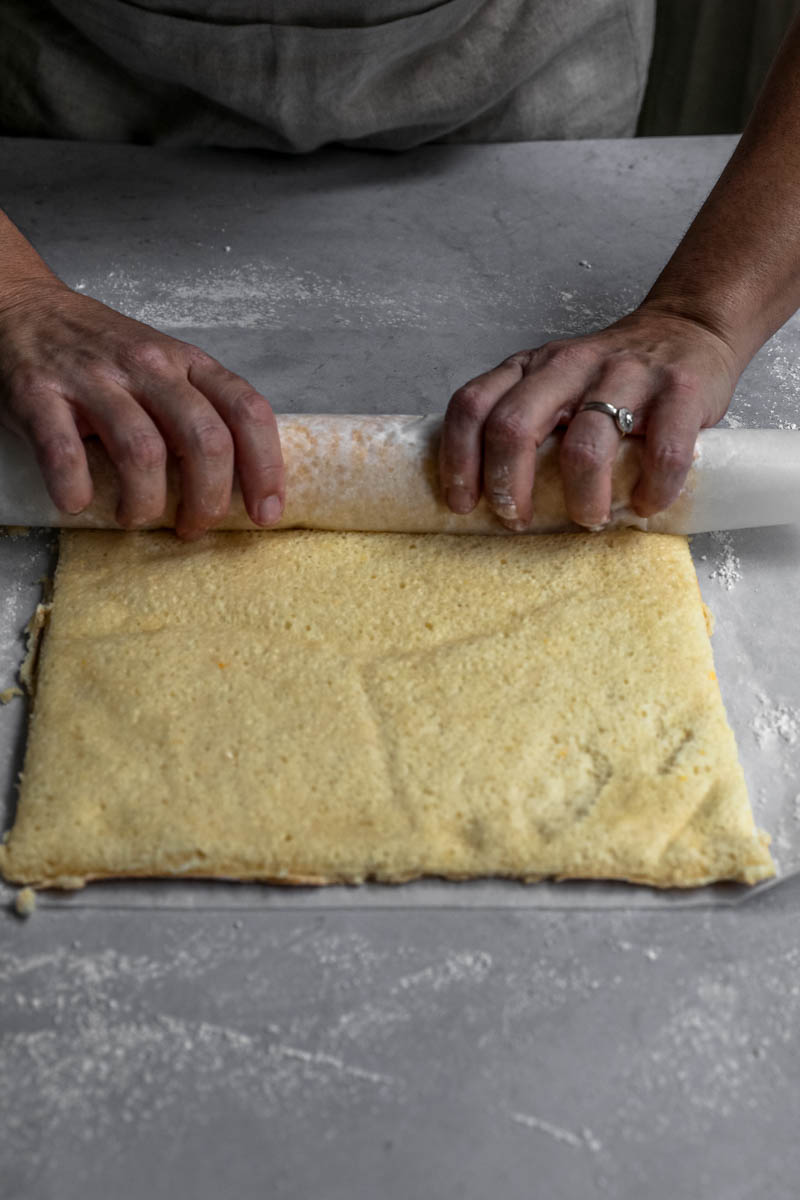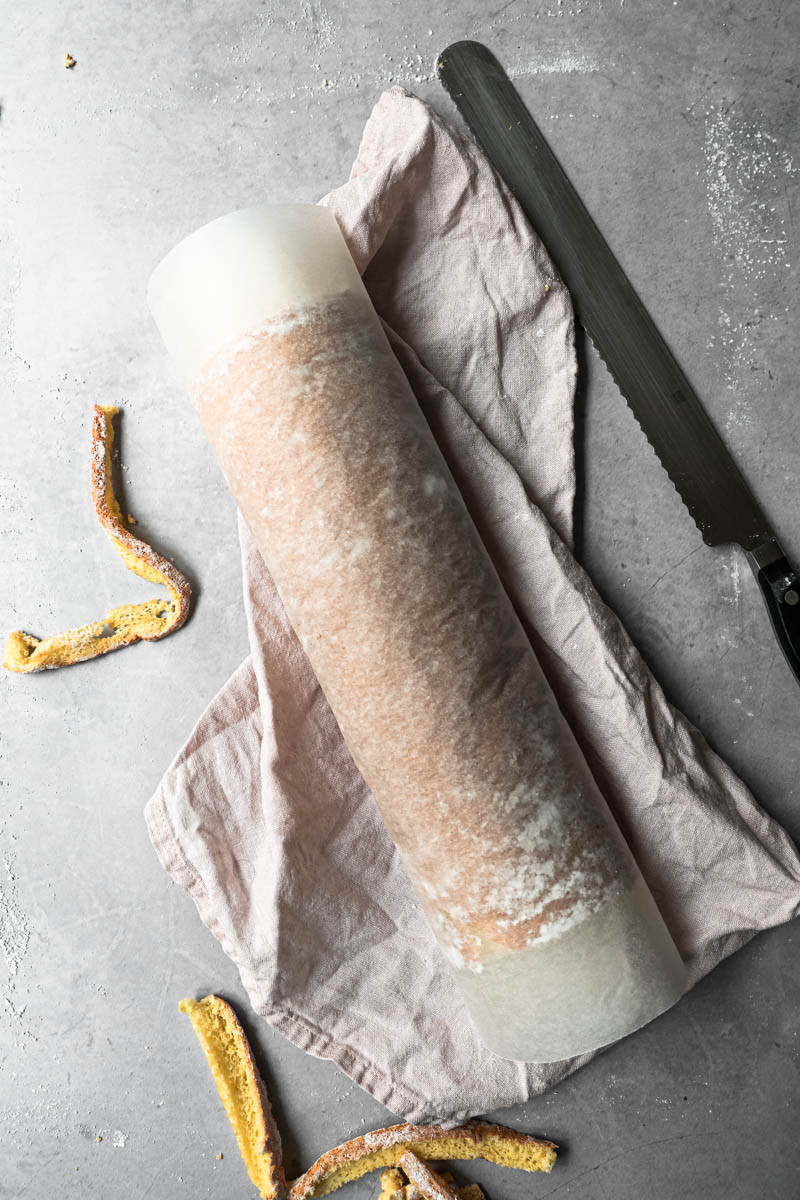 Freezer instructions
You can freeze this cake once it has been baked and rolled as instructed in the recipe. Make sure to double wrap in plastic wrap and put it on a tray to freeze so it will not break in the freezer. Once it is frozen you can transfer to a freezer bag. You can keep in the freezer for up to 1 month.
To defrost, let it sit at room temperature for about 2 hours before unrolling the cake. Fill it an decorate it as instructed.
How to make strawberry Chantilly Cream?
First you need to make a regular Chantilly cream following this golden rule:
General rule is whipping cream + 10% of cream weight of powdered sugar + vanilla bean .
Whipped until it forms soft peaks.
Chantilly cream needs to be refrigerated always. If not using right away keep in the fridge. It cannot be frozen.
Once the Chantilly cream is ready, fold in the cream cheese and the strawberry jam.
You can use store bought jam or if you feel like making your own, here is a recipe I like: Strawberry jam.
You could also replace the strawberry jam by this raspberry jam I use in this filled doughnut recipe: Raspberry Jam-Filled Brioche Donuts. So good!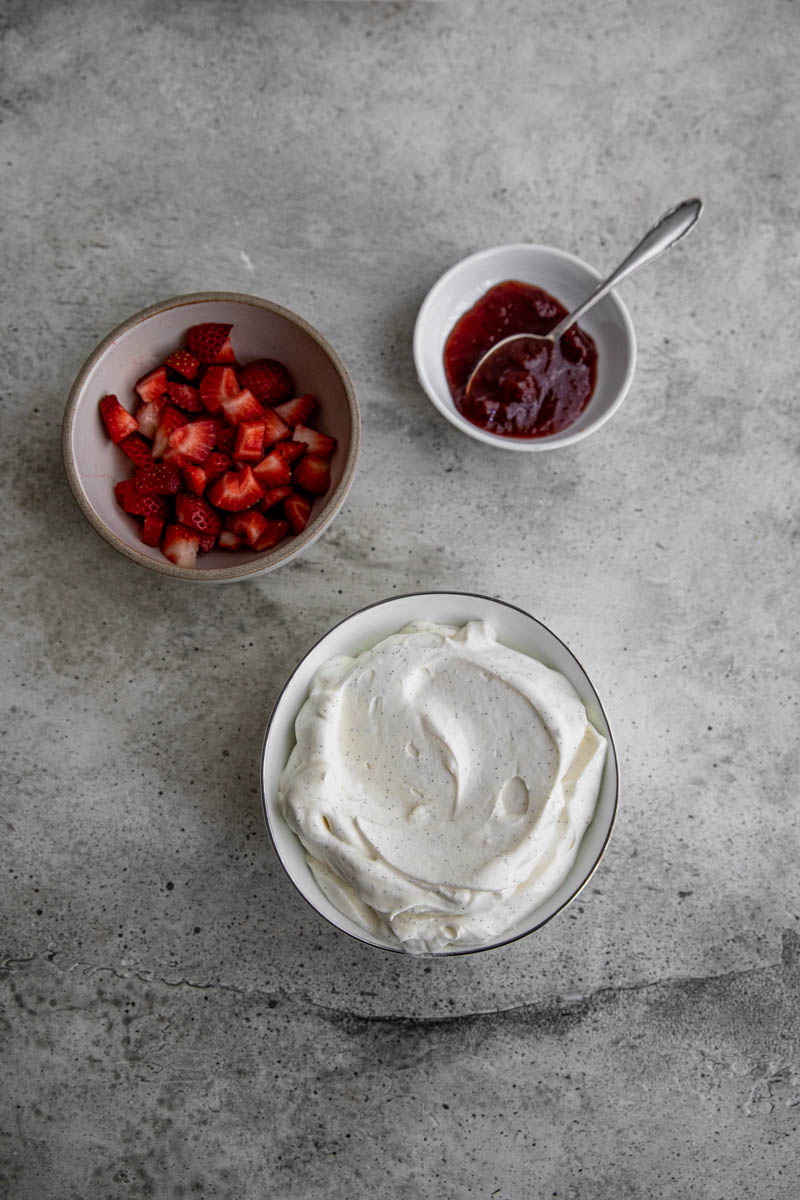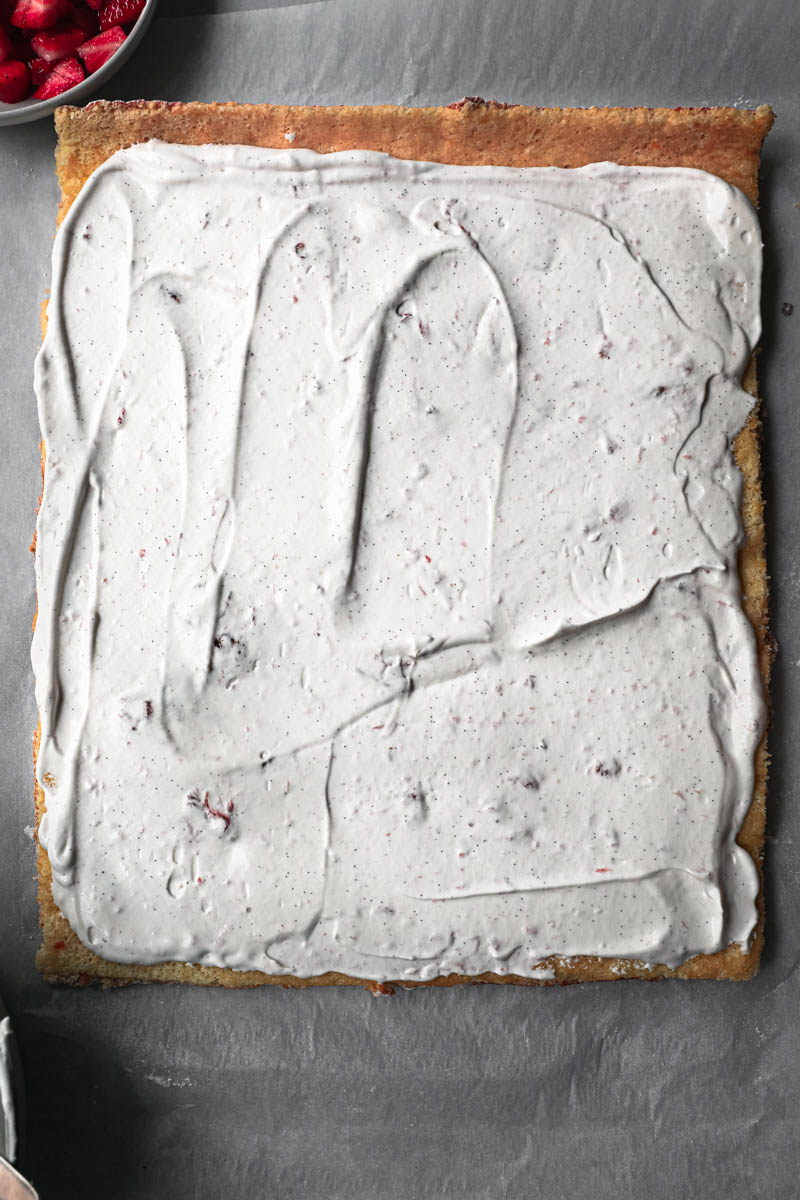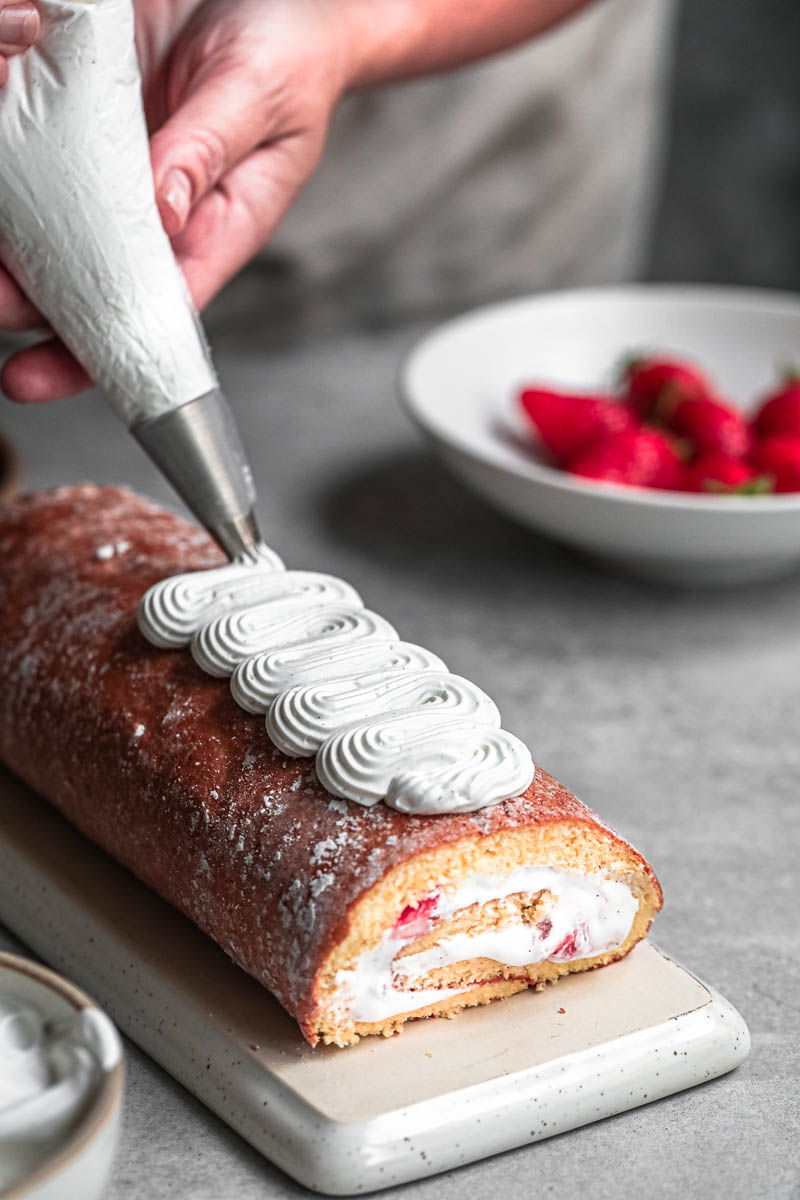 Assembling this simple dessert
Unroll the cake and keep if over the parchment paper.
Spread the Chantilly cream evenly leaving 2 cm from the straight shorter edge without cream. Keep about 50 g of the cream for frosting the roll cake later.
Add the strawberries cut into small cubes and gently press them down.
Roll the strawberry cake slowly and as tightly as possible.
Refrigerate covered in plastic wrap or parchment paper for a minimum of 2 hours.
If you have questions don't hesitate to comment below! If you made the cake, I would love to hear about it!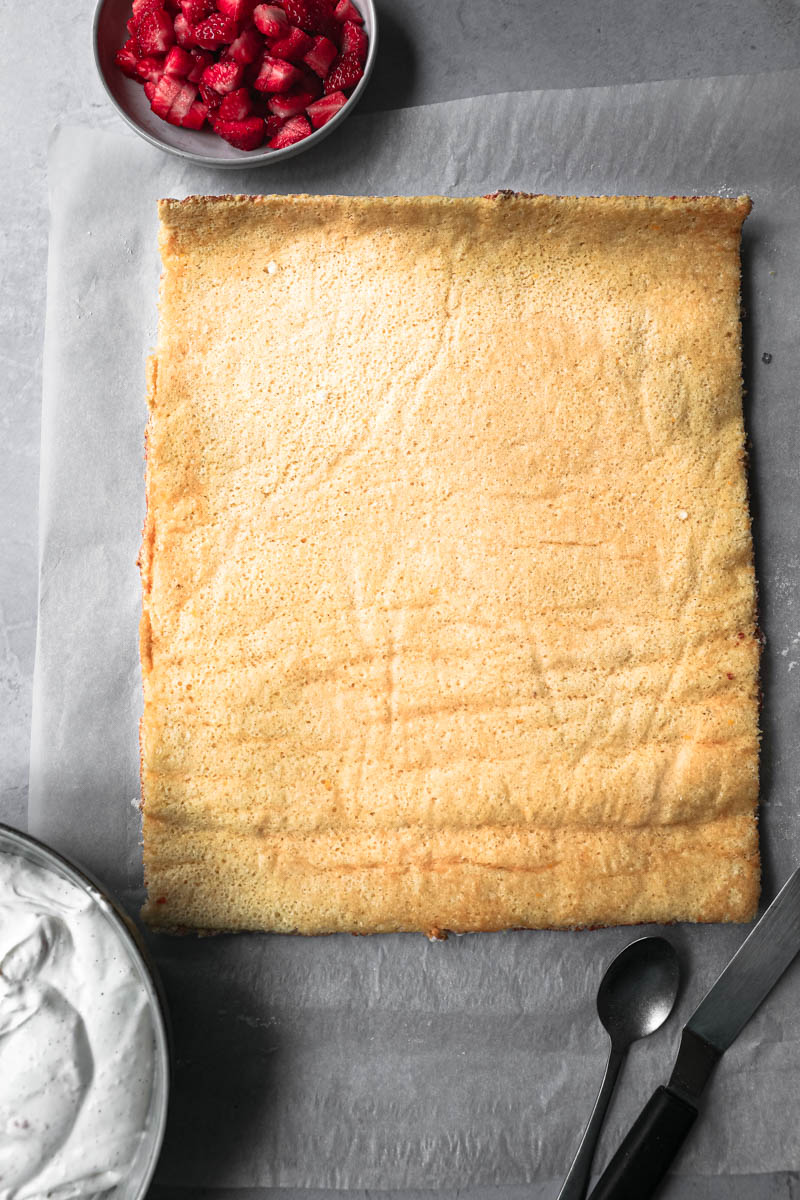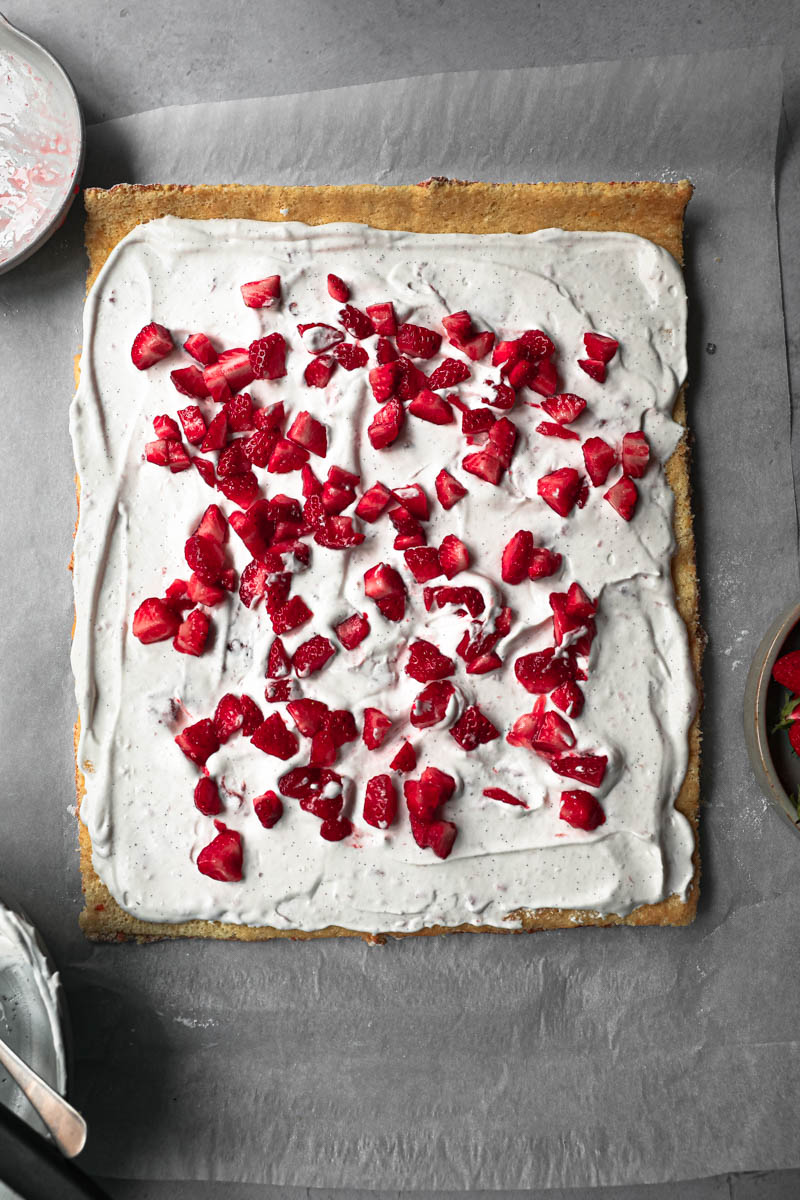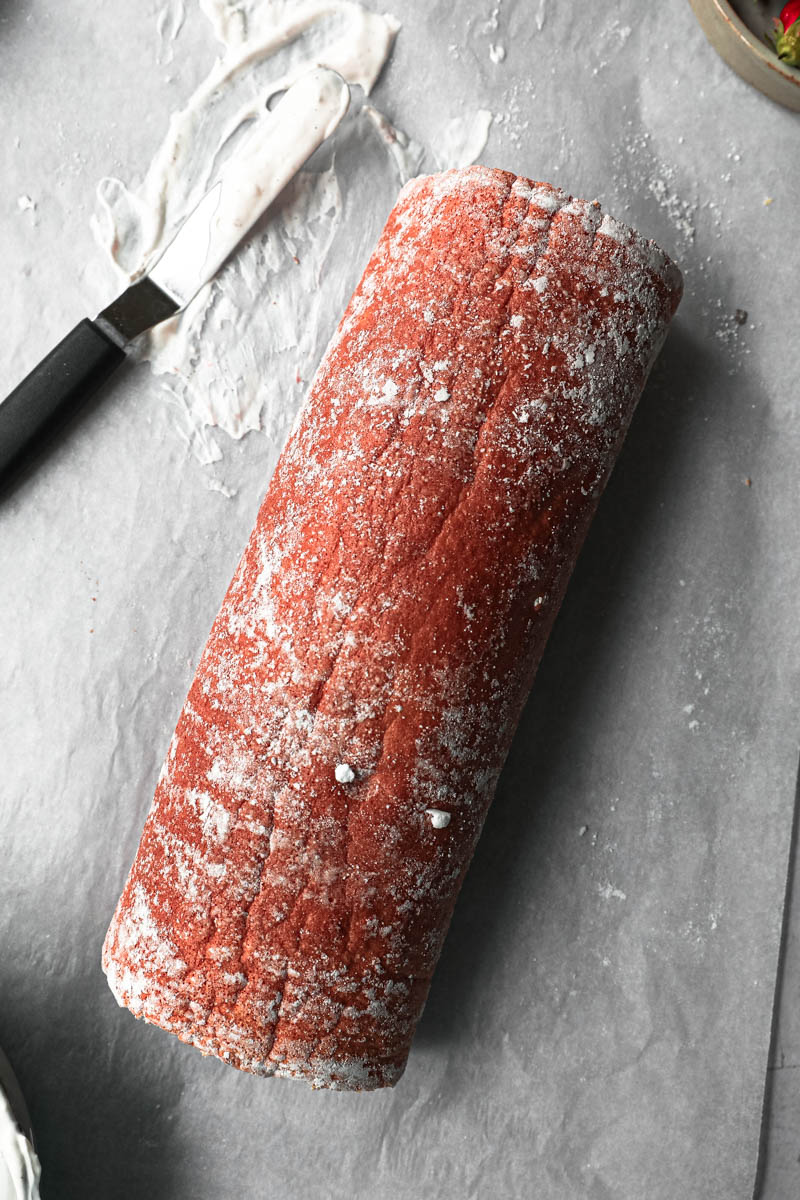 Storage instructions
You can keep this cake rolled and filled in the refrigerator for up to 2 days. After that the strawberries will become soggy and will make the rest of the cake soggy as well.
Variations for this recipe
You can change the decoration for this roll cake (as shown in the photo below). To do so, you must:
Thinly slice the strawberries.
Warm up some strawberry jam, so that it has become liquid..
With a brush paint the outside of the roll until it is completely covered with a thin layer of jam.
Then brush each slice of strawberry and stick it onto the roll, as shown in the photo below.
Finally, brush a thin layer of some warm jam over the whole roll covered with strawberries to make it shine a little!
You can replace the strawberries in this roll cake for any other berry, or you can even make one with mixed berries. The more the merrier.
You can also add a thin layer of dulce de leche before adding the strawberry Chantilly cream. This is an exceptionally good idea! You can use store bought dulce de leche, no problem!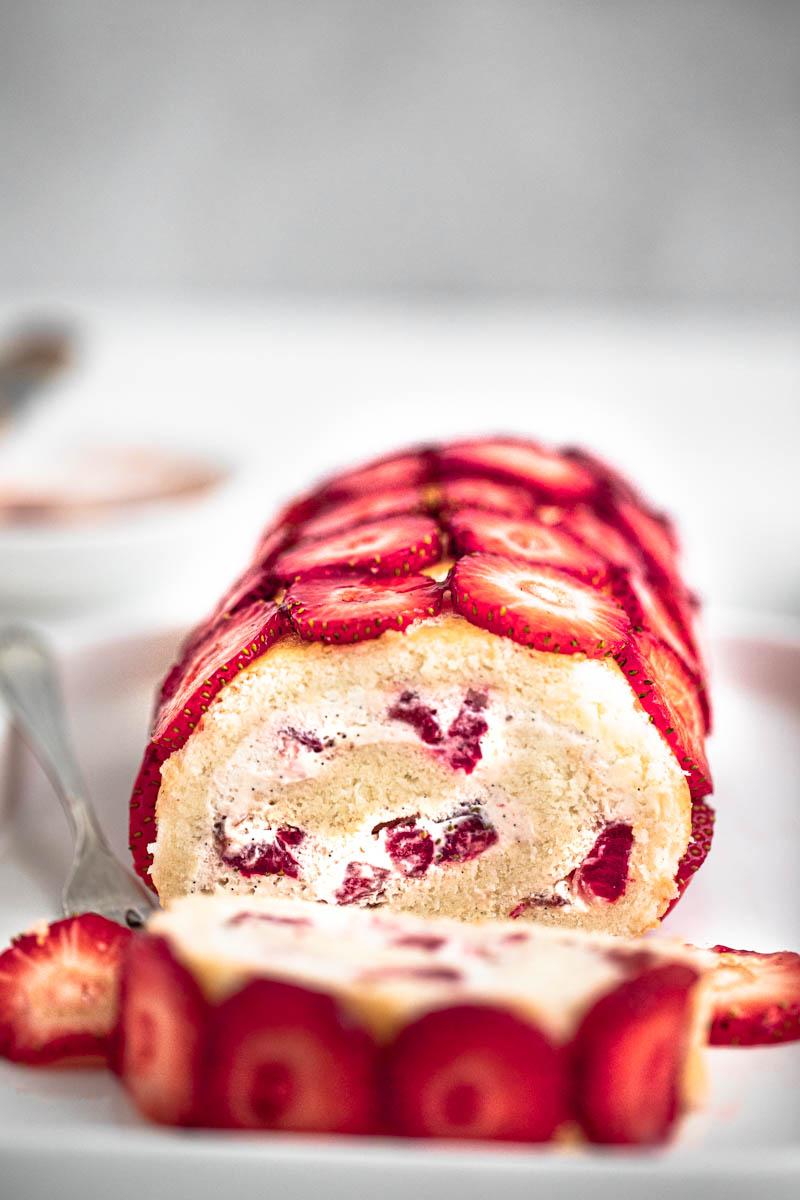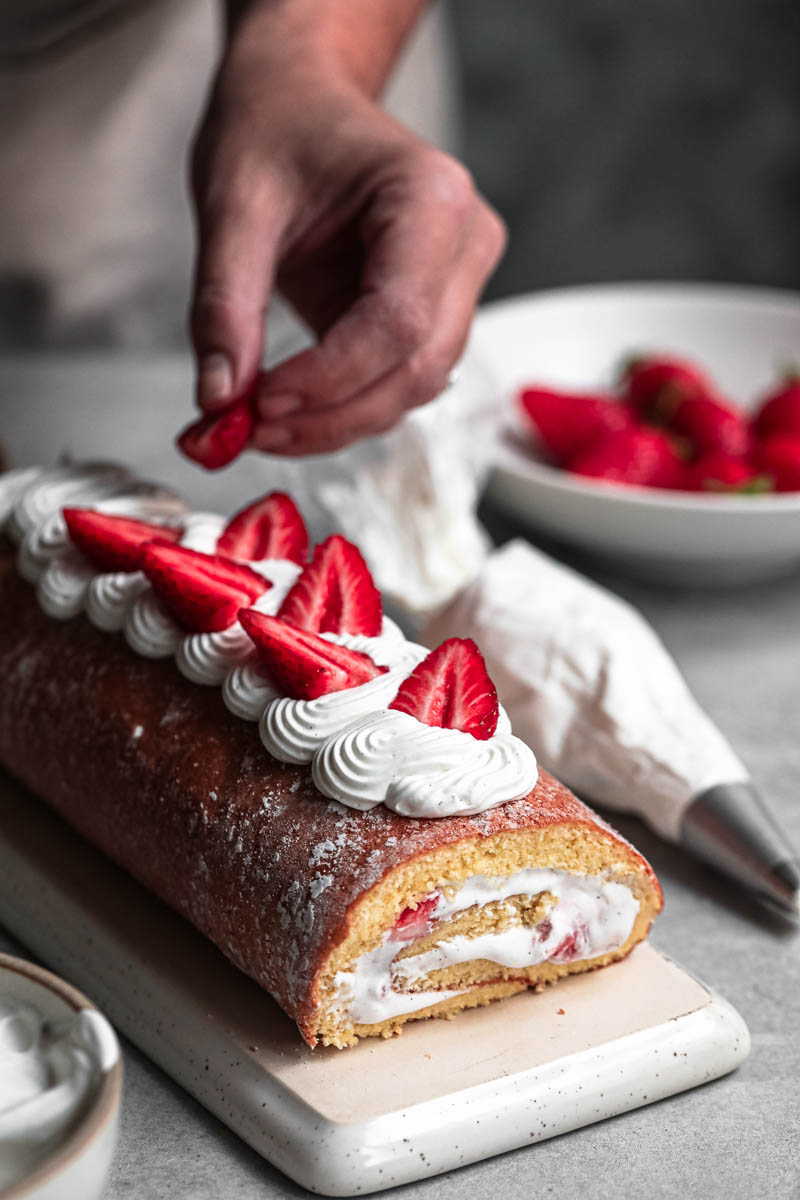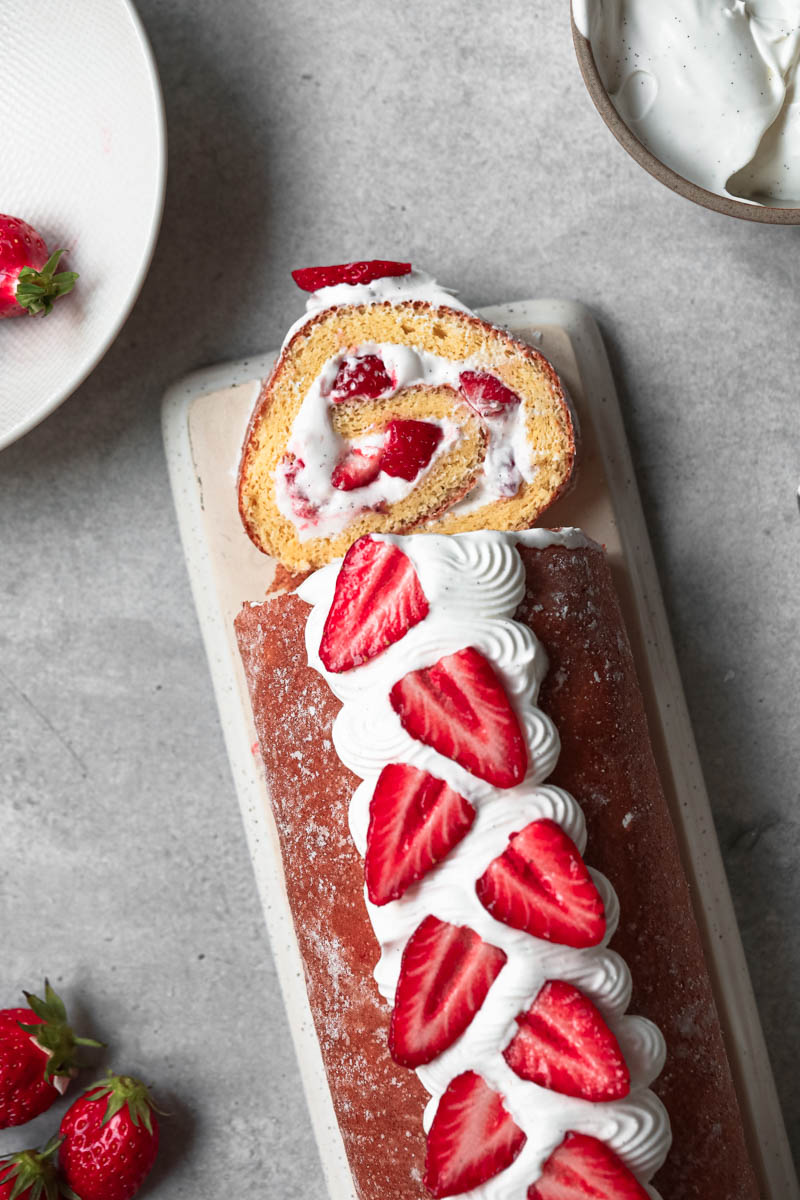 Happy Cooking!
If you made this recipe I would really appreciate it if you leave a rating or comment below! Also, if you share on social media please use #cookwithbelula, I would love to see what you create!