French Raspberry Chocolate Charlotte Cake
A classic French raspberry chocolate charlotte cake recipe made with a homemade ladyfinger biscuit, a chocolate Bavarian cream, filled and topped with fresh raspberries.
This raspberry and chocolate charlotte cake recipe is a variation of the classic French pear Charlotte cake. Don't let all the components intimidate you, and you can totally make this fresh fruit charlotte recipe at home! It calls for homemade ladyfinger cake, filled with smooth chocolate Bavarian cream and filled and topped with fresh raspberries. The cake is also brushed with flavorful raspberry syrup to intensify the raspberry taste of the cake. You are going to want to make this recipe as it's so tasty and delicious. I hope you love it! P.S you don't need a fancy charlotte cake pan to pull this off! A simple cake ring will suffice!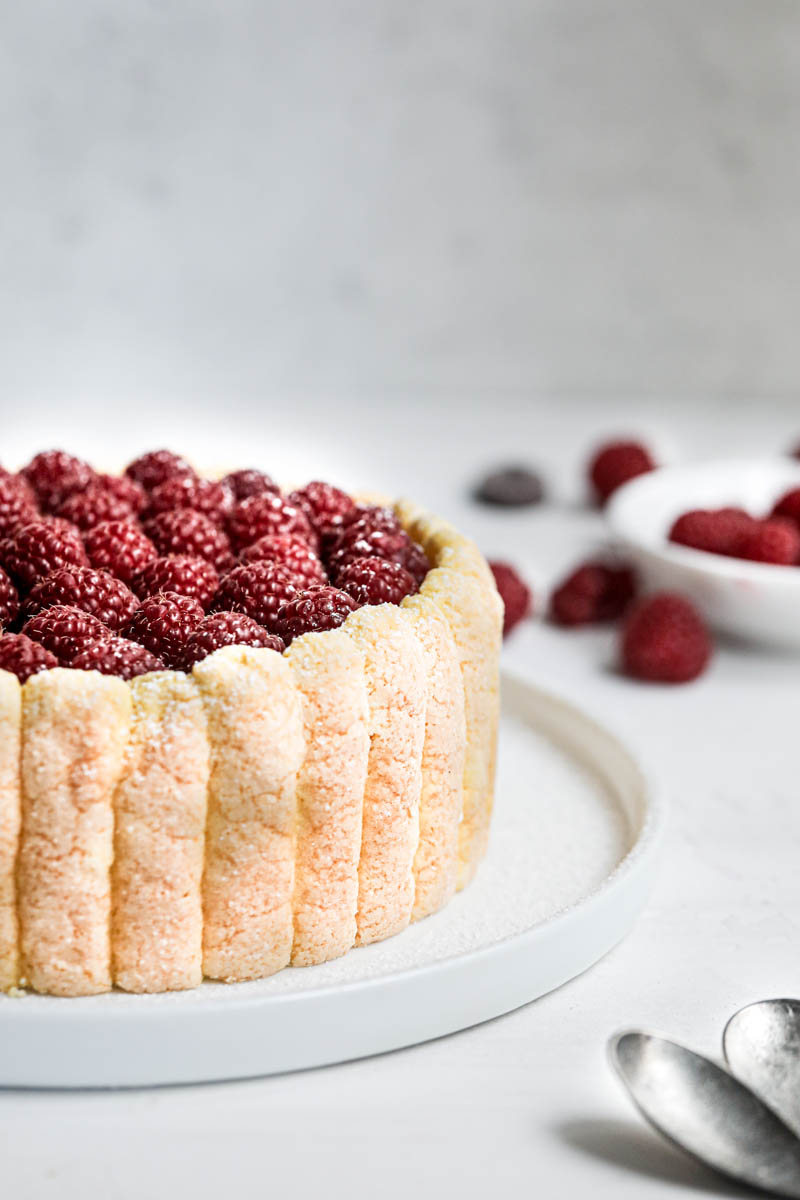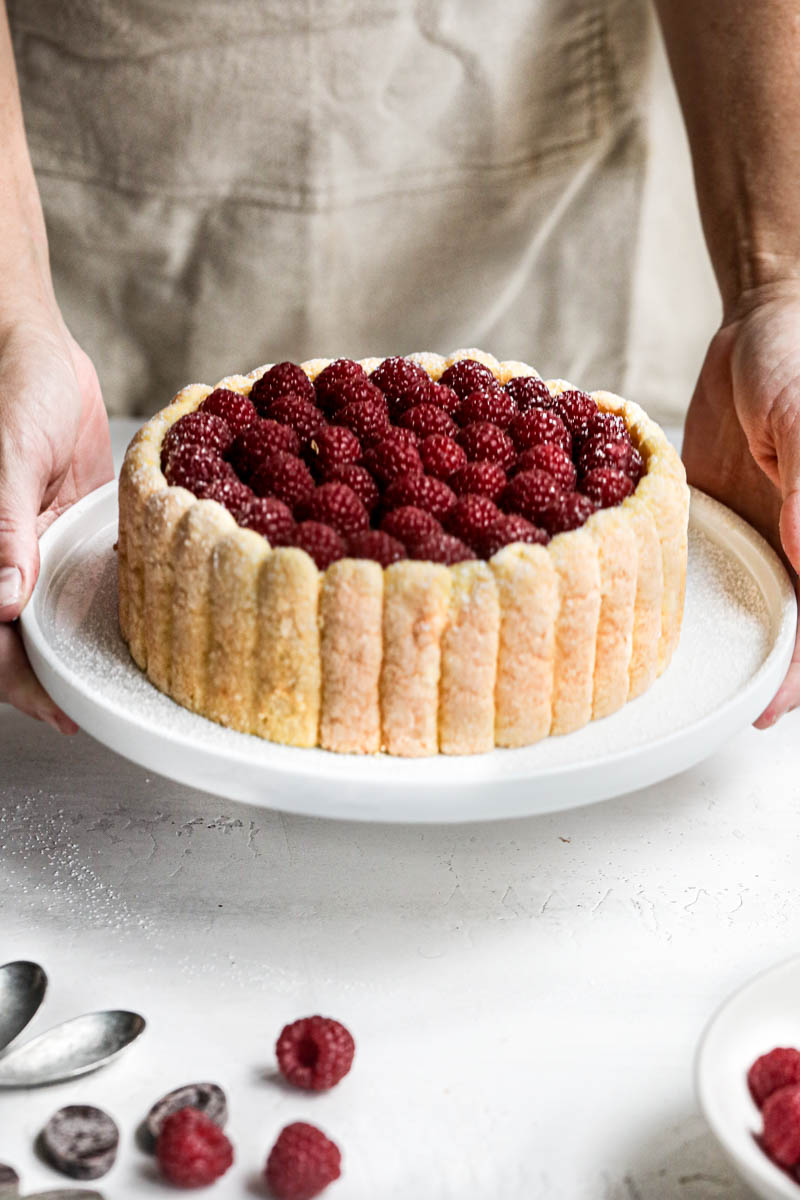 Utensils & Ingredient Notes
Raspberries: Make sure to use fresh raspberries for the filling. If you want to use frozen raspberries, use them for the syrup.
Gelatin sheets: They can be replaced with gelatin powder (1 sheet equals to 2.5 g powder gelatin approximately)
Heavy whipping cream: Whatever type you choose to use should have at least 30% fat content.
Ladyfinger biscuits: This recipe calls for homemade ladyfingers. You'll find that the recipe, tips instructions follow. However, you can make this charlotte cake with store-bought ladyfingers.
18 cm cake ring (6 cm high). I don't recommend using a charlotte cake pan, as fitting the biscuits in the same space is not an easy task, especially with homemade ones.
Acetate strip for lining the ring - If you don't have any, you can line the cake ring with parchment paper. Then, spray the ring to make the paper stick to it properly.
How to make homemade ladyfinger biscuits
Making the cake batter is simple, once you have all three components ready:
Blanched egg yolks/sugar
Beaten egg whites/sugar
Sifted flour
Now fold the egg whites into the egg yolk mixture delicately. And then finally fold in the flour.
Tips on piping the ladyfinger biscuits cake
Line a baking tray with parchment paper. Next, prepare a piping bag with a # 12 piping tip.
Make an easy template for piping out the cake batter: On a piece of parchment paper, draw one circle that is 16 cm in diameter, and in a second parchment paper sheet, draw out two rectangular bands 6 cm high and 35 cm long. Use dark black color to see your template when placing another parchment paper on top of it.
Pipe 2 spirals starting at the center of the disc you have already drawn and work your way to the outside.
Now pipe the edges of your charlotte cake by filling in the rectangular band you have on the template with lines about 1.5 cm in width that are not touching one another, but very close apart (1/2 mm).
Sprinkle twice with powder sugar using a small fine-mesh sieve and bake at 180 C°/360 F for 8 to 10 minutes, until golden.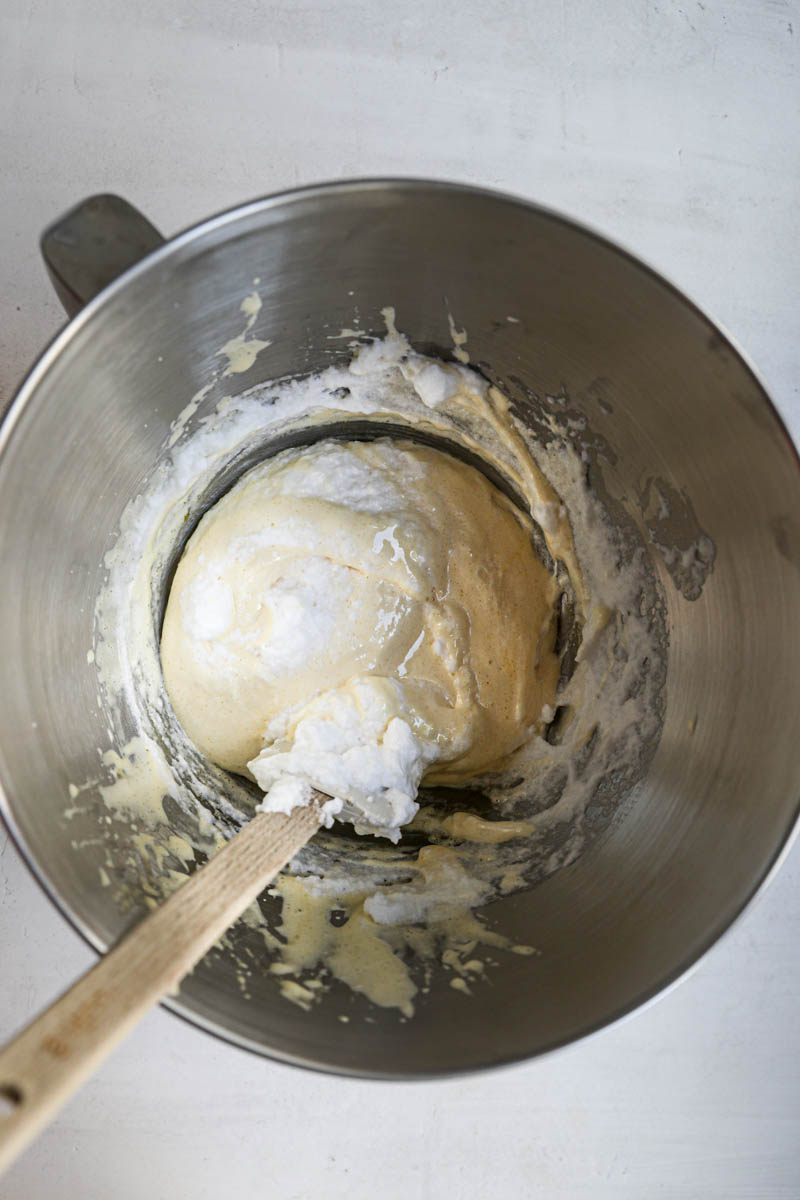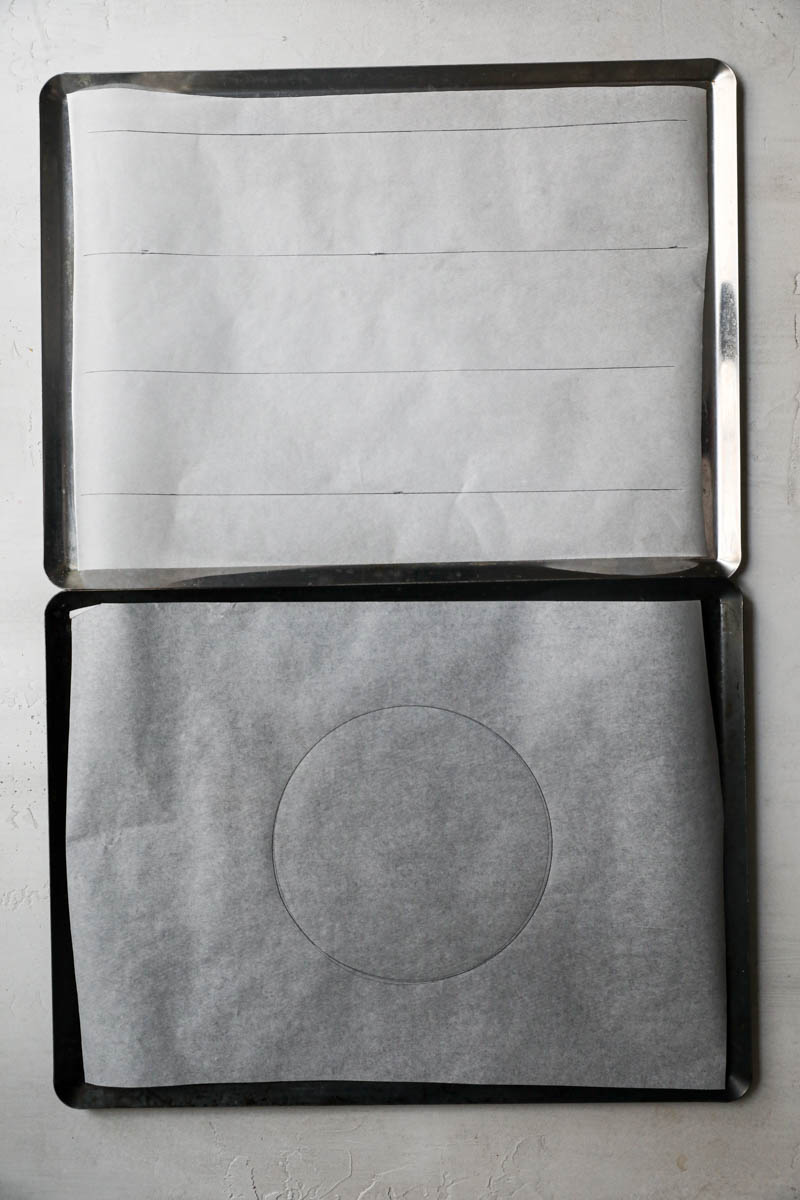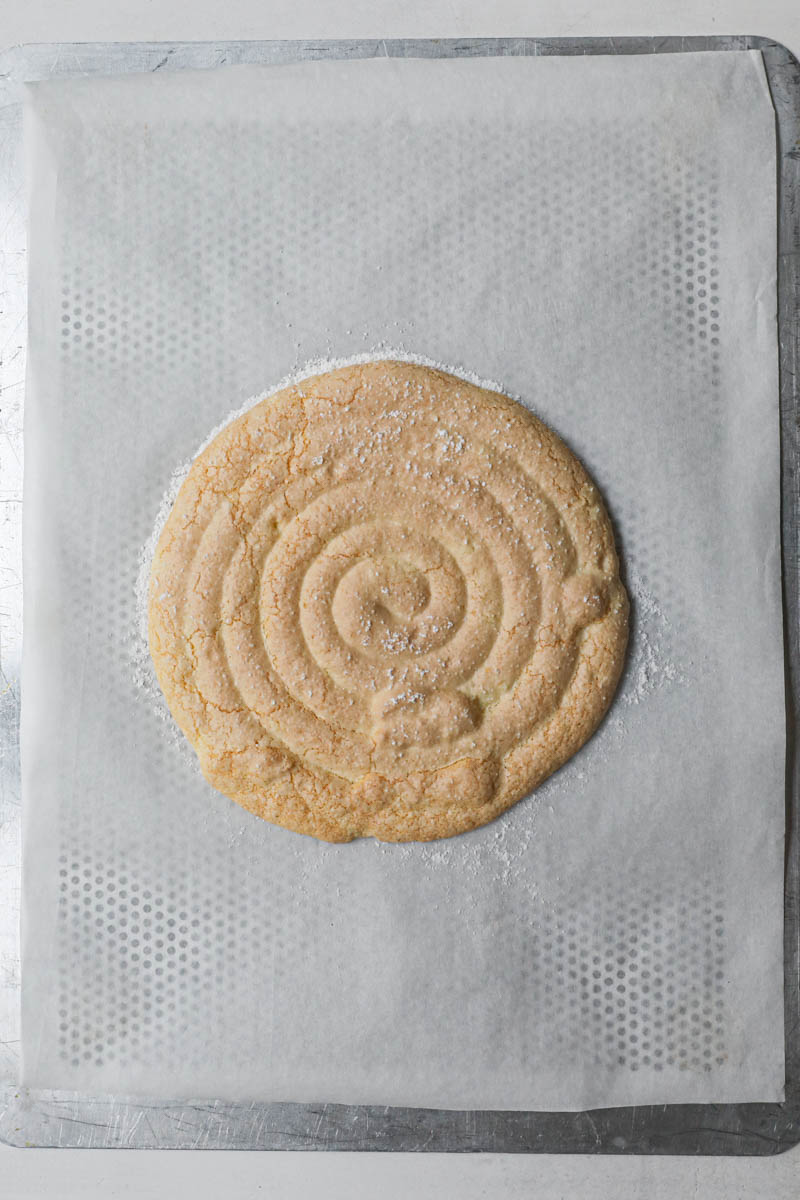 Notes on making a beautiful Bavarian Cream
The custard should be nice and smooth, make sure to use a thermometer to properly cook it to 82 C°.
Thinly chop the chocolate to make sure it melts, and there are no chocolate lumps in your ganache.
Beat the cream to soft peaks, shouldn't be too firm and fold into the ganache (once it has cooled down to 20 C° approximately) in 2 times using either a whisk (I like it better) or a spatula!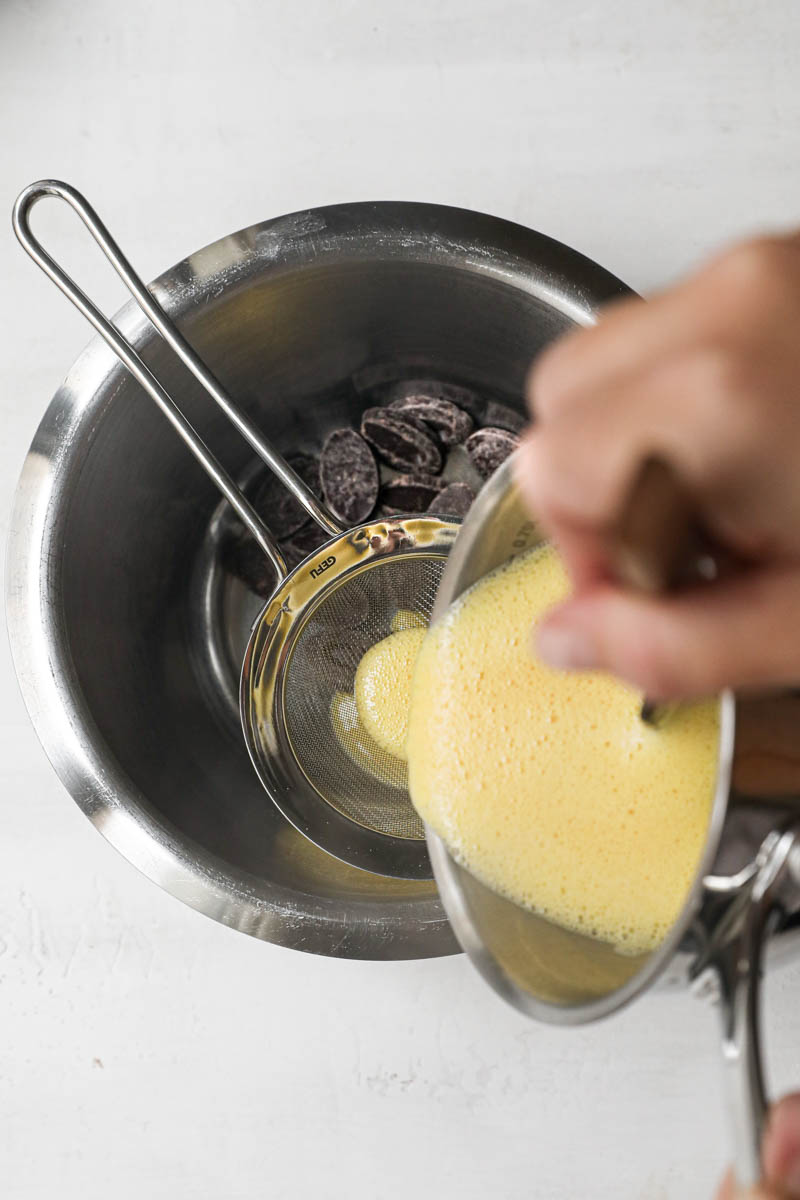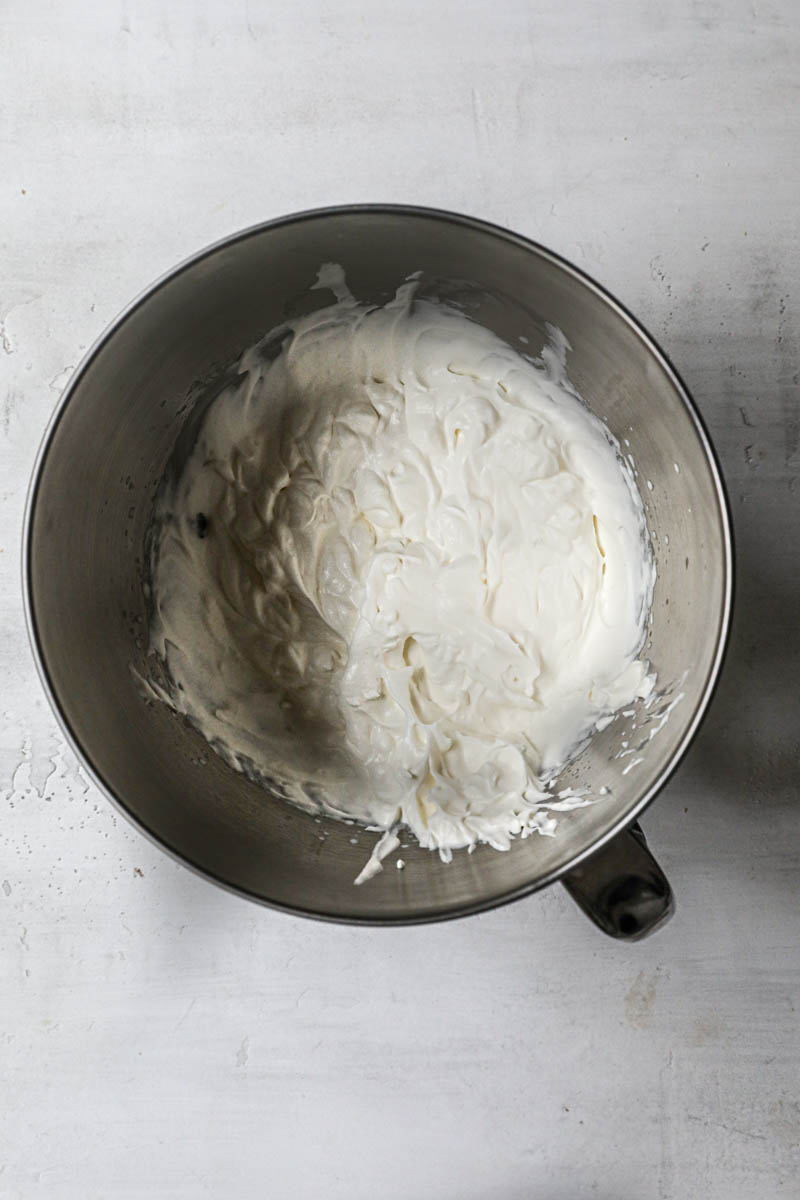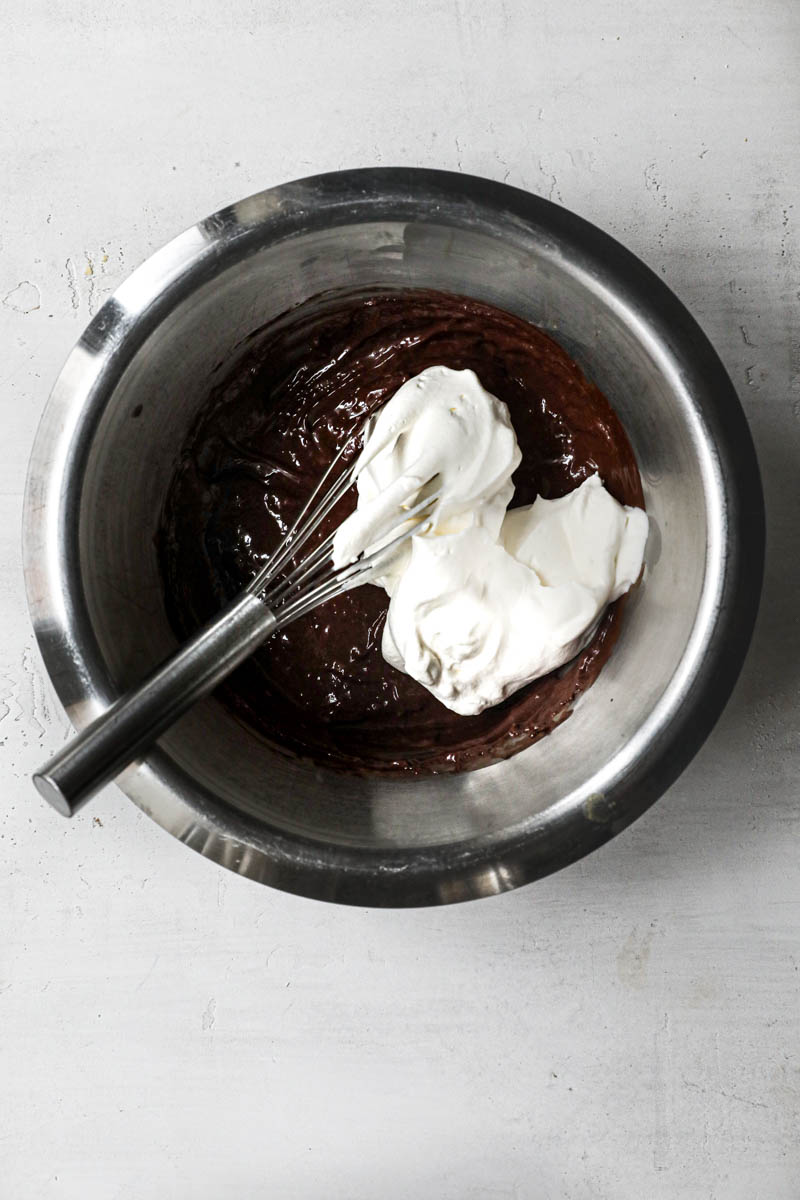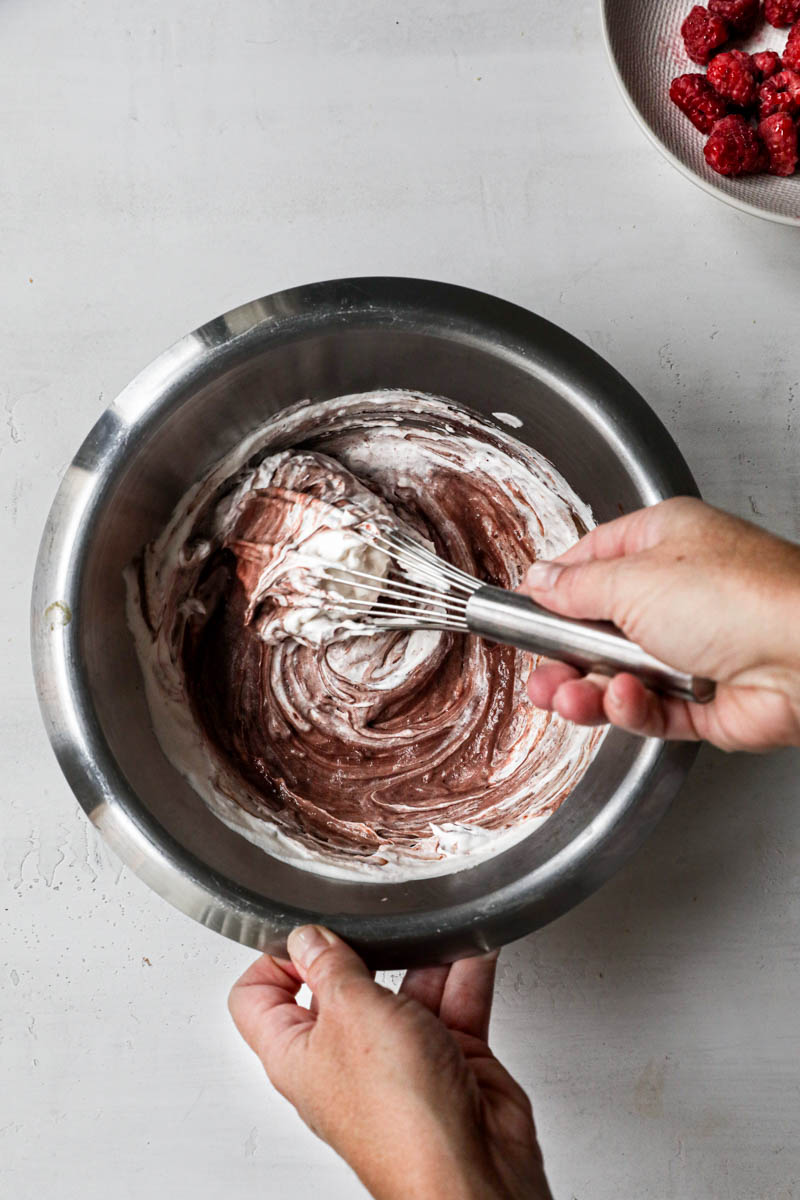 How to make this recipe
To make this fresh fruit charlotte cake recipe, you need to make:
The ladyfinger biscuits
Raspberry Syrup
Chocolate Bavarian Cream
Fresh raspberries
Once you have all the components ready, you can proceed to assemble the cake: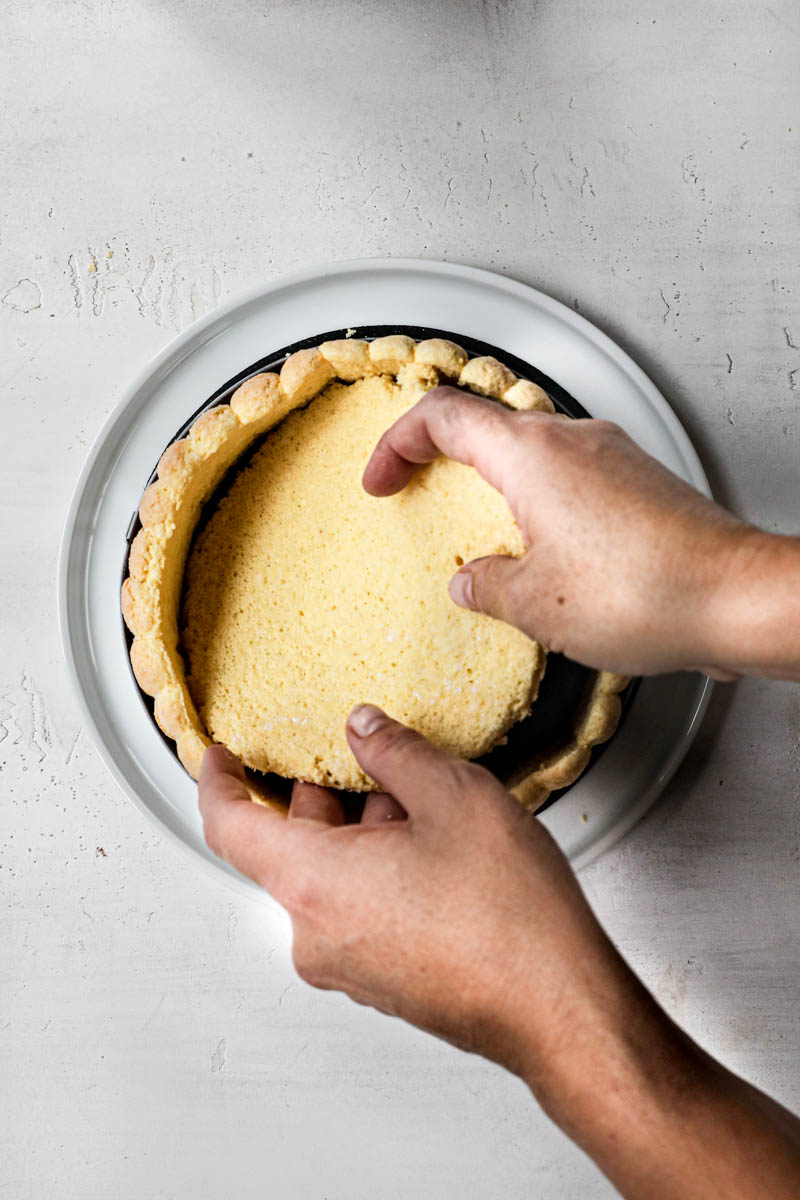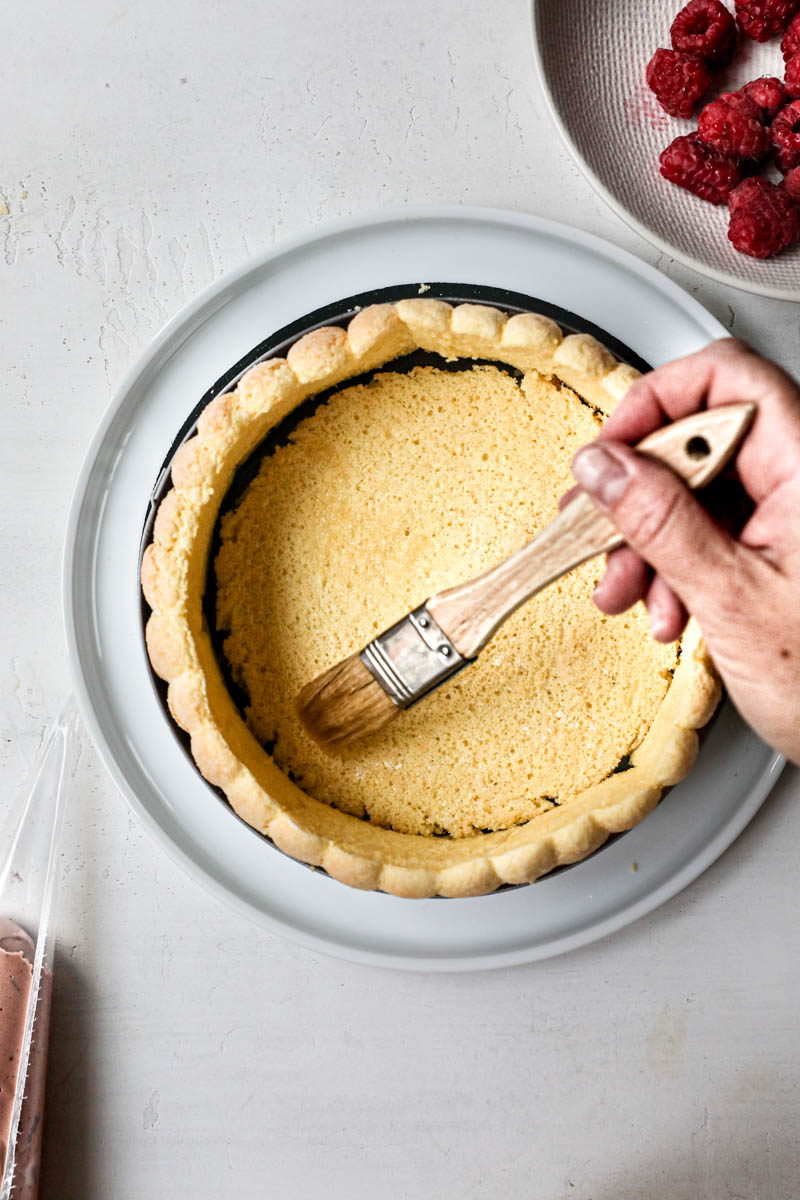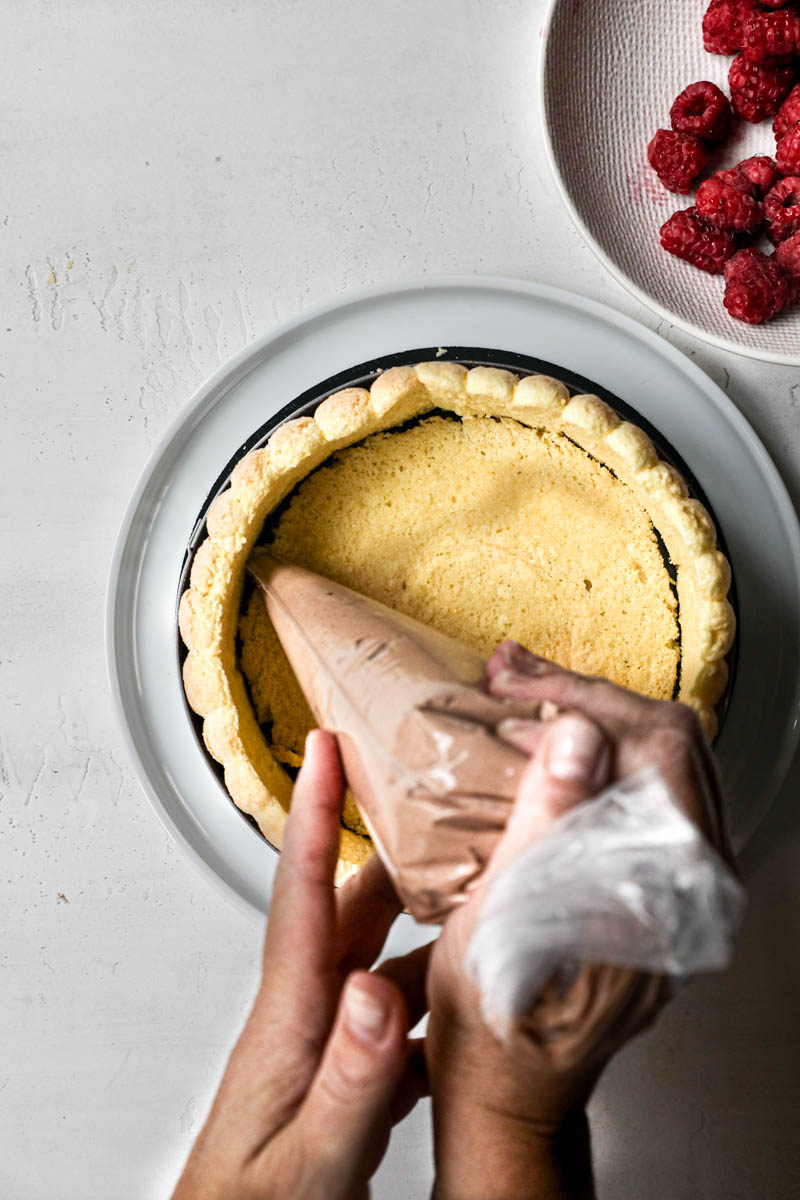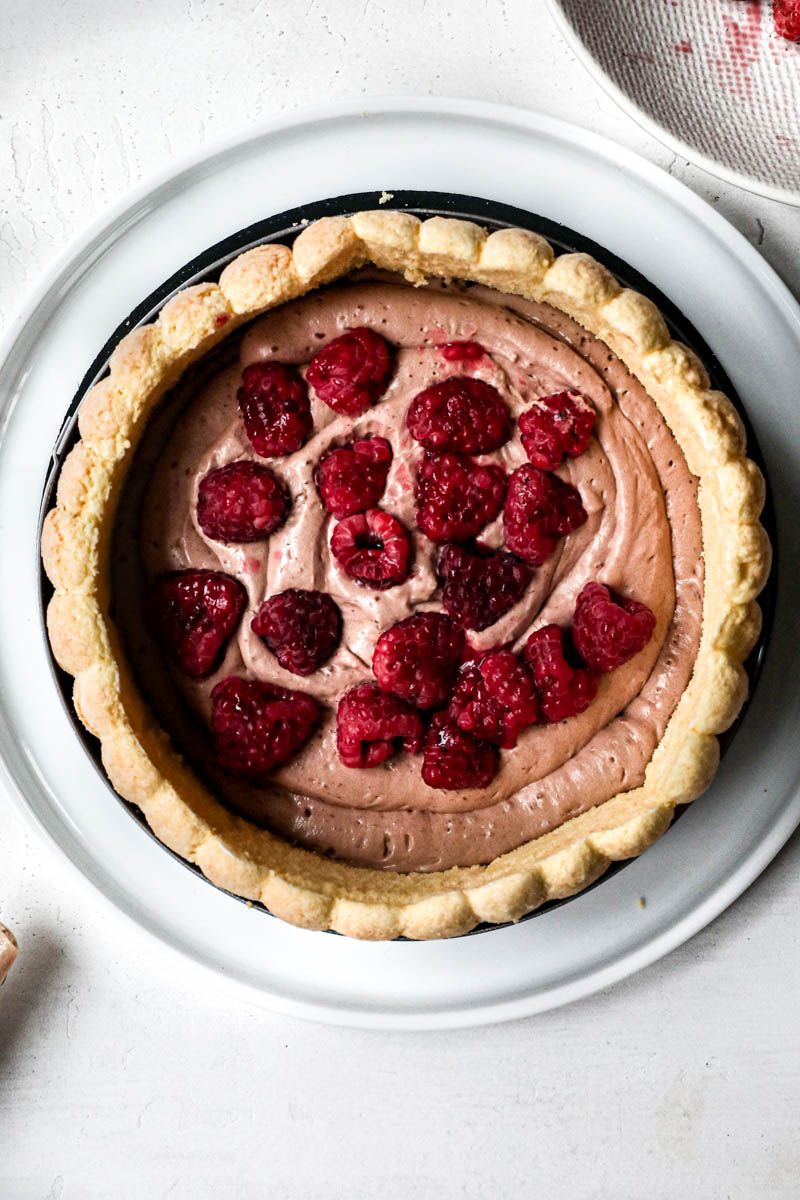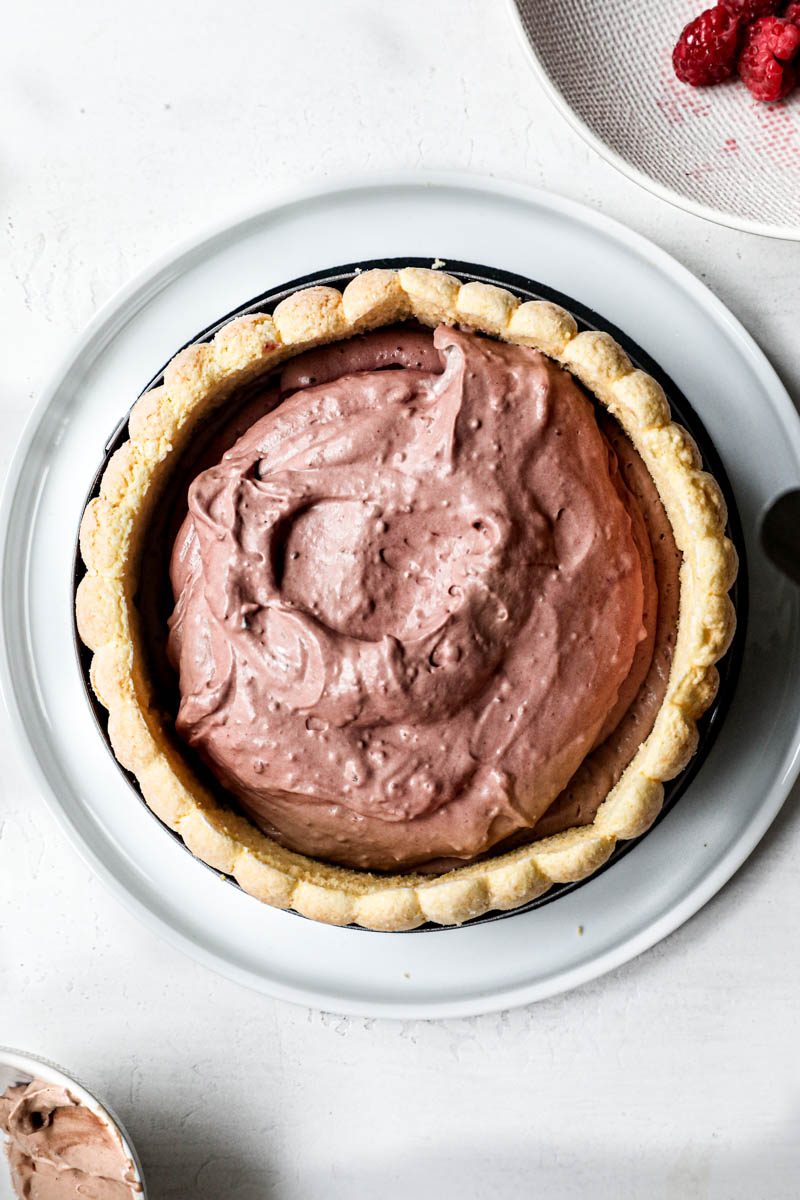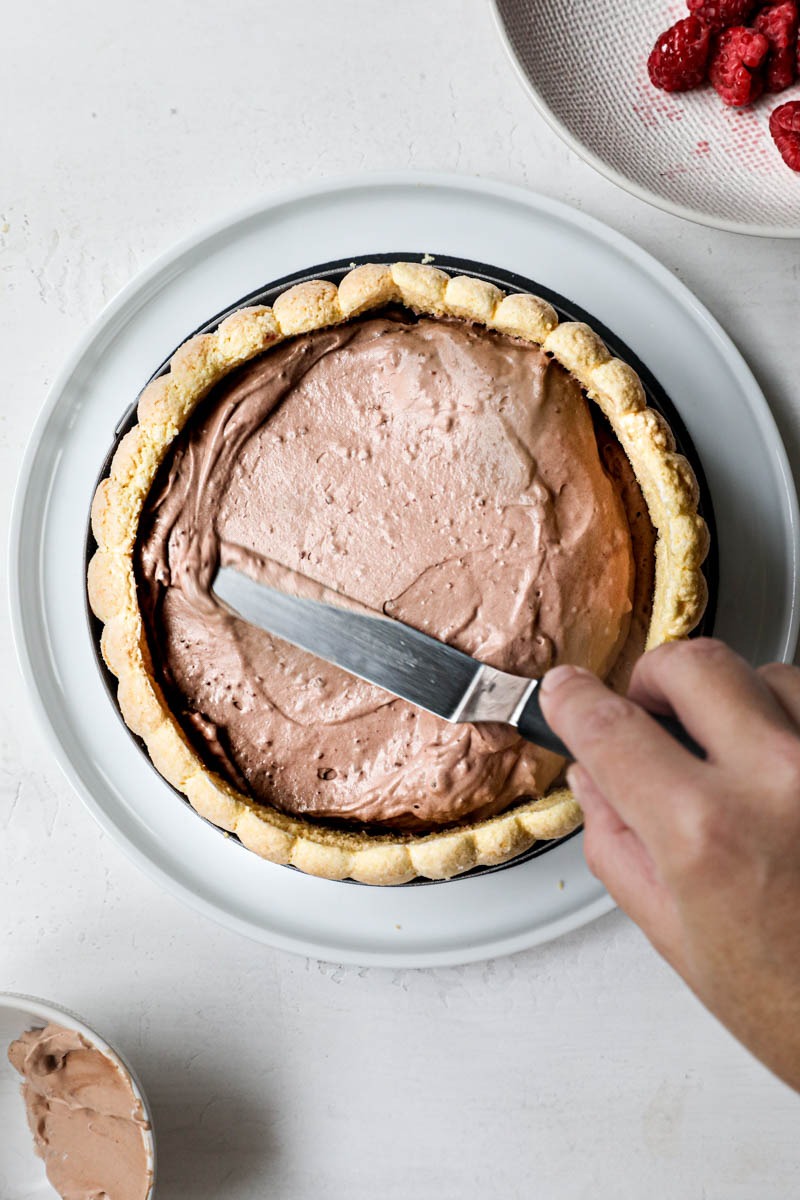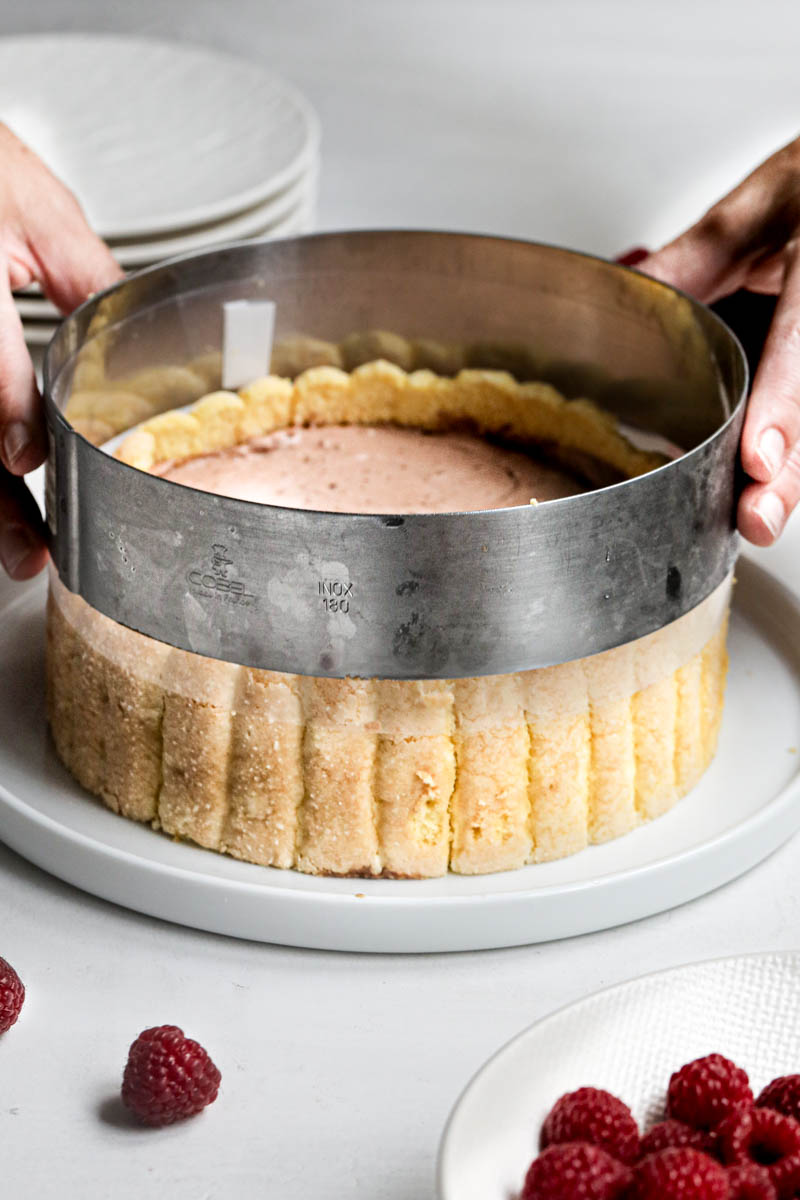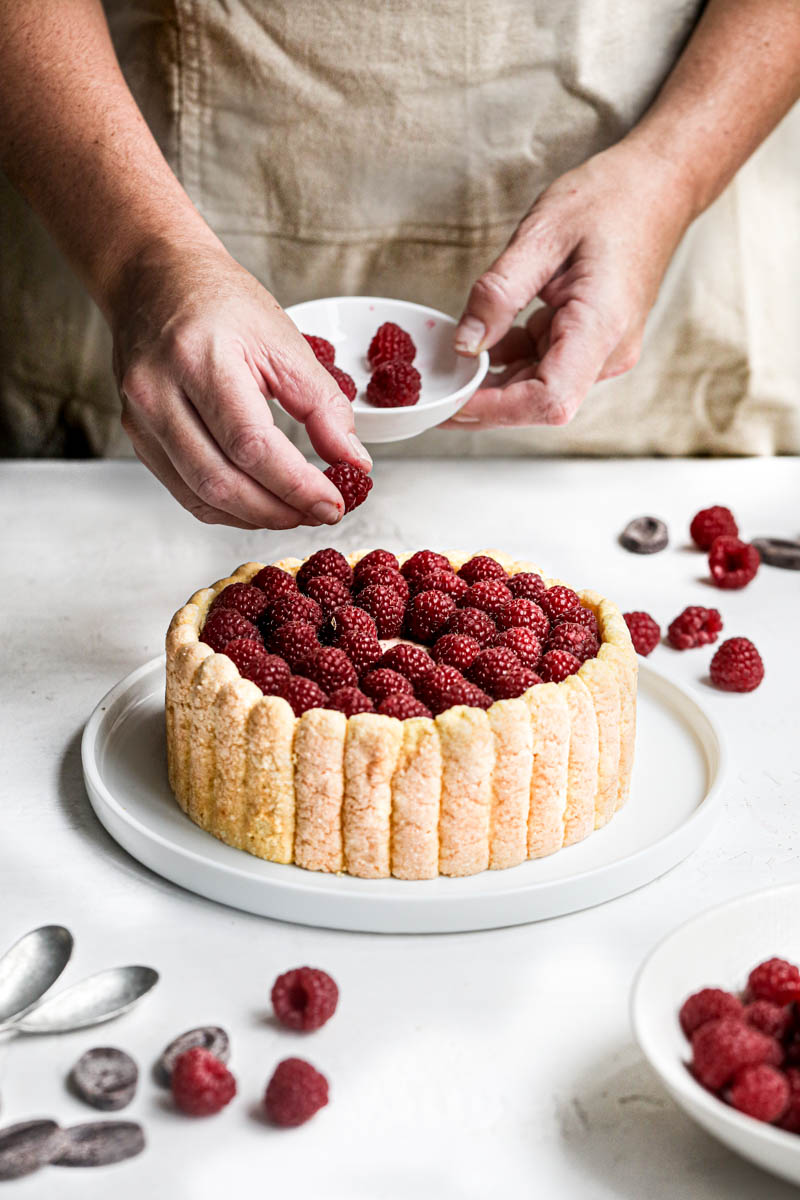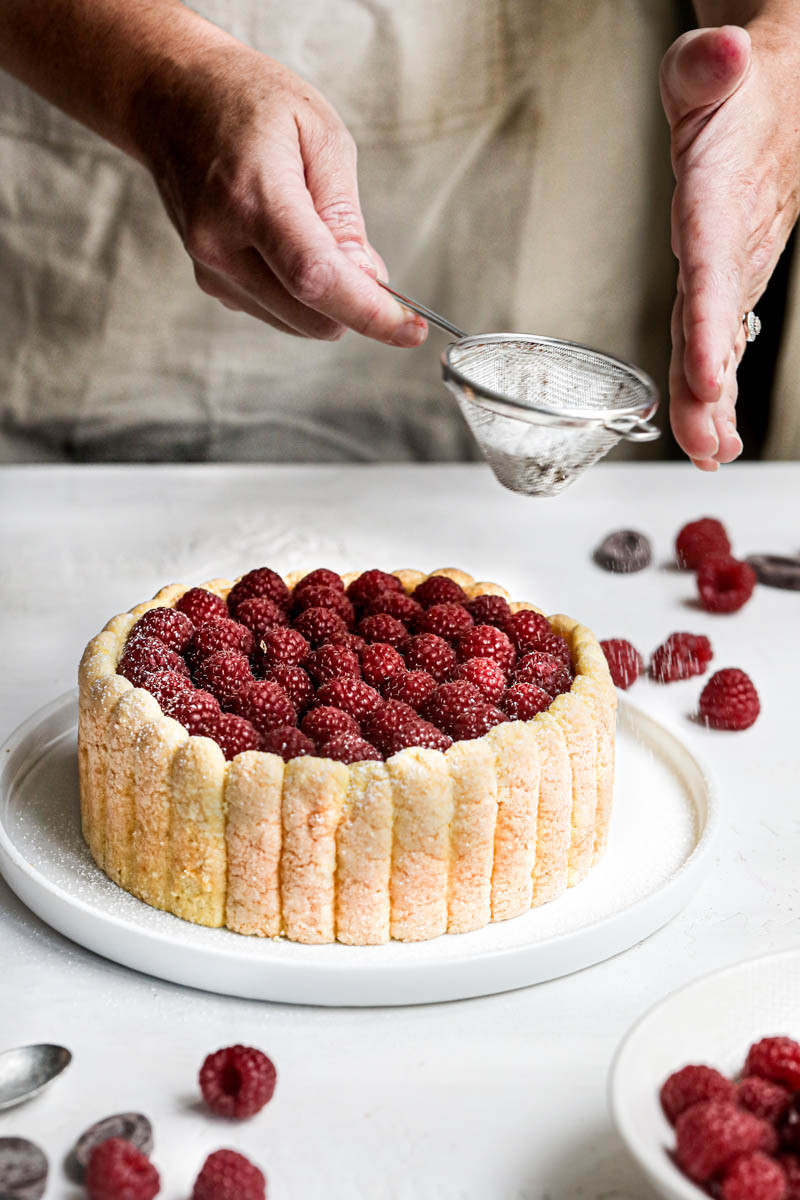 Recipe notes
Make the syrup one day in advance.
Sift the flour over a piece of parchment paper so then it's easier to add it into the mixture. Verify there is no flour at the bottom of the bowl that has not been incorporated into the batter.
The cream must be kept in the refrigerator until you are ready to whip it. To ensure it will adequately hold soft peaks, you can place the mixing bowl in the freezer for about 10 minutes before whipping the cream.
Once the cake has cooled off, proceed to cut it to fit the cake ring to perfection. Trim the band so that the bottom edge is straight and then place it inside the cake ring (puffy side looking out) to measure it out, put it on the cutting board and cut out the excess. The cake will shrink a little when refrigerated, so make sure that the band fits the ring tightly.
Verify the size of both discs fits the ring (there must be 1 cm between the disc and the cake band on the edge of the cake ring).
Only when you have prepped the cake, you can proceed to make the Bavarian cream and assemble the cake once it is ready.
Let the cake sit overnight in the refrigerator. It must be enjoyed cold!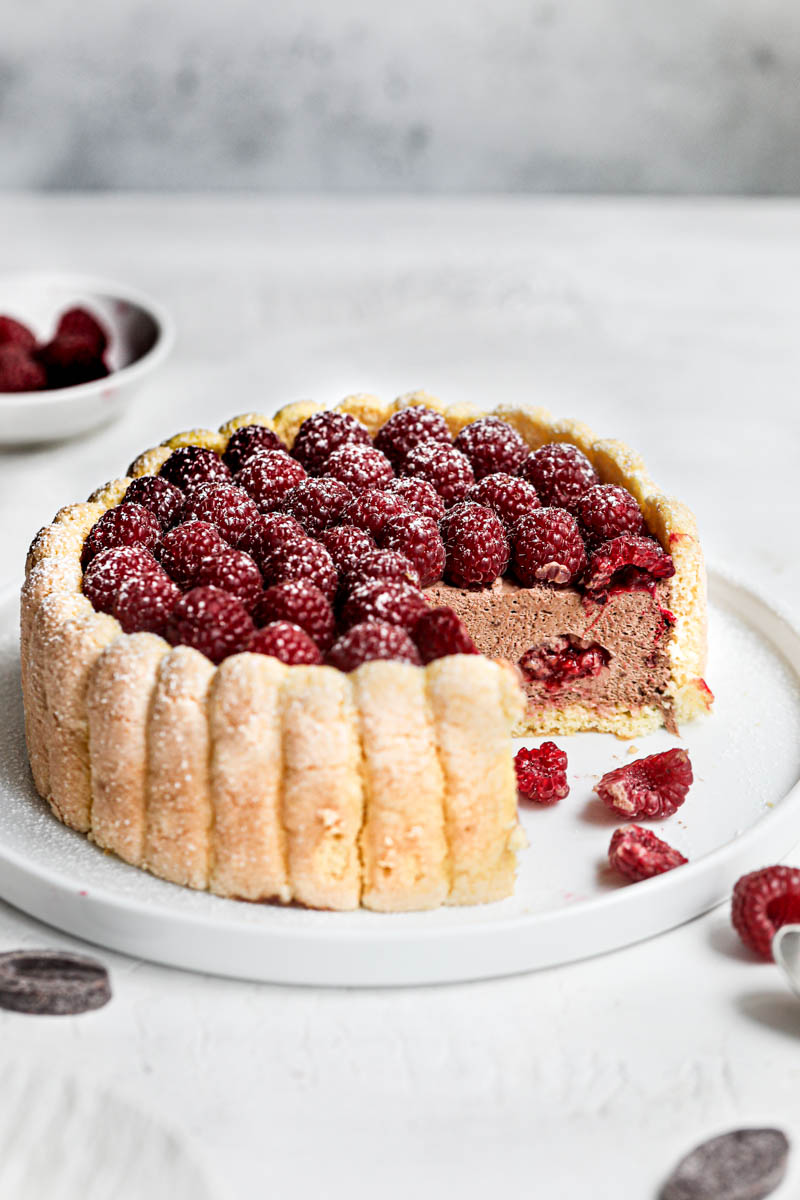 Experts Notes
Baking times are approximate, as each oven will surely bake differently, and the size and thickness to which you have piped out your batter will also vary from person to person. Stay close, observe, and as soon as they are nicely puffed and slightly golden, remove them from the oven.
Write down the exact time it took to bake this recipe in your oven for next time. :)
The cake will shrink a little when refrigerated, so make sure that the band fits the ring tightly.
To make the raspberries shine a little, you can brush them with some raspberry jam diluted with a bit of water to make it runny enough to cover the fresh fruit.
Making ahead
Ladyfinger cake: The cake can be made two days in advance. It must be placed on a baking tray lined with parchment paper, wrapped twice with saran wrap, and kept in the refrigerator.
Raspberry syrup: The syrup can be made up to 1 month in advance, then kept in the refrigerator in a glass jar.
Chocolate Bavarian Cream: This part of the recipe must be made only when ready to assemble the cake. It can't be made in advance as it needs to be set inside the charlotte cake ring.
The assembled charlotte cake: This can be made one day in advance (except for the fresh raspberries that top the cake). It must be kept in the refrigerator covered adequately with saran wrap. Then unwrap, top with the fresh raspberries, and serve.
Storage tips
Keep refrigerated for up to 3 days.
Can you freeze a fresh fruit charlotte cake?
I don't recommend freezing this cake.
Variations to this recipe
When called for in this recipe, you can make this a strawberry chocolate charlotte by simply swapping out the raspberries for strawberries.
You can use white chocolate instead of dark chocolate for the Bavarian cream, and it is delicious. The procedure for Bavarian cream stays the same.
The ingredients used in all recipes on this site are measured using the metric system. I use a
scale
to be precise with my measurements and ensure good results. If you would also like to use a scale, here are some:
USA
,
Canada
,
UK
,
Australia
,
France
.
Subscribe to the newsletter
Total Time:
2 hours 10 minutes
---
Ladyfinger Biscuits
Egg Whites

135 g

Egg Yolks

90 g

Granulated Sugar

130 g

All-purpose Flour

135 g
Chocolate Bavarian Cream Filling
Milk

80 g

Egg Yolks

45 g

Granulated Sugar

45 g

Chocolate 55%

75 g

Gelatine Sheets

3

Heavy Whipping Cream

240 g

Fresh Raspberries

75 g
Raspberry Syrup
Water

100 g

Granulated Sugar

130 g

Water

70 g

Raspberry Pulp

70 g
Decoration
If you made this recipe I would really appreciate it if you leave a rating or comment below! Also, if you share on social media please use #cookwithbelula, I would love to see what you create!