In Uruguay they are called "Ojitos", in Argentina we call the "Pepas". Doesn't matter what name I use, truth is these cookies take me back to my school years, when I use to buy big bags of these quince thumbprints cookies to eat during breaktime. I vividly remember sitting at the side of our school kiosk, holding a packet of pepas, talking to my friends. A regular day. I made them because make me travel to a happy place, and I thought I'd share because maybe they will do the same for you. And we need that right now!
What you need to make quince thumbprint cookies:
All- purpose flour
Baking powder
Salt
Egg
Powdered sugar
Milk
Butter
Lemon
Quince Paste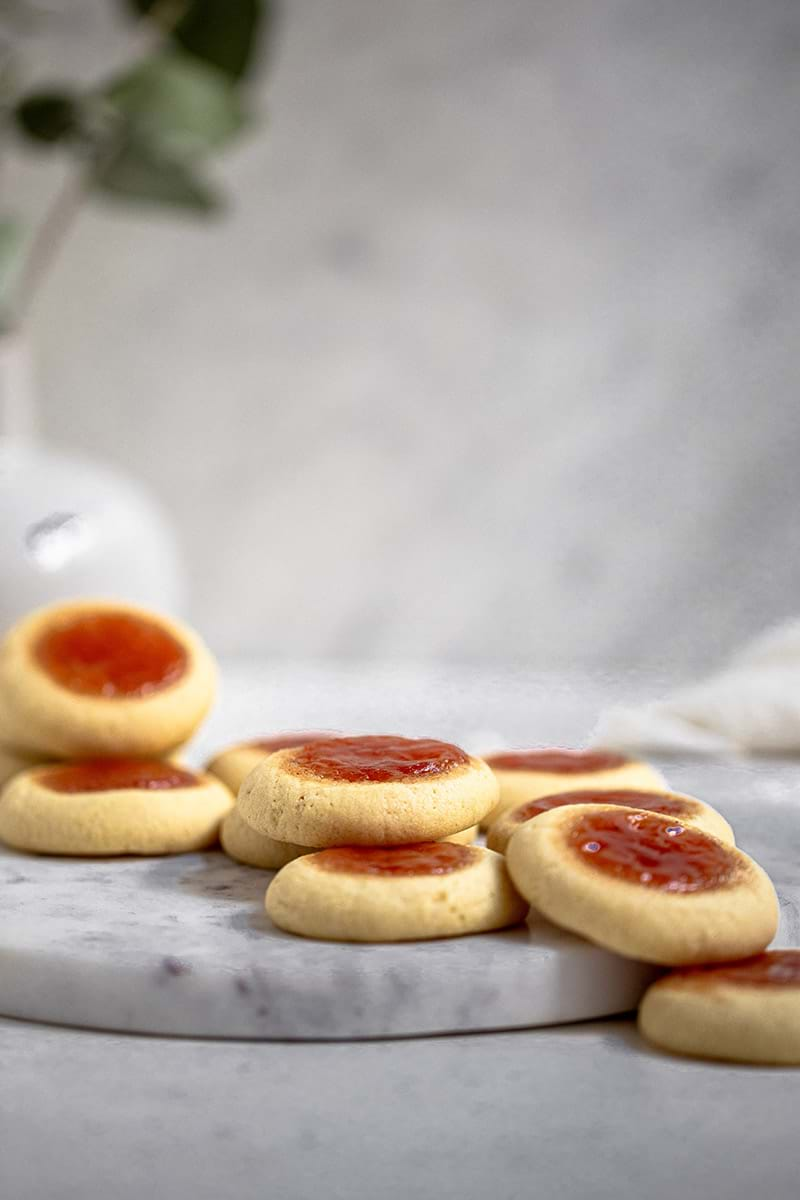 How to make Quince Thumbprint Cookie dough:
Mix the dry ingredients: flour, baking powder, salt and powdered sugar in a bowl. Set aside.
Beat the egg and add the milk together with the lemon zest. Set aside.
Don't over work the dough. Once it has come together stop. You can watch how to make a similar kind of dough in the video below.
Shape the dough into a cylinder about 4 cm diameter. Wrap in plastic wrap and chill for about 2 hours.
How to shape Quince Thumbprint Cookies:
Remove the dough from the refrigerator and use a sharp knife to cut rounds of about 1 cm thick. Then shape them into small balls.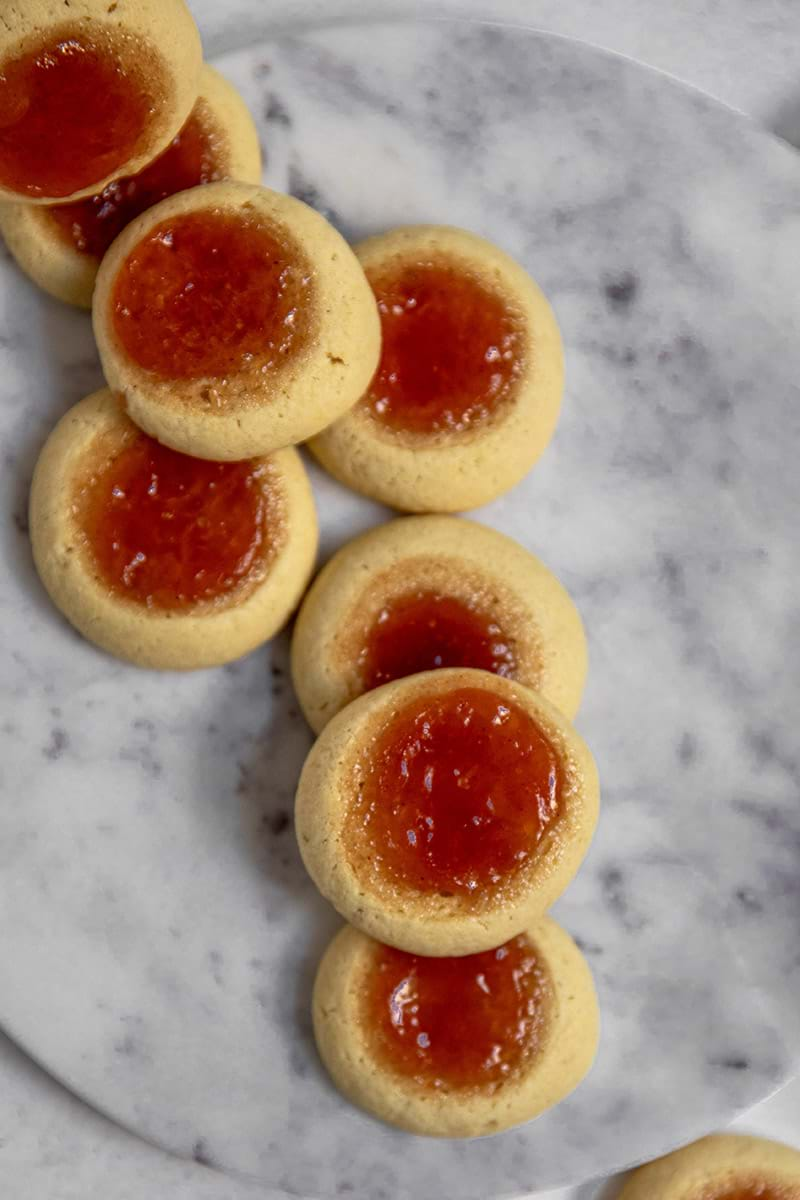 Using your index finger press down each ball at the center making a small whole where you will garnish with the quince paste. You can watch on my @CookWithBelula Instagram highlighted stories how to shape your cookies.
Line a baking tray with parchment paper and transfer the cookies onto it.
How to fill the Quince Thumbprints:
Cut the quince paste into small cubes and put in a pot with a little water. Melt over medium heat. If you still have little pieces left, use a hand immersion blender to homogenize the quince paste until it's soft. The paste should not be liquid.
Let it cool down before filling the thumbprint cookies.
Using a small spoon or a piping bag fill the small holes on each cookie with the quince paste.
How to bake the Quince Thumbprint Cookies:
Pre-heat the oven to 170 Celsius (360 F). Bake for 20 minutes approximately.
Cookies are ready when slightly colored on the side and quince paste is bubbly.
How to avoid the filling of the cookies to spill:
Don't garnish in excess and don't bake for too long. They should be perfect.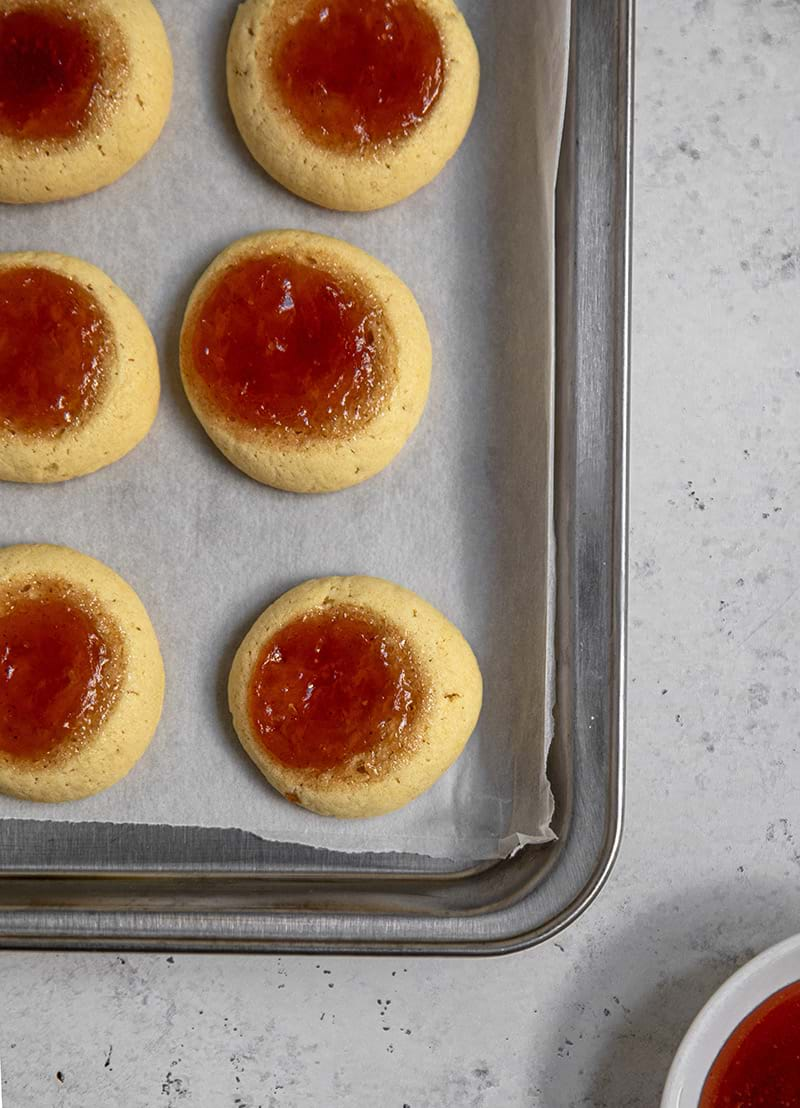 What can you replace the quince paste with?
Don't worry, if you don't have quince paste, you can use a lot of different ingredients to make the thumbprint cookies. You probably have in your pantry right now. Here are some ideas: Nutella, dulce de leche, raspberry jam (or nay jam really).
If you do replace the quince paste, bake the cookie dough first and once it has cooled down fill with the filling of your choice.
How to properly store your "pepas":
In a hermetic container they last for about a week.
Freezing Thumbprint Cookies
You can freeze these cookies after you have shaped them and before you fill them with the quince paste. Line then on a baking tray without them touching each other and cover them in plastic wrap or parchment paper. Once the thumbprint cookies are frozen you can transfer to a container or freezer bag. Keep up to 3 months.
How to Defrost Thumbprint Cookies
Dispose on a baking tray lined with parchment paper. Let them come to room temperature. Bake.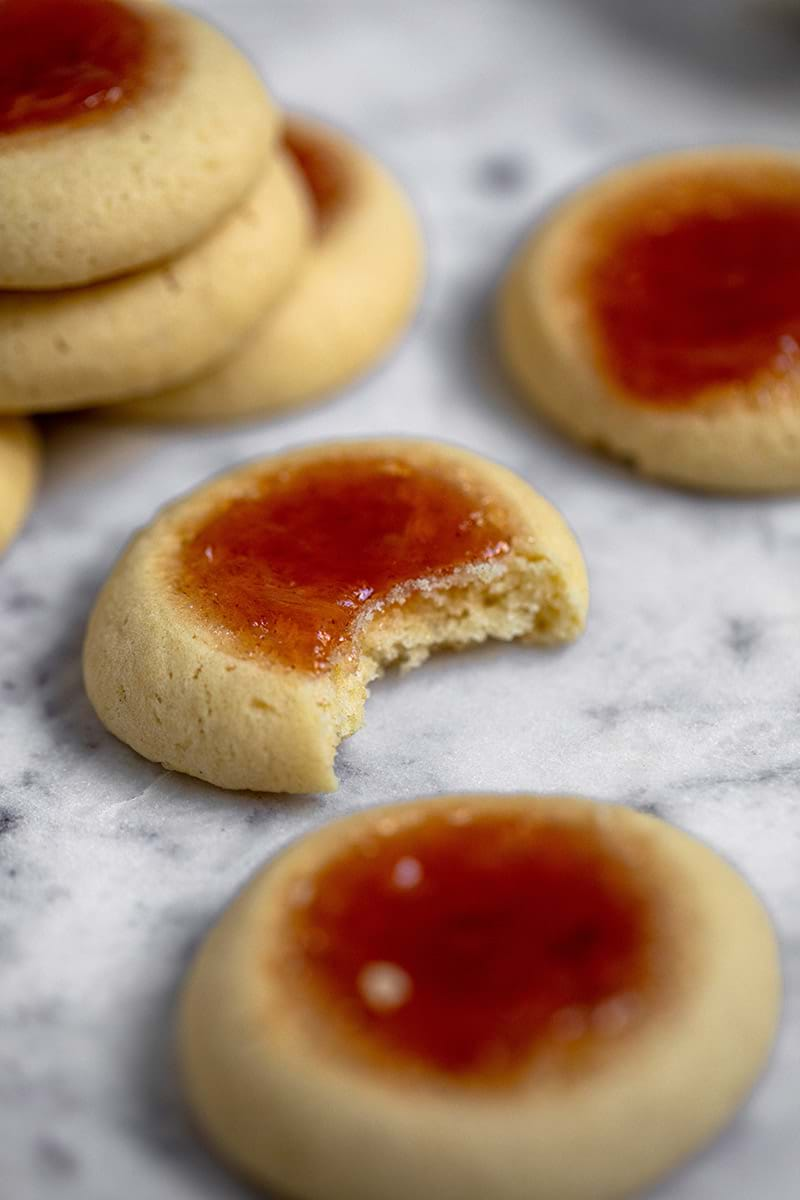 If you made this recipe I would really appreciate it if you leave a rating or comment below! Also, if you share on social media please use #cookwithbelula, I would love to see what you create!