Pistachio Cranberry Chocolate Dipped Shortbread Cookies
These pistachio cranberry shortbread cookies are easy to make. They are super buttery, flaky, flavored with orange zest and dipped in dark chocolate to make them even better.
These pistachio cranberry shortbread cookies are super easy to make! The dough is shaped into a log, later sliced, baked, and dipped into dark chocolate glaze. The dough is also flavored with orange zest, which makes these cookies very flavorful and simply irresistible. Can't wait for you to try them!
Ingredient Notes
Cranberries: use dried cranberries
Pistachios: make sure to crush them or cut them into small pieces.
Dark Chocolate: use a good quality chocolate!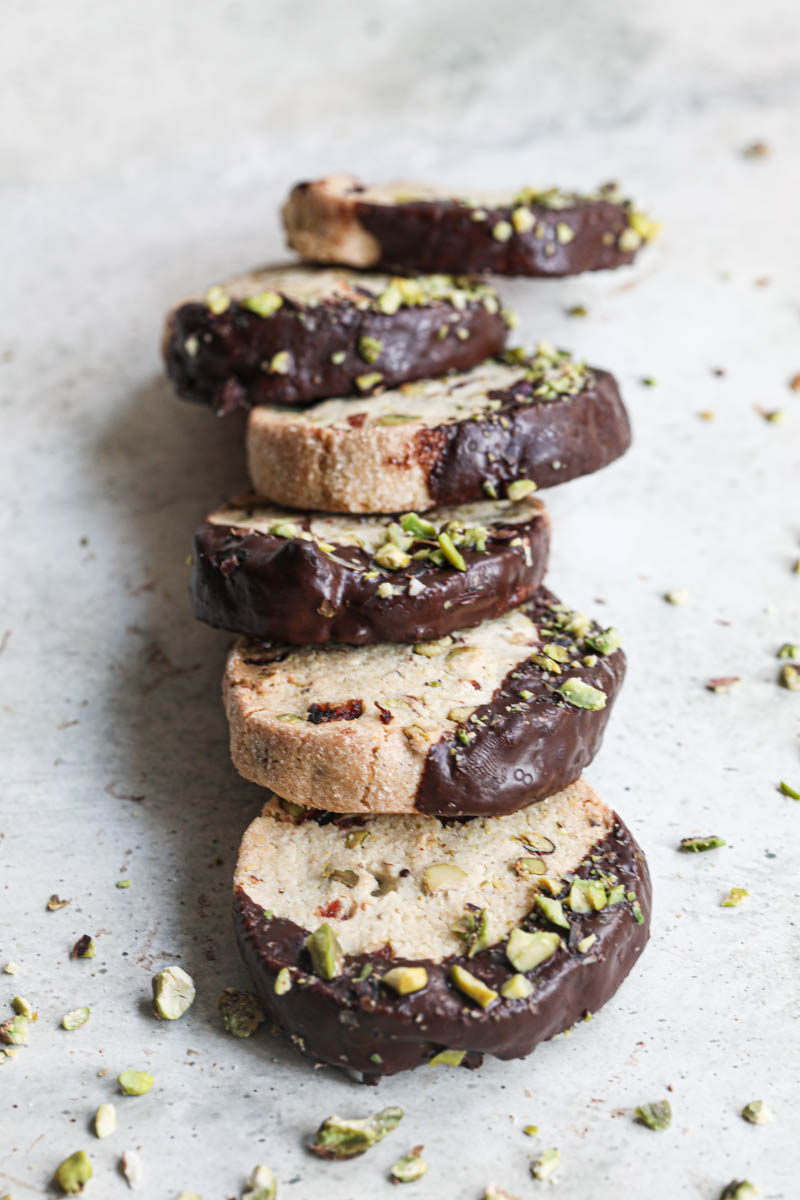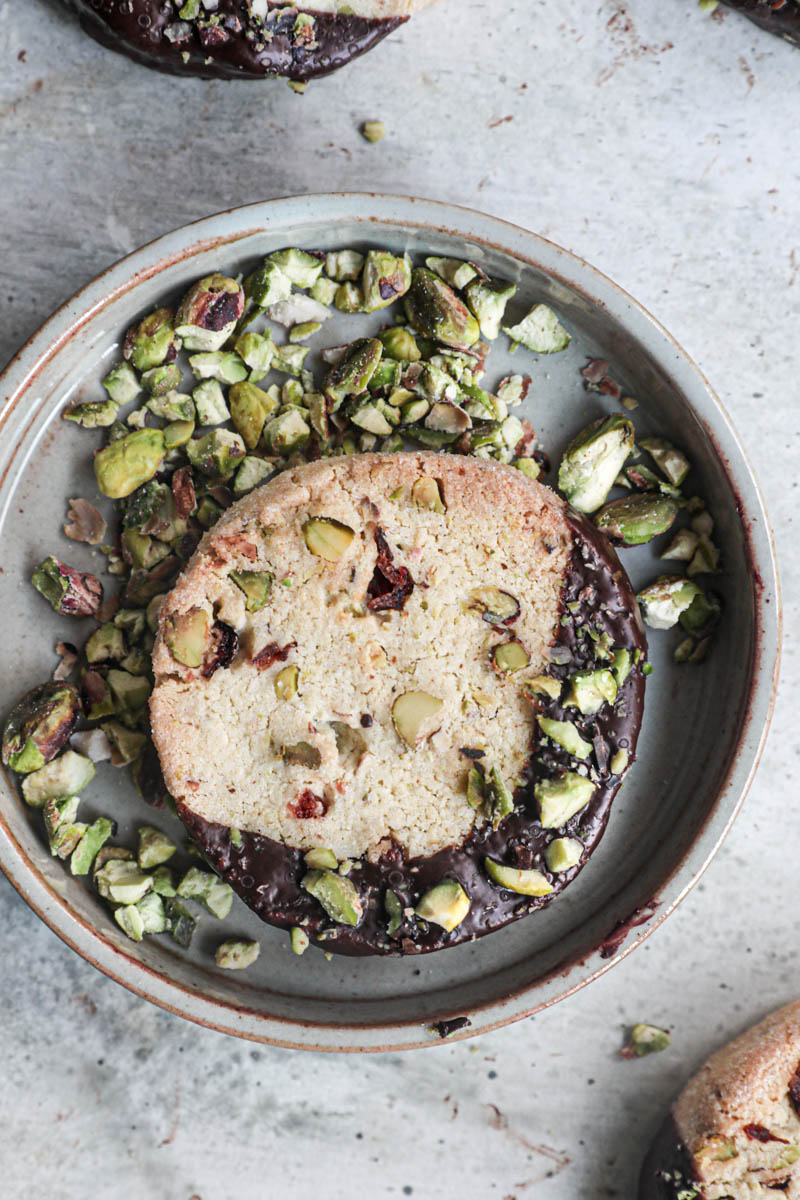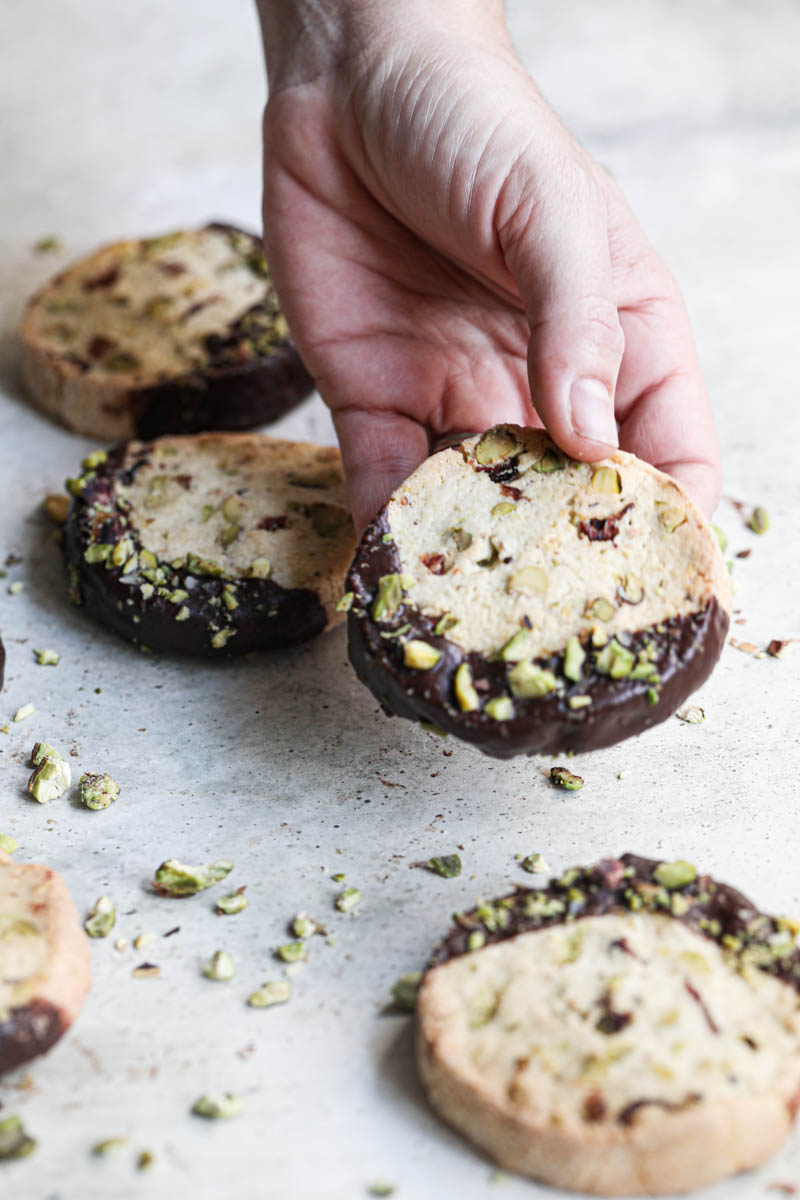 How to make this recipe
To make these cranberry pistachio shortbread cookies you simply must:
Make the dough.
Roll the dough into a log 18 cm long (7 inches) and 6 cm (2.4 inches) in diameter.
Brush the log with egg wash and roll it in sugar.
Slice the log into cookies 1.5 cm thick.
Bake the cookies.
Dip the shortbread cookies in chocolate and sprinkle with pistachios.
Enjoy!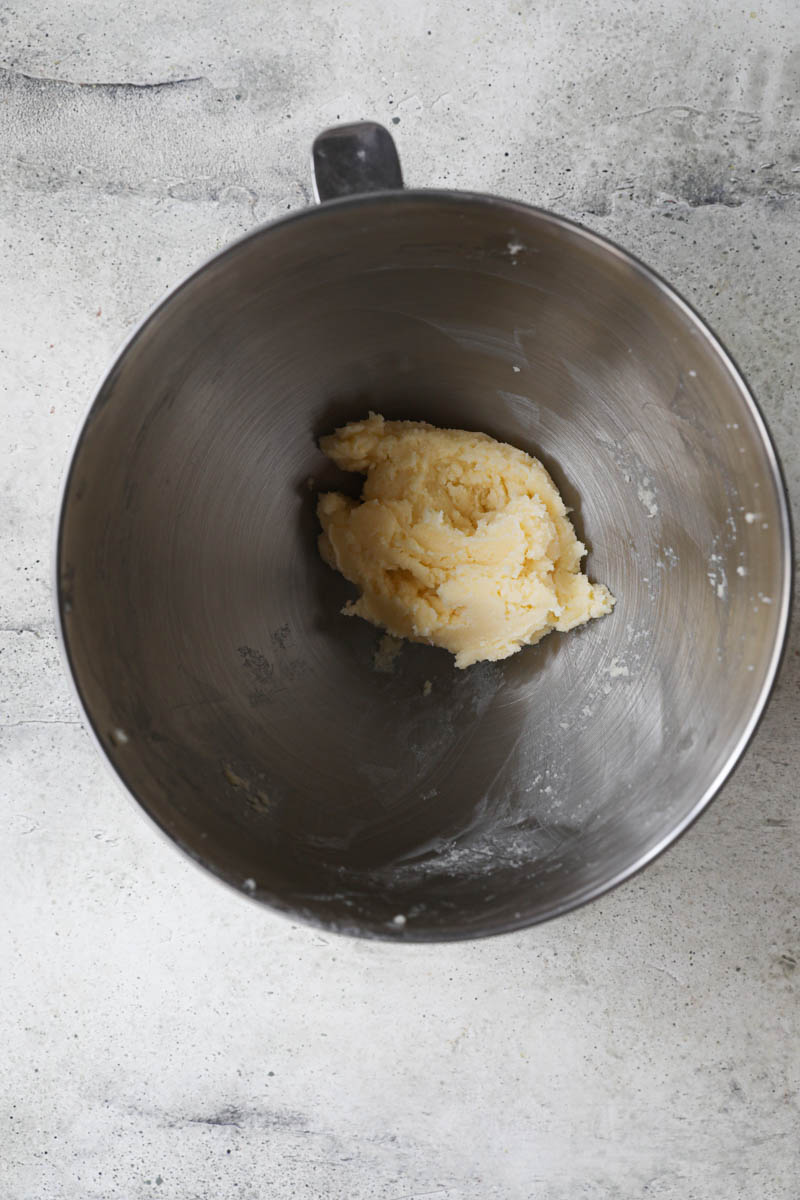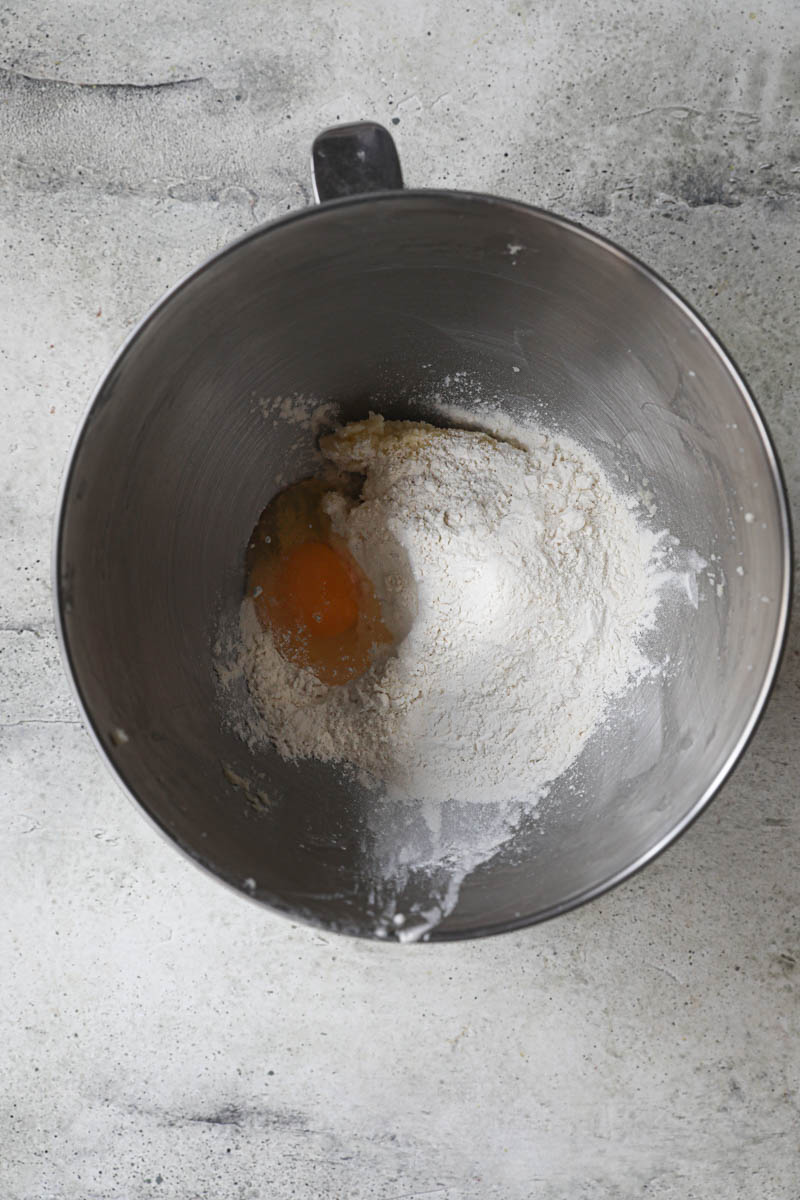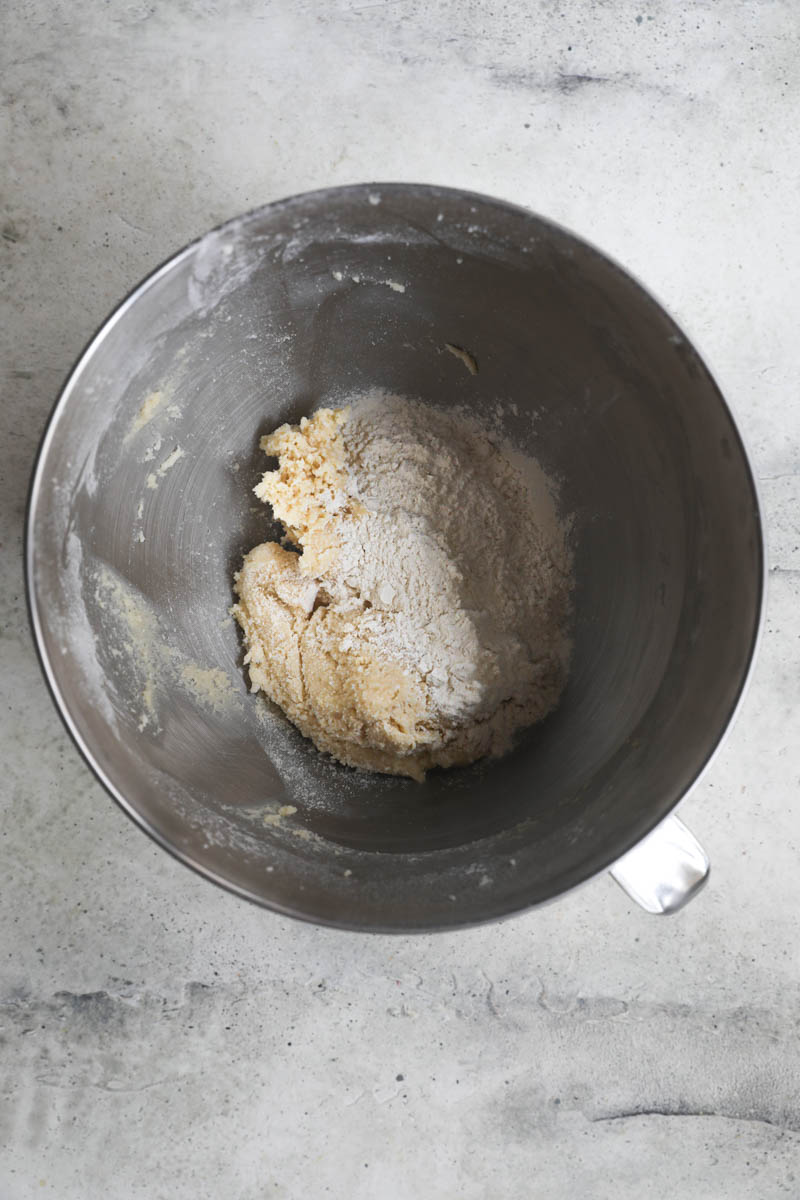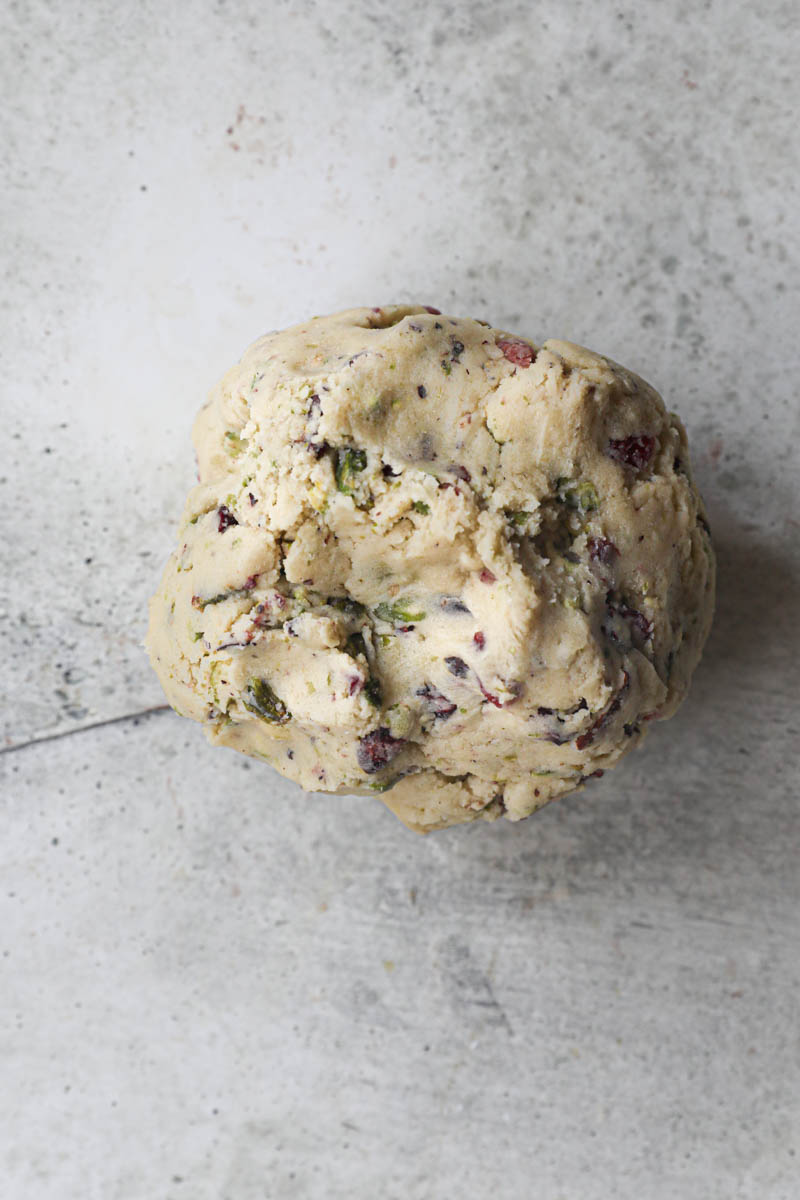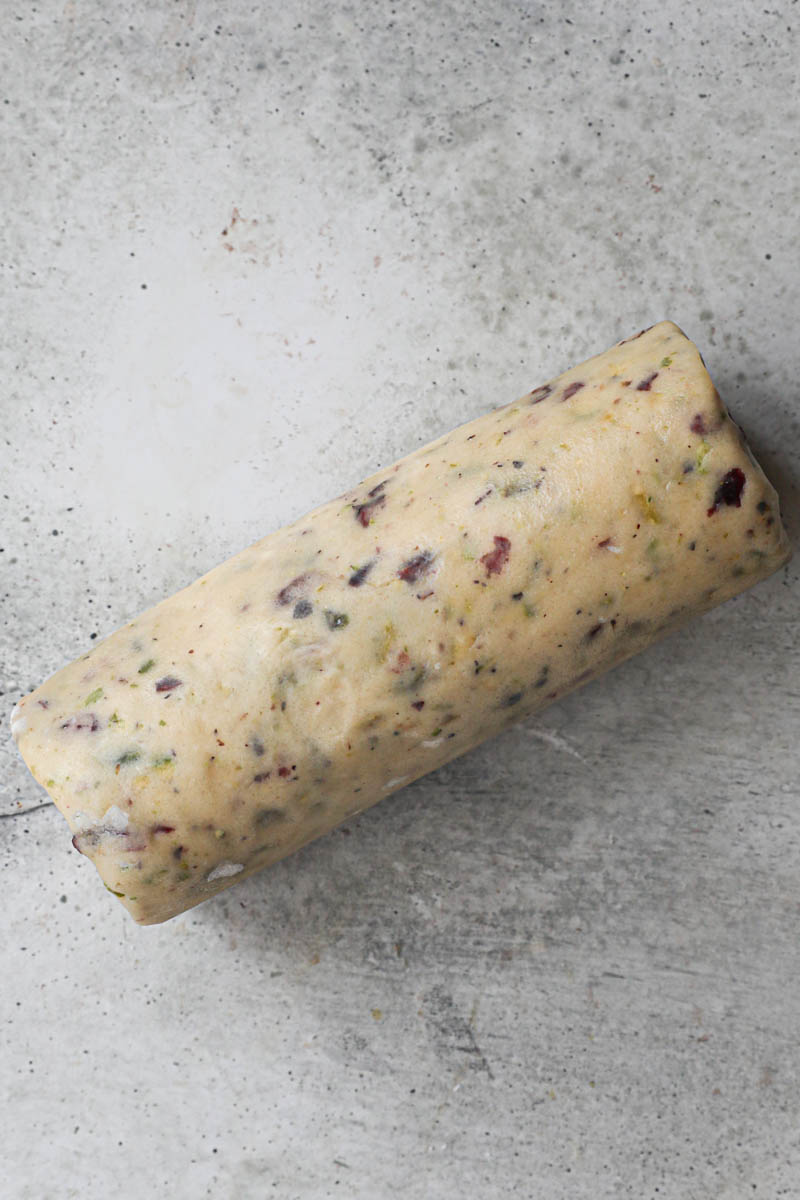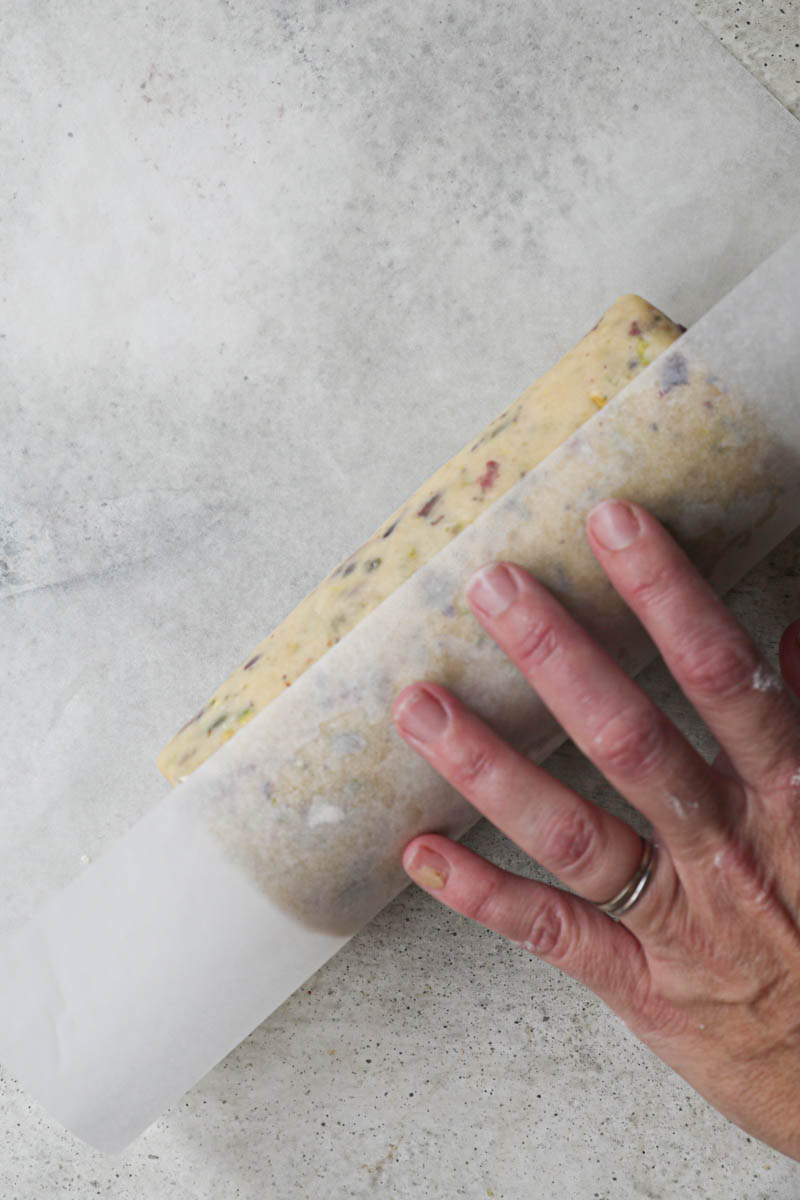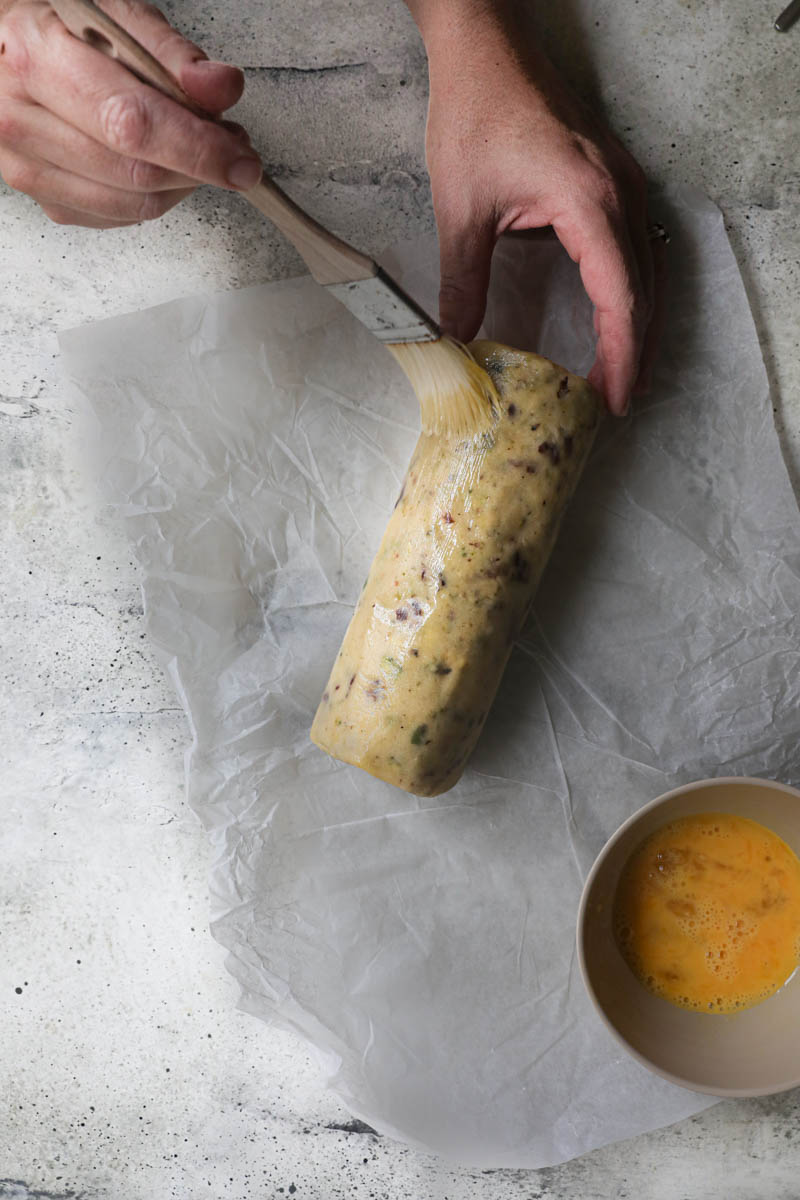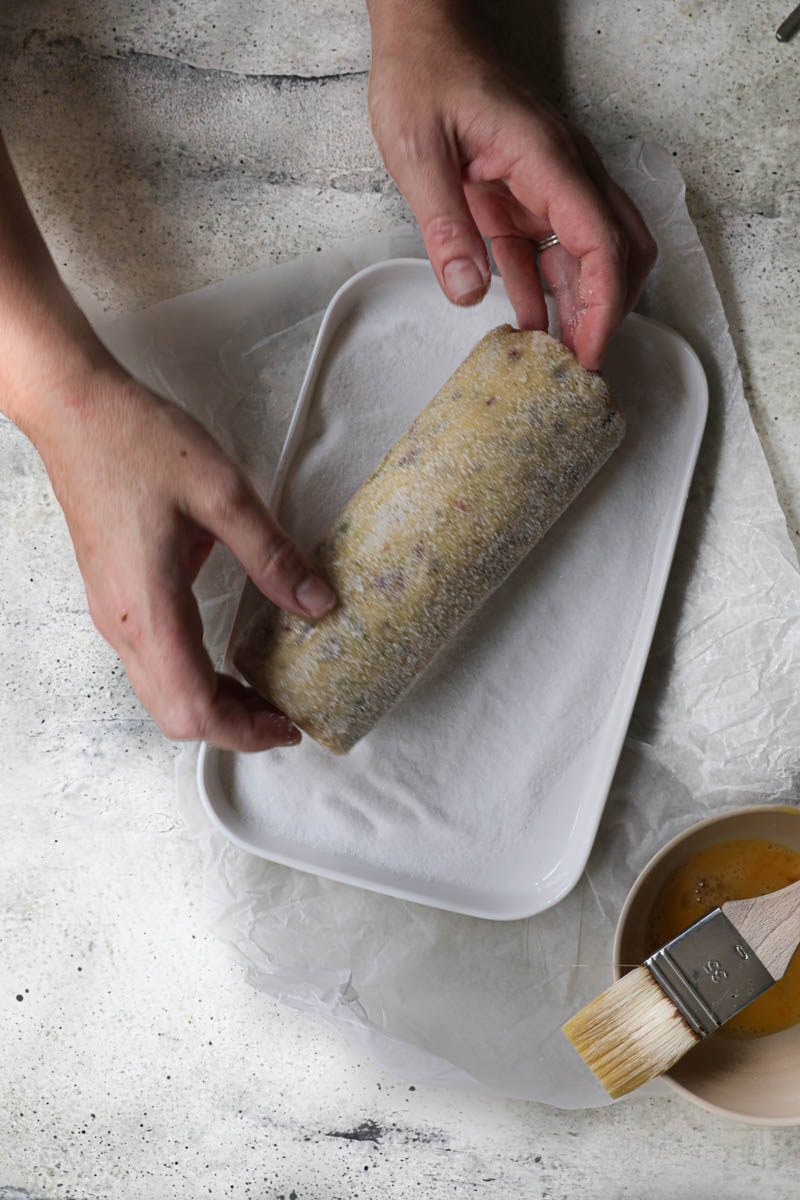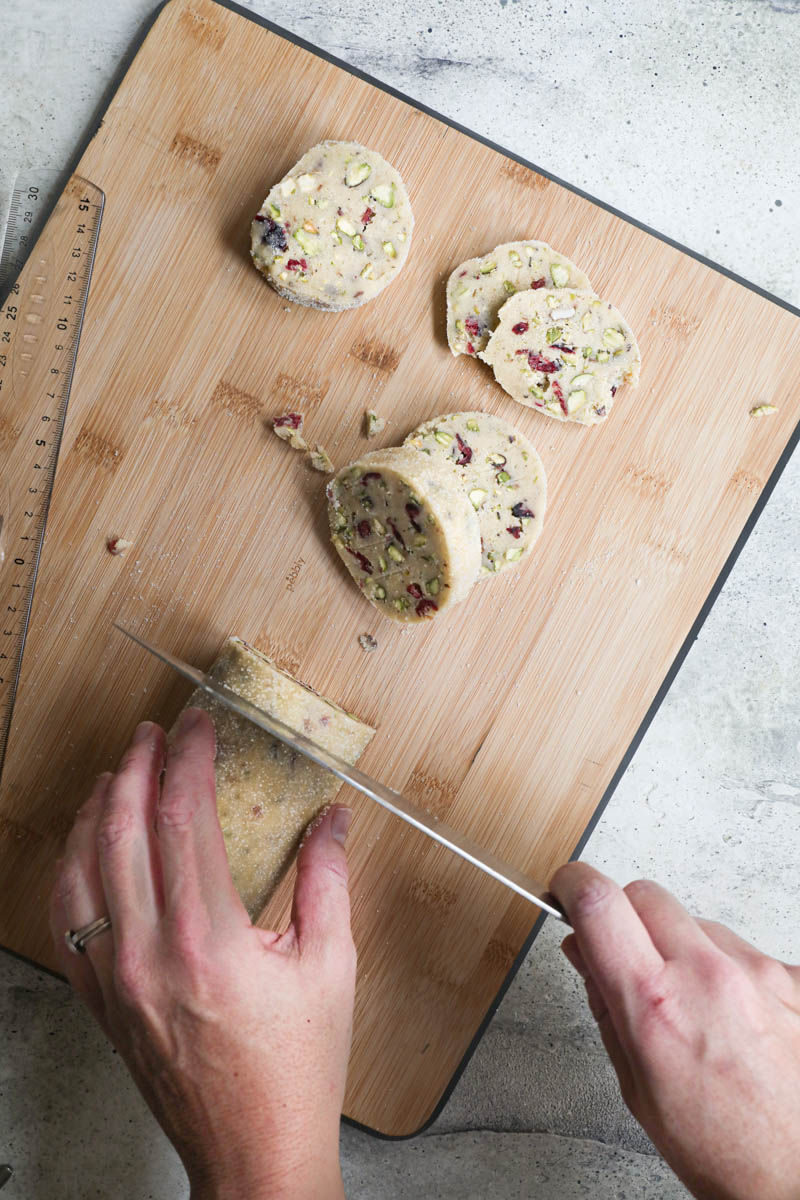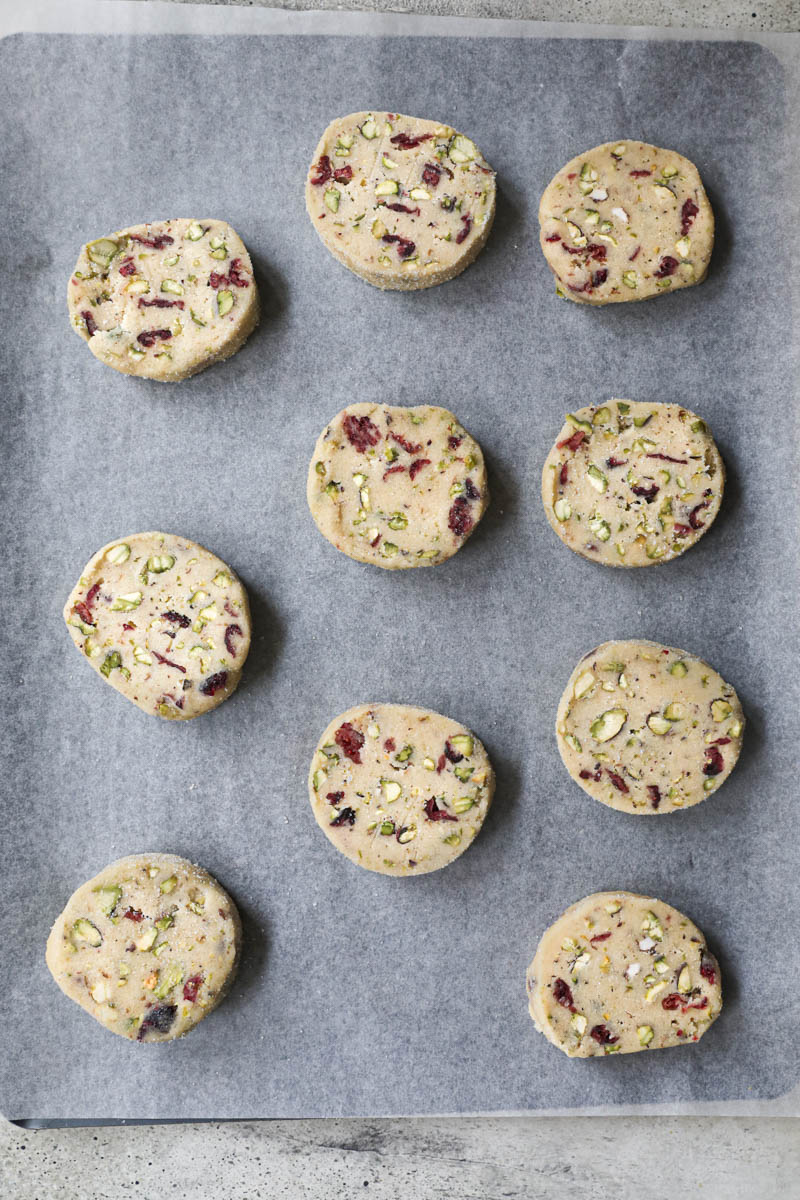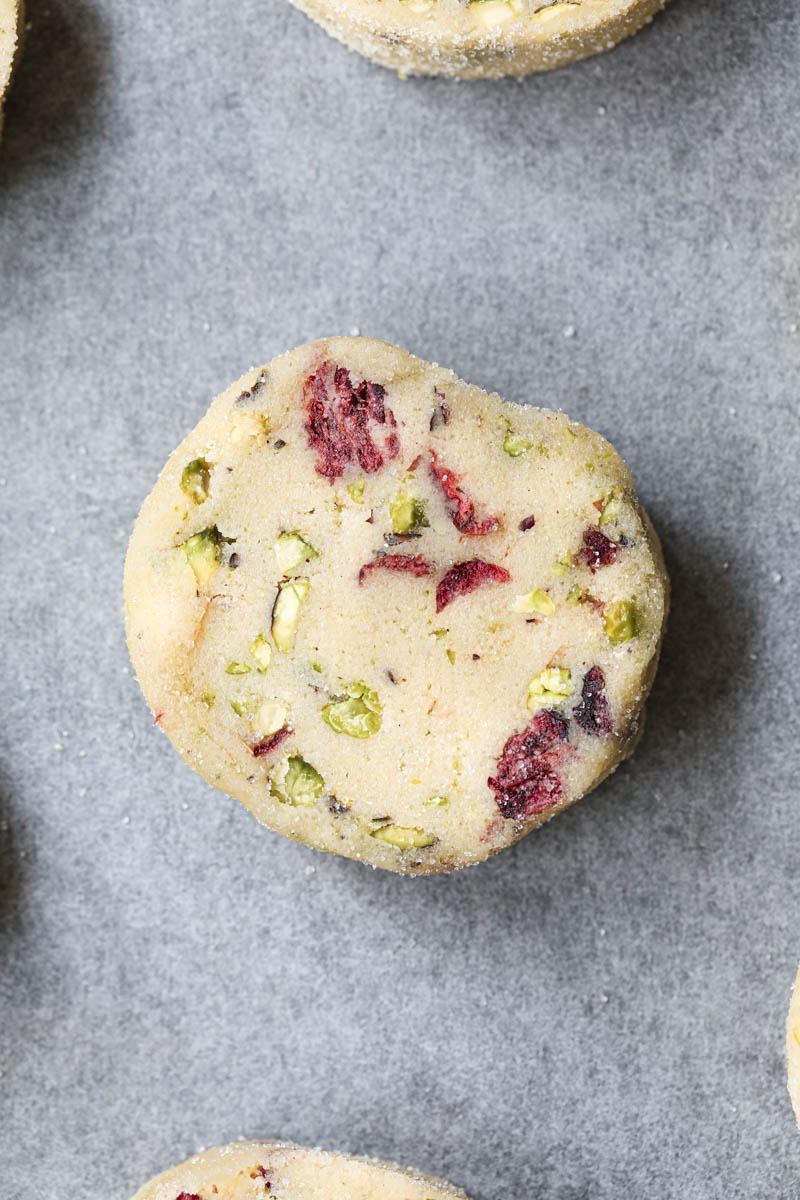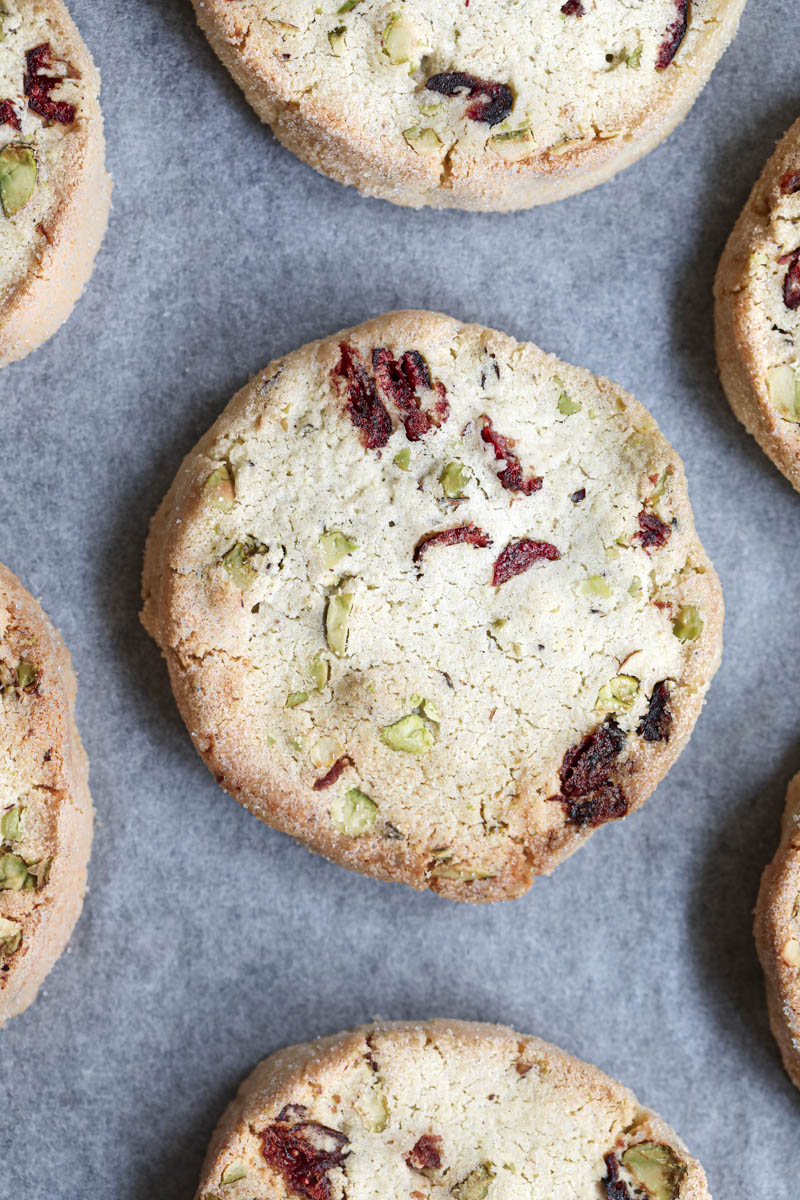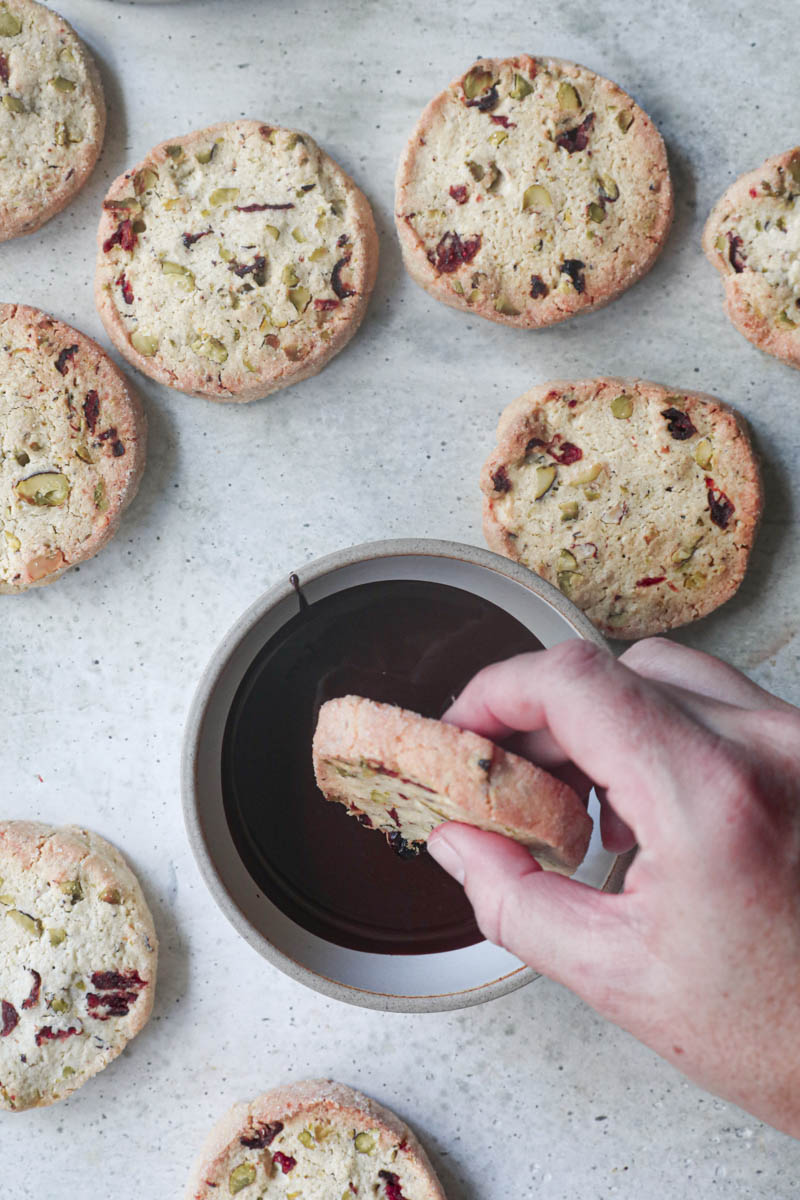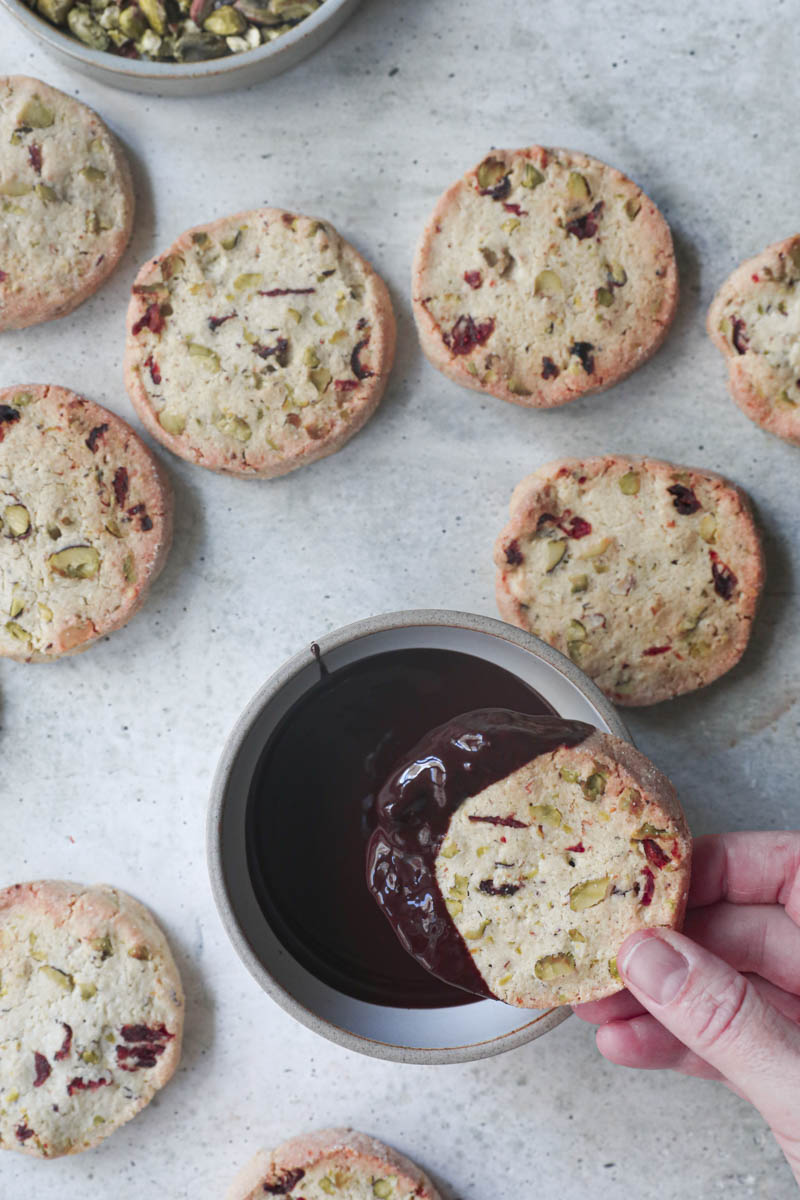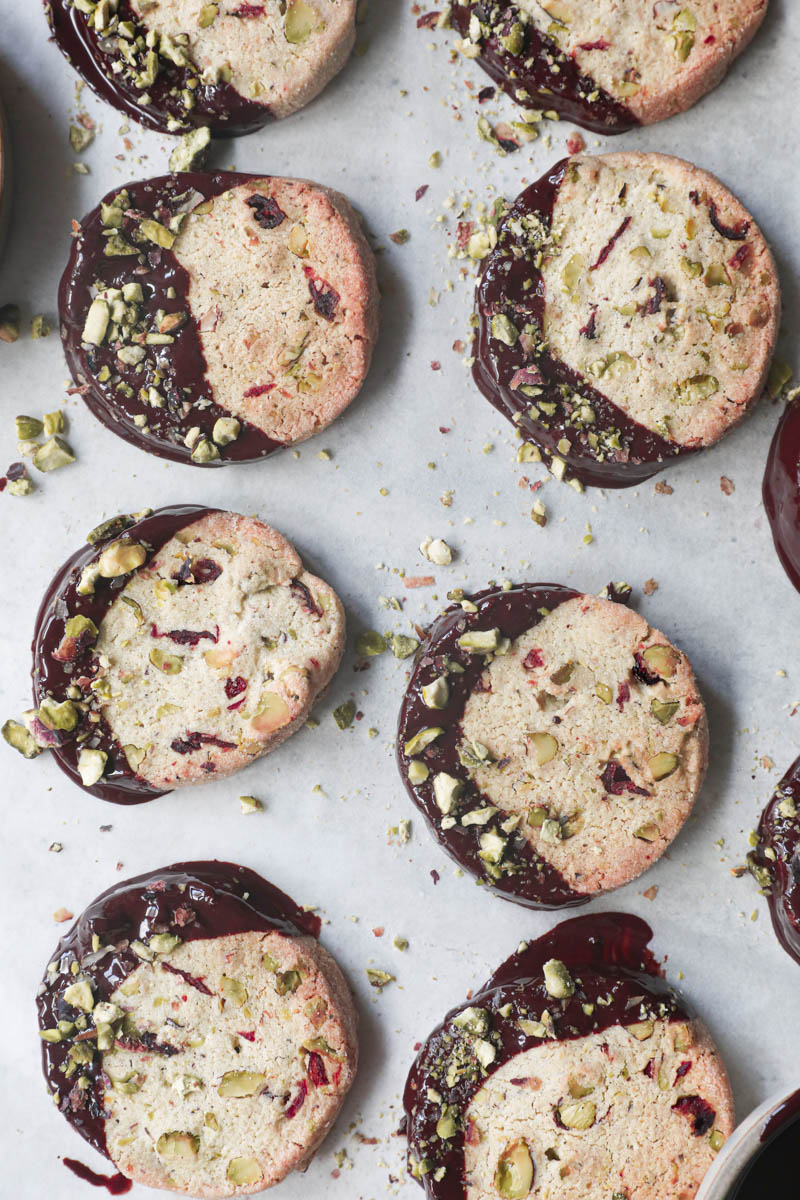 Recipe Notes
Make sure pistachios and cranberries are cut into small pieces to that when slicing the cookies, the log doesn't break apart.
After rolling the dough into a log, cover in saran wrap and refrigerate for 1 hour.
Strain the egg wash to remove all the egg impurities.
When you remove the log from the refrigerator, let it sit 5 minutes. Then roll it out to smooth out the edges and make it as round as possible.
Slice the cookies using a sharp knife. 1.5 cm is a reference, you can slice these cranberry shortbread cookies thinner if this is your preference. Adjust baking time in case, as they will bake for a shorter time.
The chocolate/oil mixture must be at 30 C° when dipping the shortbread cookies.
After dipping the cookies, place onto a wire rack and let the chocolate set at room temperature before eating them.
Bake until golden.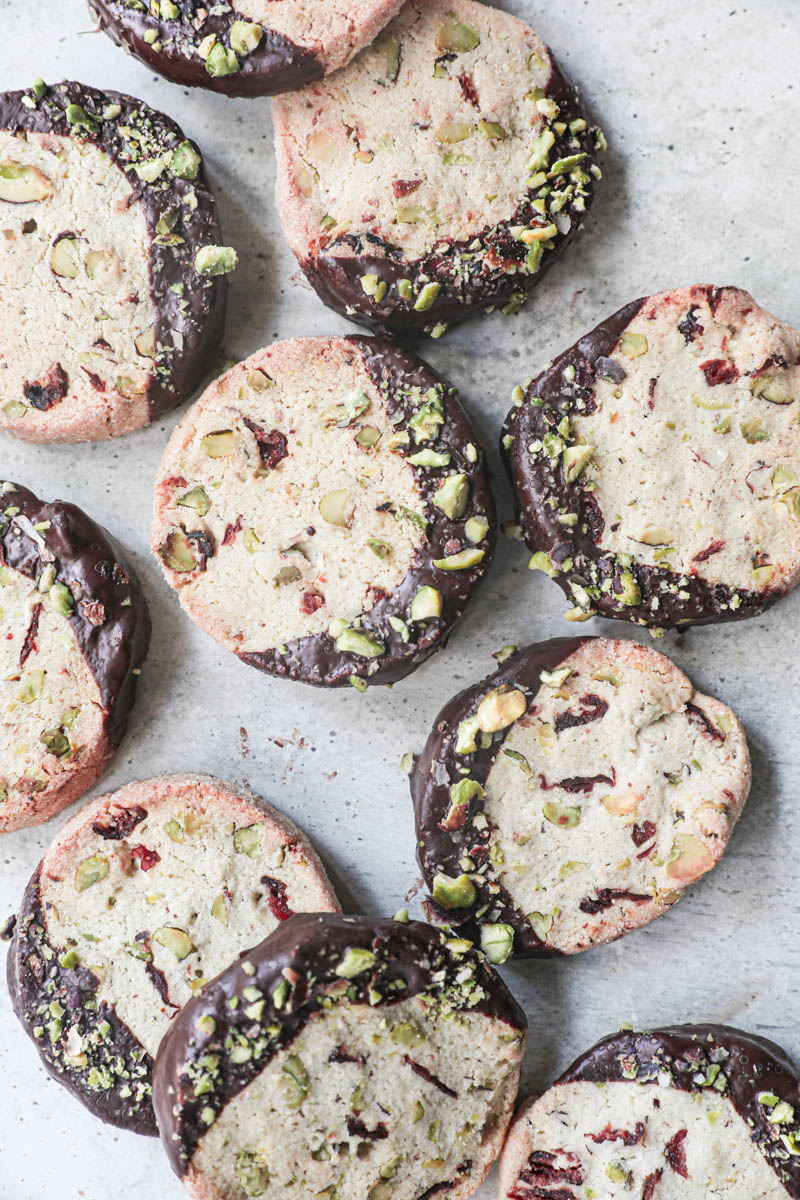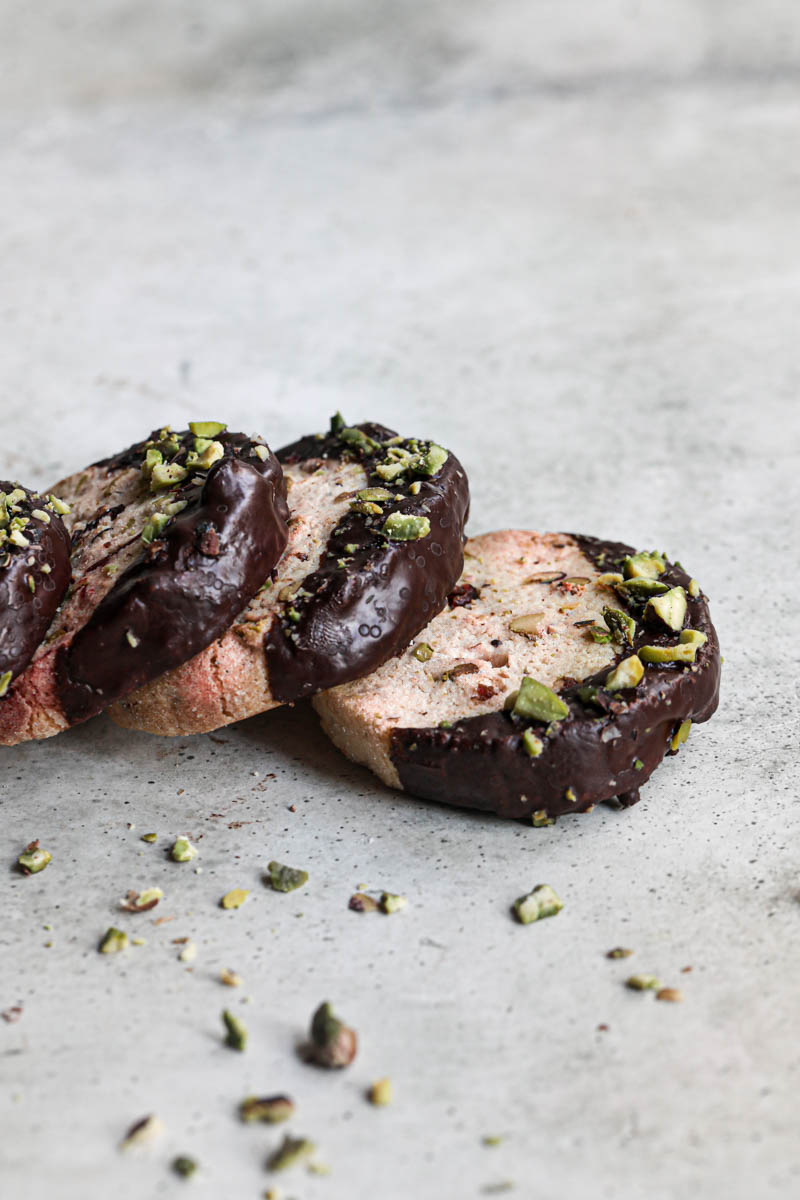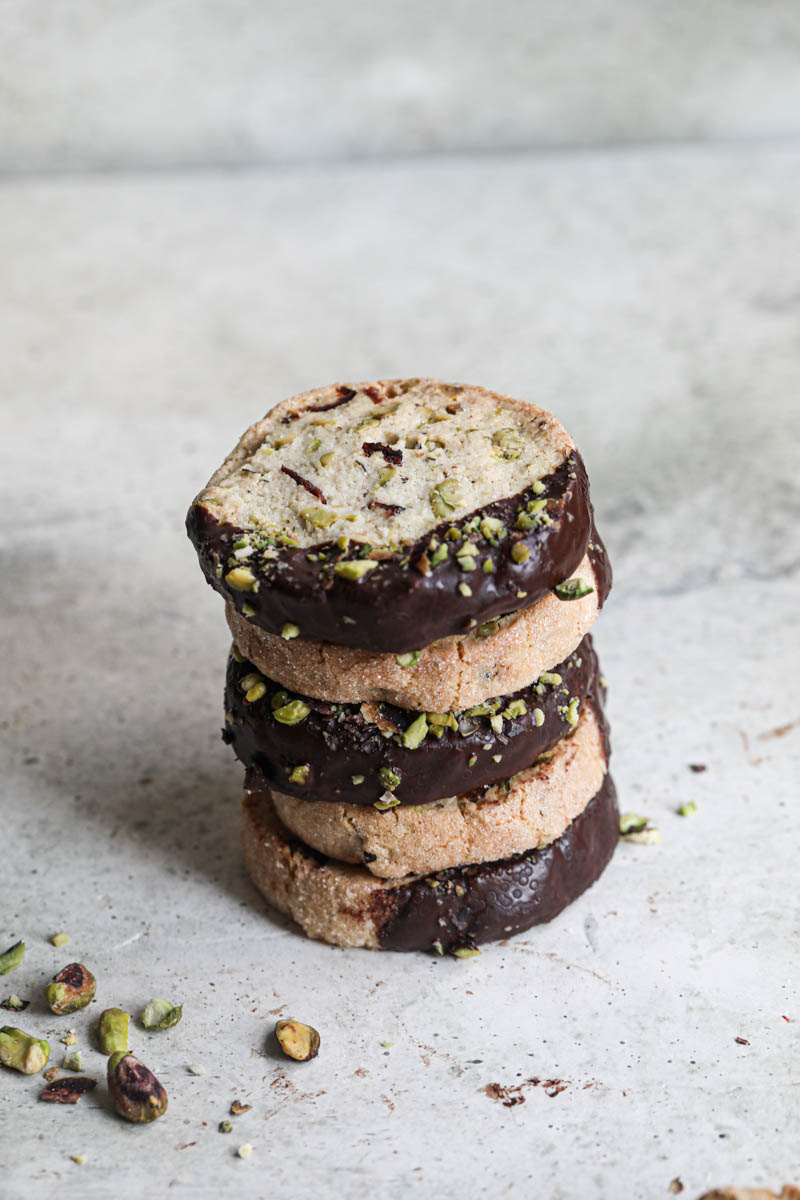 Expert Notes
If you prefer smaller cookies, you can divide the dough into 2 pieces and roll out each piece into logs of 4 cm in diameter. Also, you must slice these thinner, no more than 1 cm thick.
Baking time is approximate! It will depend on your oven and the thickness of the shortbread cookies! So, check on them, they are ready when golden around the edges.
Making ahead
The dough can be made up to 3 days in advance and kept rolled into a log in the refrigerator. Then simply slice and bake the cookies once you are ready!
Storage tips
These pistachio shortbread cookies must be kept in an airtight container. They keep for up to 1 week properly stored.
Freezer instructions
The raw log: properly wrapped and stored in a freezer container or bag it can be kept for up to 3 months in the freezer. To defrost, place in the refrigerator overnight then proceed to slice and bake the shortbread cookies as instructed in the recipe.
The sliced cranberry pistachio shortbread cookies: place in the freezer in a baking tray lined with parchment paper and cover with saran wrap until cookies are completely frozen. Then transfer to freezer bag or container. Can be kept for up to 3 months. To defrost: place on a baking tray lined with parchment paper at room temperature for 1 hour. Then proceed to bake as instructed in the recipe.
Baked cranberry pistachio shortbread cookies: stored in a freezer bag or container they can be kept frozen for up to 1 month. To defrost: place at room temperature for about 3 hours. Then dip in chocolate as instructed in the recipe.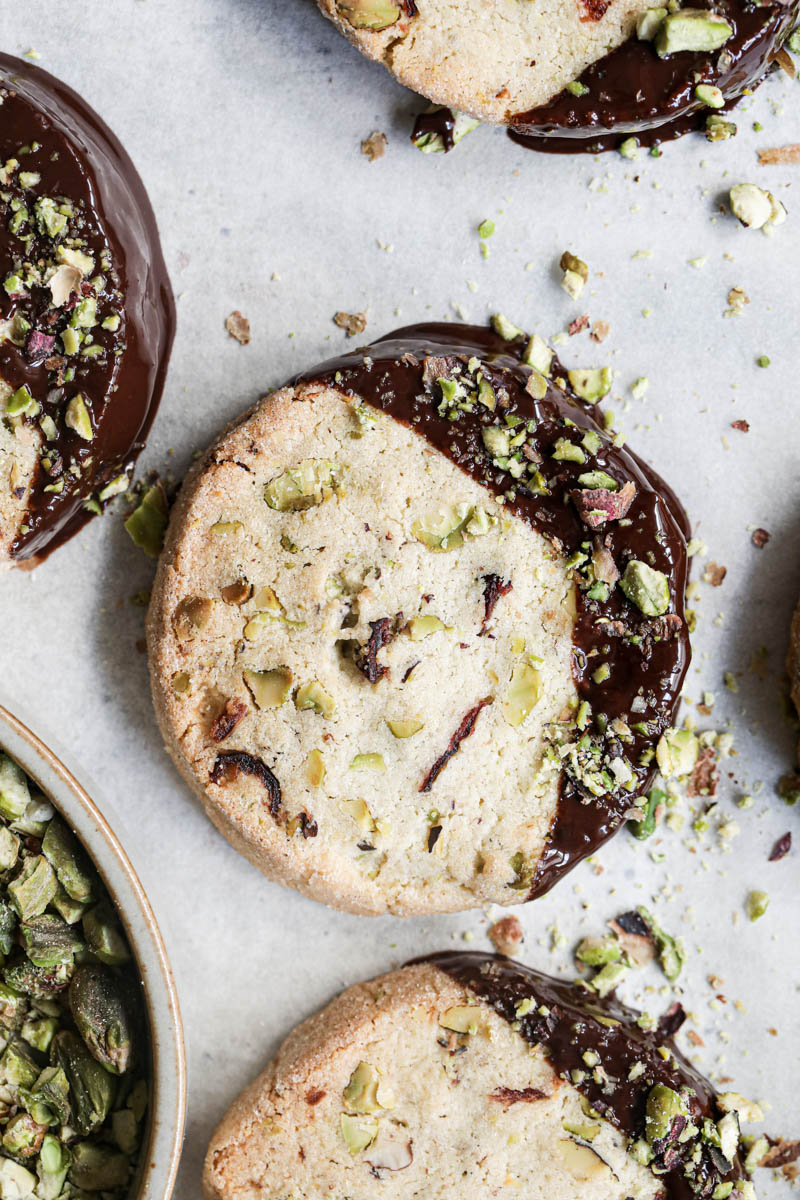 Variations to this recipe
You can dip in white chocolate, simply swap the dark chocolate in the recipe with white chocolate.
Pistachios can be replaced with other nuts such as almonds or hazelnuts.
You can remove the orange zest from the recipe or replace it with lemon zest.
The ingredients used in all recipes on this site are measured using the metric system. I use a
scale
to be precise with my measurements and ensure good results. If you would also like to use a scale, here are some:
USA
,
Canada
,
UK
,
Australia
,
France
.
Subscribe to the newsletter
Pistachio Cranberry Shortbread Cookies
Unsalted Butter

120 g

Granulated Sugar

100 g

Orange Zest (the zest of 1 orange)

1

Salt

1 pinch

Flour

220 g

Eggs (large)

1

Raw Pistachios (crushed)

70 g

Dried Cranberries

70 g
Egg Wash
Eggs

1

Salt

1 pinch

Sugar (for covering the log)

150 g
Chocolate Glaze
Dark Chocolate

120 g

Neutral Oil

25 g

Crushed Pistachios

30 g

Dried Cranberries

30 g
If you made this recipe I would really appreciate it if you leave a rating or comment below! Also, if you share on social media please use #cookwithbelula, I would love to see what you create!