Homemade Pistachio Almond Nougat Candy Bars
This French nougat candy bars recipe show you how to make homemade nougat from scratch. These are the best almond and pistachio nougat bars, especially enjoyed at Christmas time.
Nougat is a sugar confection made with sugar, honey, whipped egg whites and roasted nuts. The texture is chewy and filled with flavors that make me think of Christmas. This homemade nougat recipe will show you all the trick and tips on how to make the best almond & pistachio nougat candy bars. I know making nougat can sound a little intimidating, but it is not. The only requirement that you need to have is a candy thermometer. You'll find that the instructions are simple and there are some easy tips to ensure nougat success! Hope you love this recipe as much as I do!
Ingredient & Utensils Notes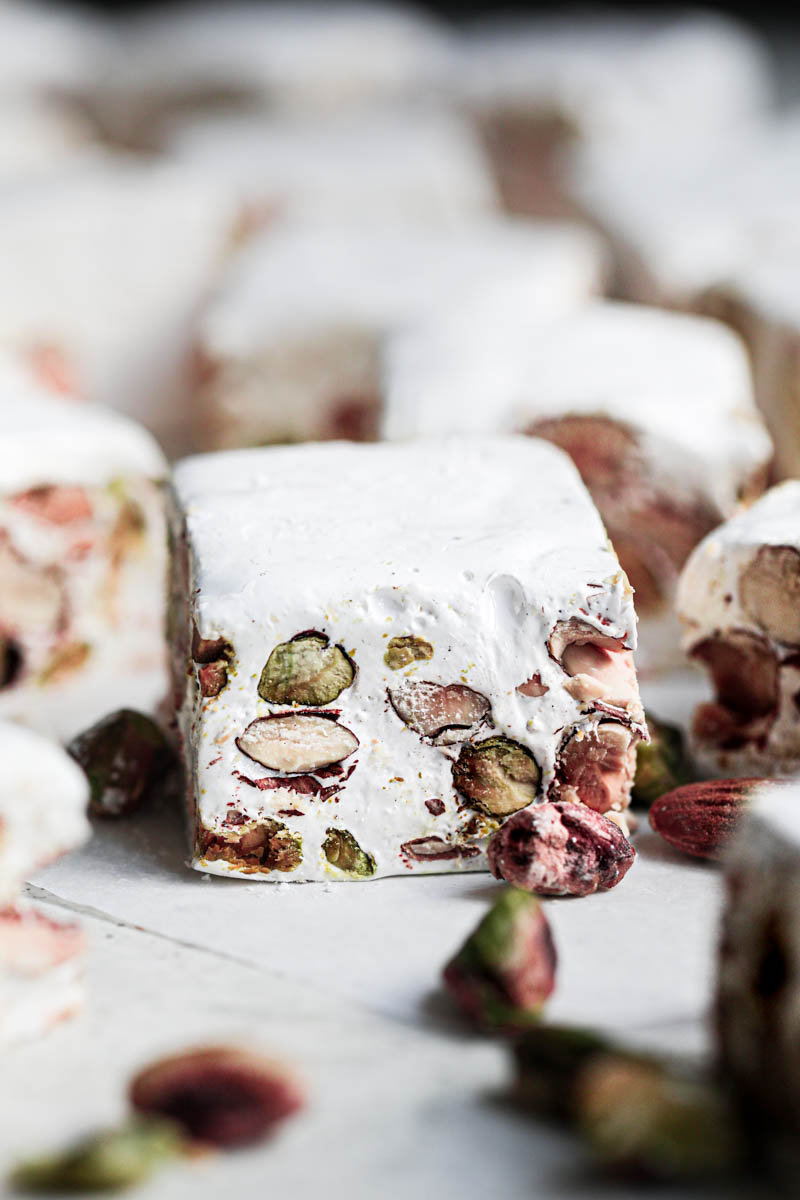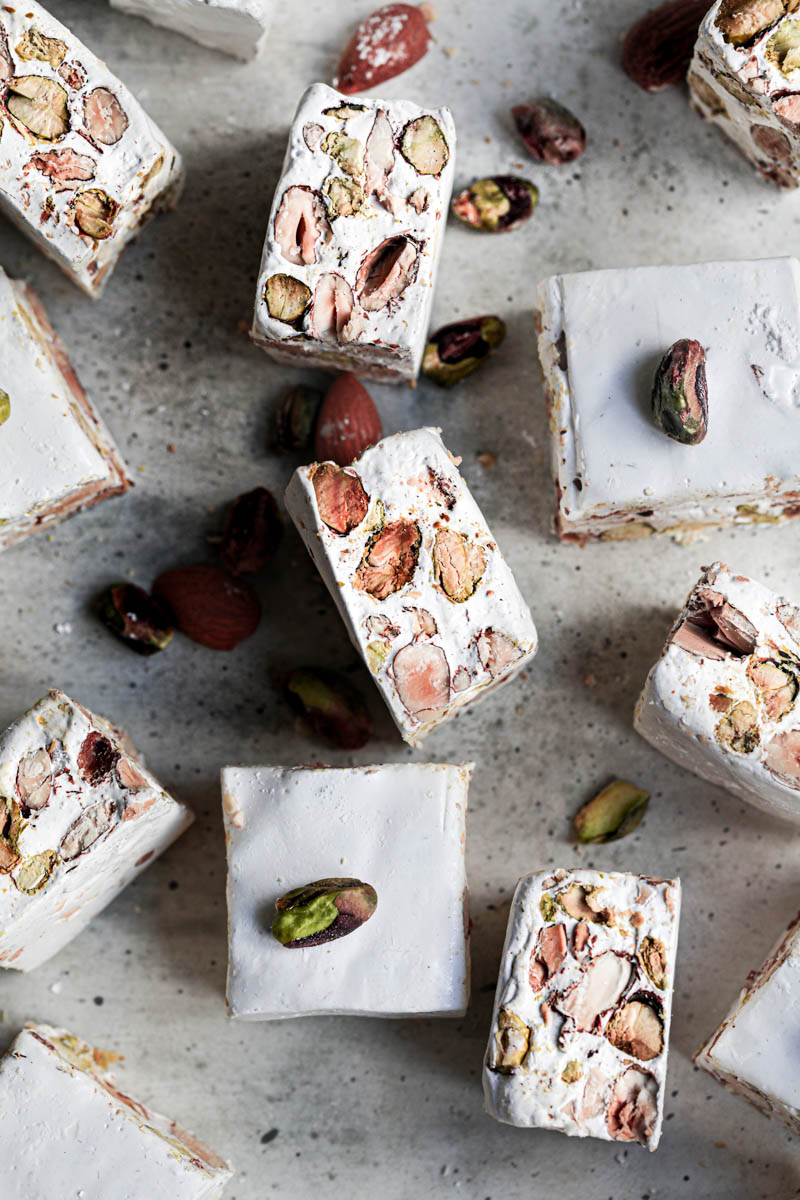 How to make this recipe
To make this almond pistachio nougat recipe you just need 5 components.
Whipped egg whites
A sugar syrup cooked to 122 C° (252 F)
A sugar syrup cooked to 145 C° (293 F)
Roasted nuts (that should be kept hot)
After gathering them up, it is only a matter of adding one after the other into the whipped egg whites, in the order listed above, until the desired consistency of nougat is reached.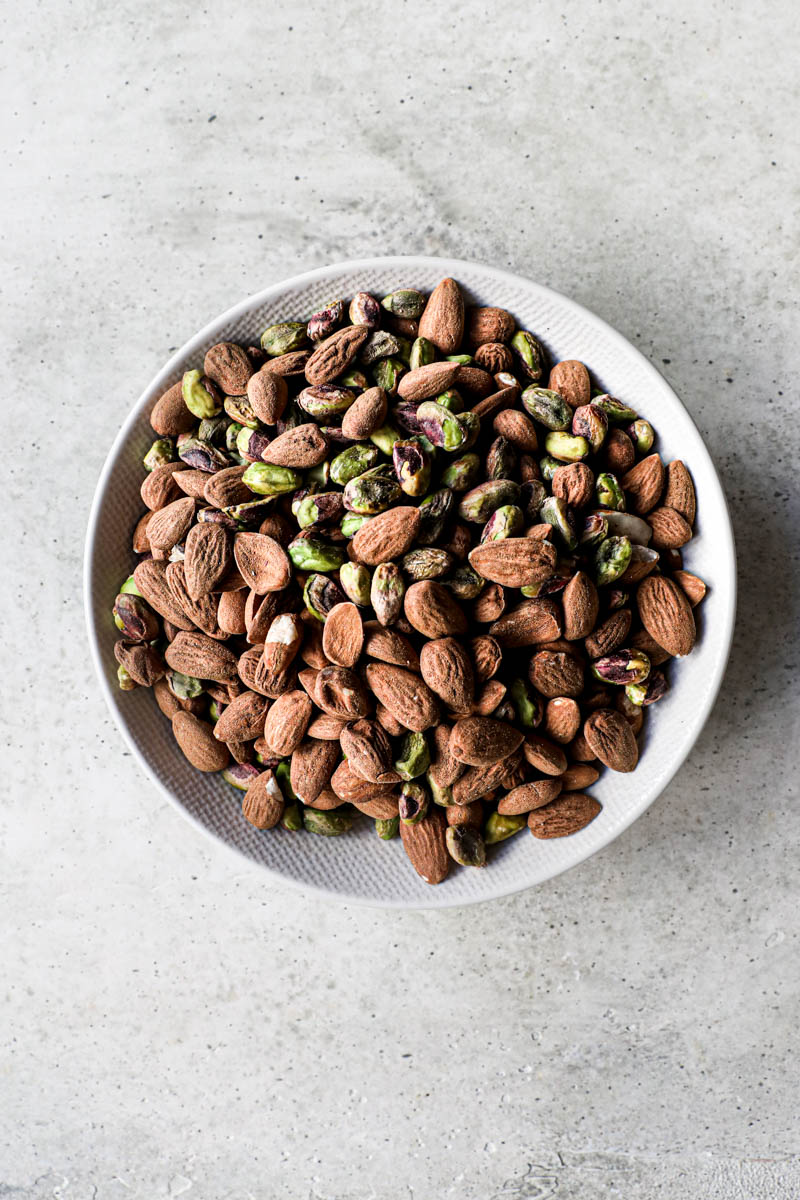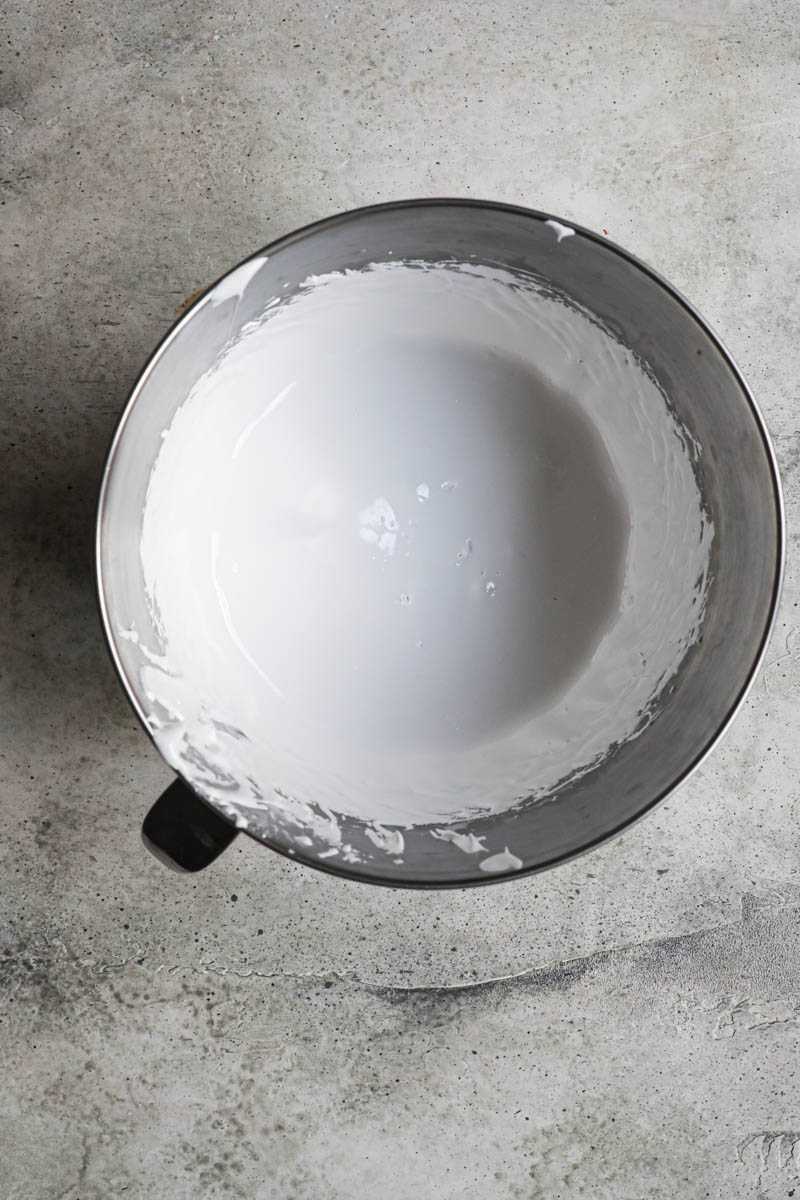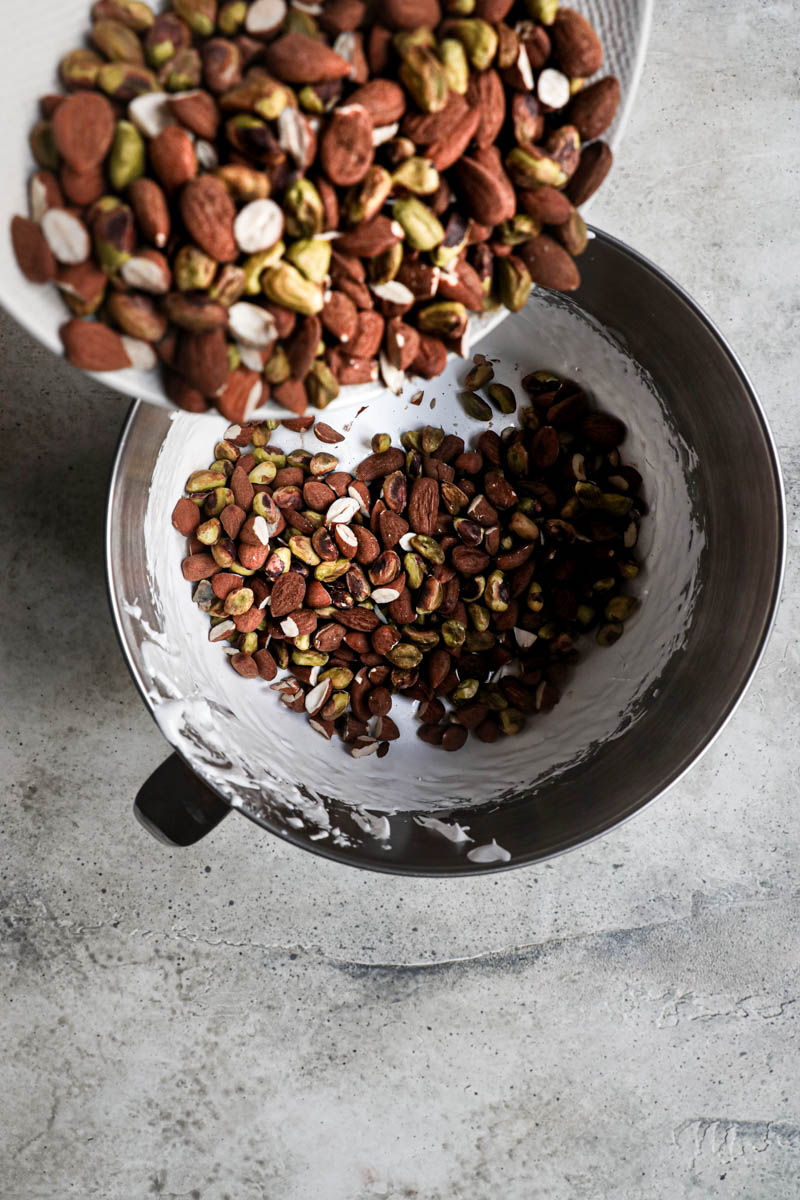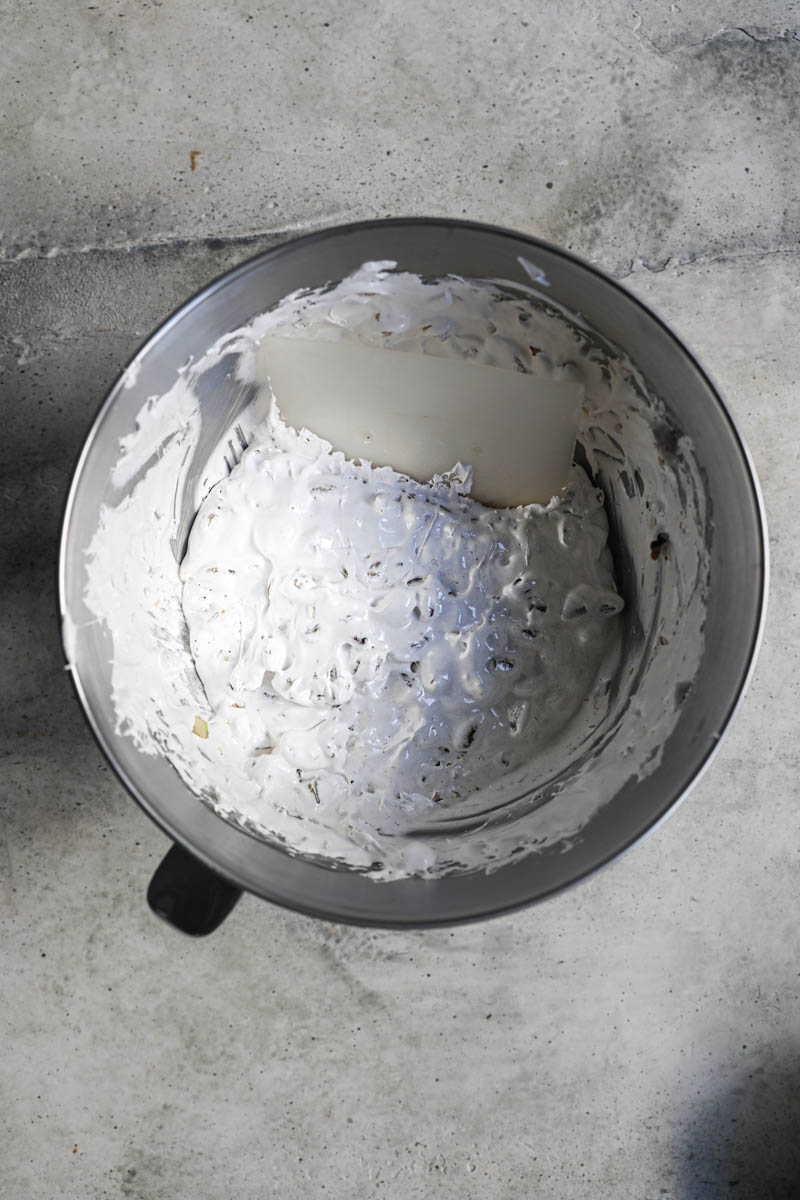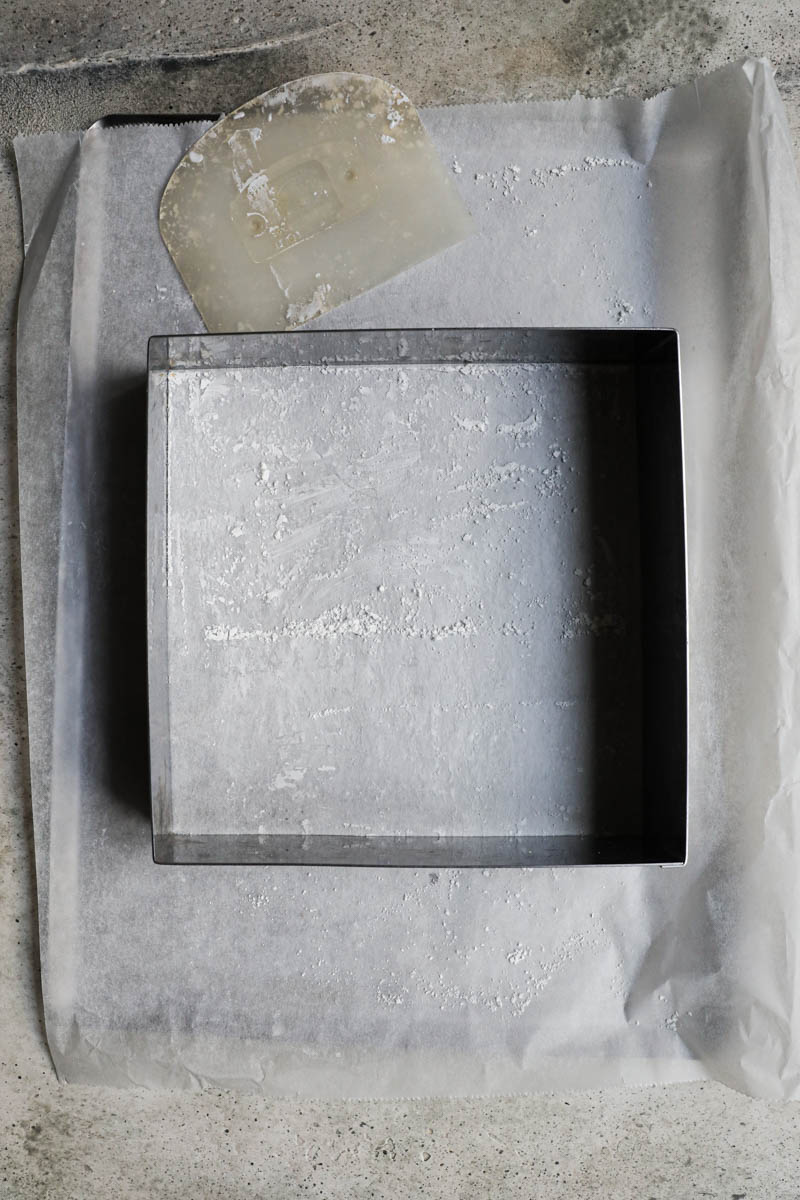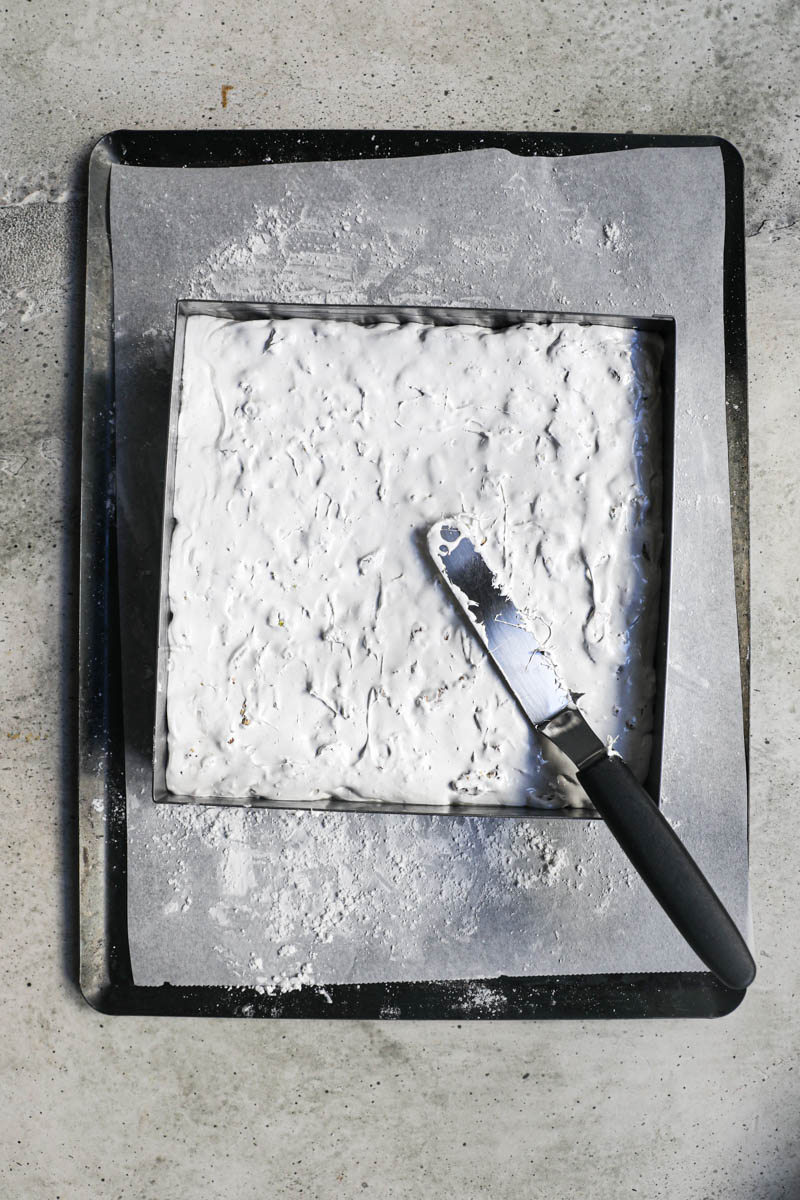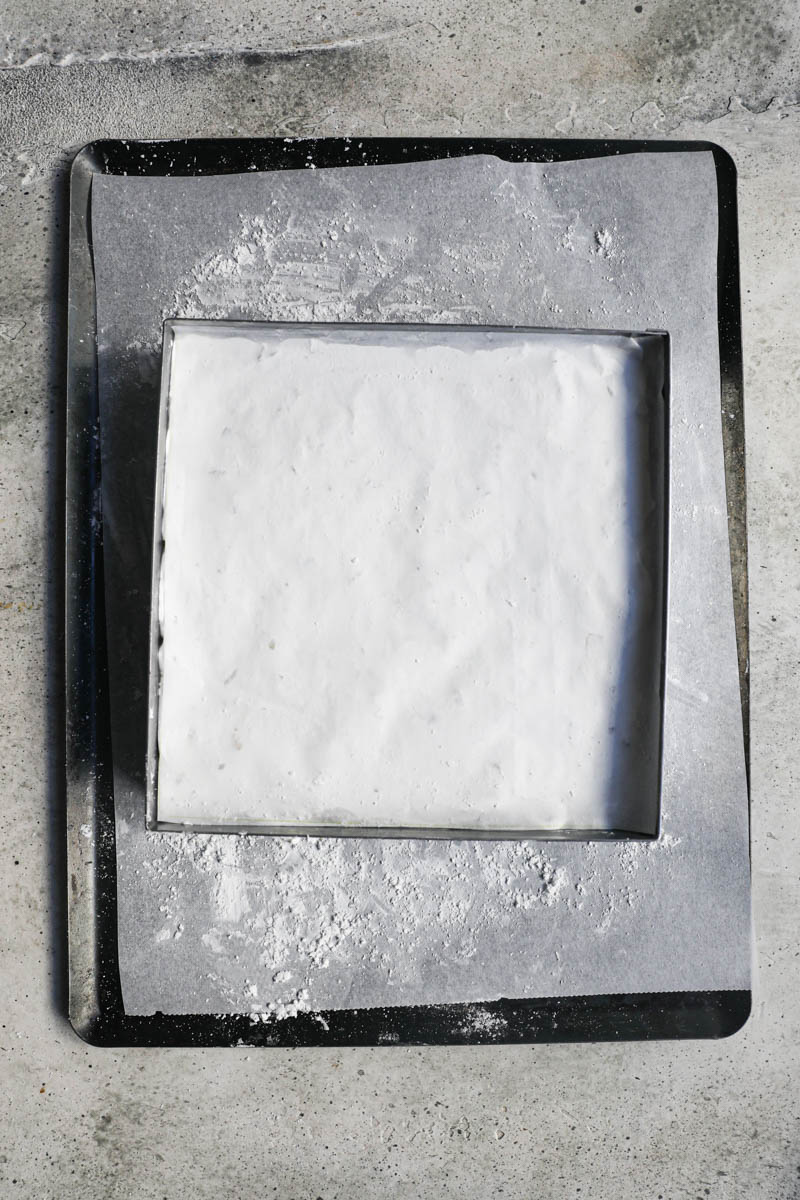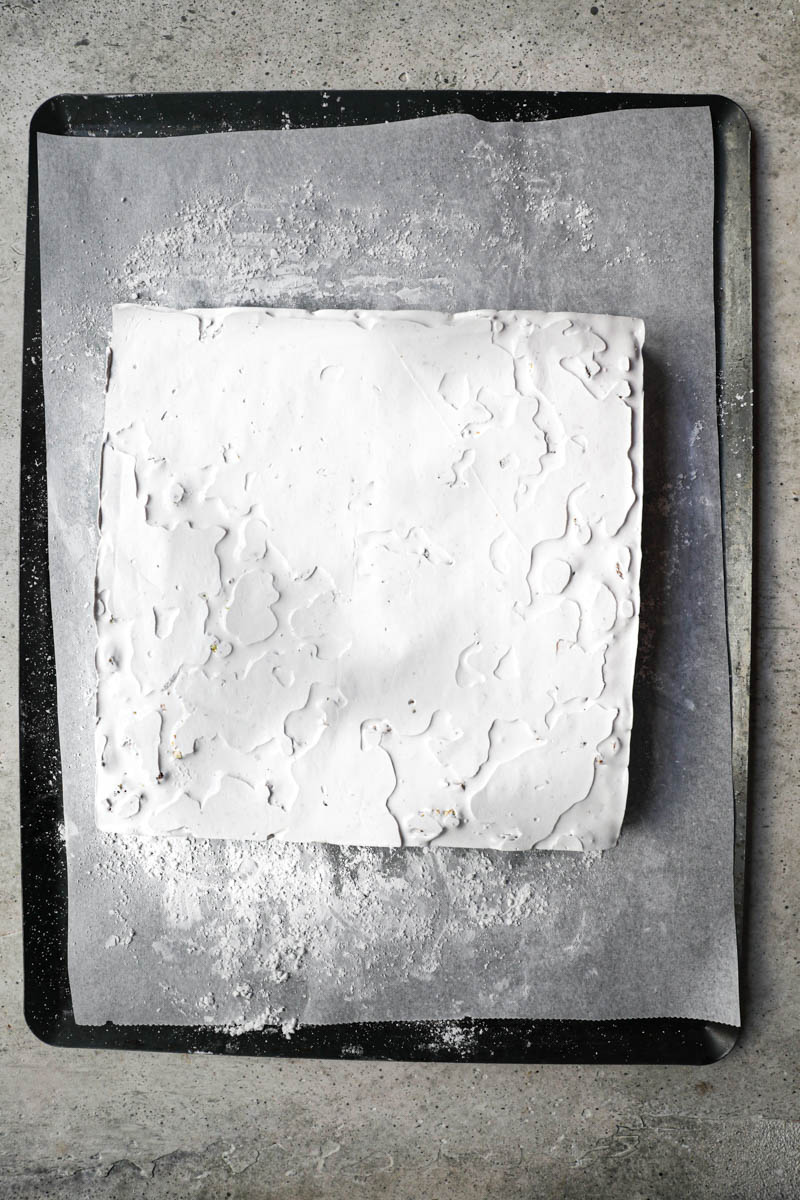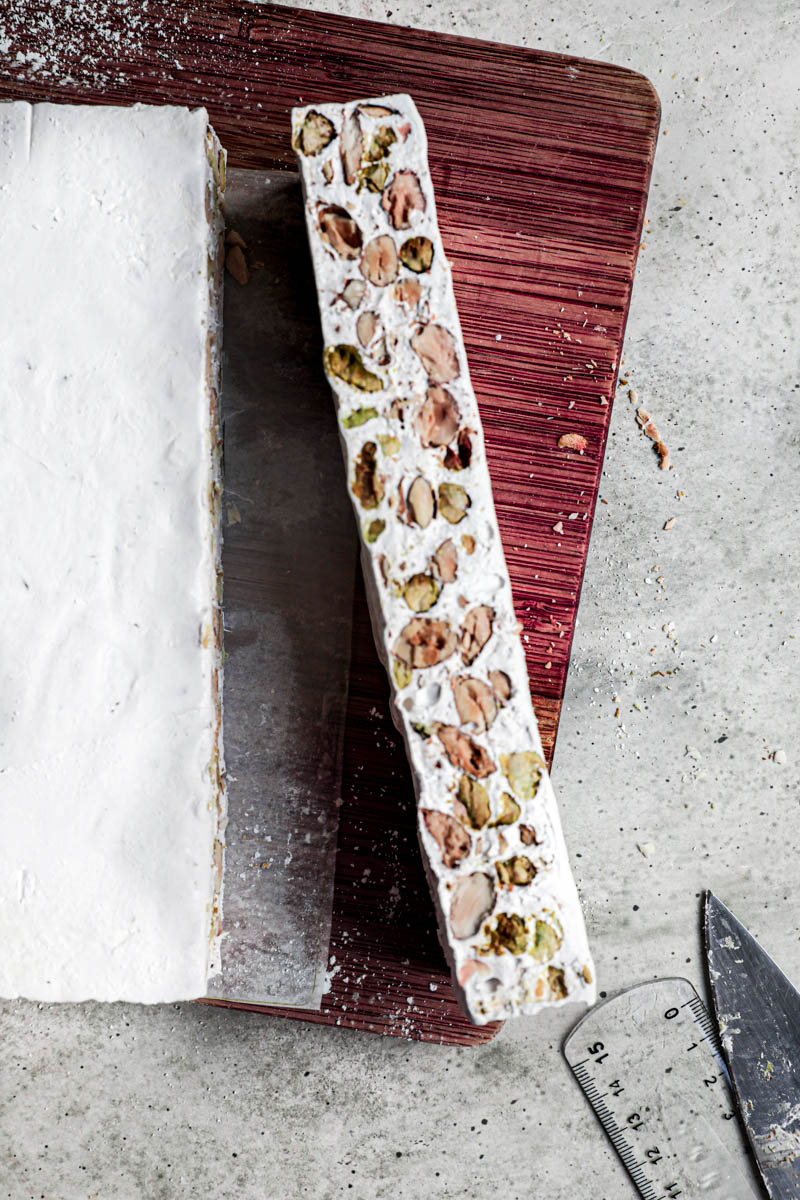 Recipe Notes
Prepping before starting out to make this recipe is crucial to success. Neither cooked sugar nor whipped egg whites can wait. So be you're ready once you start.
Prepare your materials in advance, laying out everything you will need on your countertop.
Line a baking tray with parchment paper, sprinkle with cornstarch and place the cake ring on top. You will be pouring the almond nougat inside and don't want it to stick.
Make sure you spray the cake ring with baking spray!
When adding the syrup into the whipped egg whites, pour it in slowly, keeping the mixer at low speed, trying not to touch the whisk. Aim for the edge of the bowl.
After the second syrup has been poured into the egg whites, whisk for 15 of minutes and then replace the whisk with the paddle attachment before adding in the hot nuts.
The hot roasted nuts should be added into the nougat once it is done.
To keep roasted nuts warm, keep them in the oven at 120 C° until ready to use.
Expert Notes
You can tell the almond pistachio nougat is ready by doing the following test: take a little bit of the nougat, cover it in water and then throw it against your counter. If it breaks a little, then it's done.
Work with one sugar syrup at a time, however, have both ready to cook and on the stove.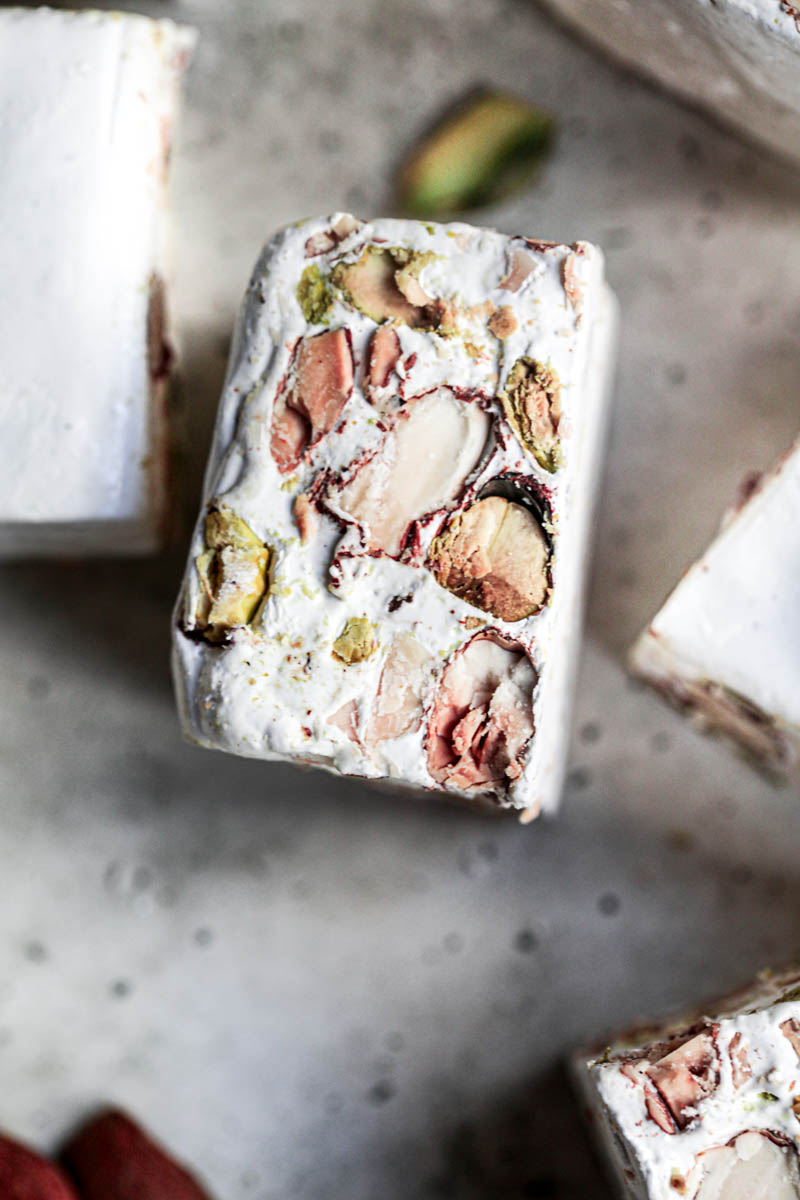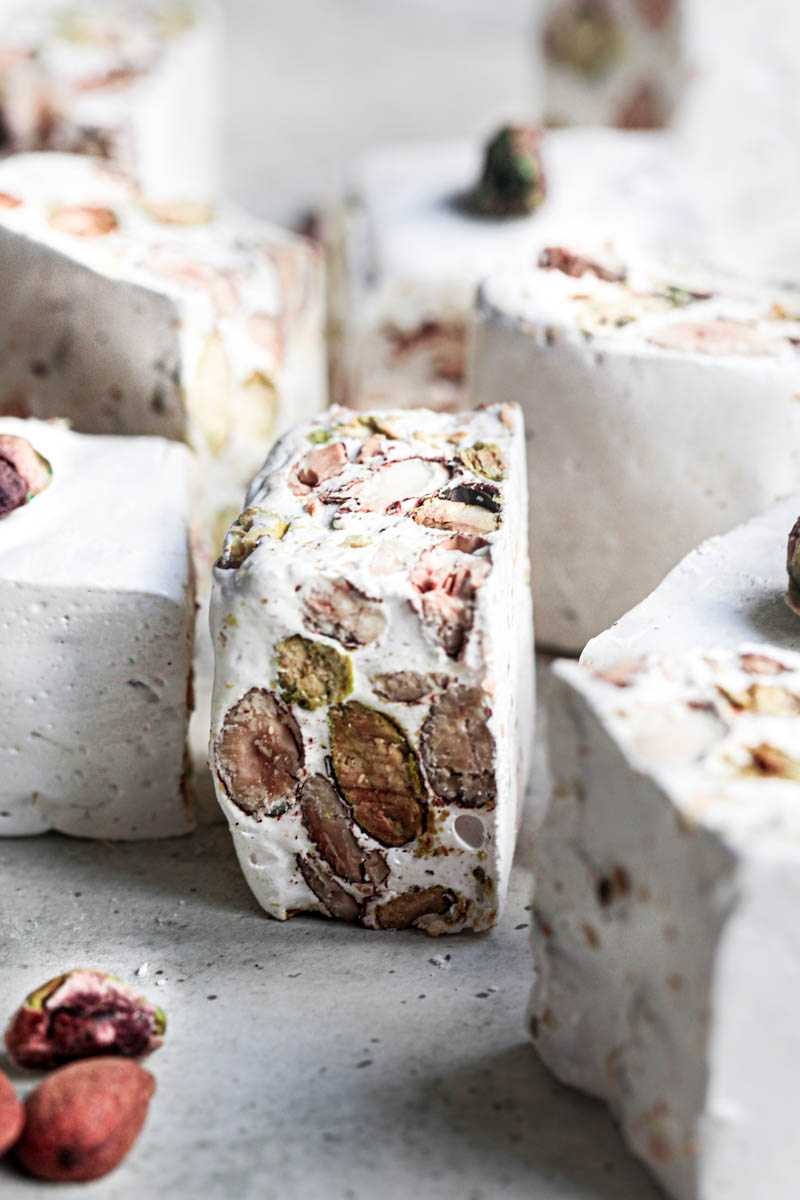 Storage Tips
Nougat must be kept in an airtight container. This candy bars can be kept for up to 1 month.
You can also wrap them in cellophane paper for an extra layer of protection from humidity!
Variations to this recipe
You can make this nougat almond only by replacing the pistachios.
You can replace all the sugar syrup with honey, respecting the same temperatures for cooking it and mixing it into the egg whites.
You can also use rice paper instead of parchment paper, which won't be removed once the nougat candy bars set. They are edible.
The ingredients used in all recipes on this site are measured using the metric system. I use a
scale
to be precise with my measurements and ensure good results. If you would also like to use a scale, here are some:
USA
,
Canada
,
UK
,
Australia
,
France
.
Subscribe to the newsletter
Sugar Cooked to 145 C°
Granulated Sugar

115 g

Glucose Syrup

115 g

Water

40 g
Sugar Cooked to 122 C°
Granulated Sugar

215 g

Glucose Syrup

215 g

Honey

60 g

Water

70 g
Whipped Egg Whites
Egg Whites

100 g

Granulated Sugar

20 g
Nougat Candy Bars Garnish
Whole Almonds

290 g

Whole Pistachios

200 g

Cornstarch
If you made this recipe I would really appreciate it if you leave a rating or comment below! Also, if you share on social media please use #cookwithbelula, I would love to see what you create!