Pecan Shortbread Cookies
Pecan shortbread cookies will be ready after only a few steps: make the dough, roll it, coat in sugar and pecans, chill. Then simply slice and bake these pecan cookies.
In France, these cookies are called "Diamants" which means diamonds. Simple slice and bake cookies, rolled in sugar. This pecan shortbread cookie recipe is my version of this classic French pastry treat. One of the things you learn in pastry school is how to make shortbread cookies. I remember that we were all nervous to see if we would have a little whole at the center after we've sliced them. That was not allowed 😊. They are easy to make and can be put together in no time! Hope you give them a try and love them!
What will you need to make these pecan shortbread cookies?
The usual pantry ingredients you already have at home (probably): butter, powdered sugar, salt, flour, eggs, vanilla essence.
About the sugar: shortbread cookies can be made using brown sugar instead of powdered sugar. However, you should know the result will be a much chewier cookie due to the molasses found in brown sugar.
Shortbreads are more on the flaky side of the cookie spectrum 😊.
Pecan nuts
Parchment paper: to cover the dough once it rolled as a cylinder and to bake the pecan cookies.
Baking tray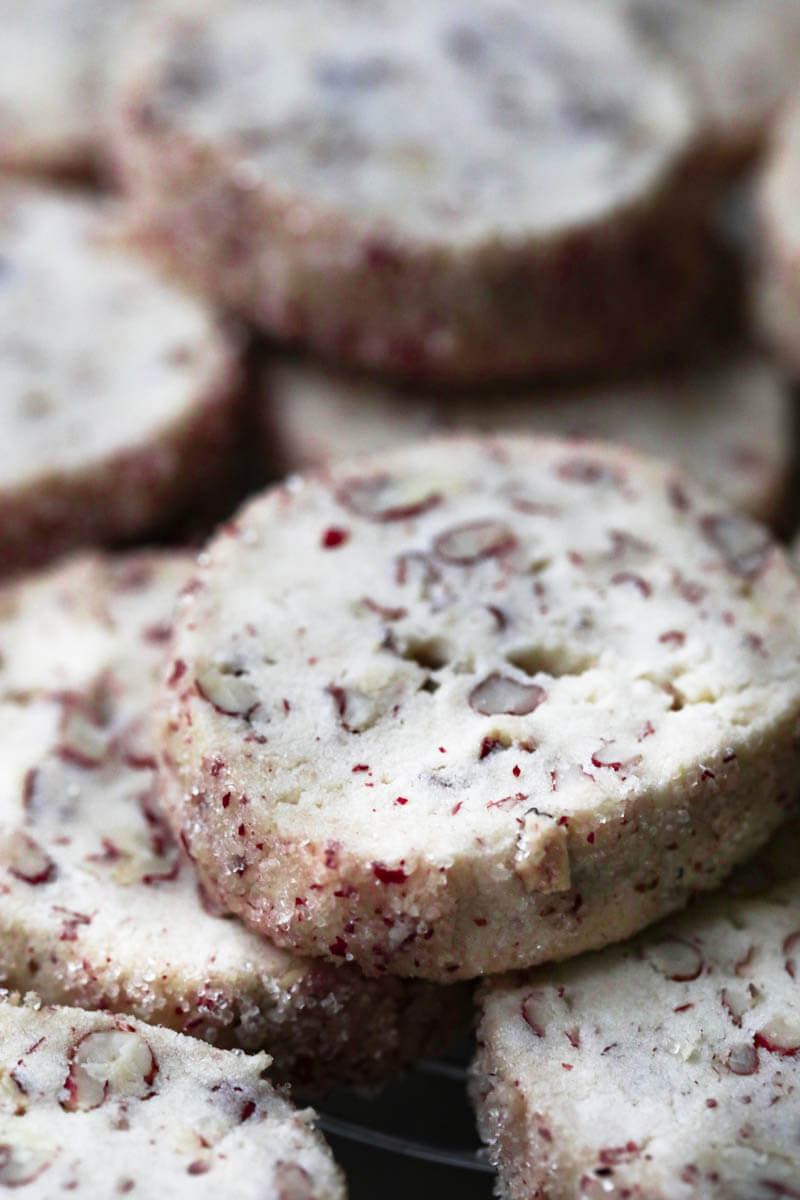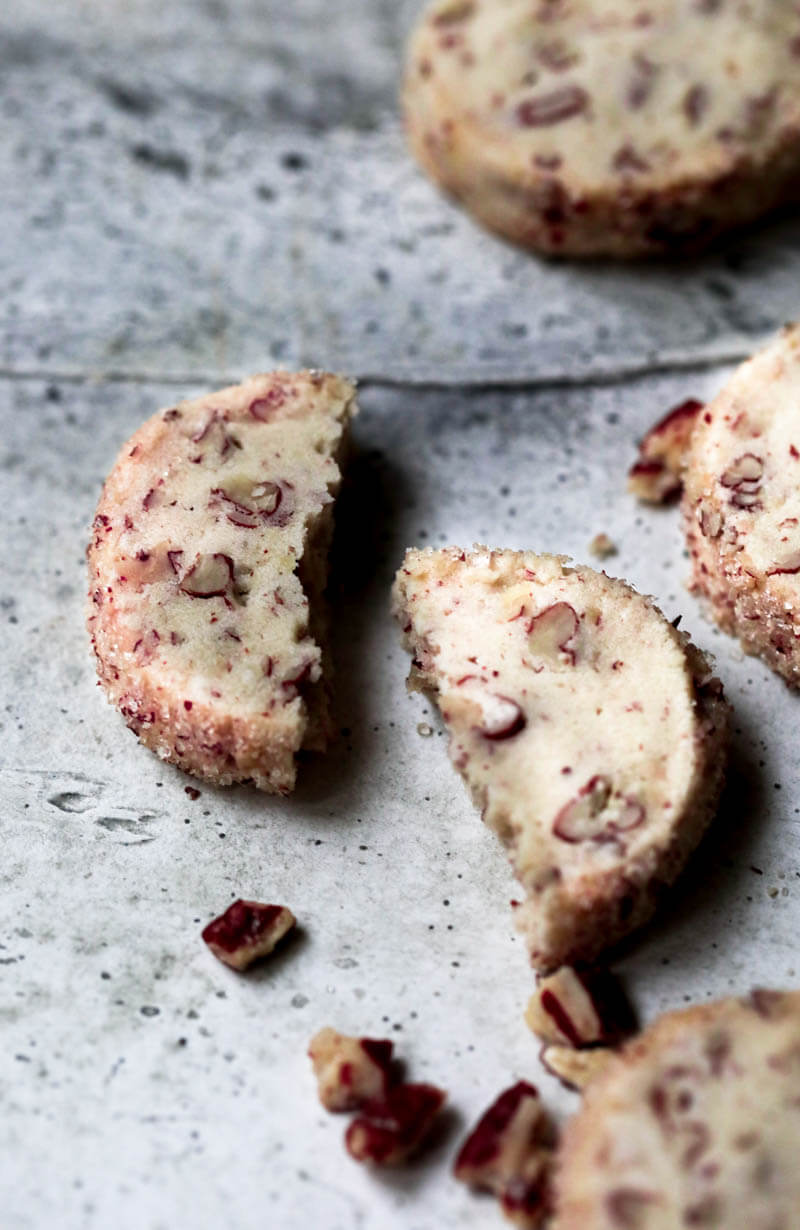 How to make shortbread pecan cookies from scratch?
Making this pecan shortbread recipe is easy and straightforward. And you can make the dough ahead of time, keep in the fridge and simple slice and bake the cookies when you are ready to enjoy them.
1. Make the cookie dough
Mix the softened butter and powdered sugar
Add the eggs, vanilla essence and 1/3 of the flour and the salt and mix until incorporated.
Add the rest of the flour and mix until the dough starts to come together.
Add the pecans and mix until the dough has come together.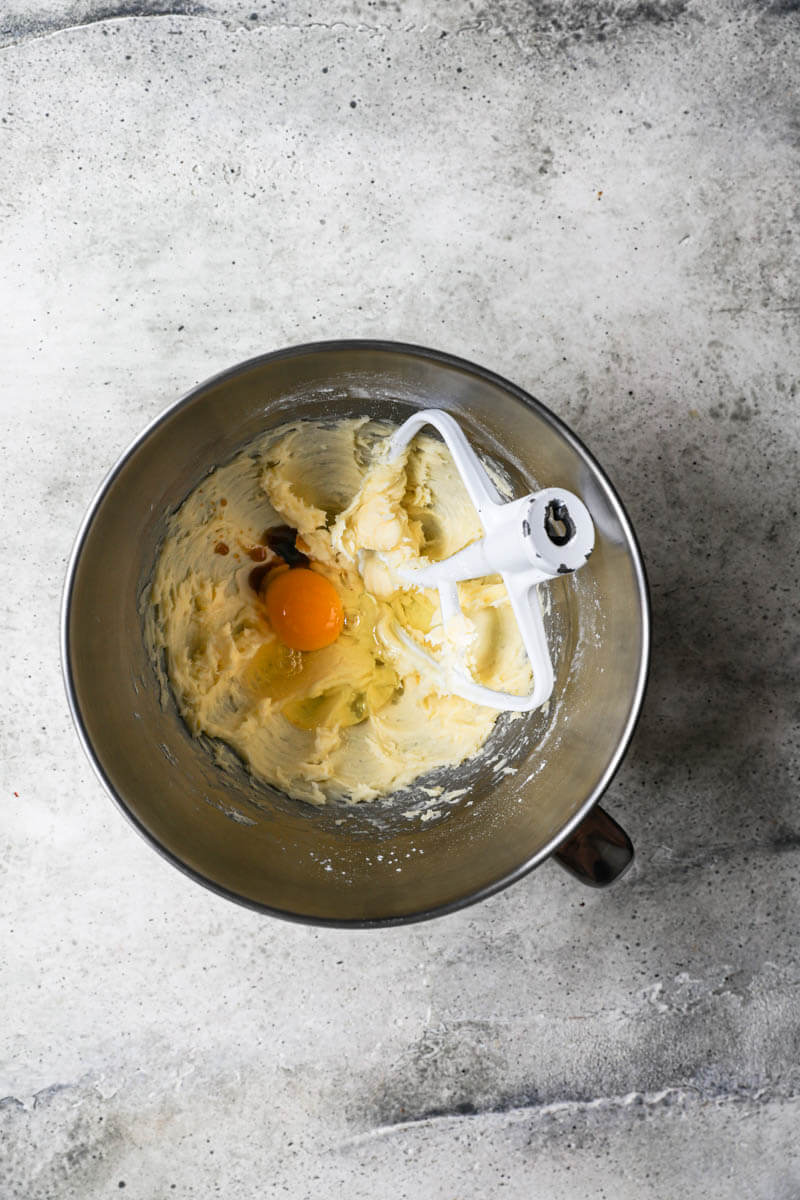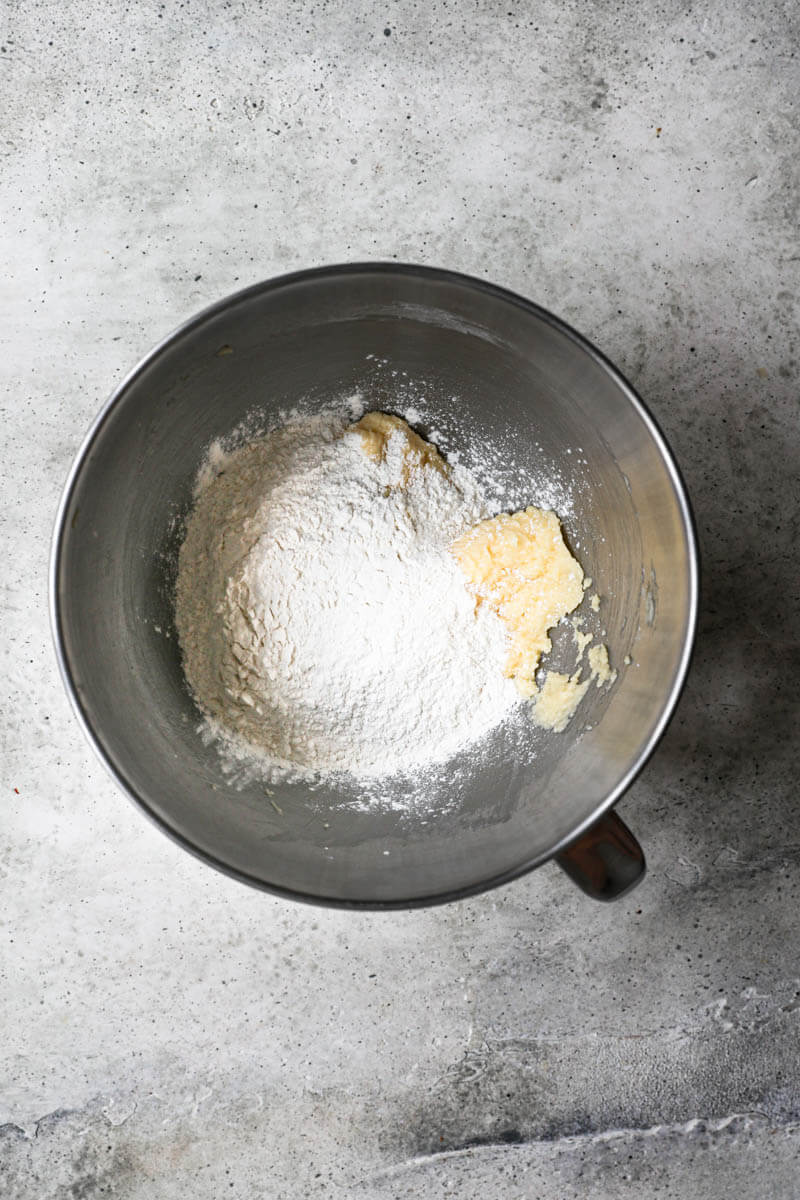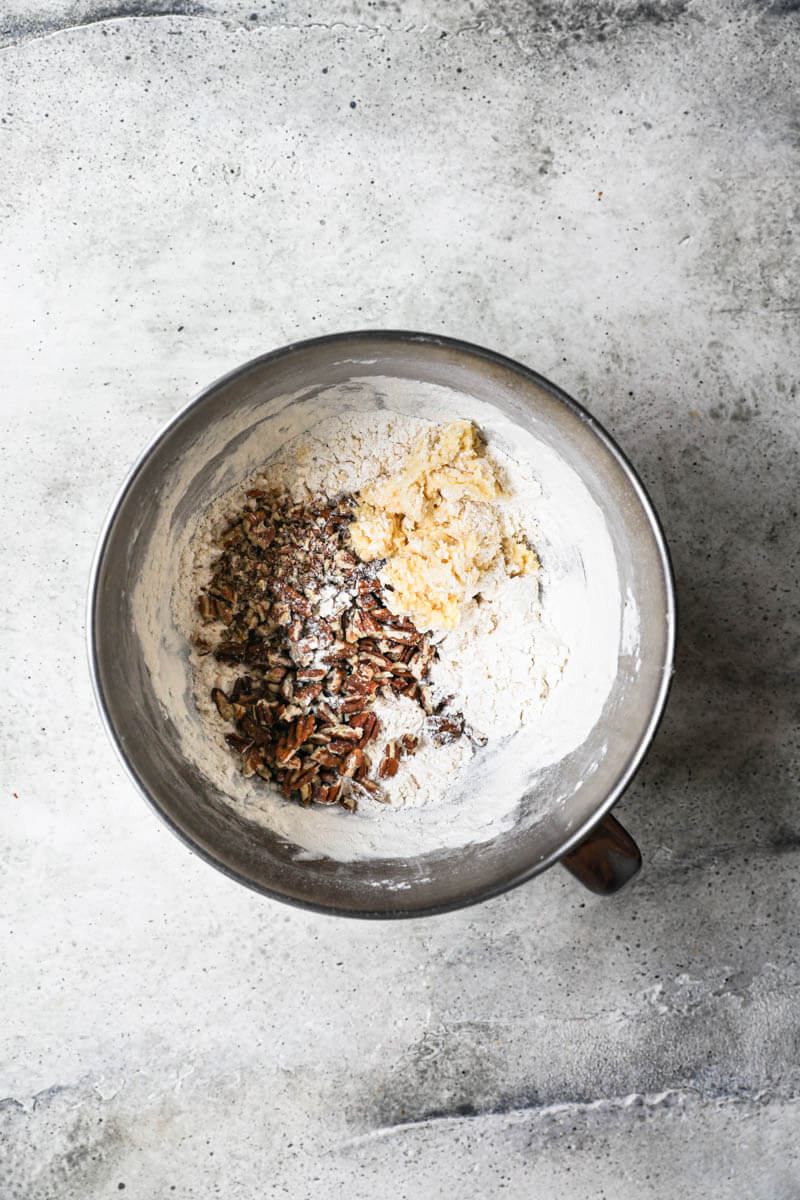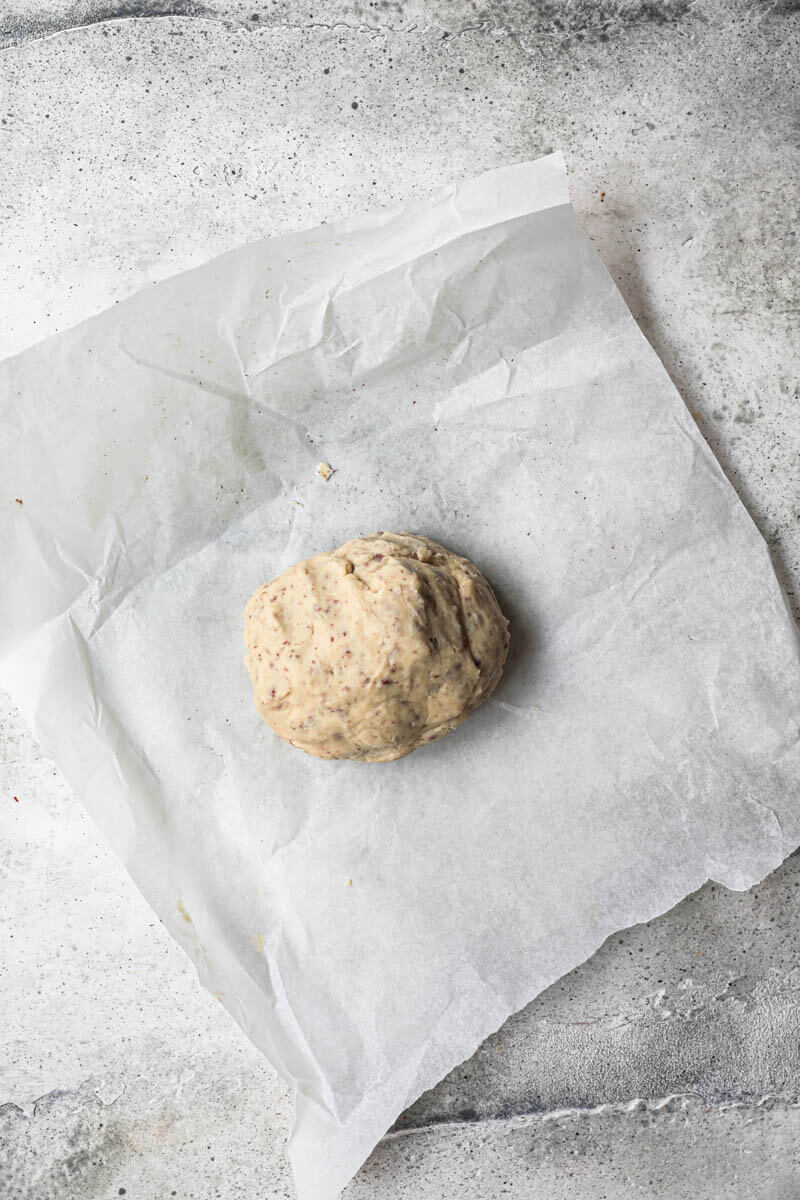 2. Roll the dough
Transfer the dough onto a lightly floured surface, divide in 2 and roll into a log of about 4 cm (1.5 inches) in diameter. About 20 cm long (8 inches).
Wrap with parchment paper and refrigerate for 1 hour.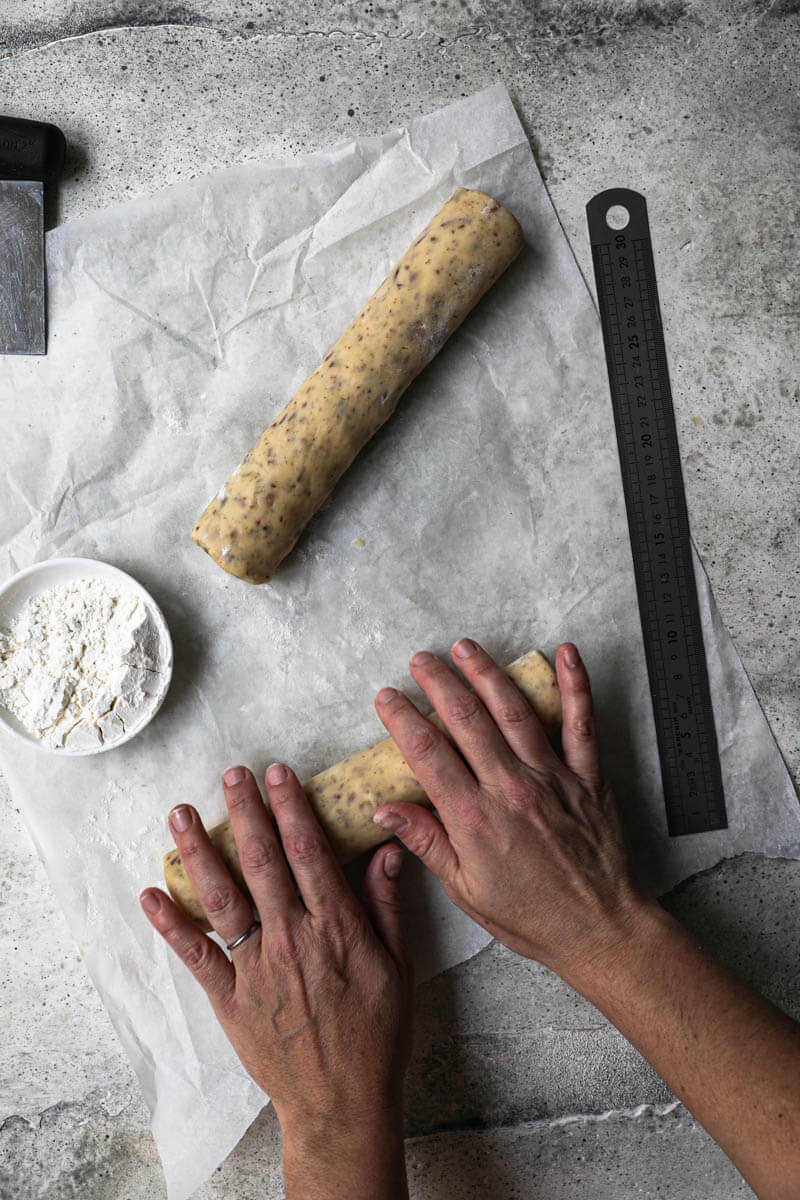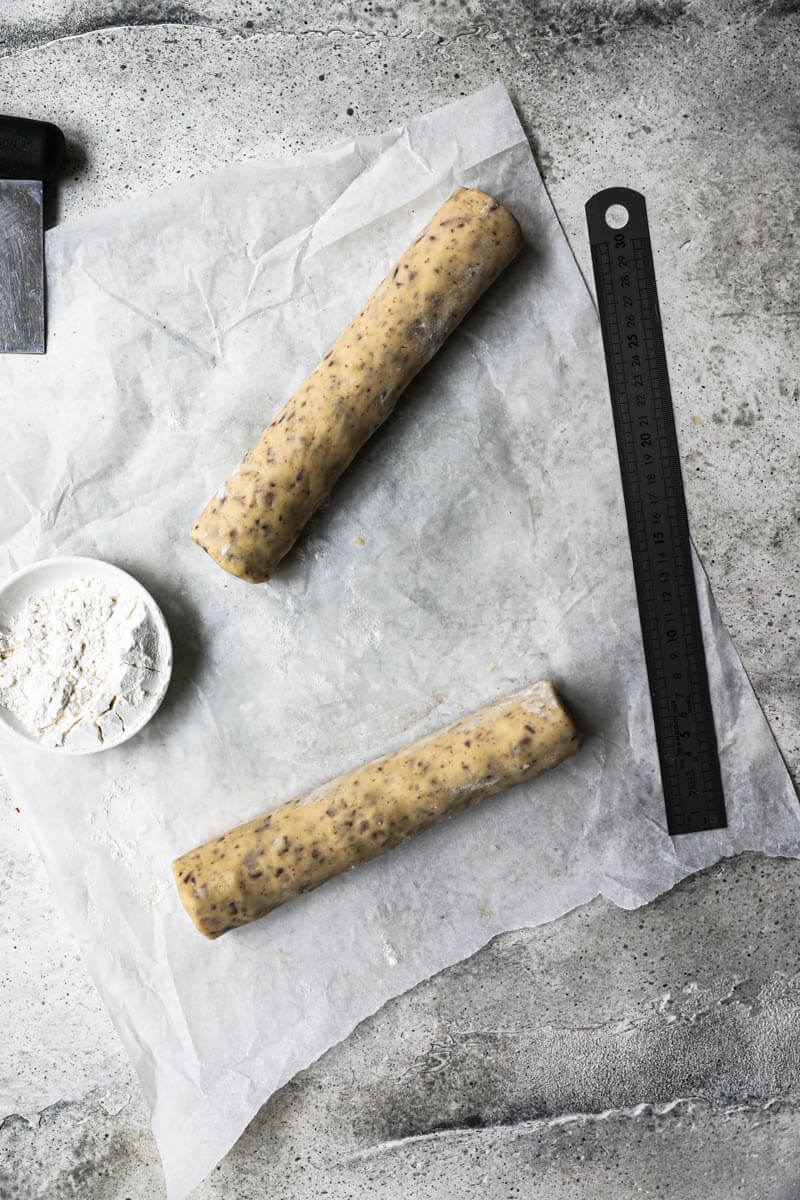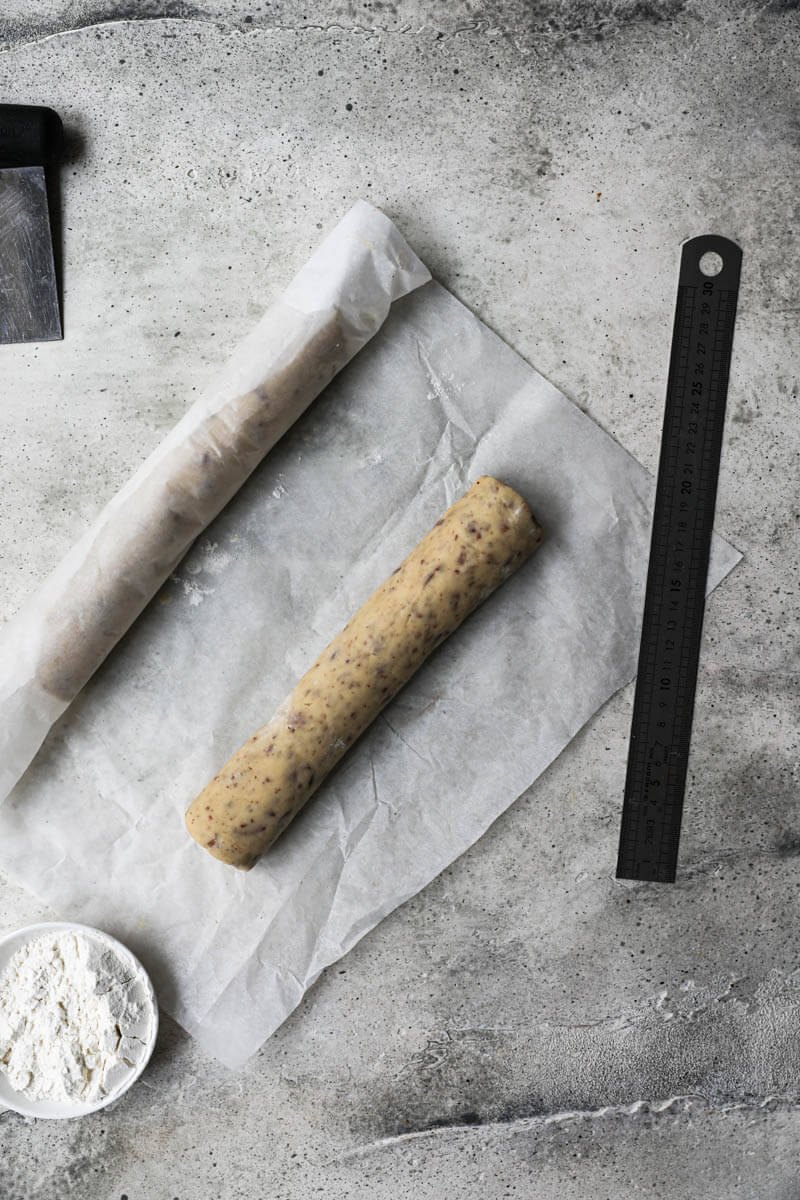 3. Slice the pecan cookies
Brush the log with egg wash (1 beaten egg + a dash of salt) and roll it in a mixture of sugar and crushed pecans.
Slice the log into rounds of 1/1.5 cm thick and place them on a baking sheet lined with parchment paper living space between them.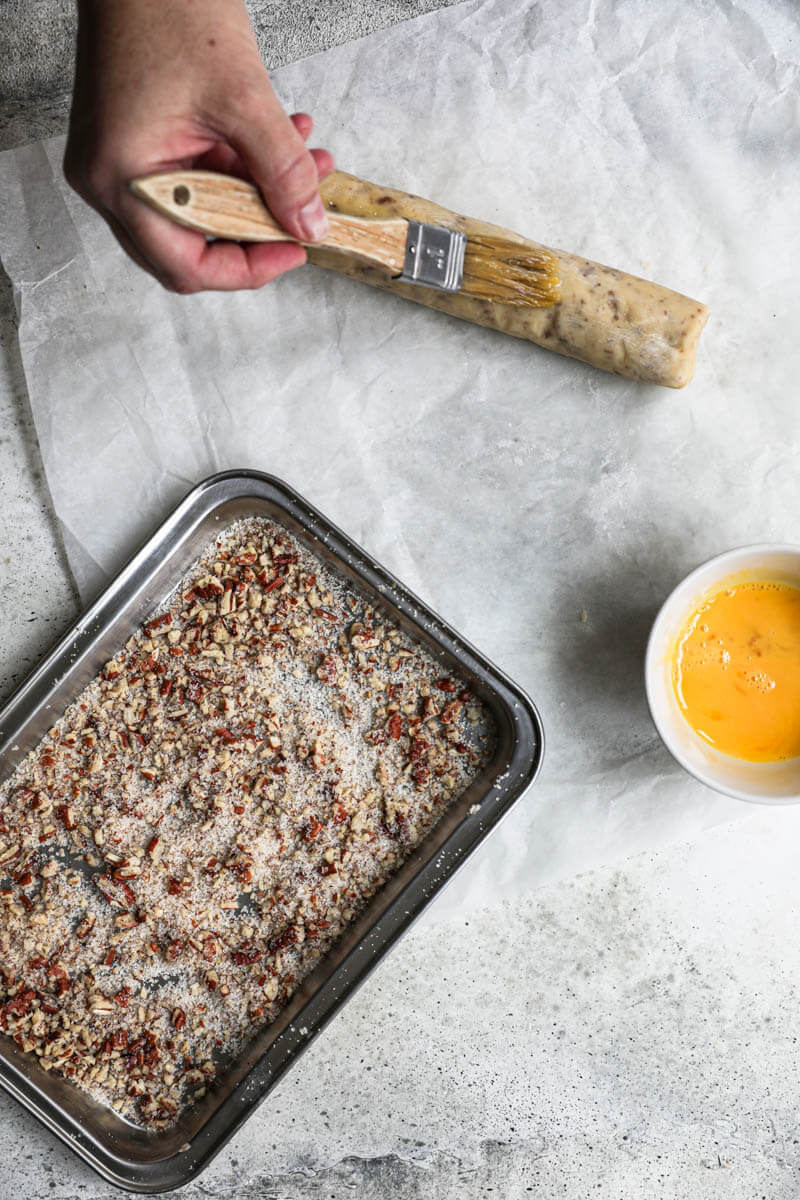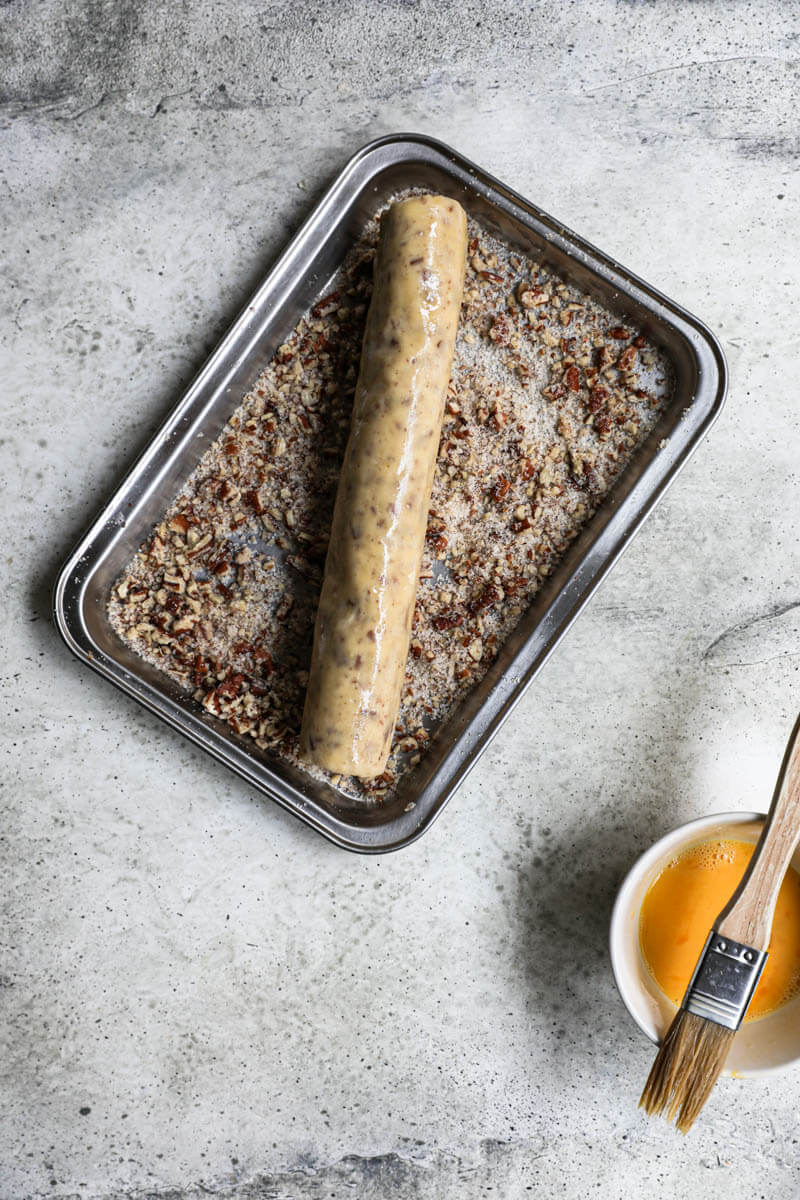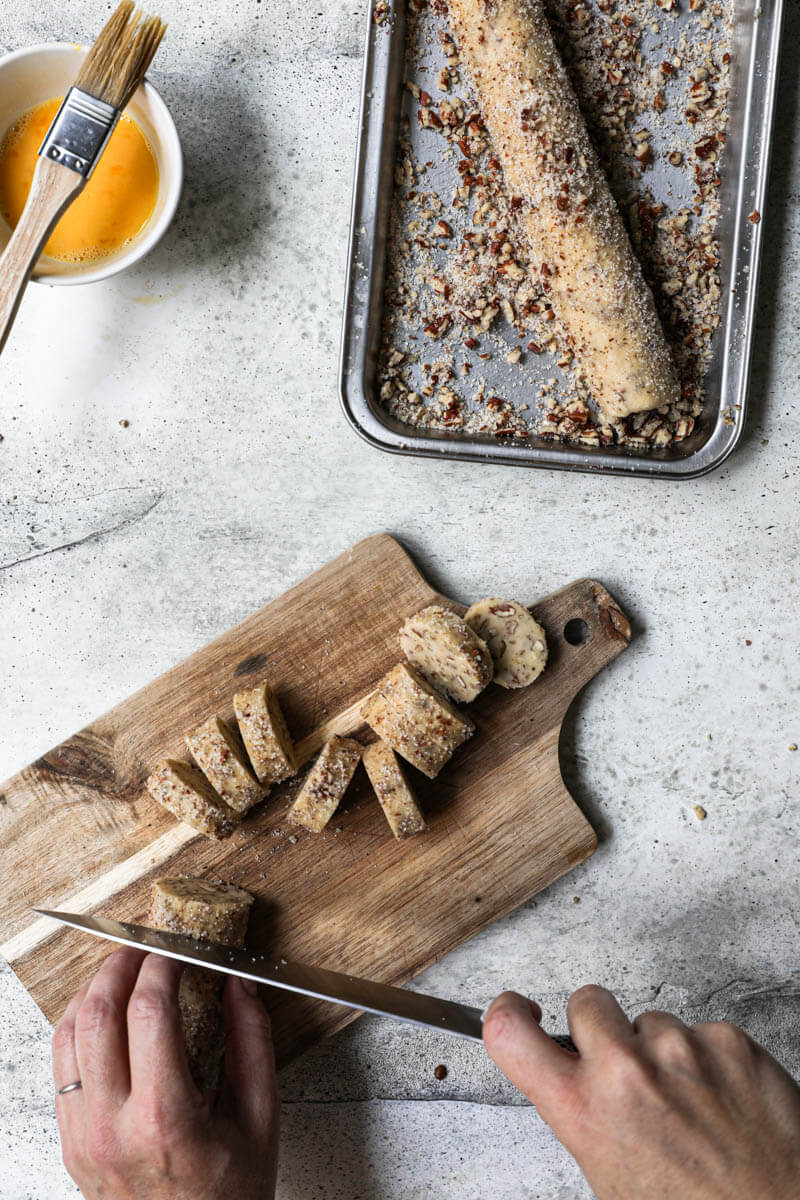 4. Bake
Pre-heat the oven to 170 C° and bake the shortbread cookies for 12 minutes.
Baking time will depend on how thick you sliced the pecan cookies.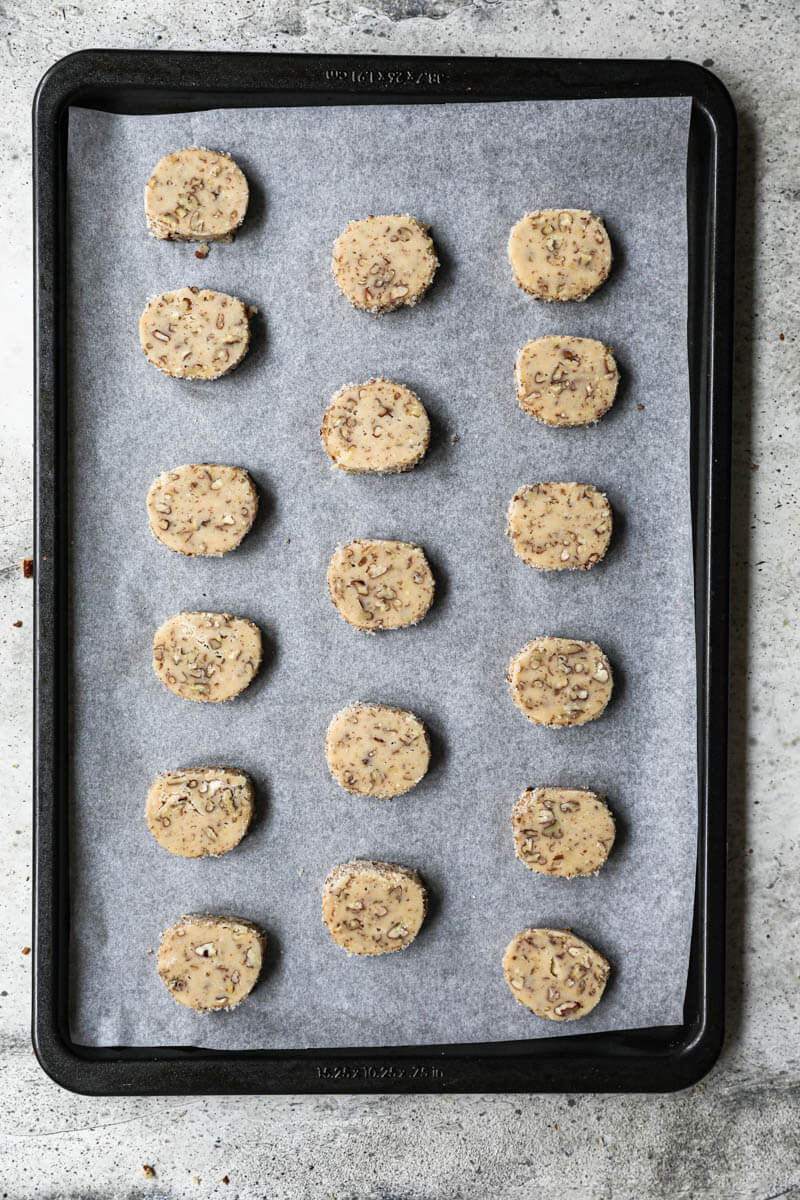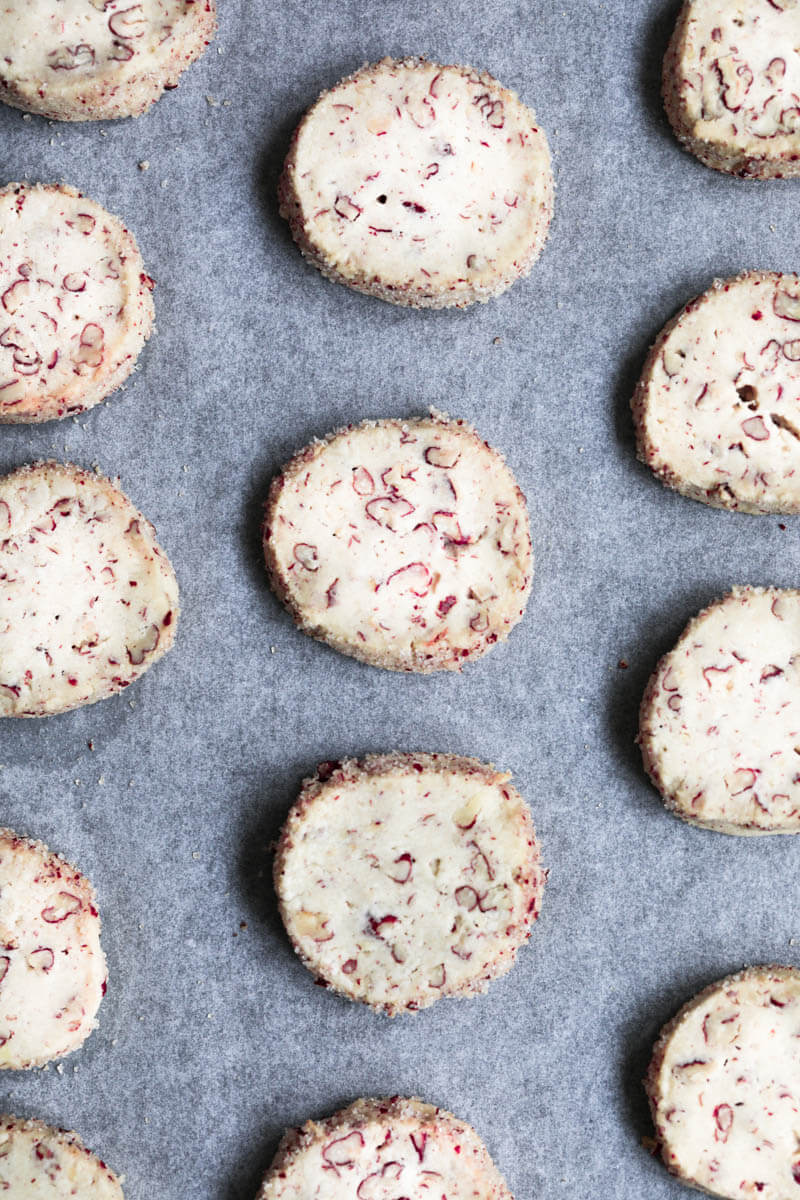 Can they be made ahead of time?
Yes, they can! You can prepare the shortbread cookie dough and keep it in the fridge shaped as a log for up to 2 days.
Then simply, roll the log in sugar and crushed pecans, slice and bake the cookies when you are ready to enjoy them!
Storing shortbread cookies
Once they have completely cooled down you can keep in an airtight container for up to 5 days. If you manage to make them last that long 😉.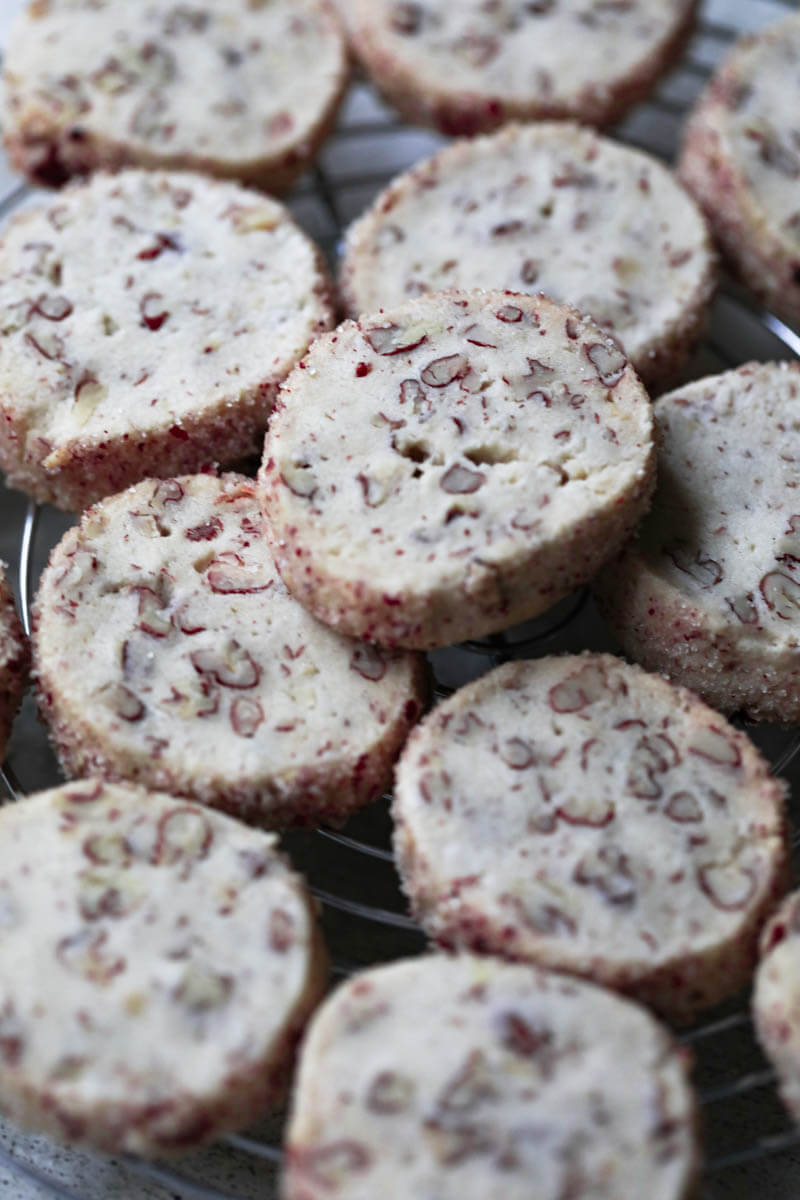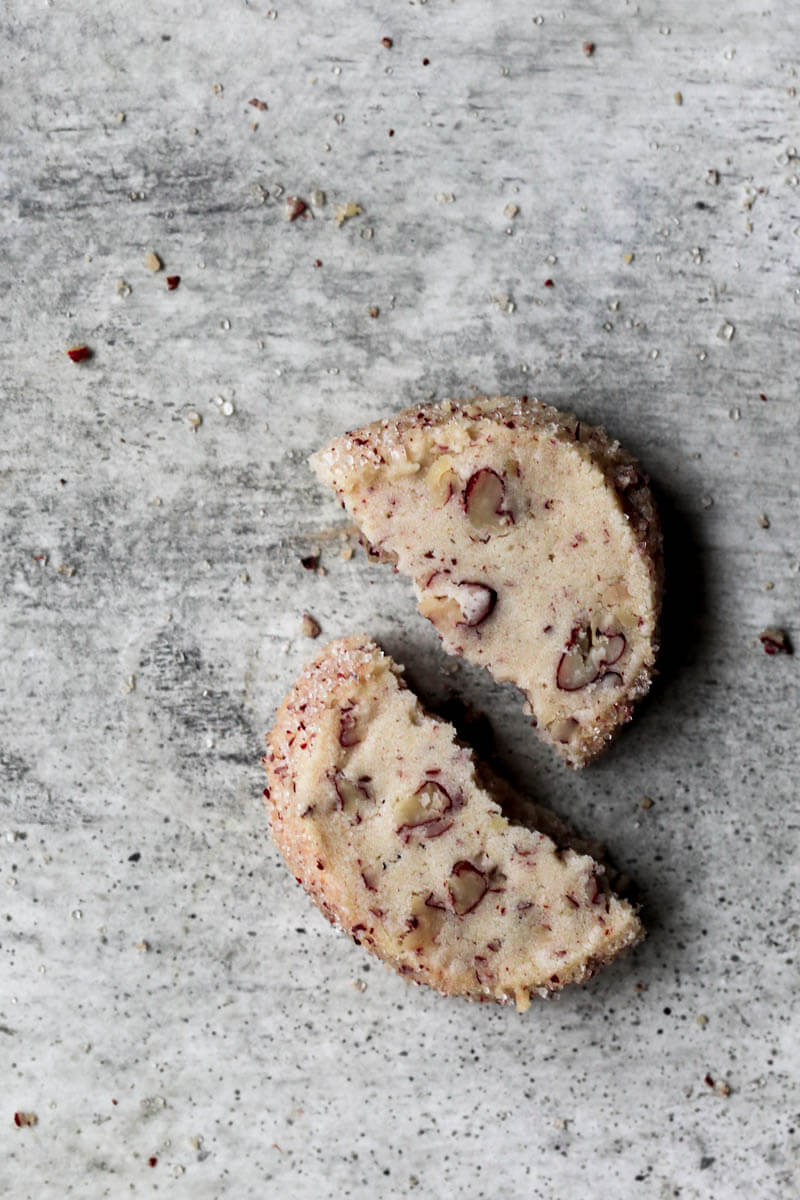 Can these pecan shortbread cookies be frozen?
You can either freeze the entire log of raw dough or the already sliced raw cookies.
To defrost:
The log: overnight in the fridge, then let come at room temperature for about 15 minutes before slicing and baking the shortbread pecan cookies.
The sliced cookies: place them on a baking tray lined with parchment paper and keep at room temperature for 30 minutes before baking them.
Variations
You can replace the pecans in this shortbread cookie recipe for any other nuts you like or have at home: almonds, hazelnuts, walnuts. They will all taste delicious.
You can also add chocolate chips or chunks to the cookie dough: replace 1/3 of the pecans by the chocolate. It is a killer combination.
The ingredients used in all recipes on this site are measured using the metric system. I use a
scale
to be precise with my measurements and ensure good results. If you would also like to use a scale, here are some:
USA
,
Canada
,
UK
,
Australia
,
France
.
Subscribe to the newsletter
Total Time:
1 hour 45 minutes
---
Unsalted Butter

120 g

Powdered Sugar

100 g

Salt

1 pinch

Flour

220 g

Eggs (large)

1

Vanilla essence

1 tsp

Toasted Pecan Nuts

125 g

Sugar

30 g

Crushed Pecan Nuts

30 g
If you made this recipe I would really appreciate it if you leave a rating or comment below! Also, if you share on social media please use #cookwithbelula, I would love to see what you create!