This is the best flan recipe ever. It's inspired in my grandmother's homemade flan recipe, and it never ever fails. Its super easy, can be put together rather quickly and it requires almost no effort at all. A classic for us growing up, it would be present in every family gathering, leading the way on the dessert table. Hope you love it as much as I do!
What is flan?
Flan is a custard dessert made with sugar, eggs and milk and covered in caramel. It is a traditional French recipe that is extremely popular in Spain and made its way to Latin America thanks to the Spanish conquest of the continent.
There are probably as many versions of flan as there are countries. This is a crème caramel style flan, also known as Spanish Flan.
Crème caramel vs Flan
Both words are French, and they refer to 2 different kind of desserts: crème caramel is what Americans and most of the world know as Flan, while a flan in France refers to vanilla custard like tart.
This caramel flan recipe is the same as a crème caramel.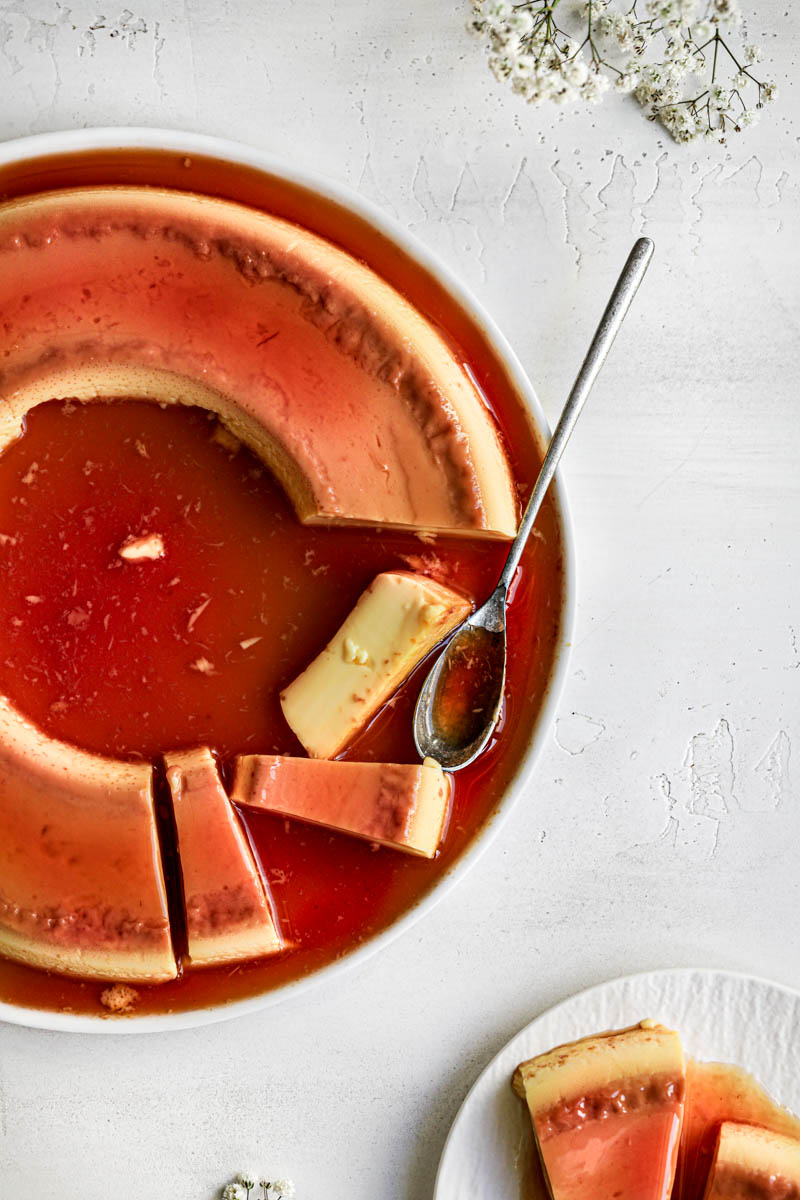 Flan ingredients and utensils
What you will need to make this leche flan recipes are simple ingredients you already probably have at home:
Sugar, eggs and milk
Vanilla bean is optional and can be replaced by vanilla extract (in which case it should be added in with the eggs and not with the milk).
You will also need:
Note: if you don't have a savarin mold, you can use a Bundt cake mold or a regular loaf pan. This crème caramel recipe calls for a 24 cm mold, with capacity for 1 litre (34 oz). Make sure the mold you choose has the same volume capacity!
How to make this easy homemade flan recipe?
You simply must:
Pre-heat the oven to 150 C°/300 F.
Make the caramel and line the flan mold with it (see further down for tips and instructions!).
In a pot mix the milk, half the sugar and the vanilla bean (scraped) and bring it to a boil. Turn of the heat and leave to infuse covered in plastic wrap for 15 minutes.
In a bowl whisk together the eggs, the egg yolks and the other half of the sugar.
Remove the vanilla pods from the milk and pour over the eggs stirring constantly.
Cover the mixture and let it rest for 15 minutes.
Place the mould in a baking tray and pour hot water up to 2/3 of the flan pan.
Pour the crème caramel batter into the pan, cover with aluminum foil and place in the oven.
Bake for 1 hour over the water bath at 150 C°/300 F.
Remove from the oven and let it cool down completely at room temperature.
Refrigerate until it has chilled. I like to leave it overnight in the refrigerator.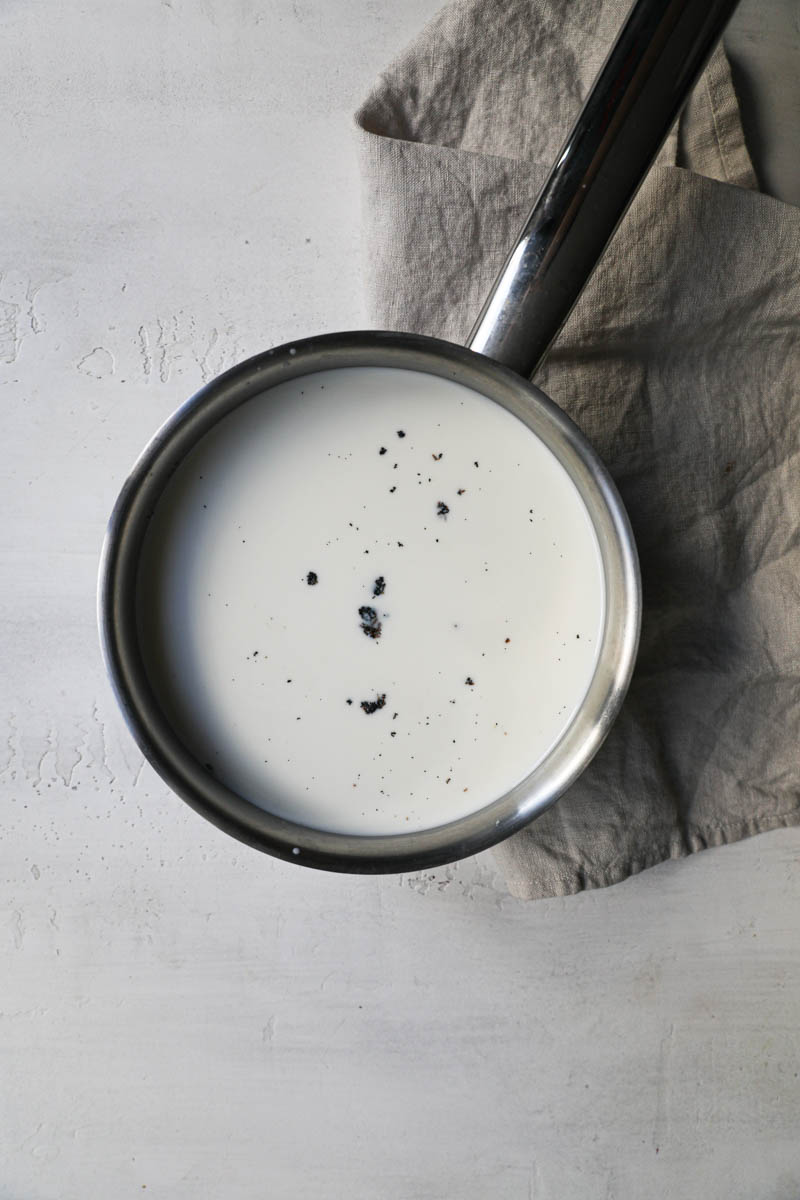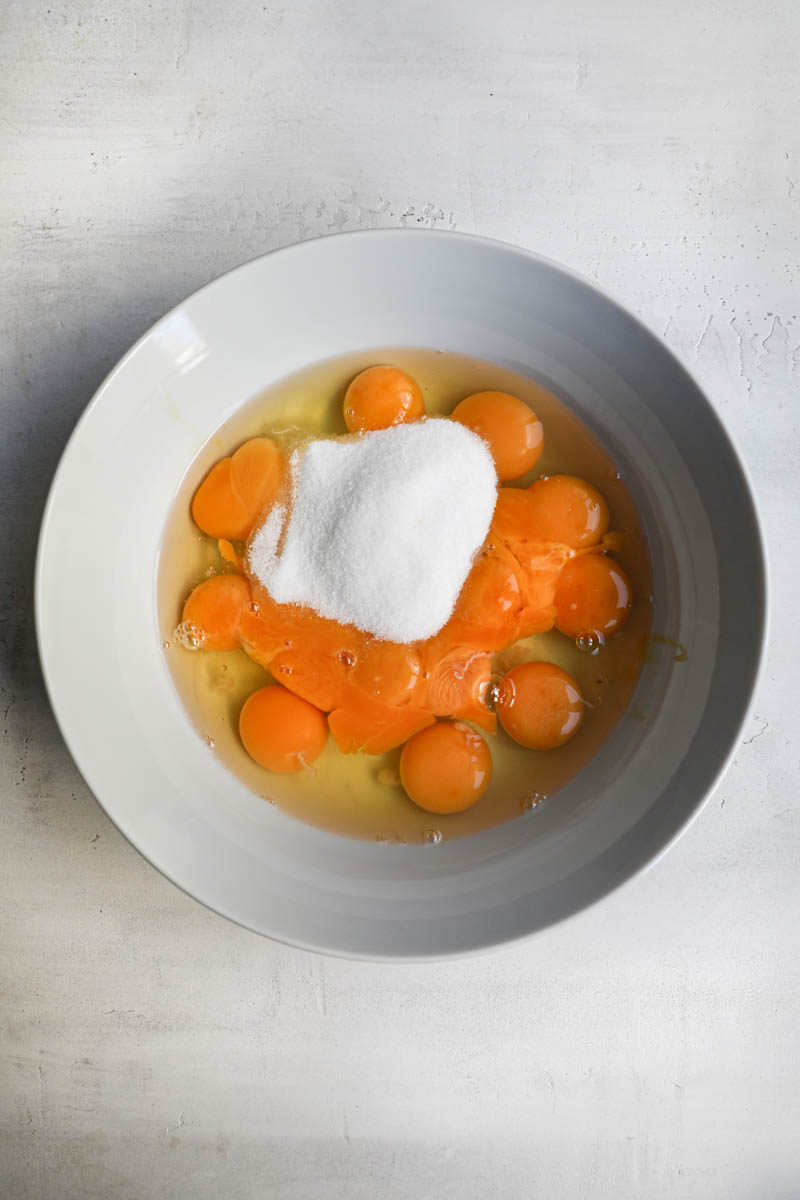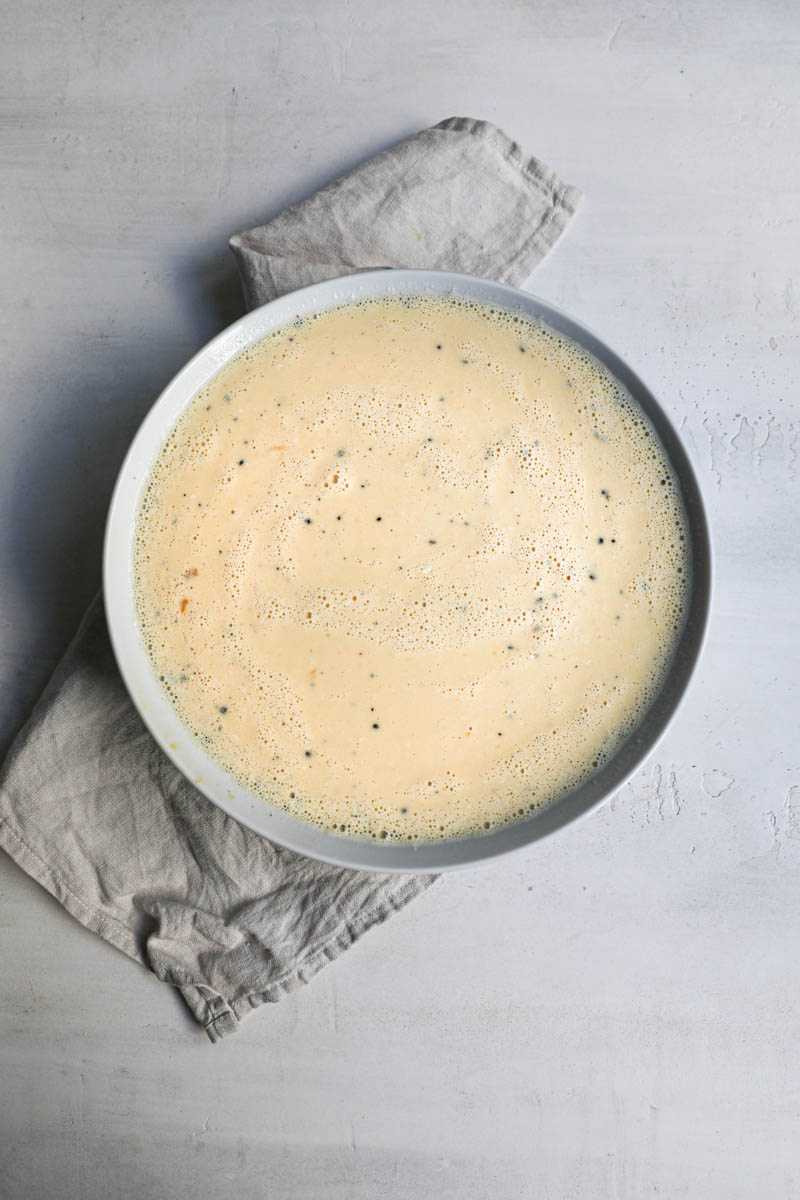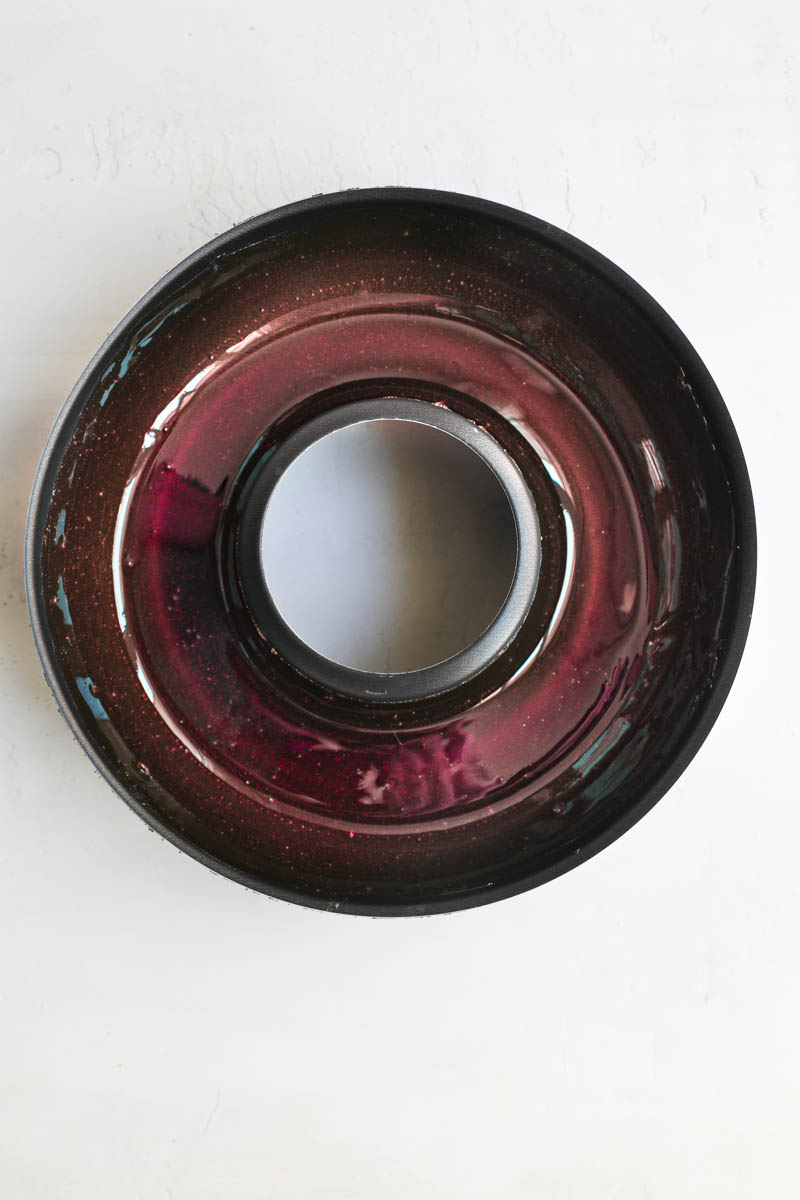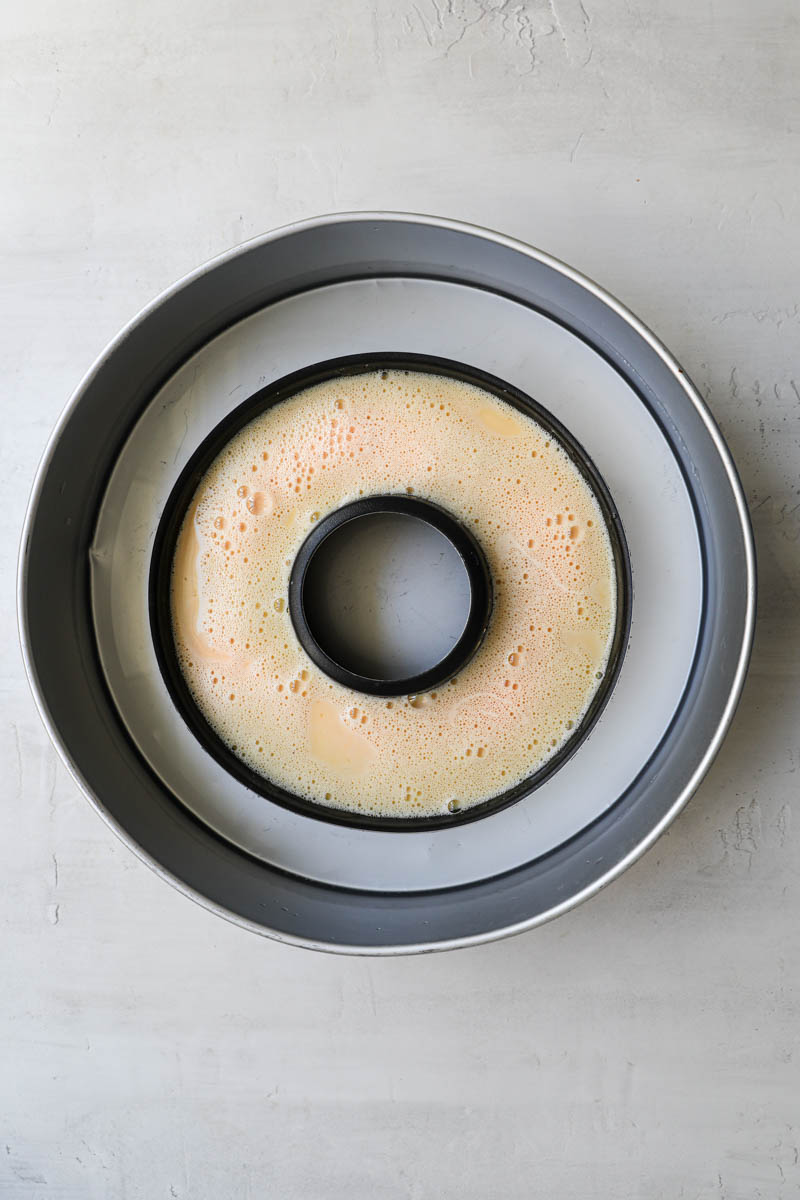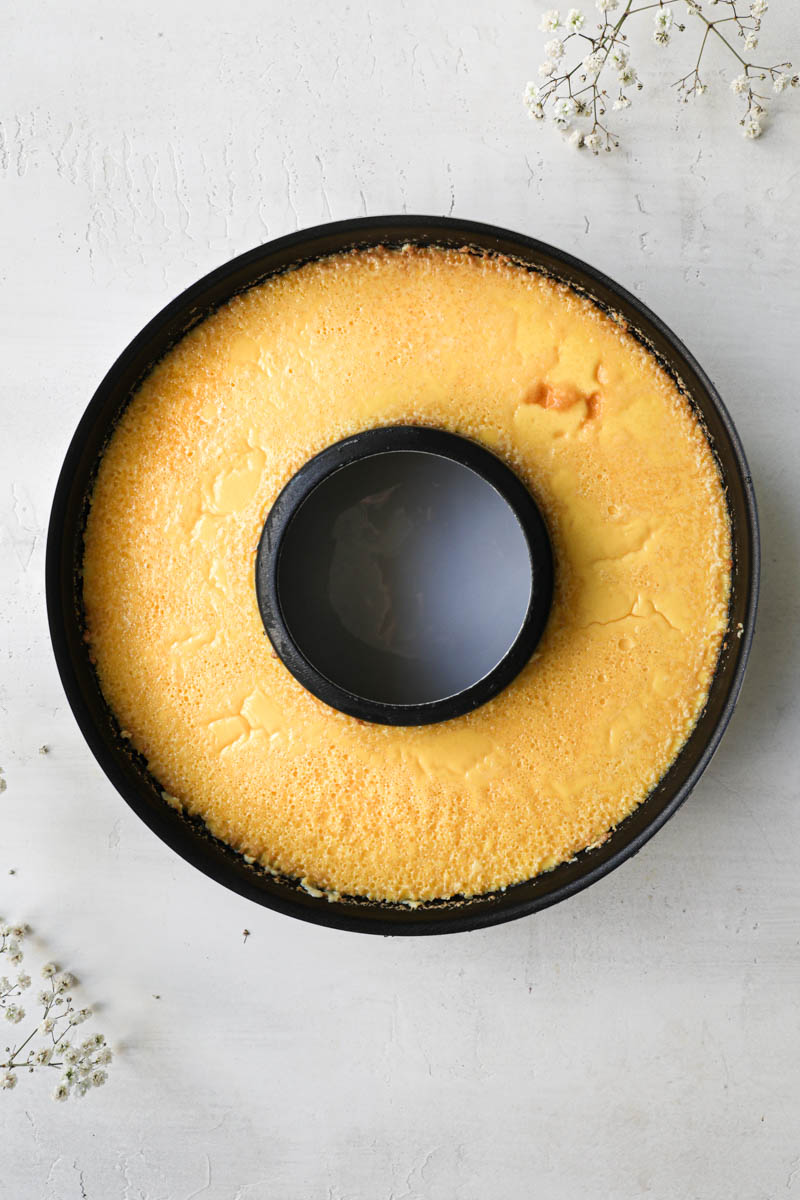 Removing the flan from the mold: a few tips.
This part may result tricky and scary. Some tips for success:
Make sure you cover every inch of the mold with the caramel for flan, this will allow you to safely remove the crème caramel from the pan once it has been baked.
The caramel flan must be cold, chilled. Ideally, it should spend the night in the refrigerator before unmolding.
Flip the flan mold onto a plate and the bottom gently. Wait for a minute or two and you should here a "plop" that means the flan has successfully been removed from the pan.
If after a few minutes nothing is happening, you should run a knife along the edges of your mold and heat the bottom of the pan with a kitchen torch or over a water bath just for a few seconds. Then try again.
How to make caramel for flan?
To make caramel for flan you must:
Have the flan mold handy.
Place the sugar in a pot and cover it with the water. Cook over high heat until it colours to light brown colour. Don't overcook the caramel or it will taste bitter.
Remove the pot from the stove, let the caramel settle down, until there are no more bubbles.
Pour the caramel over the flan pan. Line the flan pan with the caramel so that it is completely and evenly covered.
This is done by holding the pan in your hands and moving it from side to side so that the caramel (still at it's liquid state) is evenly distributed. This will allow you to safely remove the flan from the pan once it has been baked. Set aside and let the caramel cool off.
Be incredibly careful when lining the mould with caramel because it's very hot! Use something to protect your hands, like a kitchen towel or kitchen gloves.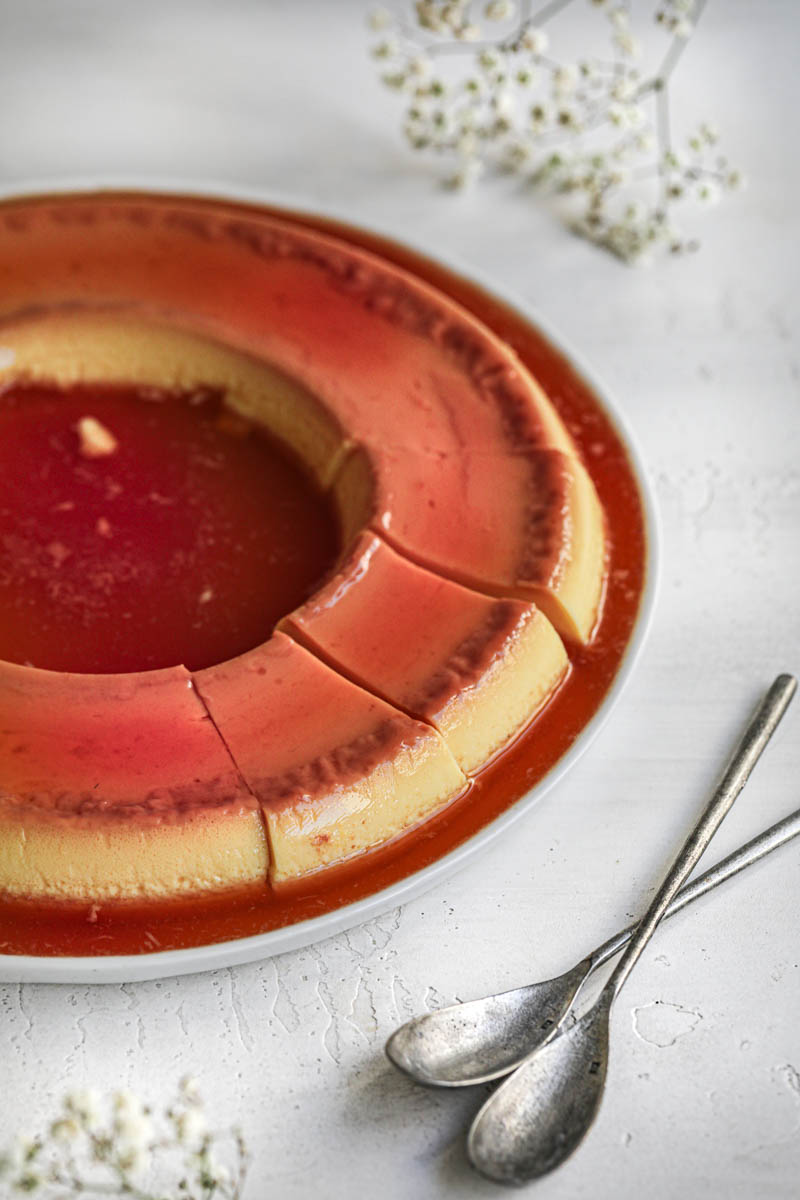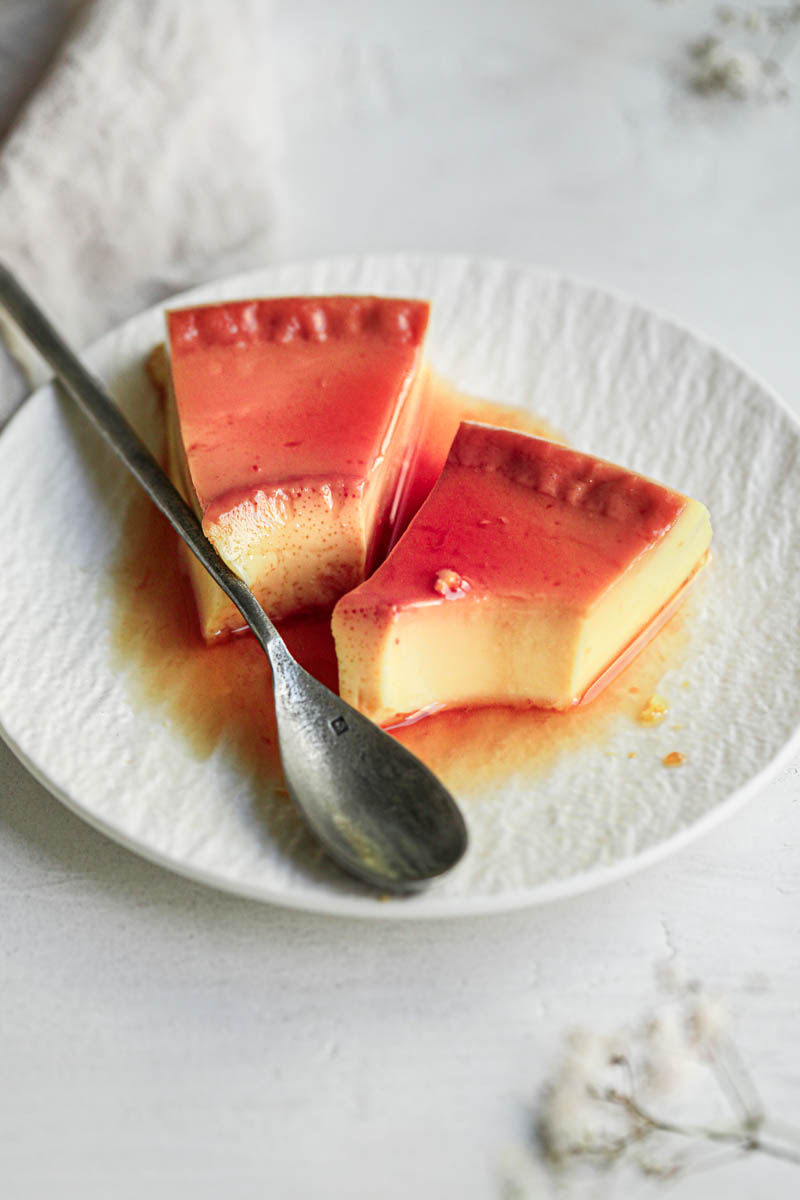 How to serve homemade flan?
You can serve it with a scoop of Chantilly cream and a scoop of dulce de leche. It will rock your world!
How long can it be kept for?
You can keep it in the refrigerator for up to 5 days.
It doesn't freeze well.
Variations to this recipe
You can make this flan recipe into individual flan; in which case the baking time will be reduced to half approximately. For this you can use small ramequins or individual flan molds.
If you made this recipe I would really appreciate it if you leave a rating or comment below! Also, if you share on social media please use #cookwithbelula, I would love to see what you create!