Dulce de Leche Lava Cake
This dulce de leche easy lava cake takes only 15 minutes to make, needs just 4 ingredients, its freezer friendly and people go crazy about it. Learn how to make lava cake here.
This lava cake is so easy to make that while you are making it, you will probably think you are forgetting something or doing it wrong. Do not you worry, you are fine. You are nor forgetting things. It is just that easy. And you can make it in 15 minutes or less and its freaking delicious. And you can double de recipe and freeze a couple to have handy every time you feel like you deserve a treat. It is the perfect dessert. Hope you love it!
What is lava cake?
Lava cake is a cake with a runny centre and gets its name because it emulates an erupted volcano, with all the lava coming off the sides! Except in dessert world, lava is made of chocolate, Nutella or dulce de leche. Which make it exquisite.
It is also known as molten cake. In France they call is moelleux or fondant, restaurants cannot seem to agree on this as you read this. :)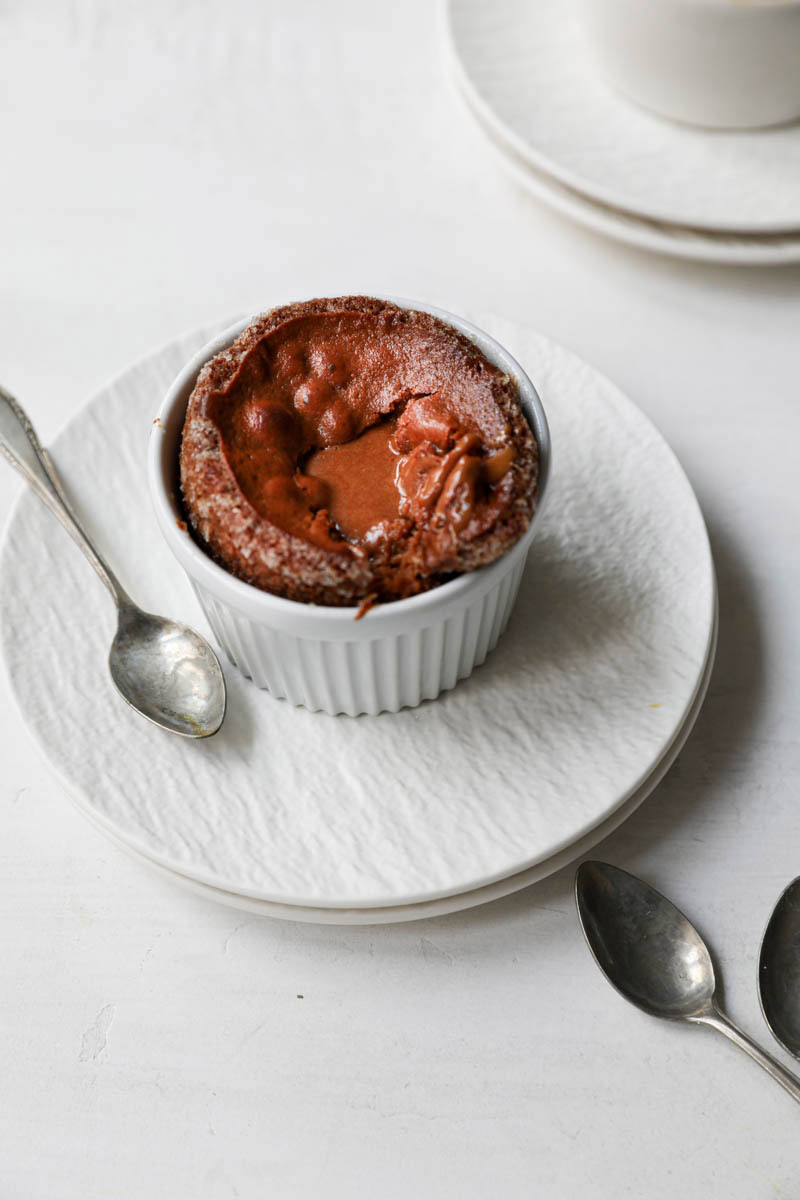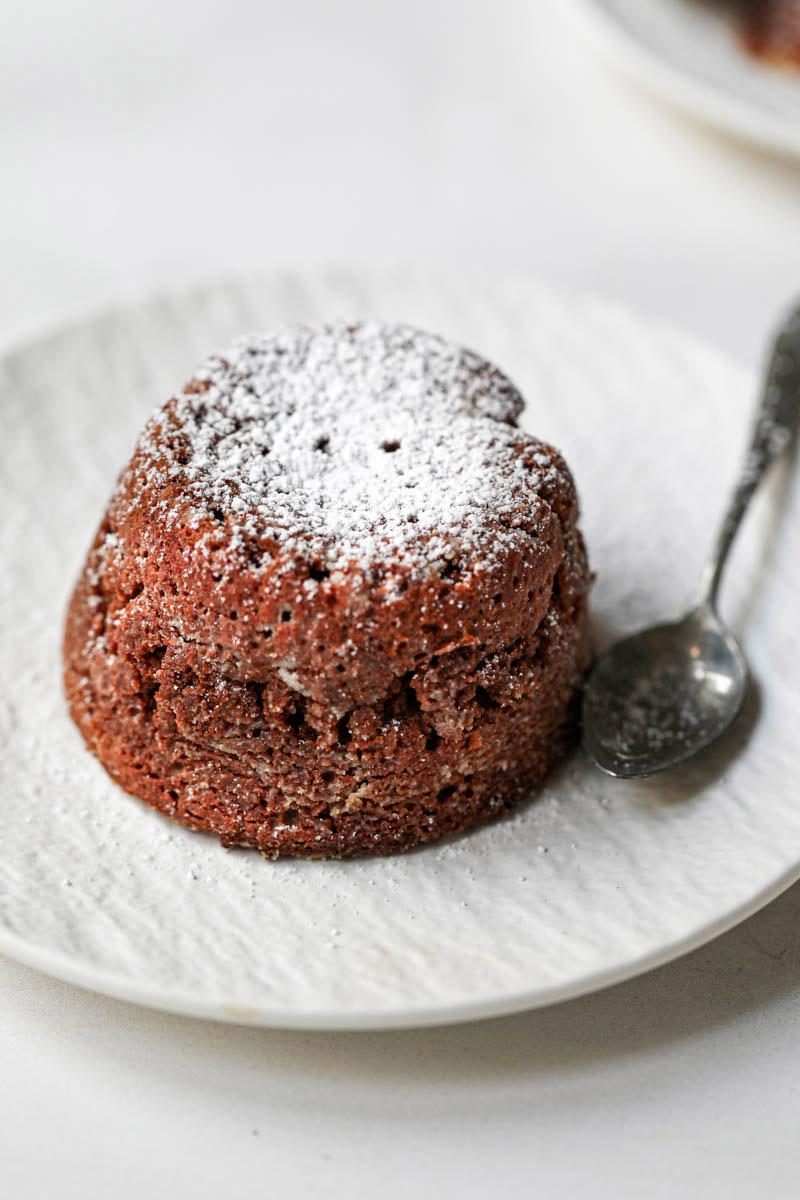 A word about the moulds
A key to success when making lava cake is to:
Butter and flour the moulds and transfer onto a baking tray. This is an important step that you should not take lightly! It will define whether you can unmould the cakes, or you cannot. Spread the butter evenly using a brush. Set aside.
As far which moulds to use, there are a few options:
100 ml aluminium disposable moulds that make it super easy to unmould and are very practical if you decide to freeze some of the cakes.
You can use 100 ml individual muffin or flan moulds.
A little fancier, and prettier for photos, the ones I used here, white mini soufflé ramequins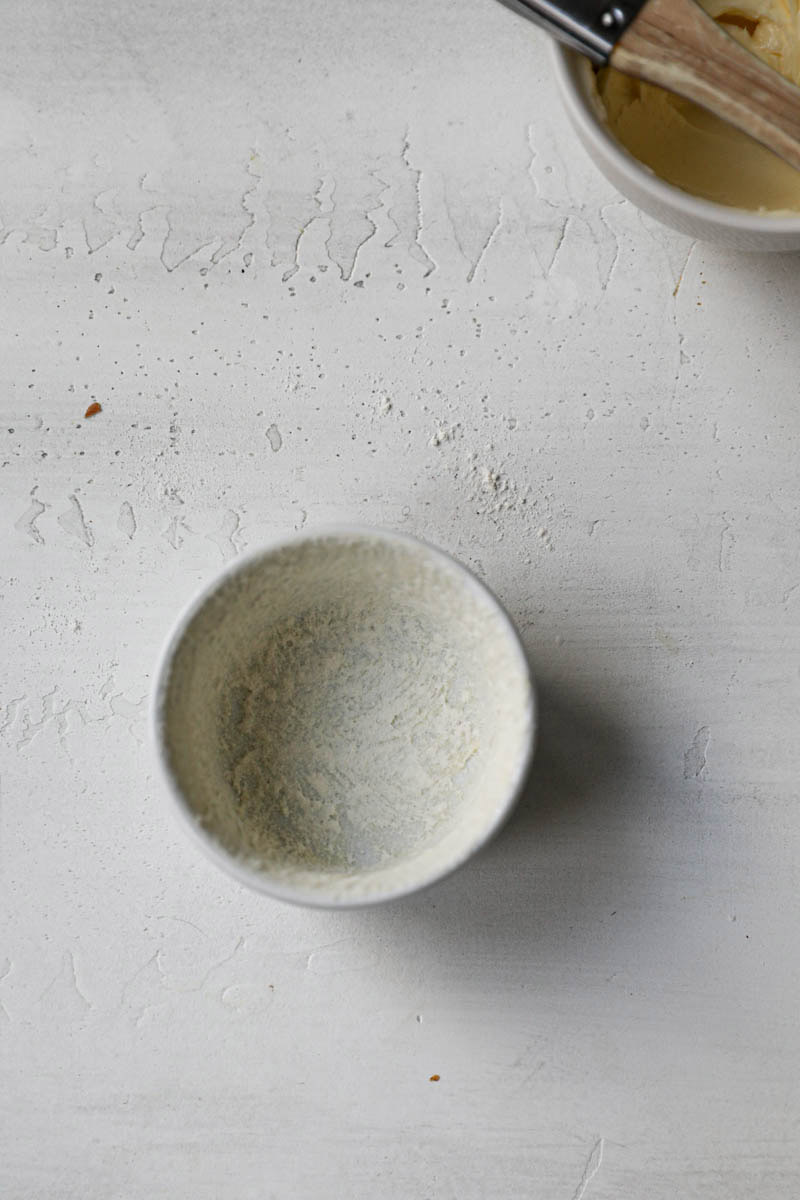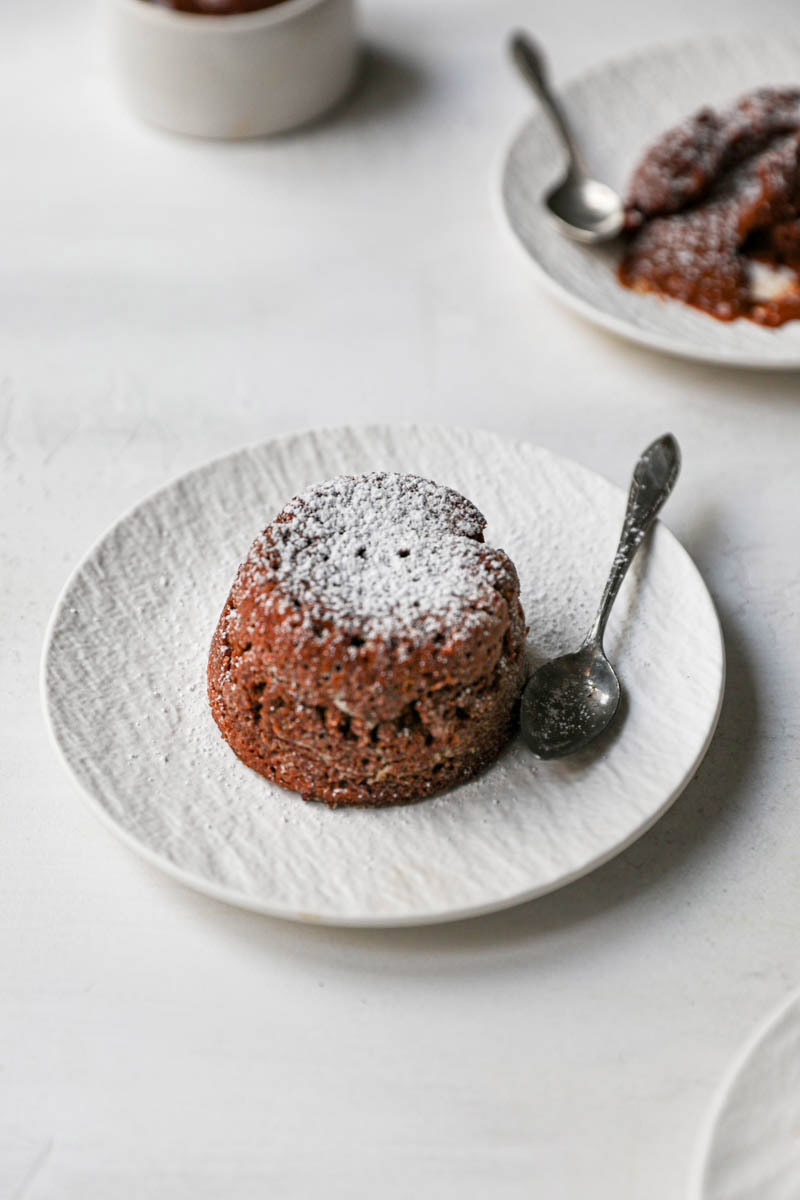 How to make dulce de leche lava cake?
This lava cake recipe is super easy to make. Its inspired by one made at one of my favourite restaurants in Punta del Este, Uruguay. You need to follow some tips and instructions and you will be golden:
Whisk the egg with the egg yolk until double in size. Be patient, the eggs will change colour and consistency, only then proceed. Do not rush this part, its key to success!
Add the dulce de leche and mix until you have obtained a uniform batter.
Add the flour in two times and mix delicately with a spatula. Make sure flour does not fall to the bottom of the bowl.
Using a ladle fill the 6 moulds. Do not overfill them.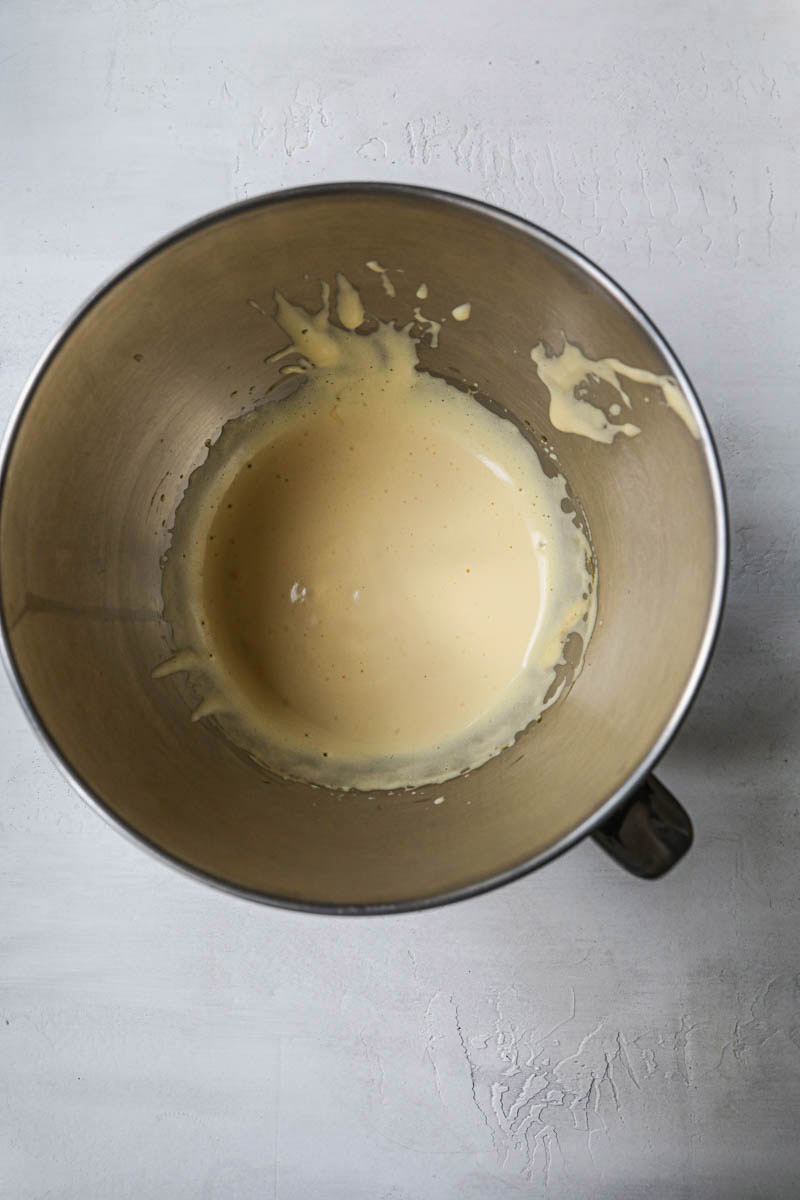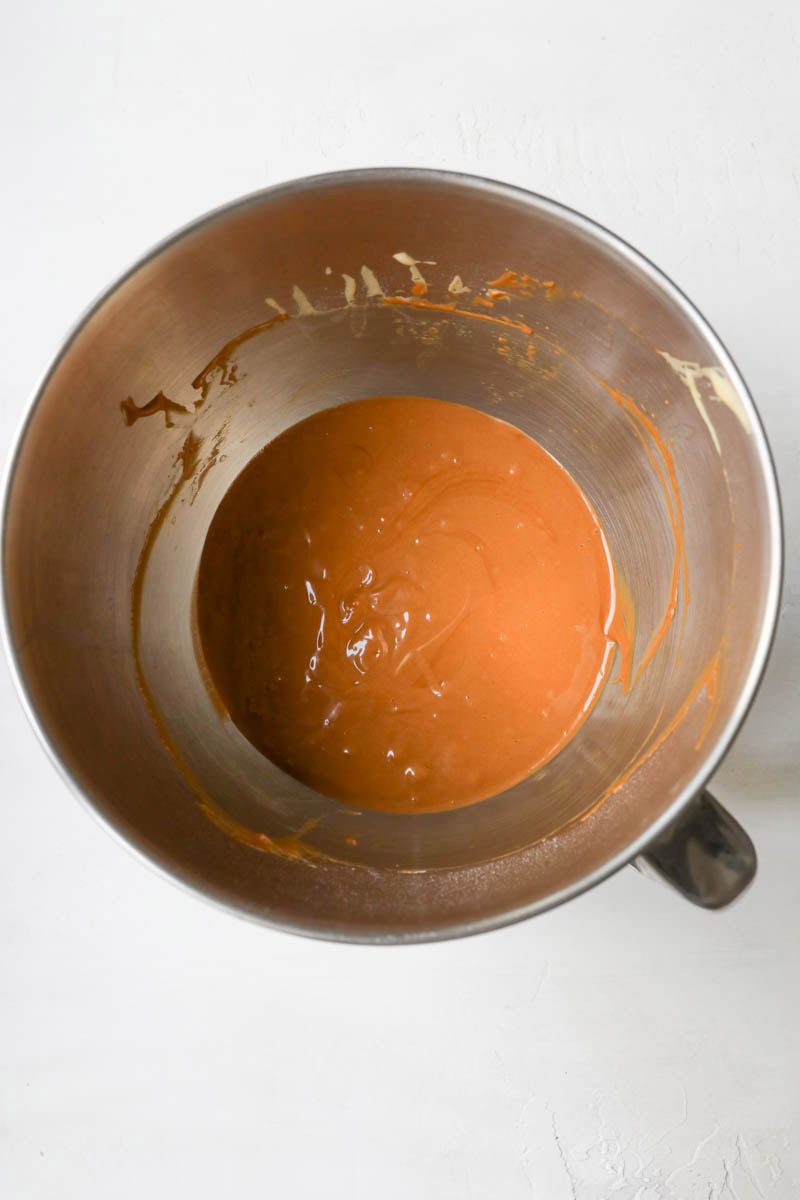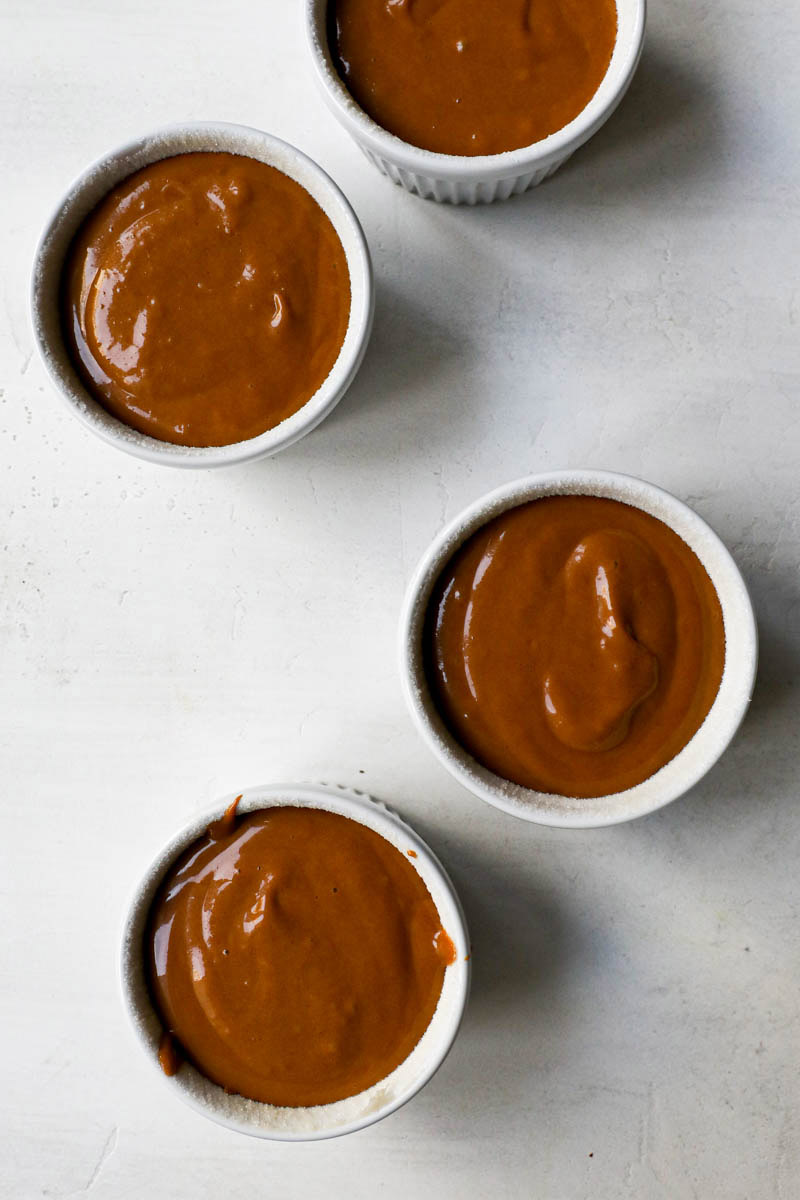 Baking this dulce de leche lava cake
Some important tips:
Preheat your oven to 200°C.
The most important part of this recipe is the baking time. You need to know your oven and be willing to try the recipe several times to nail this and end up with a lava cake with the exact consistency that you like and enjoy eating. Trial and error my friends. In my case for example, I moved recently and it they take 2 minutes longer to bake in the new oven.
Size of the mould also impacts cooking time. Take that into account too.
For this lava cake recipe, I baked them for 14 minutes, and they were exactly right for me! You know they are done because the cake is set from the exterior, but when you move it slightly it is still wiggly and does a little cake dance!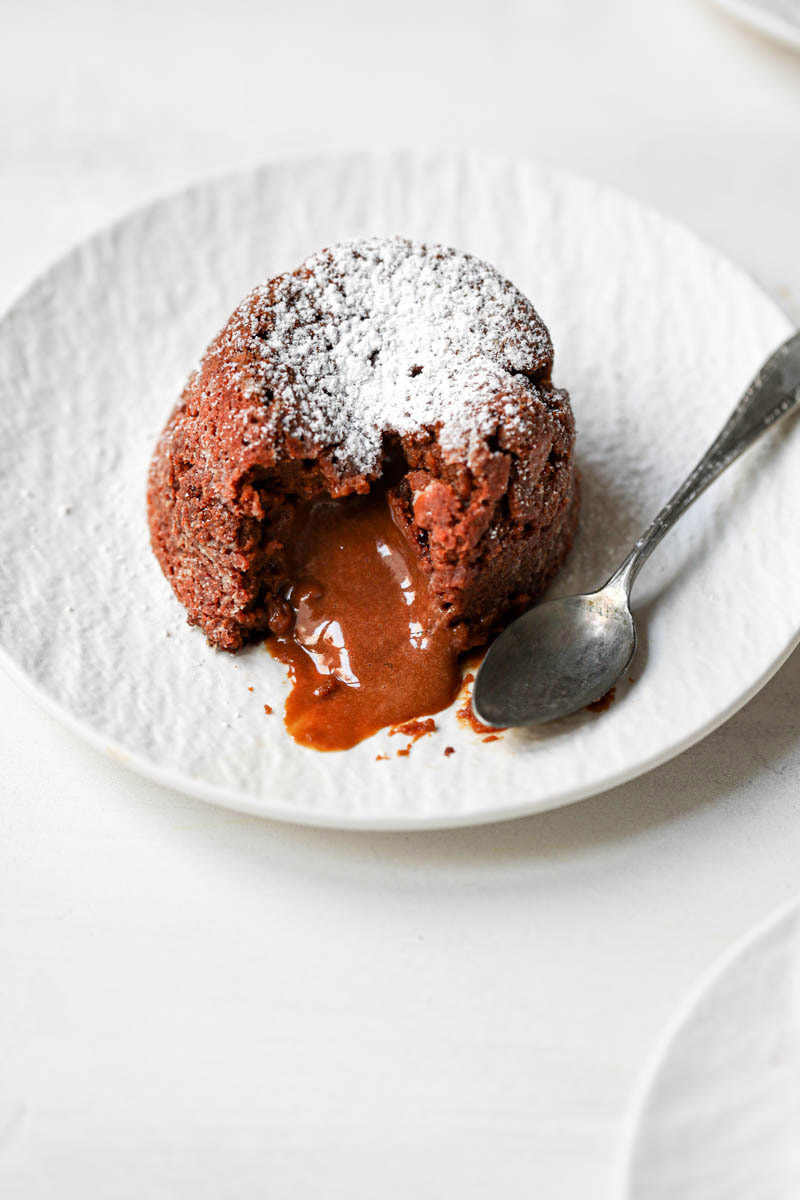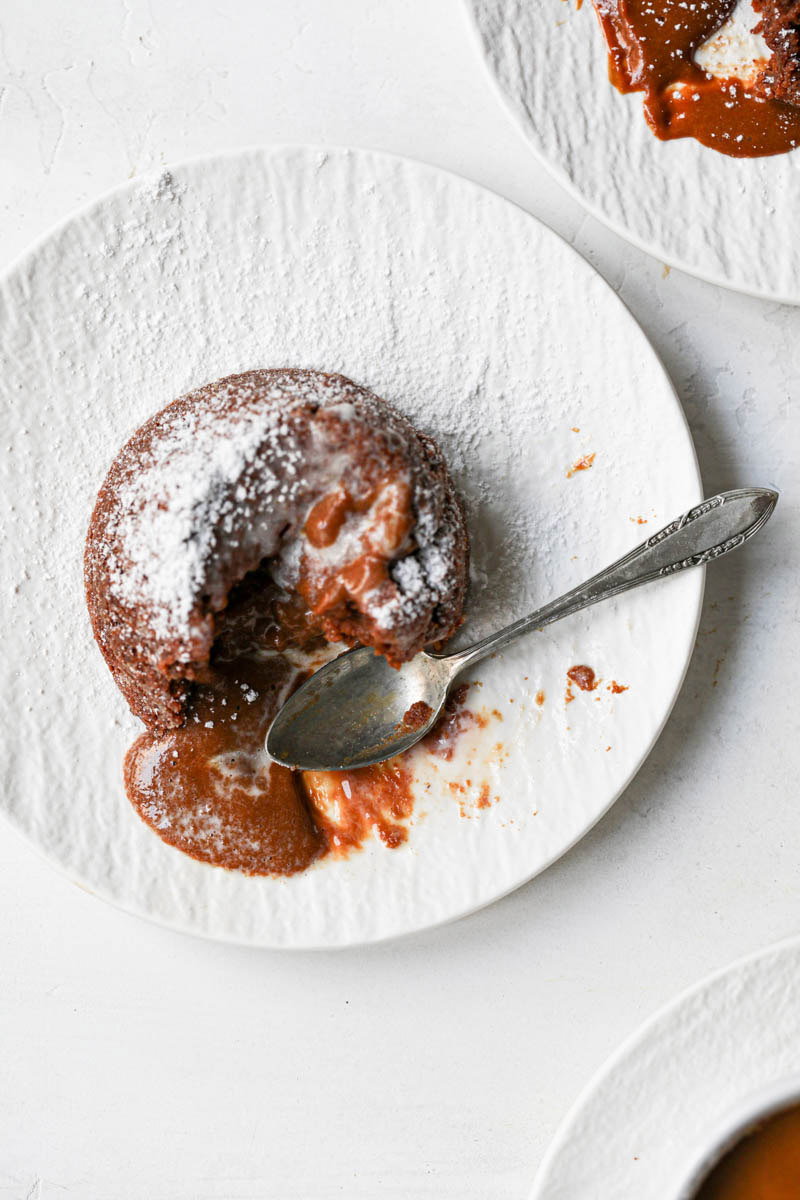 How to serve this lava cake?
Once you remove from the oven let it sit for a couple of minutes and then turn the mould over onto a dessert plate. You can:
Sprinkle with powdered sugar and serve as is.
Add a little scoop of vanilla ice cream.
Add a scoop of Chantilly cream.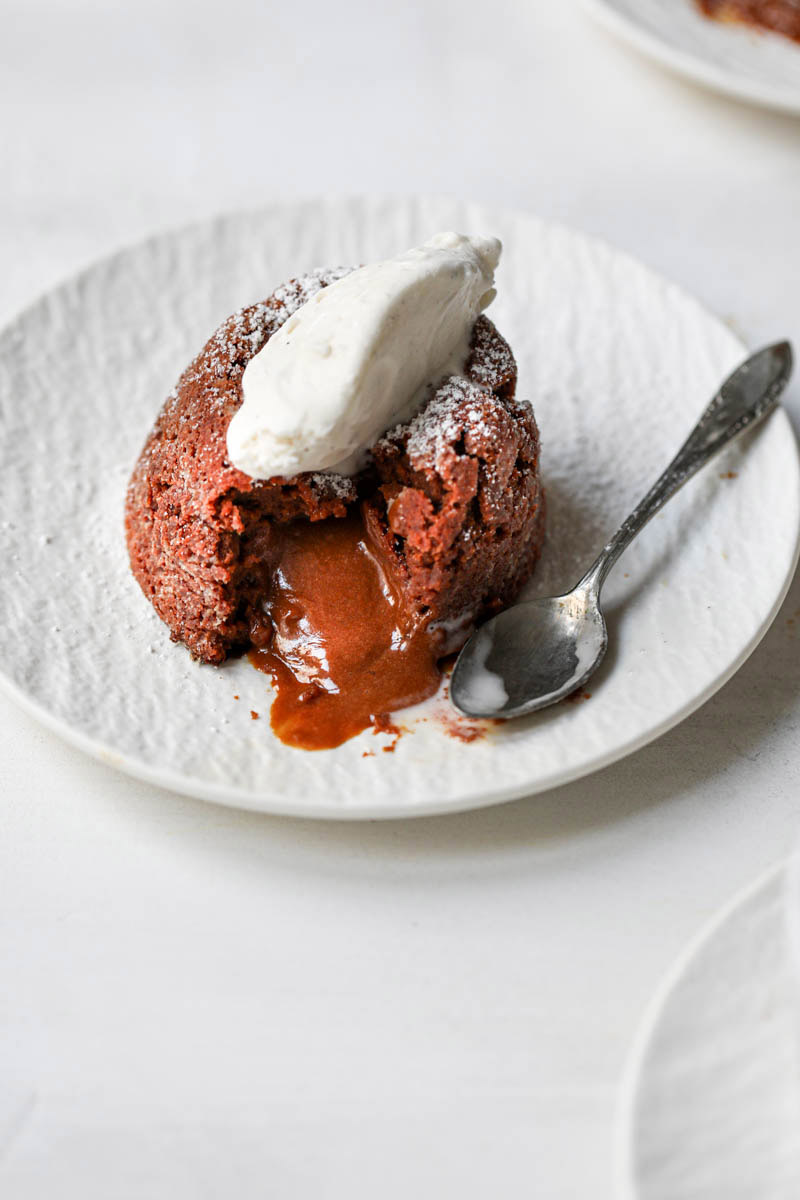 Freezing lava cake
You can freeze this dessert directly in the baking moulds. Then, whenever you want to have one, remove from the freezer, let it 1 hour at room temperature and then bake as instructed!
You can also bake directly from the freezer but baking times might vary.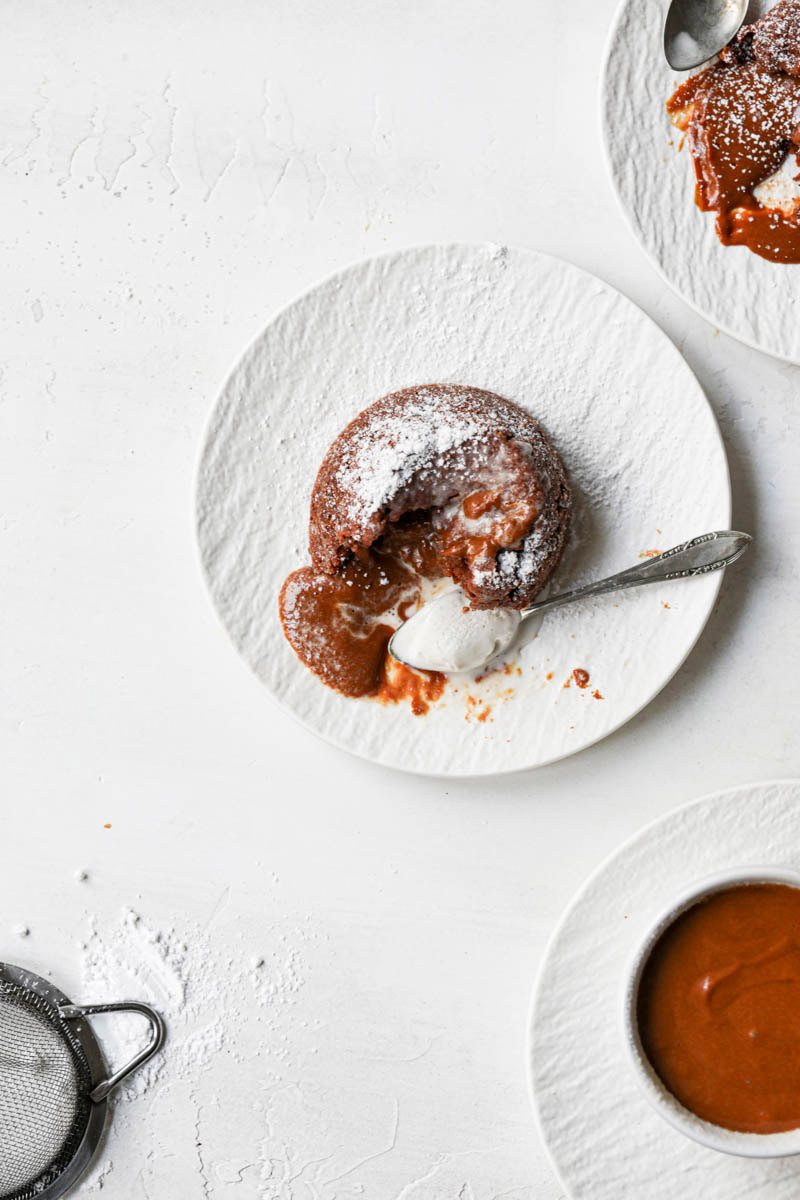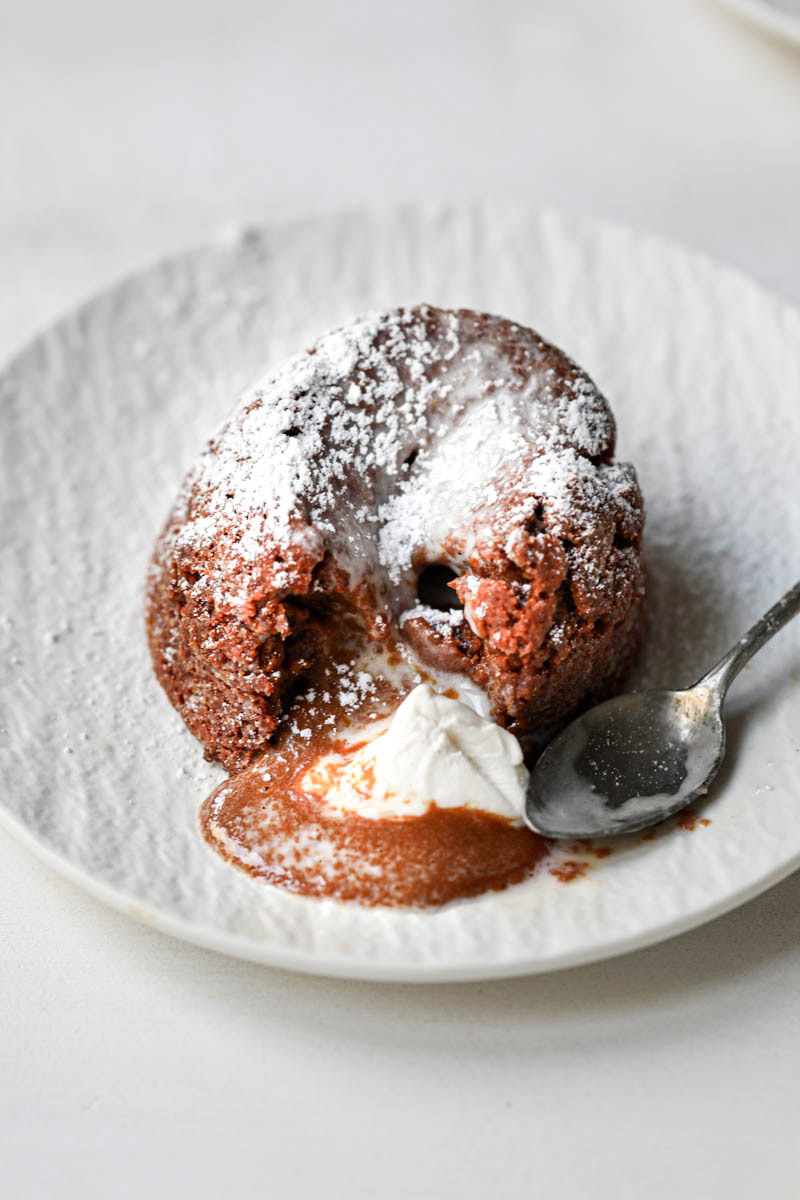 The ingredients used in all recipes on this site are measured using the metric system. I use a
scale
to be precise with my measurements and ensure good results. If you would also like to use a scale, here are some:
USA
,
Canada
,
UK
,
Australia
,
France
.
Subscribe to the newsletter
Eggs

1

Egg Yolks

3

Dulce de Leche

450 g

Flour

20 g
If you made this recipe I would really appreciate it if you leave a rating or comment below! Also, if you share on social media please use #cookwithbelula, I would love to see what you create!