Mini Individual Dulce de Leche Flan with Milk
This mini dulce de leche flan recipe is made with simple ingredients: milk, eggs and sugar. This easy, simple dessert is baked in individual ramekins over a layer of silky caramel.
Dulce de leche flan and classic flan were both a classic growing up. Whenever my mom made homemade dulce de leche during our long summer holidays a batch would be destined to make this easy flan recipe with milk and eggs. I like serving it in mini-individual portions when I have people over or just for us. It keeps super well in the refrigerator, properly covered, and this way I can just remove each individual dulce de leche flan as needed. Super easy and straightforward recipe you will love for ever and ever!
Ingredient Notes
This recipe calls for simple ingredients. The only one that might be harder to get by, depending on where you live is dulce de leche.
Dulce de leche is a spread made with sugar and milk. This is the Argentinean version that does not use condensed milk at all. I like to use this one.
Vanilla bean: this is optional. Although I recommend it for the extra flavour that combines lovely with dulce de leche. It can be replaced by good quality vanilla extract.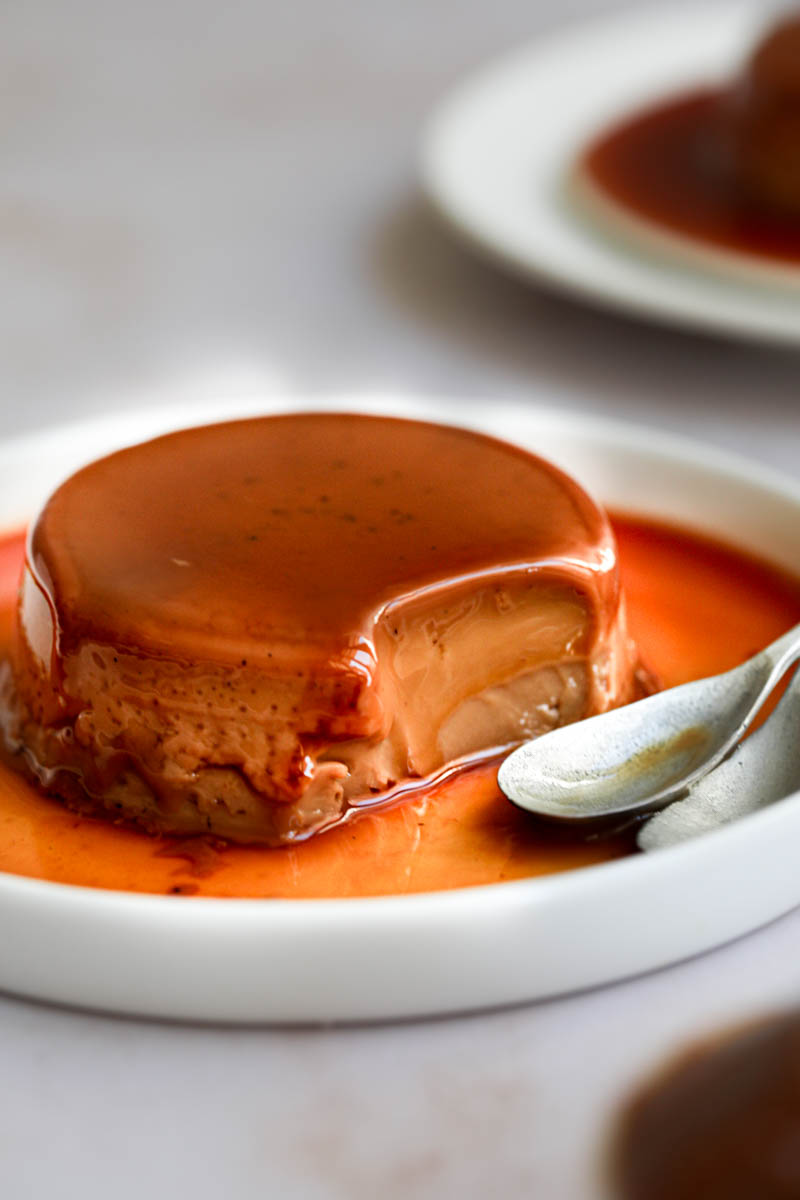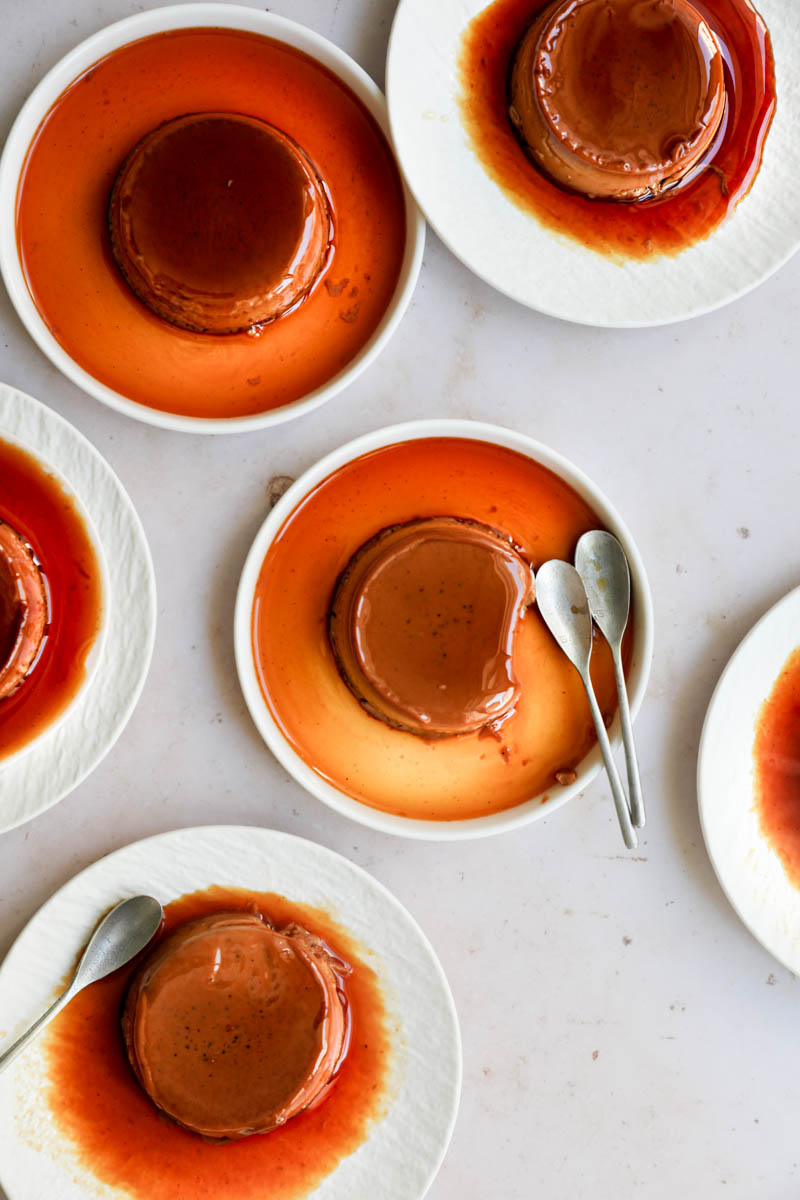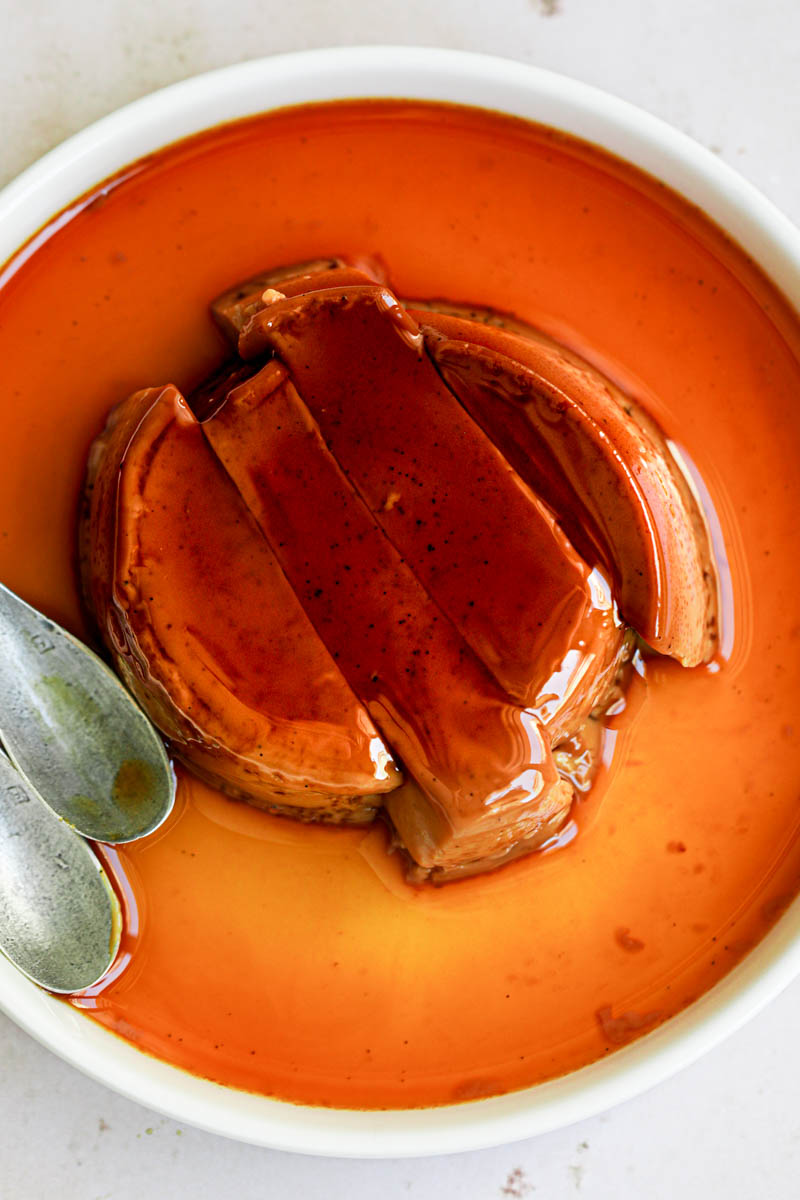 About the pan
This recipe calls for 8 100 ml ramequins.
If you want to use larger 125 ml ramequins you will only need 6.
You can also bake this flan in a rectangular pound cake pan or a small Bundt cake pan and make it one family size flan instead of mini-individual flan servings.
How to make this recipe
Making this mini flan recipe is straightforward. You simply must:
Prepare a caramel and line the ramequins with it.
Make the dulce de leche flan batter.
Bake the flan and cool it down.
Remove the individual flan servings from the ramequins and enjoy!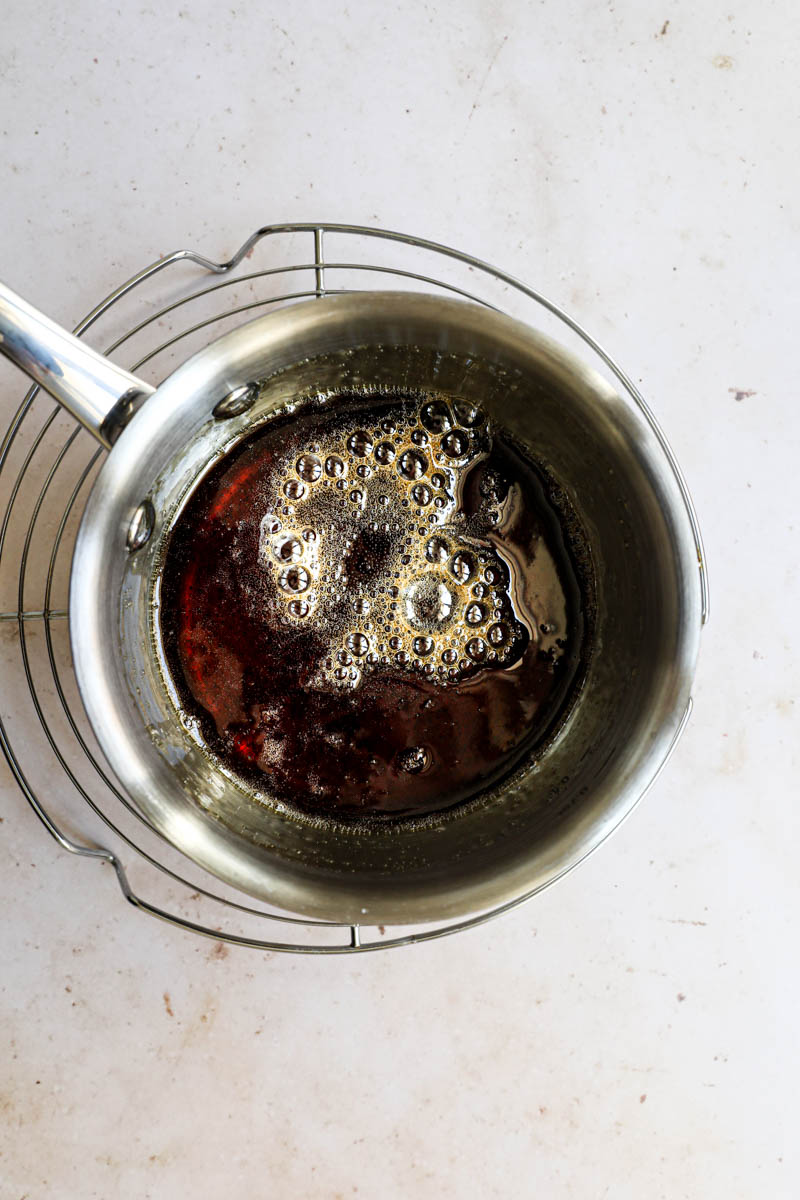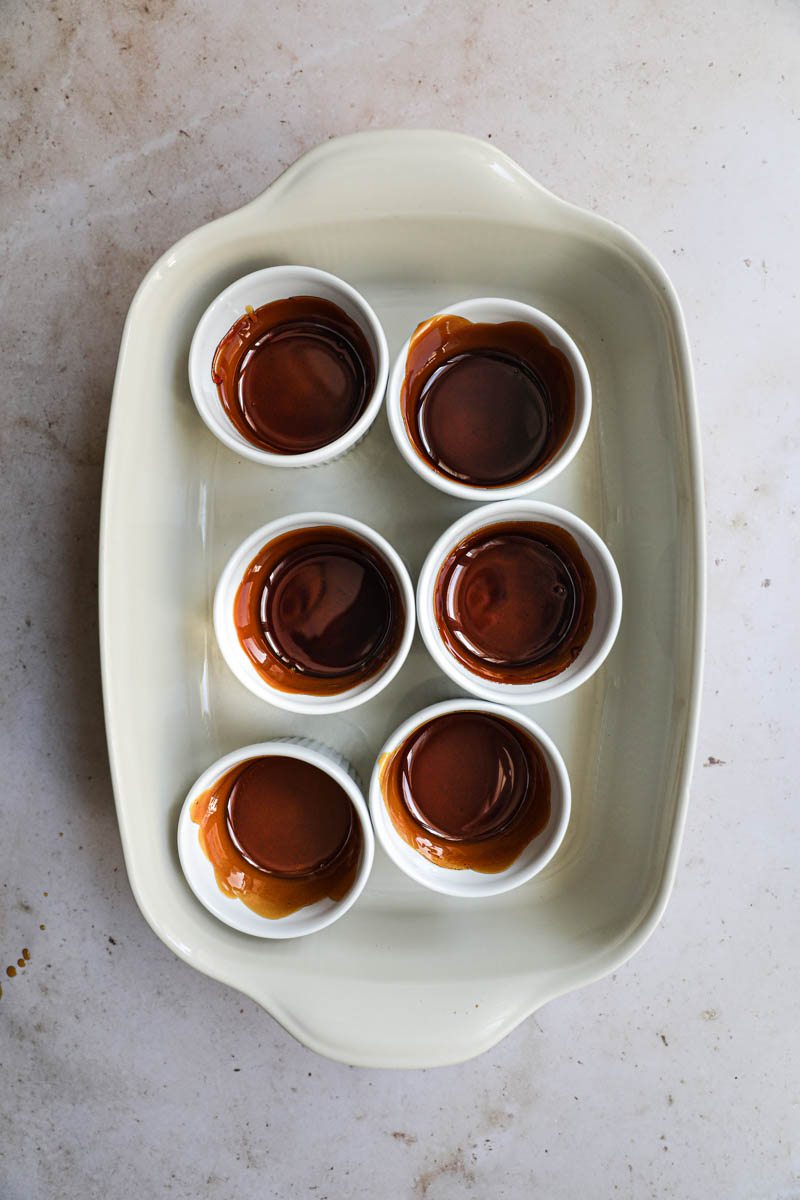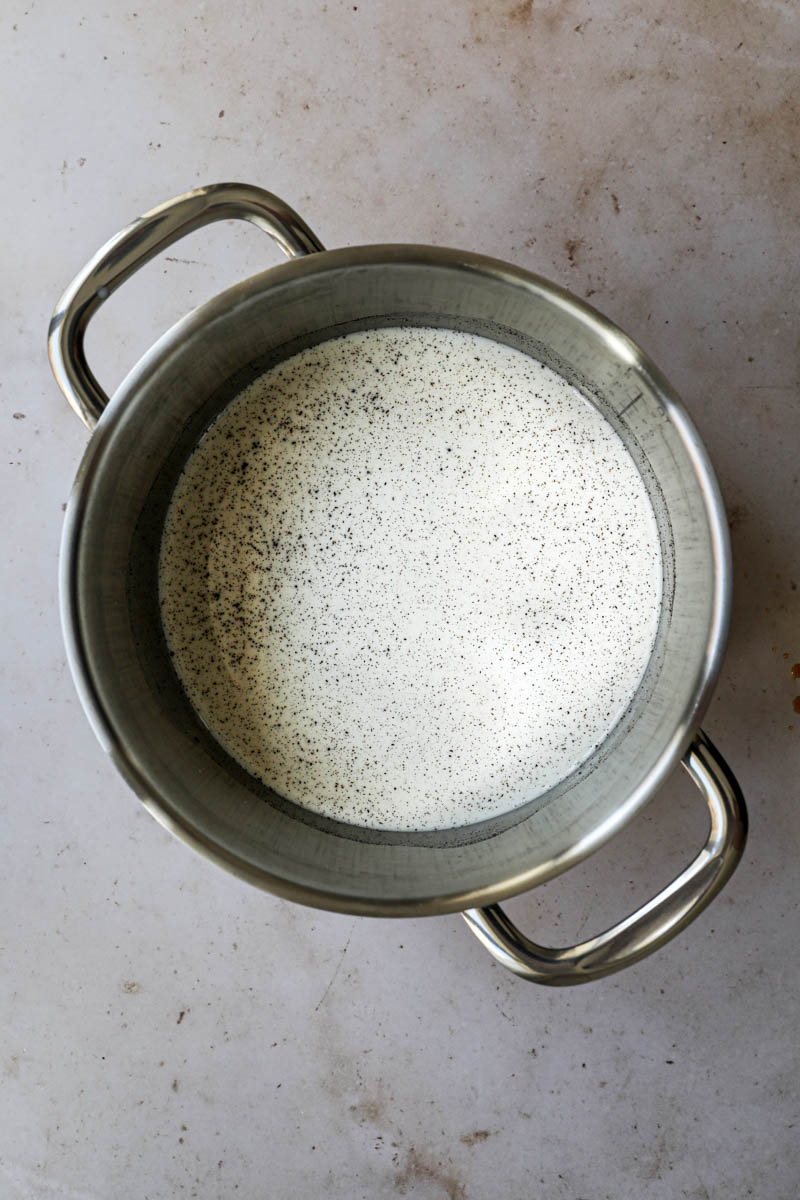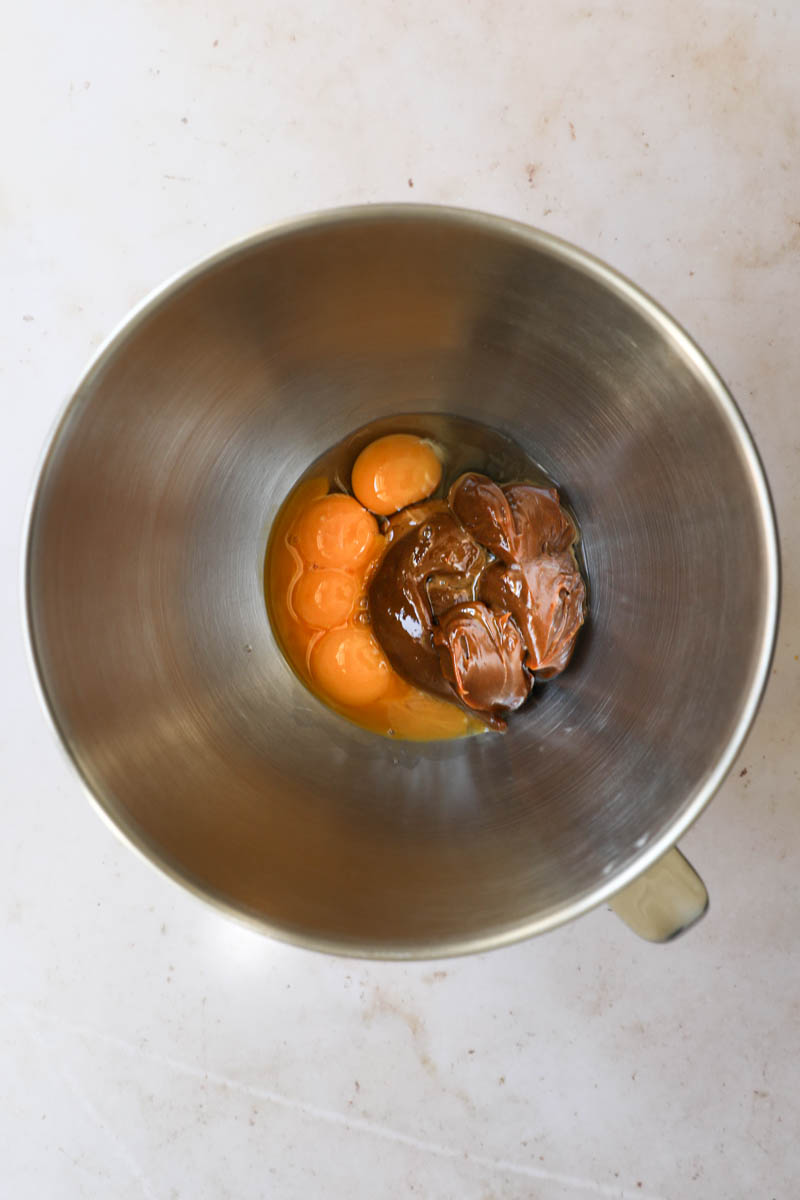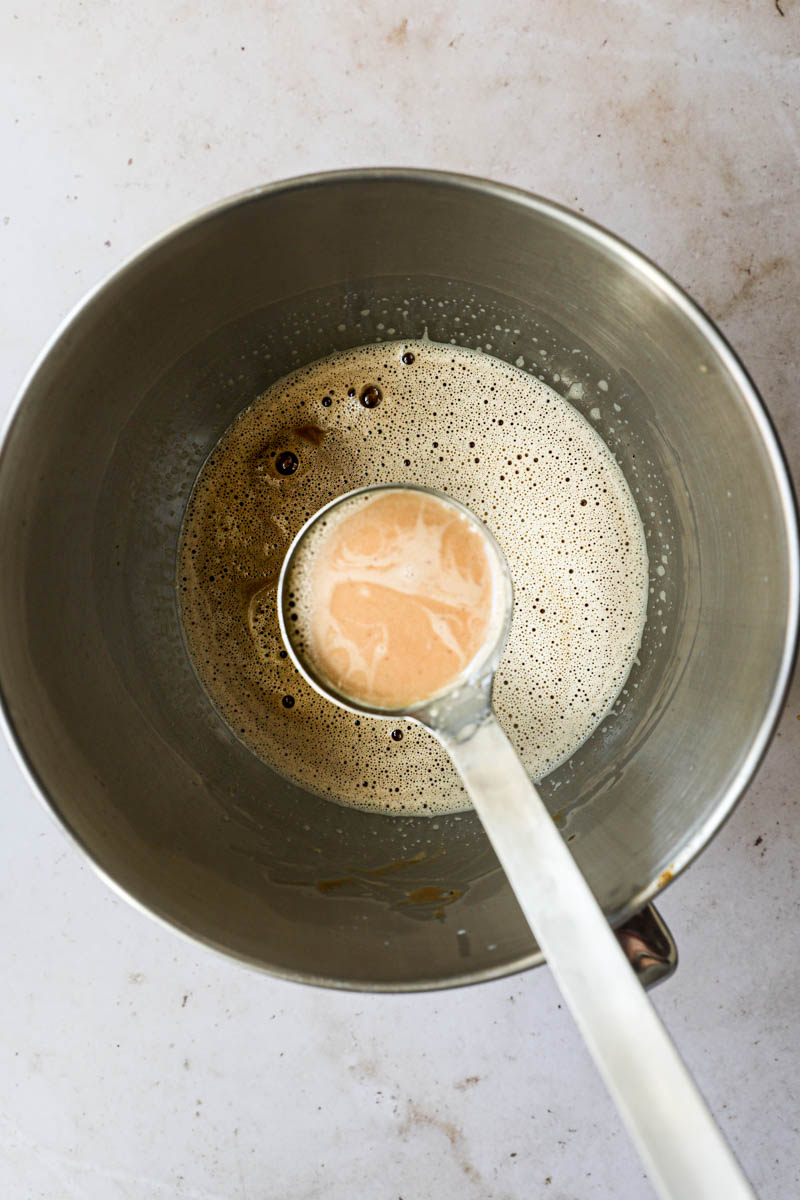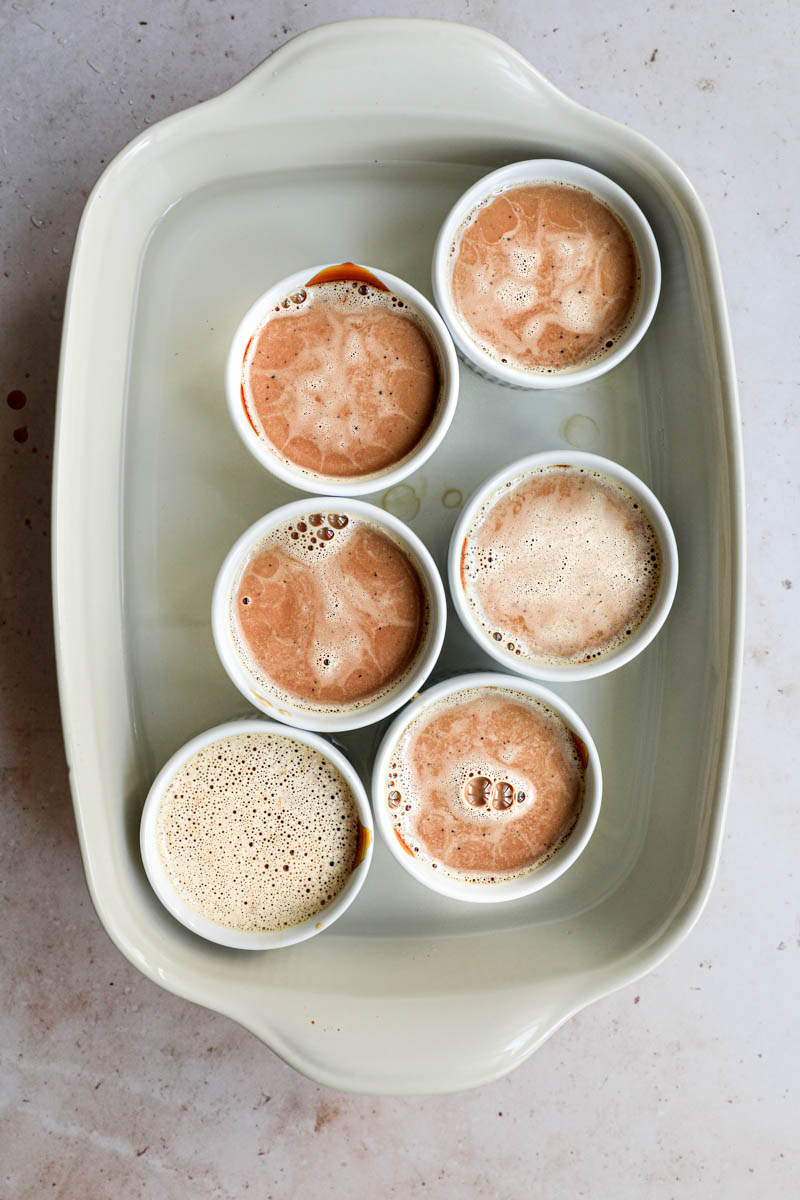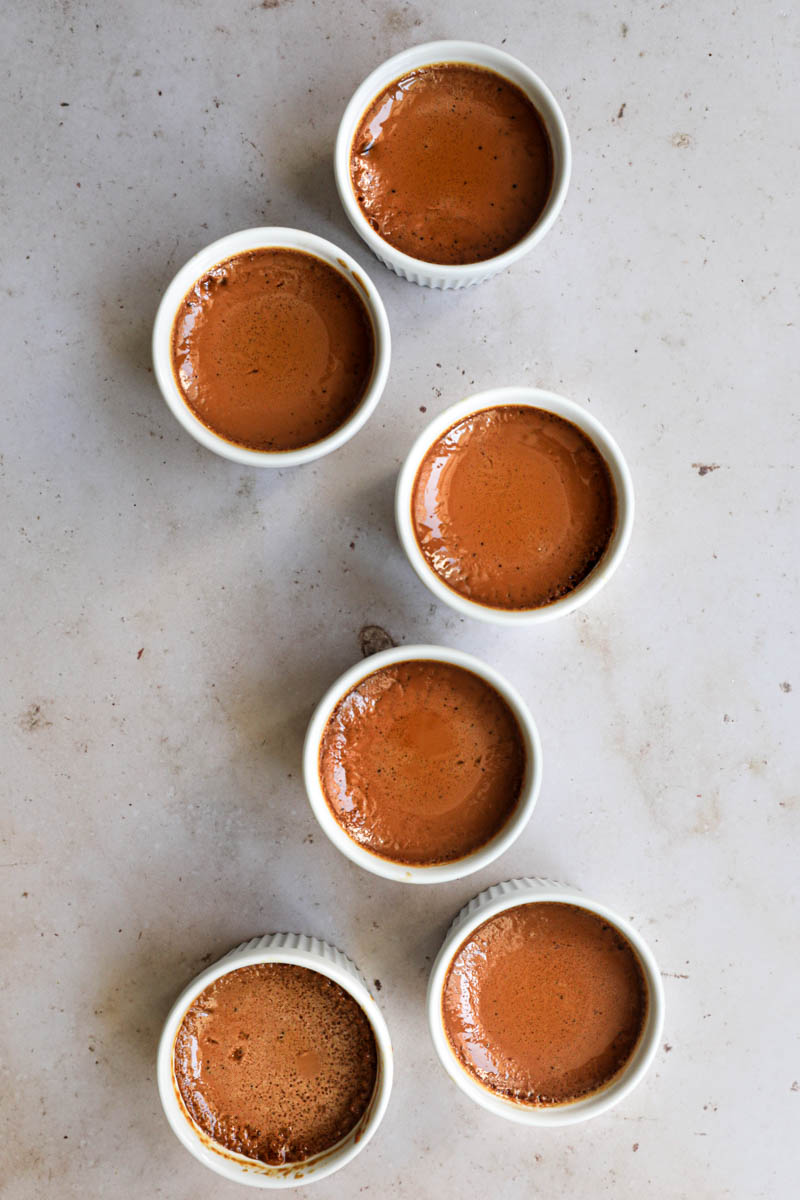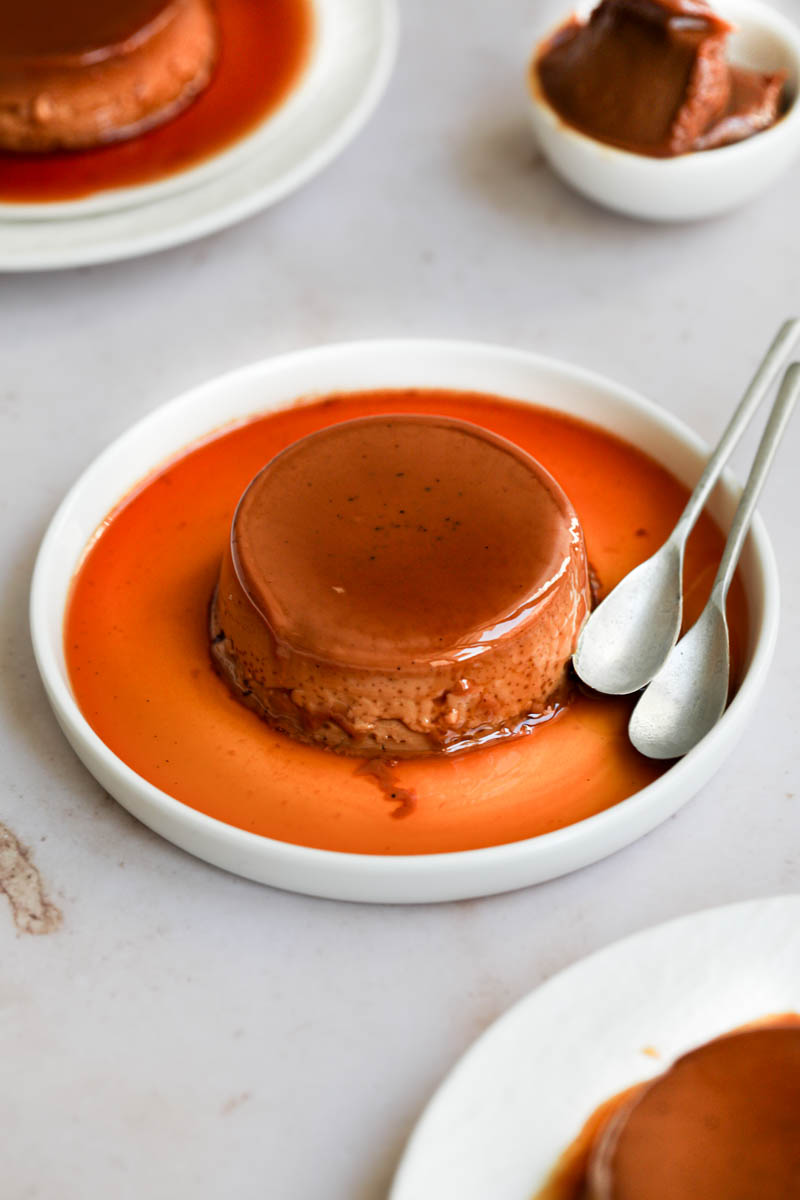 Step by step instructions
Put the sugar in a pot and cover it with the water. Cook over high heat until it changes colour to light brown.
Line the ramequins with the caramel so that they are completely and evenly covered. Set aside and let the caramel cool off.
In a pot bring the milk and the 50 grams of sugar to a boil. Set aside and let it slightly cool down until it is warm.
In the meantime, whisk together the egg, the yolks, the dulce de leche and the vanilla until the mixture is smooth.
Pour the hot milk onto the dulce de leche/egg mixture and whisking constantly.
Pour the dulce de leche flan batter onto your caramel lined ramequins.
Fill the baking tray with water. Bake for about 35/45 minutes, until the flan has completely set.
Remove from the oven and let them cool down at room temperature. Then transfer to the refrigerator overnight.
Recipe notes
Caramel is ready when it starts changing colour to a light brown, don't let it get very dark, as it will taste bitter later.
I suggest you use a kitchen towel for the caramel lining of the ramequins because the caramel will be extremely hot and you risk burning!
This flan recipe must be baked in water bath and a low temperature to avoid little wholes inside the crème.
Dulce de leche must be at room temperature to avoid lumps and get a smooth flan batter.
You can use the paddle attachment of a stand mixer or a manual whisk to mix the eggs, the egg yolks and the dulce de leche.
Expert notes
Properly lining the ramequins with the caramel is important because it will allow you to remove the dulce de leche crème caramel from the ramequins. If some part of it is not covered in caramel your flan will highly likely stick to it and will break when removing it.
You can tell when the flan is ready if when you slightly shake the baking tray, the flan is completely set. If on the contrary it is still a little wiggly at the centre, continue baking!
Make sure to let it chill overnight in the refrigerator before unmoulding.
To remove the dulce de leche flan from the ramequins (or cake pan if you went for the family size version) you simply must turn the ramequin over a plate, hold it with both hands, while also holding the plate. The give it 3 firm shakes. You will hear a pop, and the flan will fall off the ramequin and onto the plate.
If you still cannot remove the flan from the ramequins, try heating it up slightly over the burner to soften the caramel that might have gone a little hard in the fridge!
If your flan has little wholes on the sides, and the inside it means you have baked it at too high a temperature or there was not enough water inside the baking tray. Bare this in mind when you are making it next time!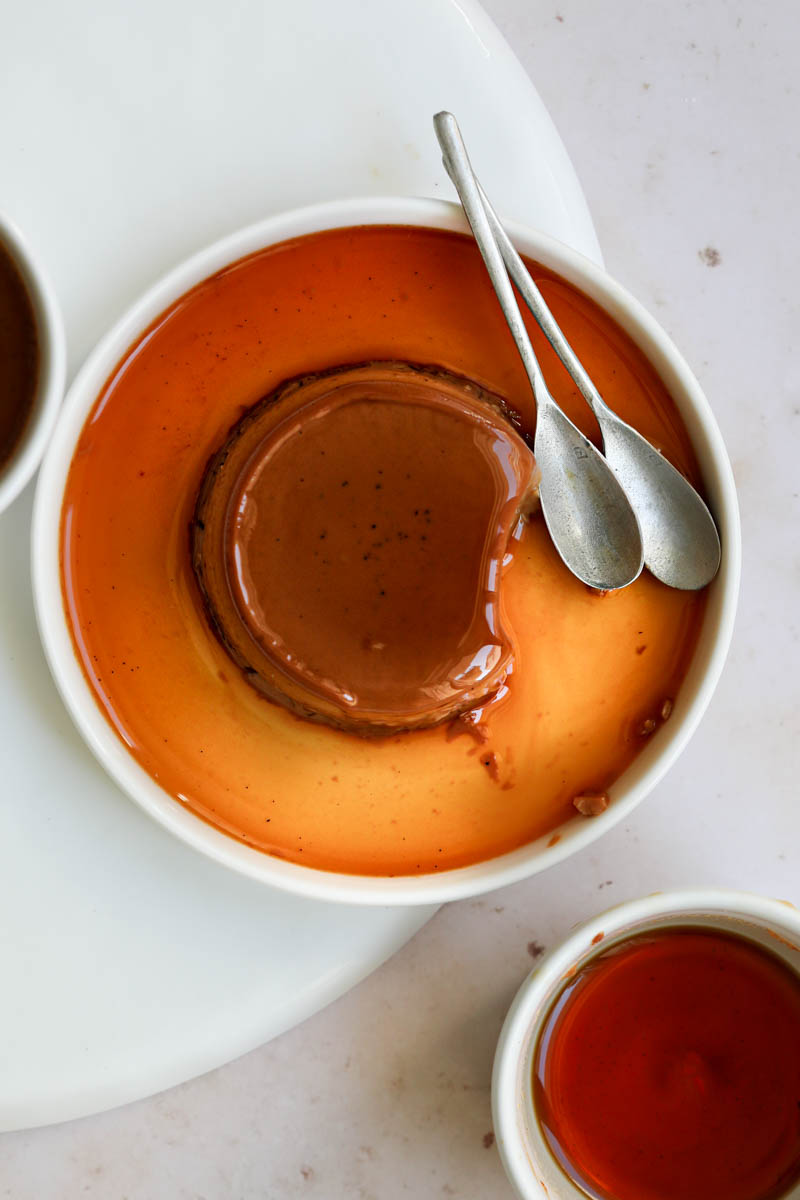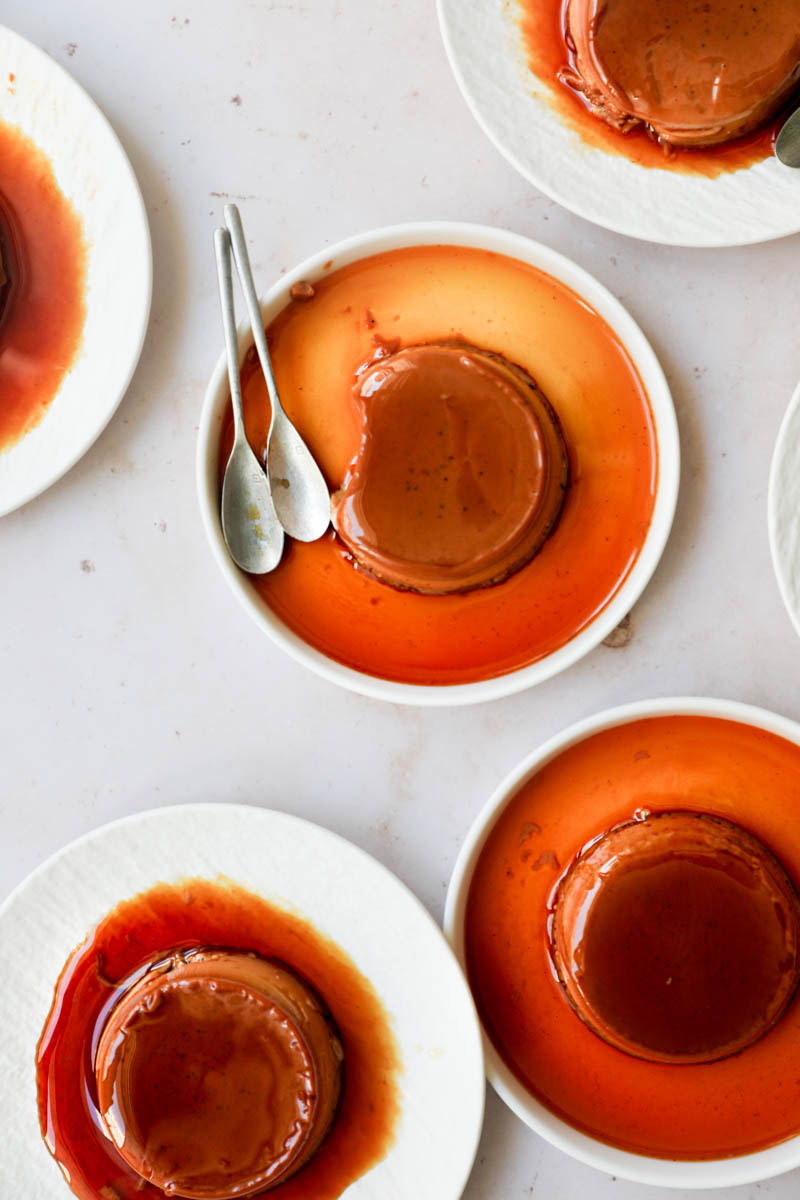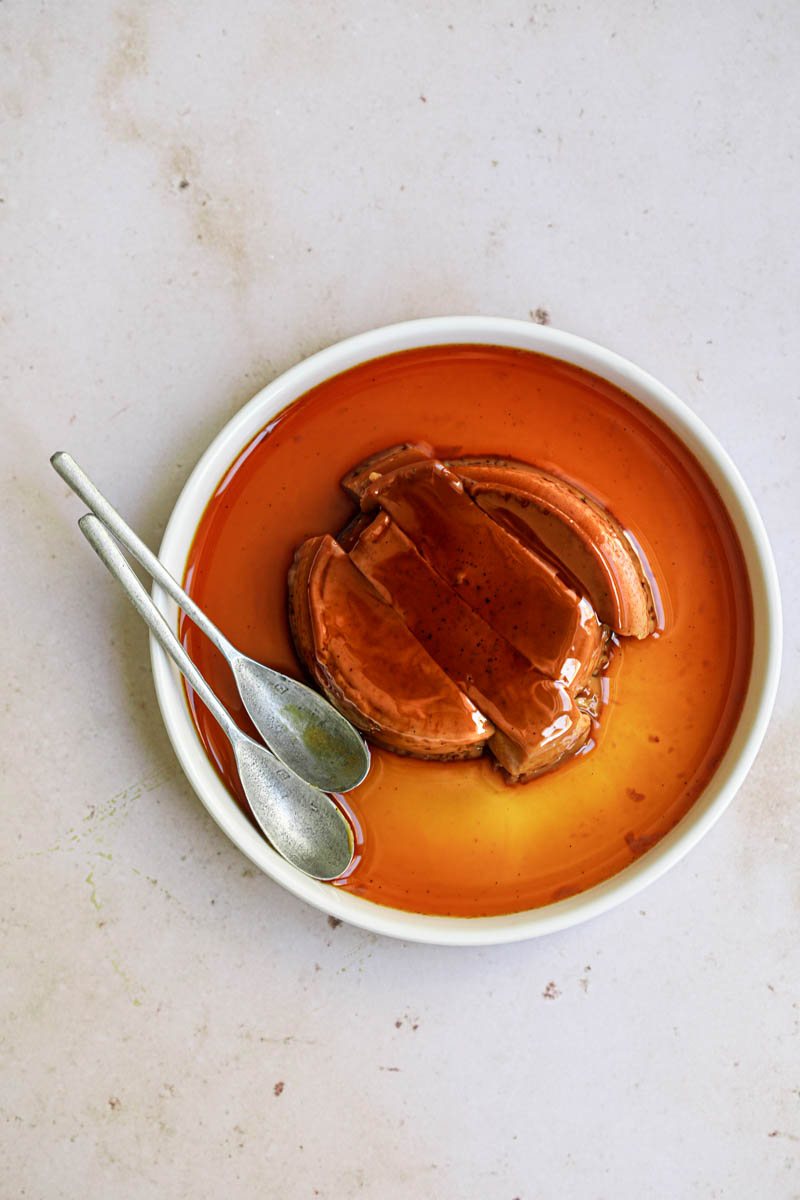 Make ahead
This dulce de leche flan recipe can be made ahead and kept refrigerated for up to 1 week.
Storage tips
Keep refrigerated and covered with plastic wrap, inside the ramequins for up to 1 week.
Remove from the ramequins only when ready to serve and eat.
Once the flan has been unmoulded it keeps for up to 3 days safely stored in an airtight container to avoid the caramel from drying up (if it ever lasts this long).
Serving tips
Flan must be served cold!
It can be unmoulded onto a plate, or it can be served directly in the ramequins. I prefer the first option, but totally up to you!
You can serve with a dollop of whipped cream on the side! Or just as is.
Variations to this recipe
This recipe can be made into one big dulce de leche flan using a pound cake pan or a bundt cake pan.
You will need to adjust baking time, as it will take longer to bake than a mini individual flan.
The ingredients used in all recipes on this site are measured using the metric system. I use a
scale
to be precise with my measurements and ensure good results. If you would also like to use a scale, here are some:
USA
,
Canada
,
UK
,
Australia
,
France
.
Subscribe to the newsletter
Total Time:
1 hour 20 minutes
---
Caramel
Dulce de leche Flan
Whole Milk

500 g

Sugar

50 g

Eggs

1

Egg Yolks

4

Dulce de Leche

250 g

Vanilla Beans (optional)

0.5
If you made this recipe I would really appreciate it if you leave a rating or comment below! Also, if you share on social media please use #cookwithbelula, I would love to see what you create!