Are you addicted to chocolate as I am? If you are this walnut brownie recipe is for you. And if you are not, you should probably make them too. Easy to make and they will be in the oven in under 20 minutes. Super moist, slightly fudgy with that extra walnut flavour! The perfect chocolate treat!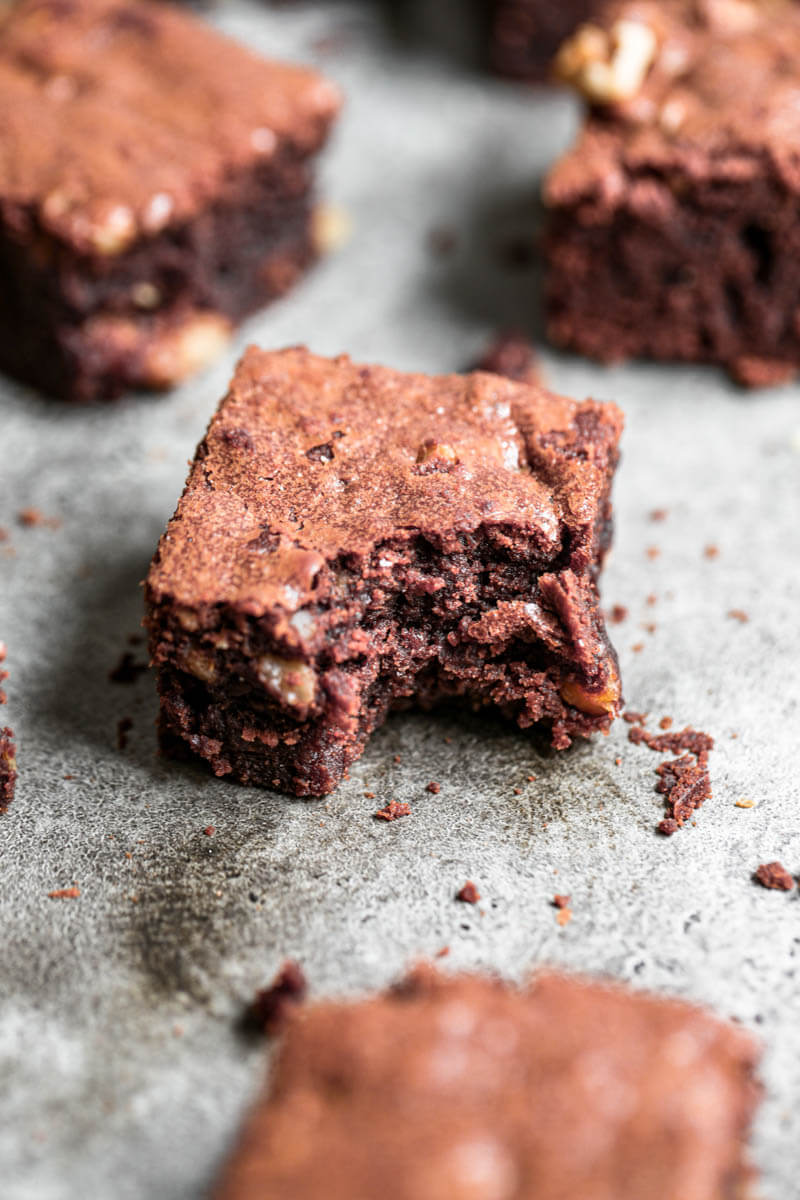 Ingredients and equipment to make these walnut brownies
Most of the ingredients are easy to come by: sugar, eggs, flour, heavy cream, butter and walnuts.
As far as vanilla bean goes, I like this one L'artisan Vanilla Company. They ship worldwide. You can also replace it by vanilla extract or vanilla paste.
The most important thing is to use good quality chocolate to obtain the perfect dark chocolate brownies. I like to use Valrhona.
As far es equipment goes, all you do need to make these dark chocolate brownies is:
A 20 x 20 cm baking tray
2 bowls
A whisk
A rubber spatula
A spoon or offset spatula
Parchment paper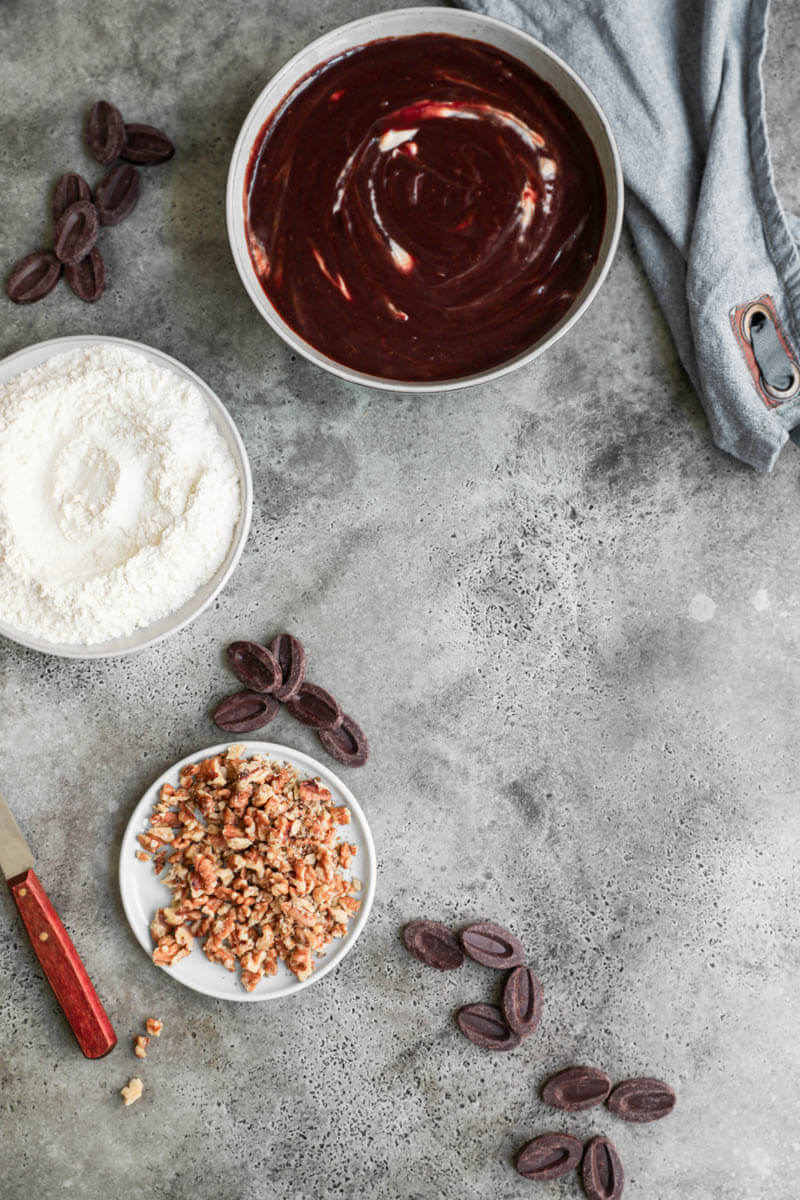 How to make homemade brownies?
This dark chocolate walnut brownie recipe is super easy to put together and it will take no more than 20 minutes!
First, you have to melt the chocolate and the butter over a hot water bath. Set aside. The bowl holding the chocolate/butter mixture should not touch the pan with the hot water in it. The steam will suffice to melt down the mixture.
Then, in a bowl, mix de eggs, sugar and scrapped vanilla bean using a whisk.
Add the chocolate/butter mixture and the heavy cream into the egg/sugar/vanilla mixture and mix until incorporated into the batter.
Fold in the flour and then mix in the chopped walnuts.
Finally, you must pour the brownie batter onto the tray you have previously prepared with parchment paper. Use the back of a spoon or an offset spatula to evenly spread it out. Bake for approximately 30 minutes.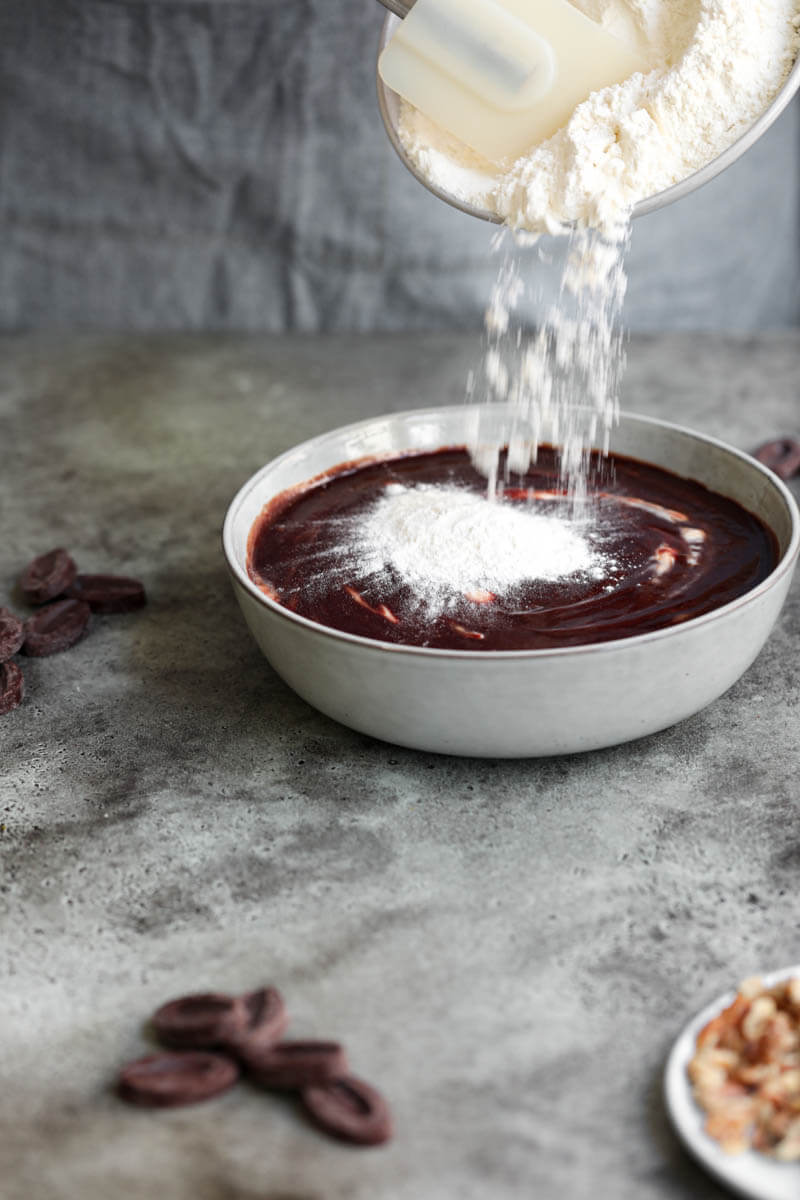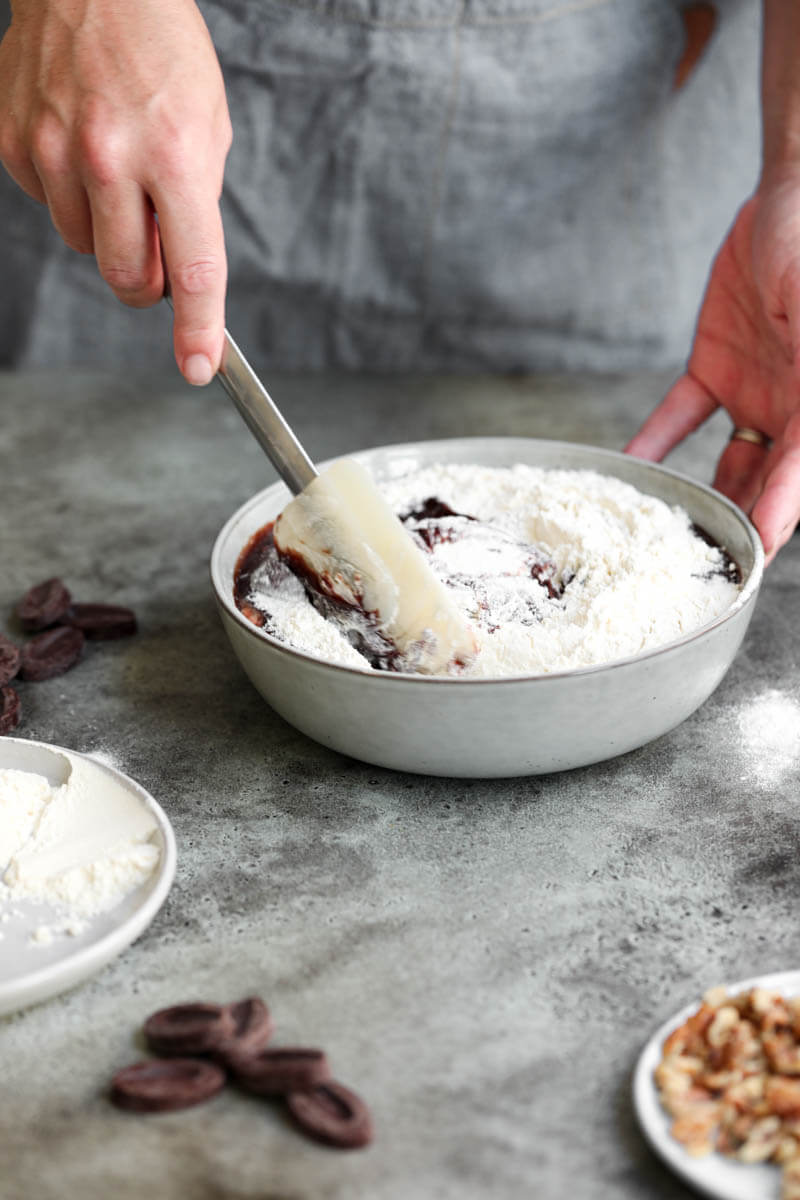 How to bake brownies?
These dark chocolate brownies must be baked in the oven at 170 C°/340 F.
Before baking pour the walnut brownie batter in a 20 x 20 cm baking tray lined with greased parchment paper.
Bake for approximately 30 minutes.
Make sure to unmold the brownies as soon as they are out of the oven and let them cool down at room temperature on the parchment paper.
How to tell when brownies are done?
You can tell when brownies are done by inserting a knife or a skewer at the center of the tray. It should come out slightly "dirty" and moist, with brownie crumb stuck to it. This way you will obtain moist brownies.
If you prefer yours to be slightly more cooked, bake them for an extra 5 minutes.
How to cut brownies?
To obtain beautiful chocolate brownies that hold their shape, you must let them cool of completely first. Patience is the key here!
Once they have cooled down, transfer the parchment paper with the brownie cake on to a chopping board and get a sharp knife.
Using a ruler, cut 5x5 cm brownies. You should obtain 16.
How long do brownies last?
They last about 4/5 days stored in a container.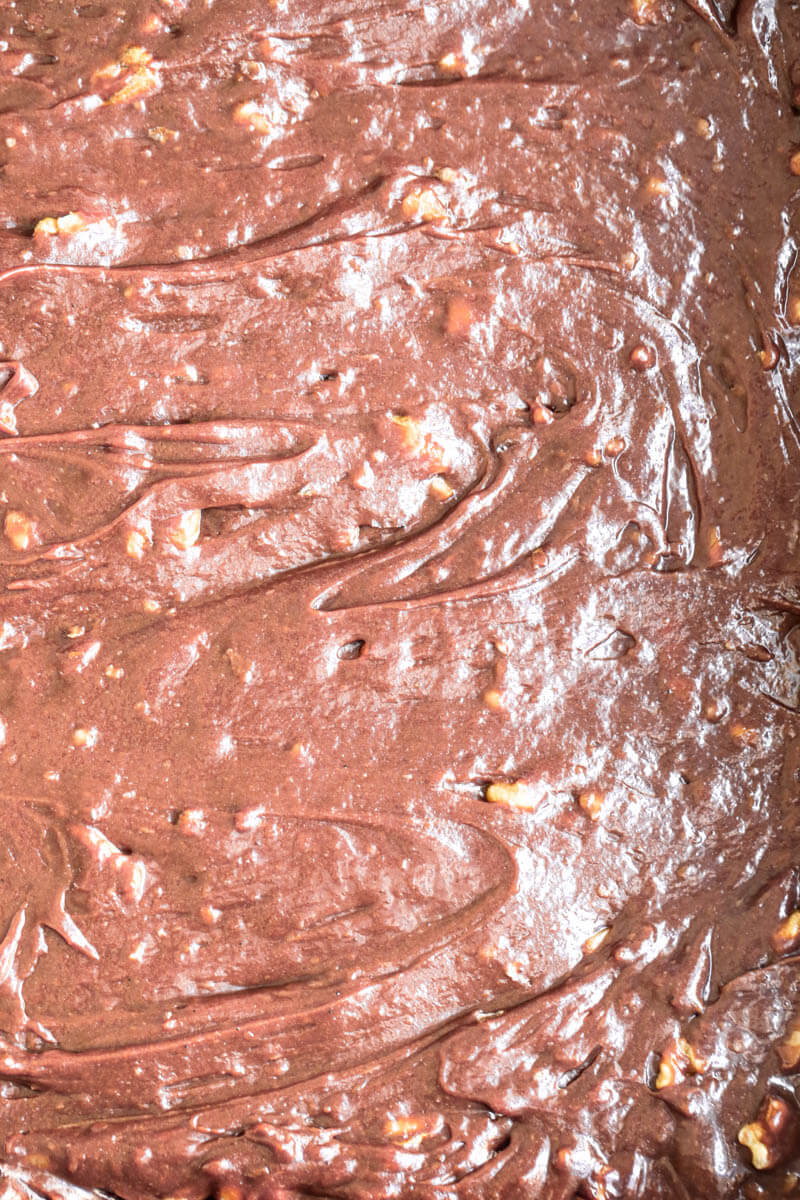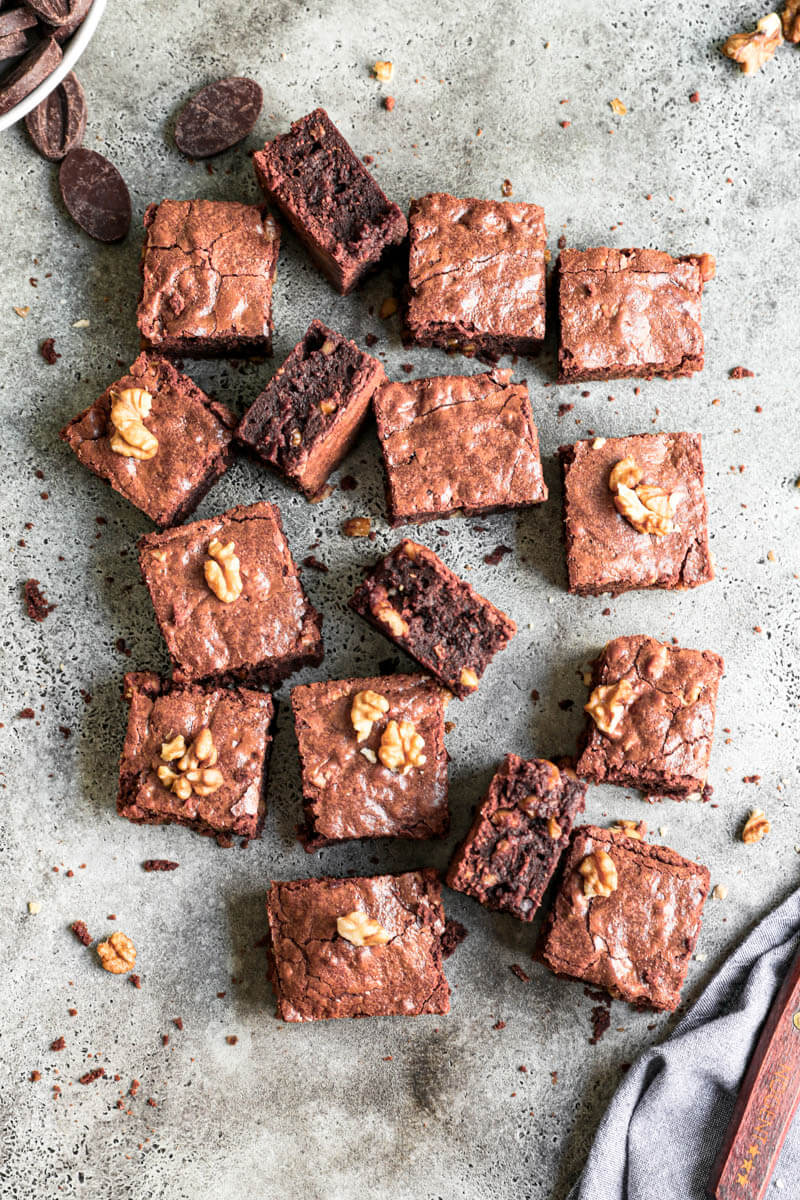 Can you freeze brownies?
Yes, you can freeze them. This is what I like to do as we are only 2 adults on the house and 16 brownies is a lot!
After cutting them, transfer to a freezer container and keep for about 1 month.
To defrost: let them sit at room temperature overnight.
Variations to this recipe
I you like thinner brownies, you can use 30x40cm baking tray. Make sure to adjust the baking time as they will be ready sooner.
You can replace the walnuts by pecans.
If you made this recipe I would really appreciate it if you leave a rating or comment below! Also, if you share on social media please use #cookwithbelula, I would love to see what you create!