Chocolate Chunk Cookies
A brown butter chocolate chunk cookie recipe that's tender, gooey, a little nutty and it finished off with sea salt.
One of my favorite treats ever. When I was 20 years old, I spent a summer working at the Aspen Skiing Company in Colorado. I used to work just in front of Paradise Bakery. This bakery made the best chocolate chip cookies on the planet, and because I worked just across the street I knew exactly when they had freshly baked ones out! I have been obsessed ever since with chocolate chunk cookies ever since. This recipe is close to my heart, I have been making it for a long time, changing it and perfecting it over the years. Hope you enjoy it!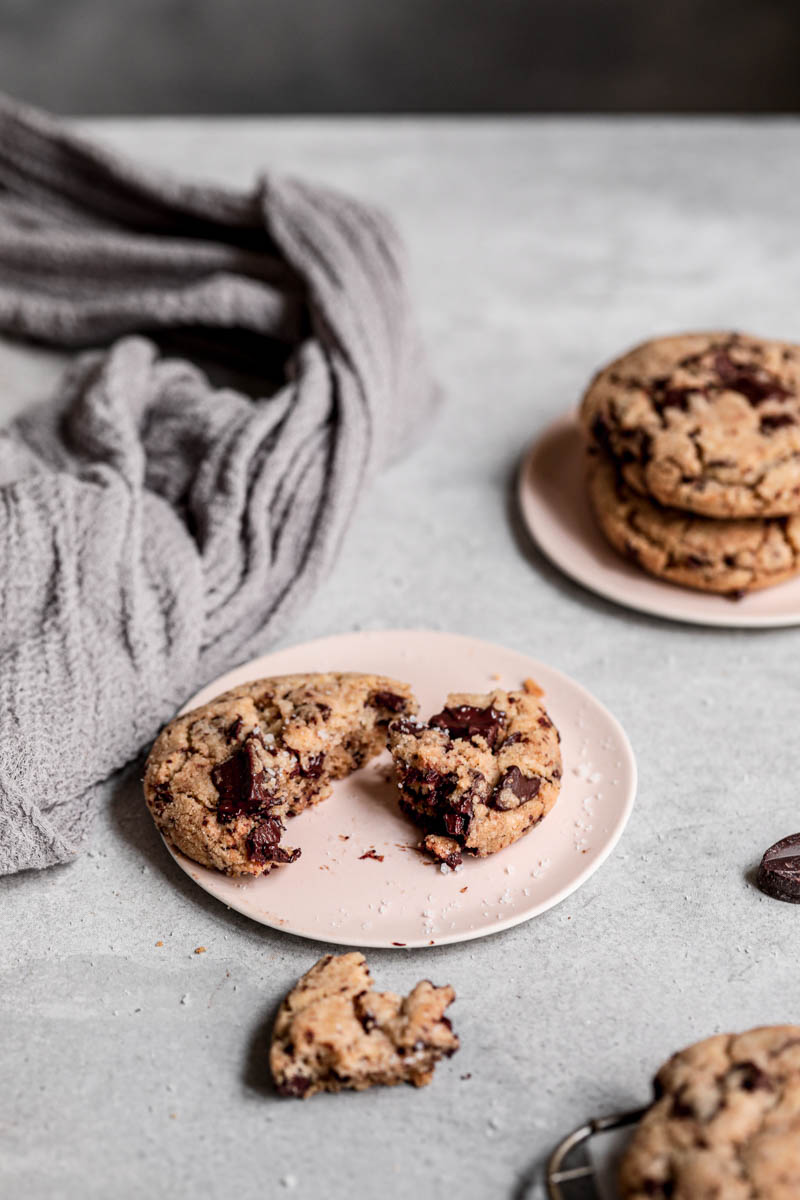 What are chocolate chunk cookies?
Chocolate chunk cookies use real chocolate chopped instead of chocolate chips. This gives the cookie extra chocolate flavor and that chocolate melting in your mouth you look for in a chocolate chip cookie.
This recipe calls for brown butter and adds sea salt after baking to enhance the flavors.
How to make chocolate chunk cookies?
Making this chocolate chunk cookie recipe is easy. They key to success is the quality of chocolate you use and chilling the raw dough before baking.
There are 3 big steps you need to follow:
Brown the butter. Important not to burn the butter in this step! It will give your cookies and extra nutty flavor.
Whisk the butter/sugar and subsequently add the egg until you obtain a smooth mixture.
Fold in the dry ingredients, followed by the chocolate chunks.
Your cookie dough is now ready to be scooped and baked!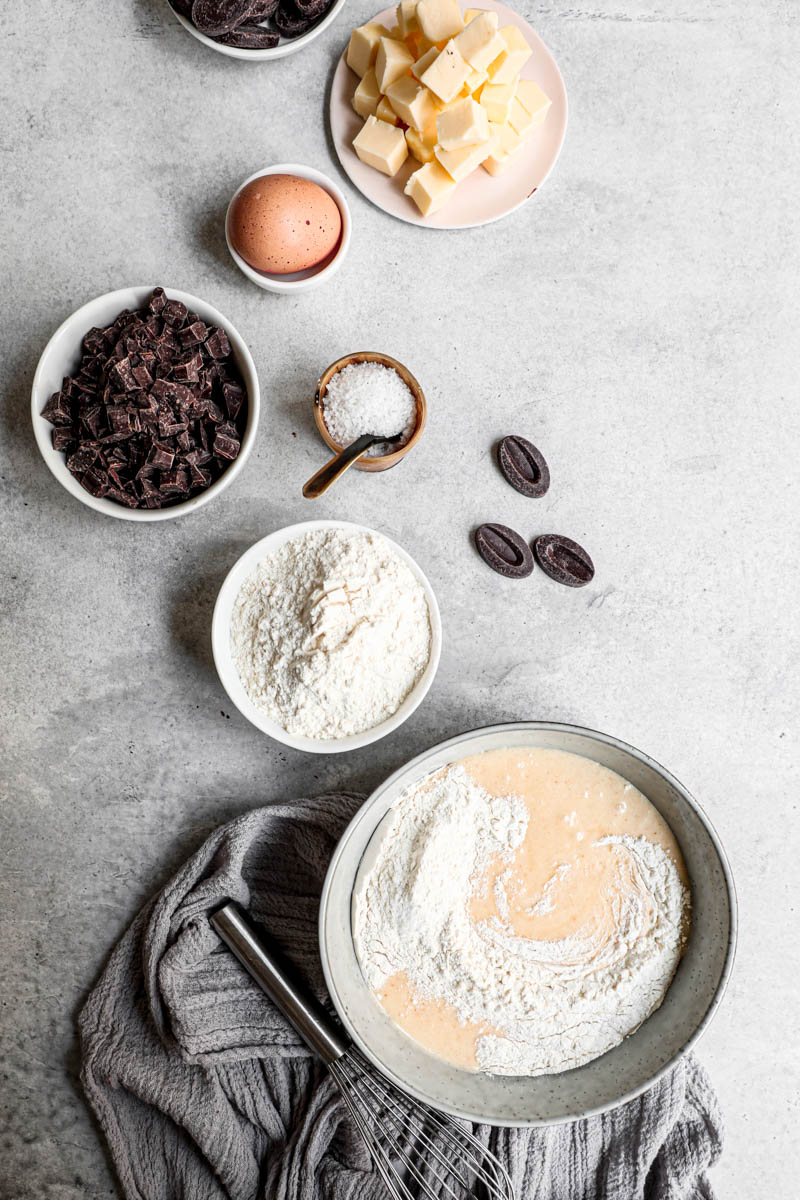 How to bake brown butter chocolate chunk cookies?
First scoop 12 cookies onto a baking tray lined with parchment paper.
Note: make sure you leave enough space in between the cookies, as they expand during baking. If you have a small baking tray/oven (my case) make sure to bake in batches!
Secondly chill the cookie dough for 30 minutes before baking.
Bake at 180°C/360F until golden. Approximately 17 minutes.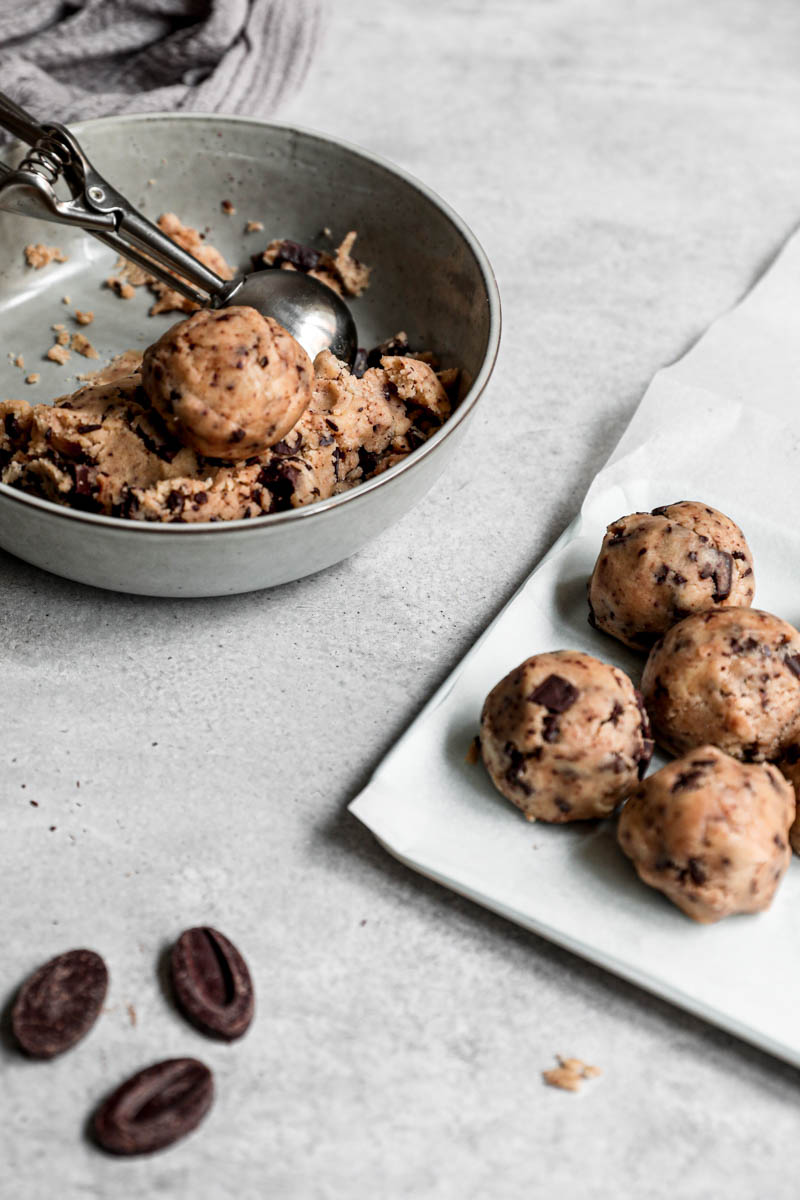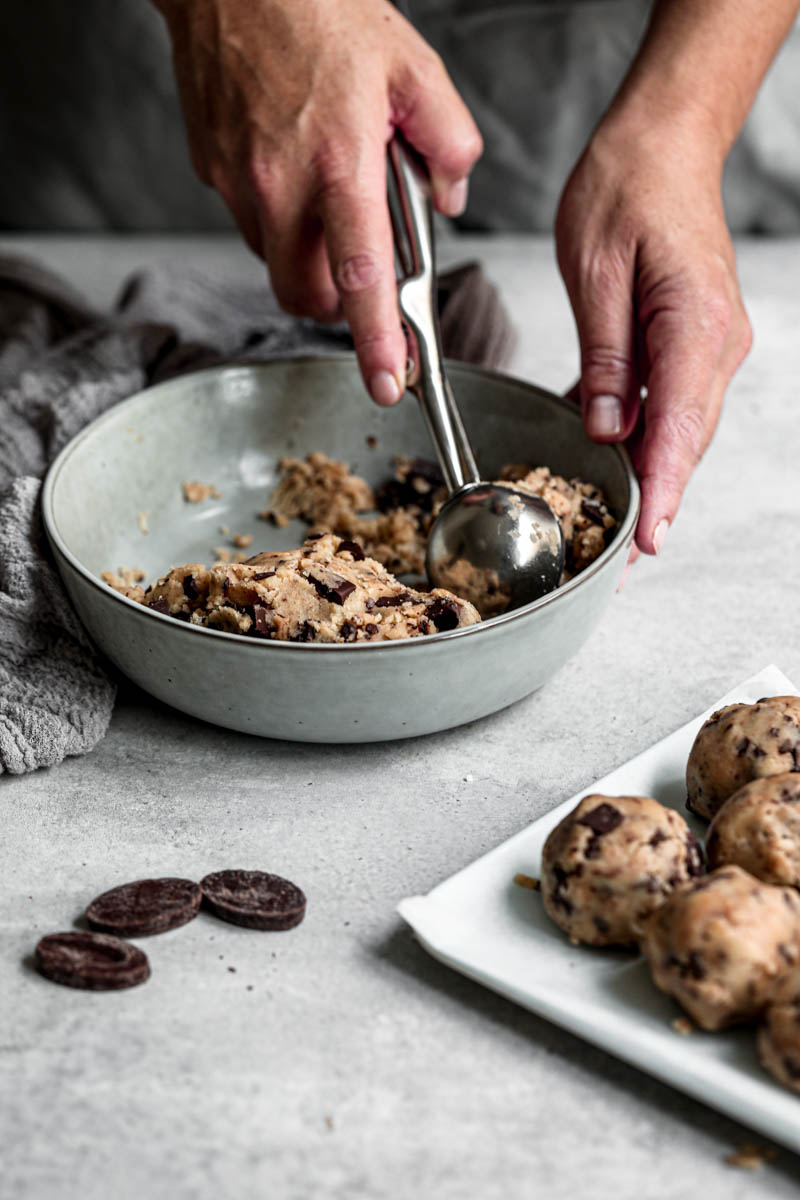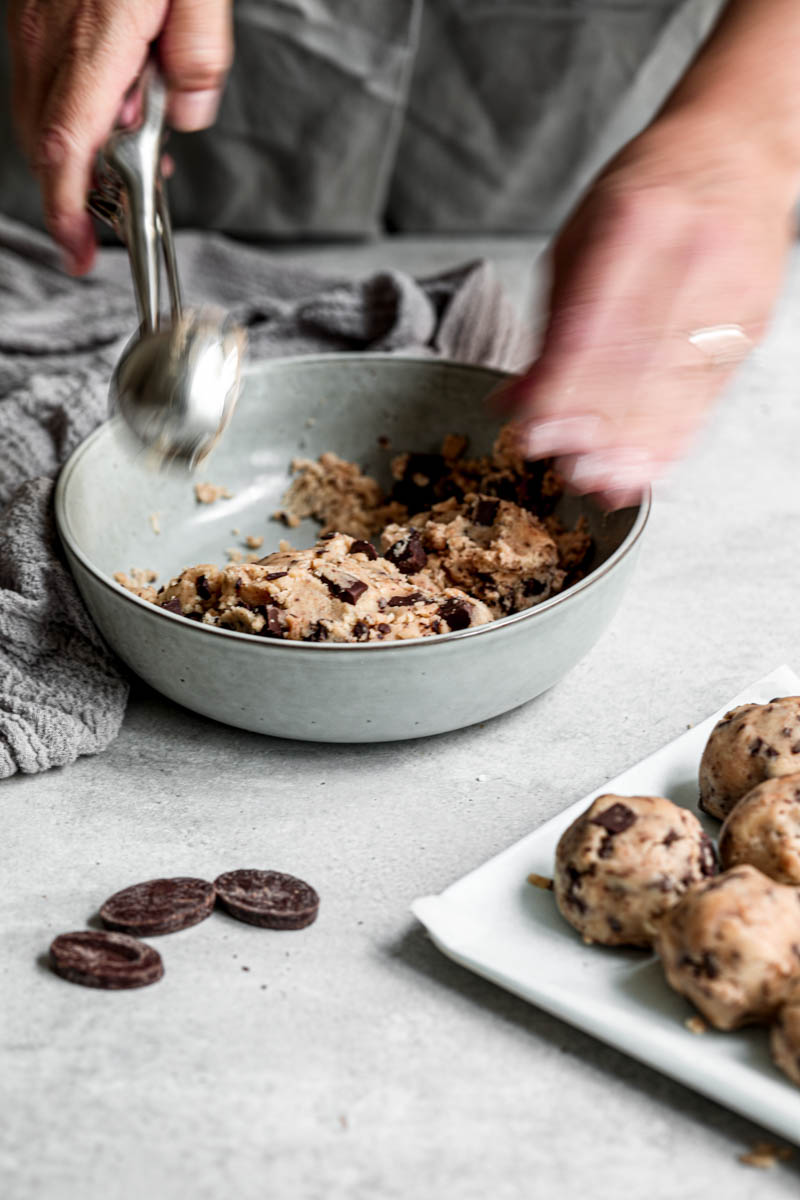 Gooey vs. Crunchy Chocolate Chunk Cookies
The baking time will be defined by your personal preference. Do you prefer your cookies gooey? Or would you rather have them crunchy?
If you are going for soft center, gooey cookies I recommend you under bake them slightly. Don't forget that they will become a little harder once they cool off.
On the other hand, if crunchy is your thing, bake until golden!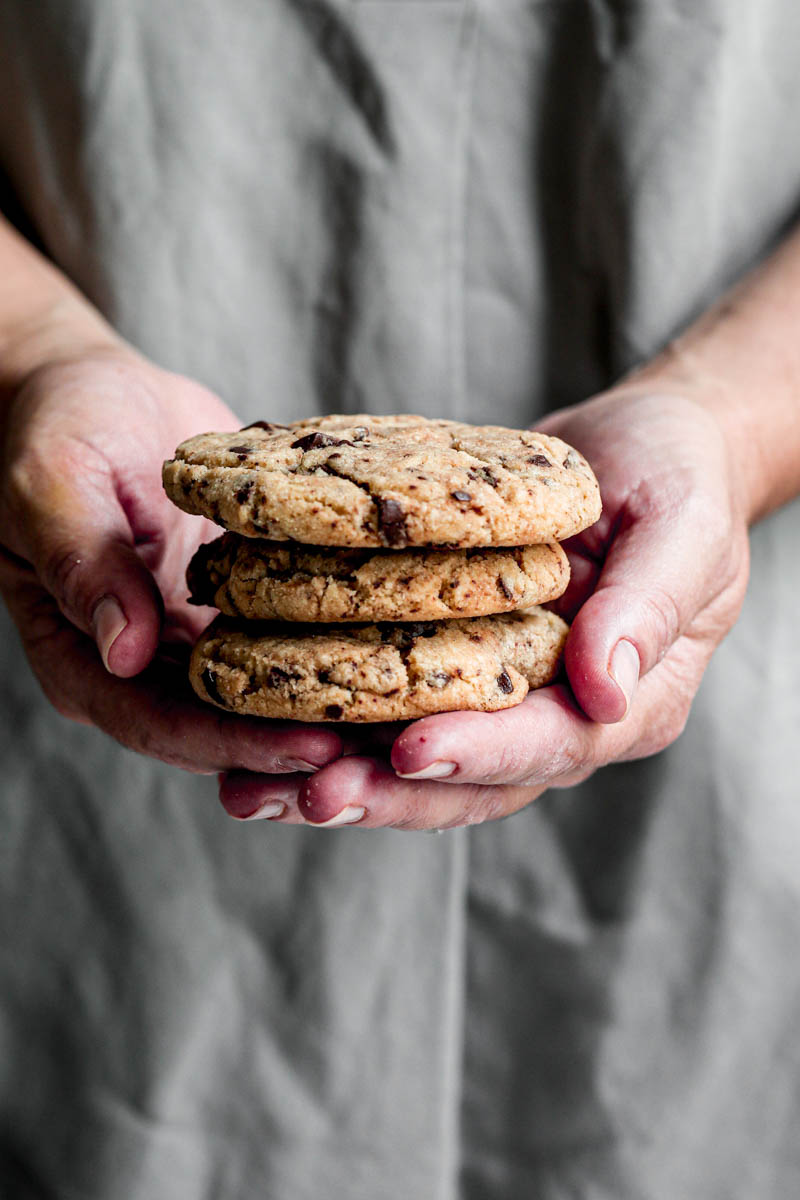 Sea salt or no sea salt, that is question
I like to sprinkle the cookies with a pinch of fleur de sel or maldon salt (flaky salt) before serving them. Salt enhances the flavours and I love the combination with the chocolate chunks.
Once again, this is completely up to you. I do recommend having this chocolate chunk cookies with sea salt.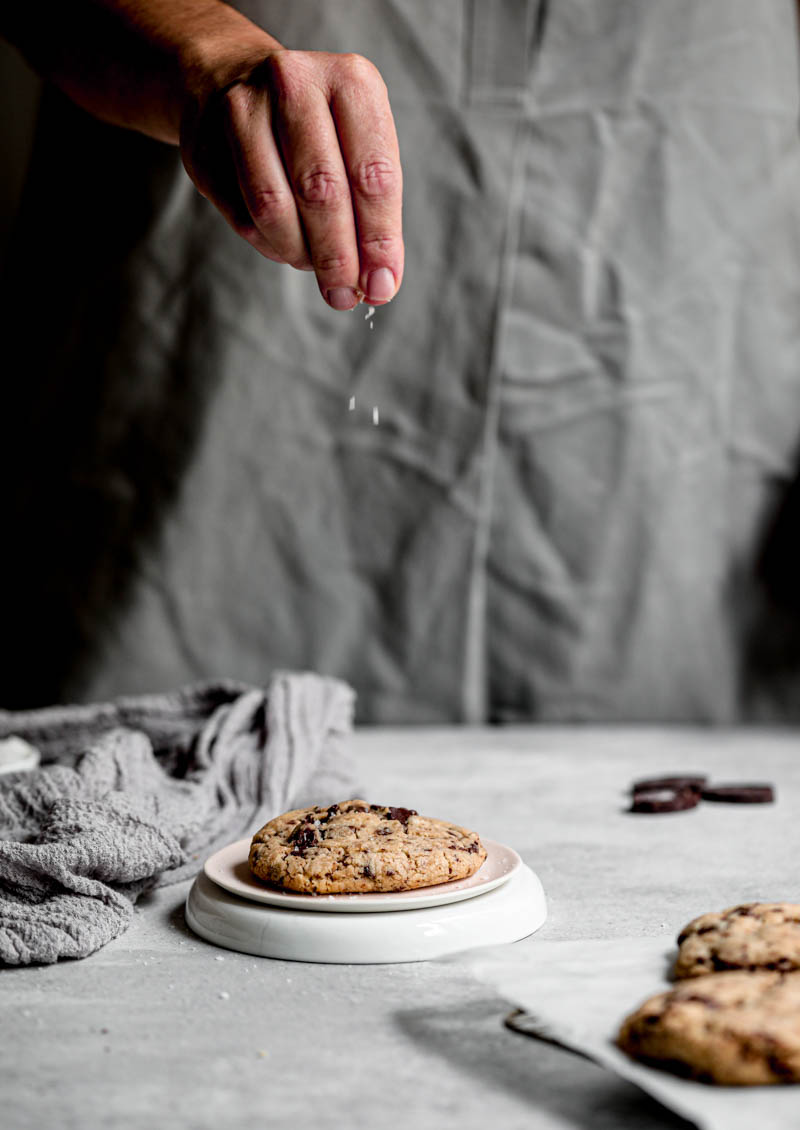 How to brown butter for chocolate chunk cookies?
Brown butter has a nutty flavour and smell that will leave your kitchen smelling fantastic! To brown butter:
Cut the butter into small pieces.
Melt over medium/low heat.
Observe: at the beginning you will notice big bubbles of boing butter, that make a loud noise. As the butter changes colour, the bubbles become smaller and smaller.
Once the noise and bubbles subside, brown butter is ready. And your kitchen should be smelling heavenly!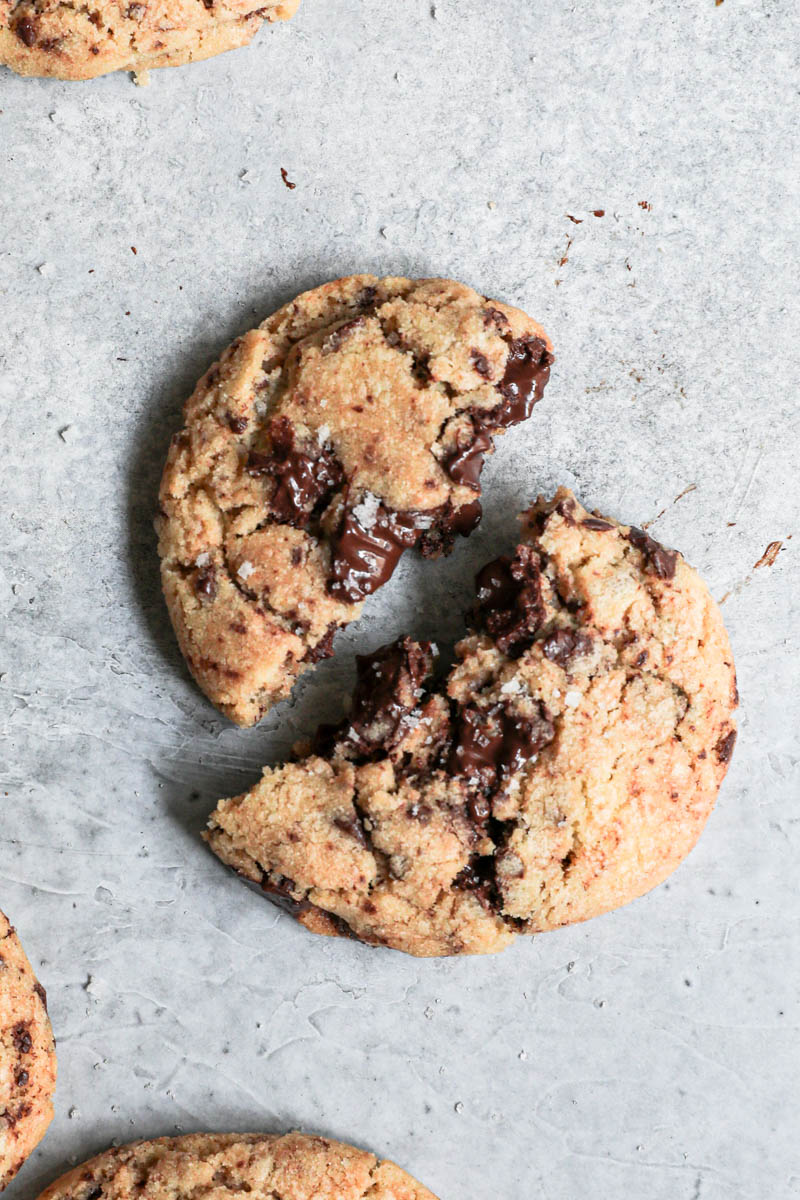 The ingredients used in all recipes on this site are measured using the metric system. I use a
scale
to be precise with my measurements and ensure good results. If you would also like to use a scale, here are some:
USA
,
Canada
,
UK
,
Australia
,
France
.
Subscribe to the newsletter
Brown Butter

150 g

Sugar

190 g

Eggs

1

All-purpose Flour

210 g

Salt

5 g

Baking Powder

3 g

Chocolate

200 g

Fleur de sel (or Maldon salt, optional)
If you made this recipe I would really appreciate it if you leave a rating or comment below! Also, if you share on social media please use #cookwithbelula, I would love to see what you create!