Homemade Soft Vanilla Bean Caramel Candy (Caramels)
A step-by-step guide on how to make homemade caramel candy bars flavored with vanilla bean. This soft vanilla caramel candy recipe is the best and the only one you will ever need.
This homemade vanilla bean caramel candy recipe is one I created a few years ago when I was selling small Christmas boxes filled with homemade treats and sweets. My clients loved the caramels so much, I thought I would share the recipe here so you can make these soft caramel candy bars at home. These vanilla caramels make for a perfect gift, either to complement all those cookies during Christmas time, for a birthday celebration! 😊 If you have never made them before, you are in for a surprise! They are rather easy to make! I hope you love them, they are truly the best!
Utensils & Ingredient Notes
Vanilla bean: This gives these caramels an extra special flavor. You can leave it out completely if you wish as they will still taste great.
Candy thermometer: Precision is the key when it comes to making caramels. You need to be certain that you know the exact heat reading so that the caramels sets correctly.
A Square 20 x 20 cm pan lined with parchment paper. Or a square cake ring, placed on a baking tray lined with parchment paper and covered with baking spray.
What is caramel candy?
Caramel candy is made with sugar, glucose and cream and needs to be cooked to a temperature of 117 C°/118 °C.
It can be also known as toffee candy. Many people will just refer to it as "caramels" or "toffee" as well.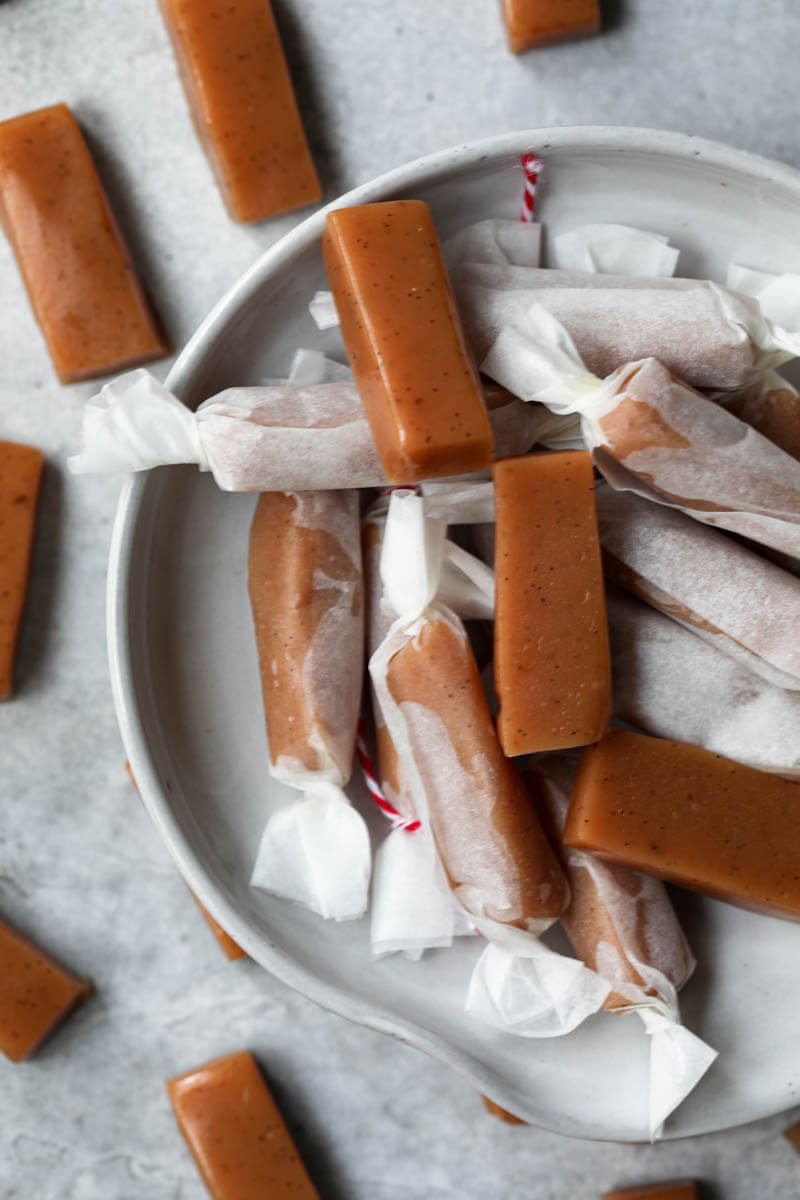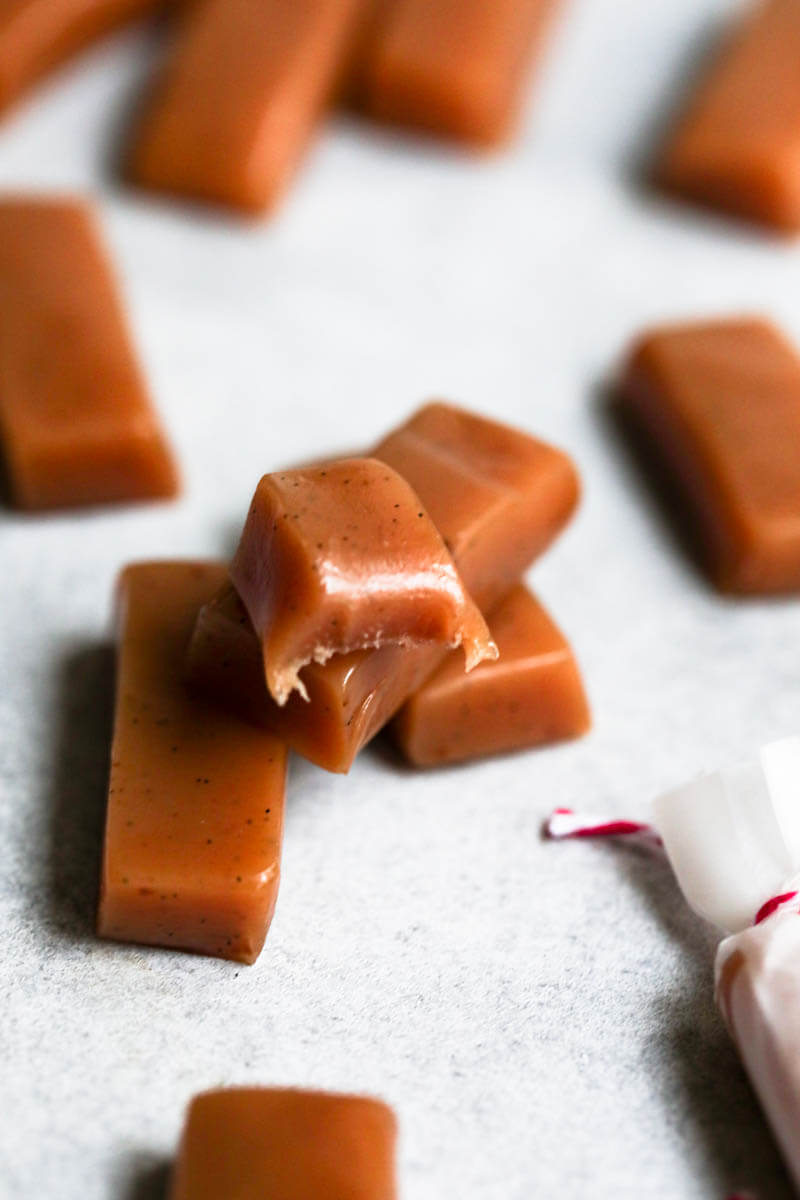 How to make caramel candy
First and foremost, the sugar needs to be cooked in 2 stages at 2 different temperatures:
Start by cooking the sugar, water, and the glucose syrup to 150/160 °C (300 /320 F).
Secondly, after you have added the cream, the butter, and the vanilla bean to the recipe, the caramel needs to be cooked to 117° C.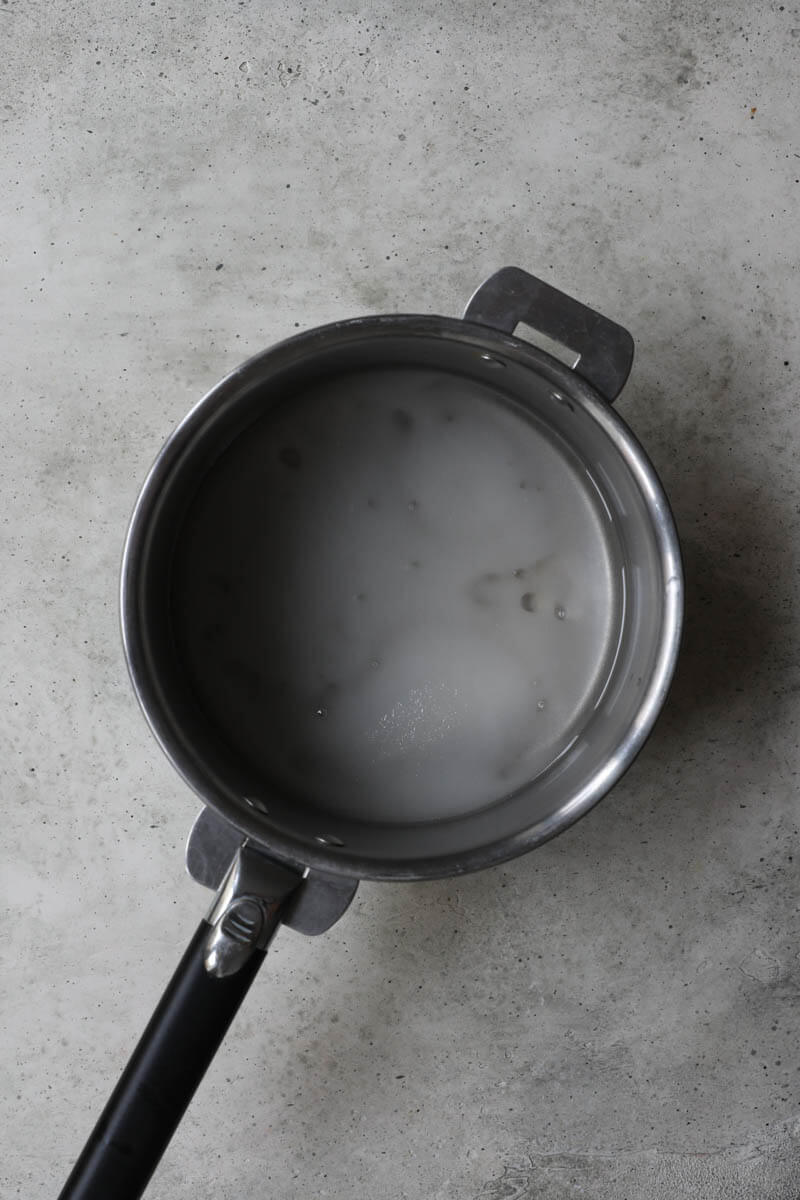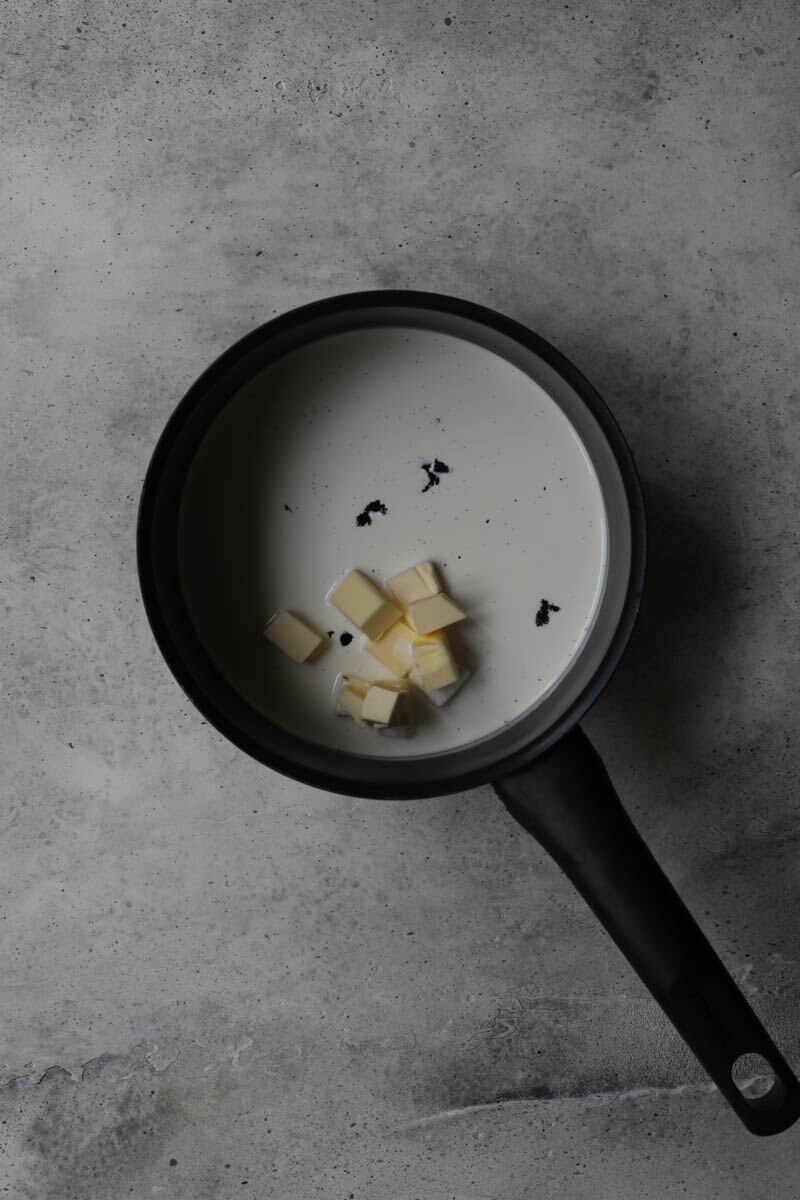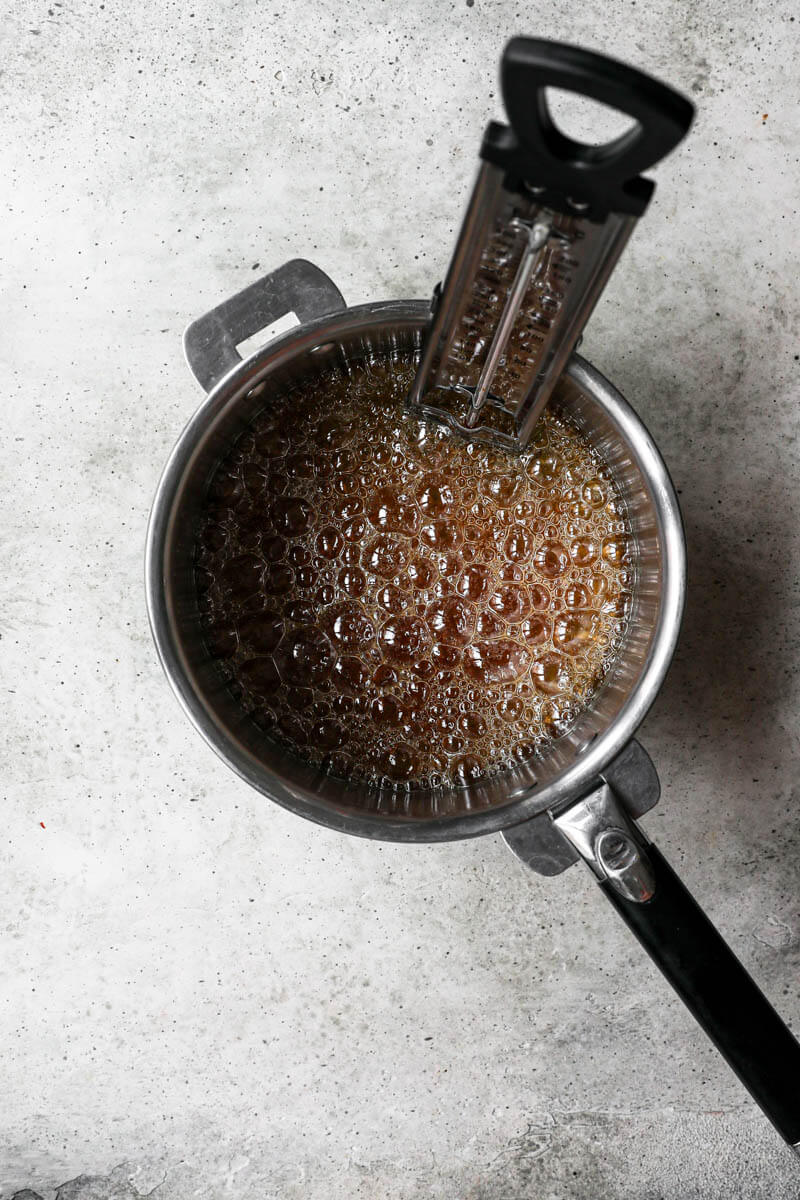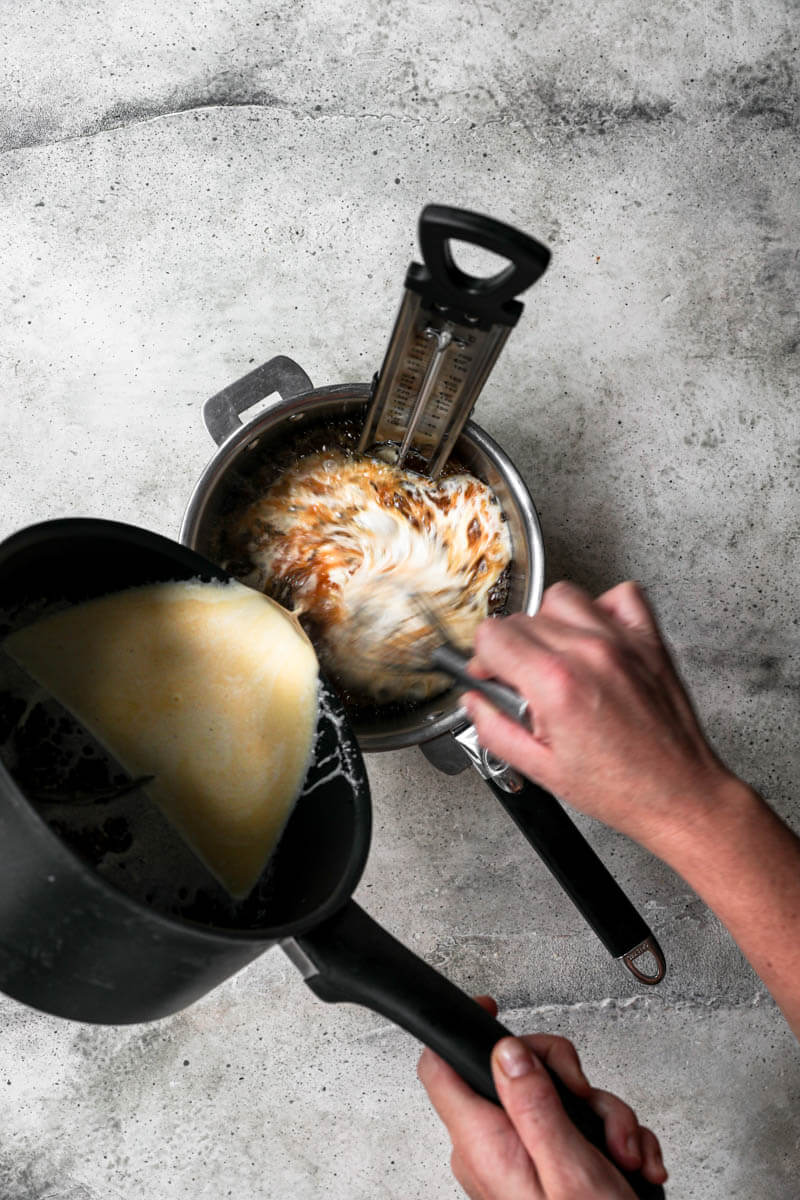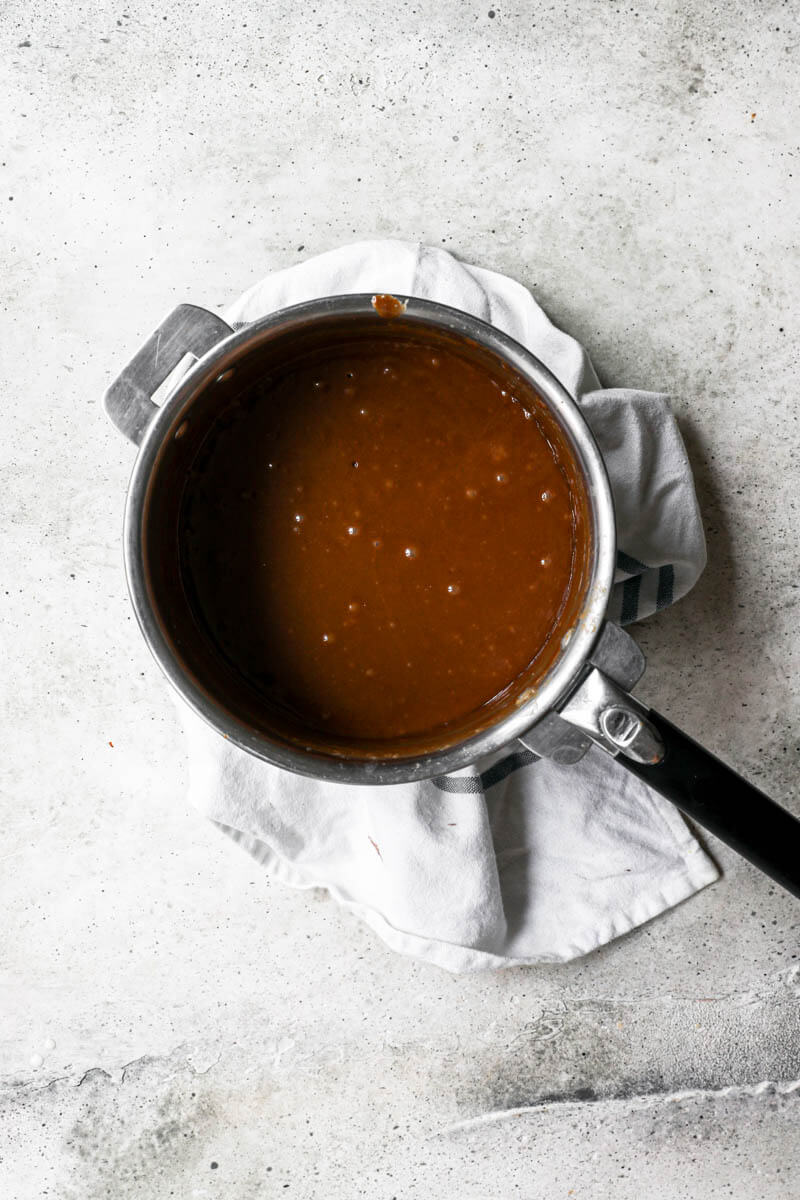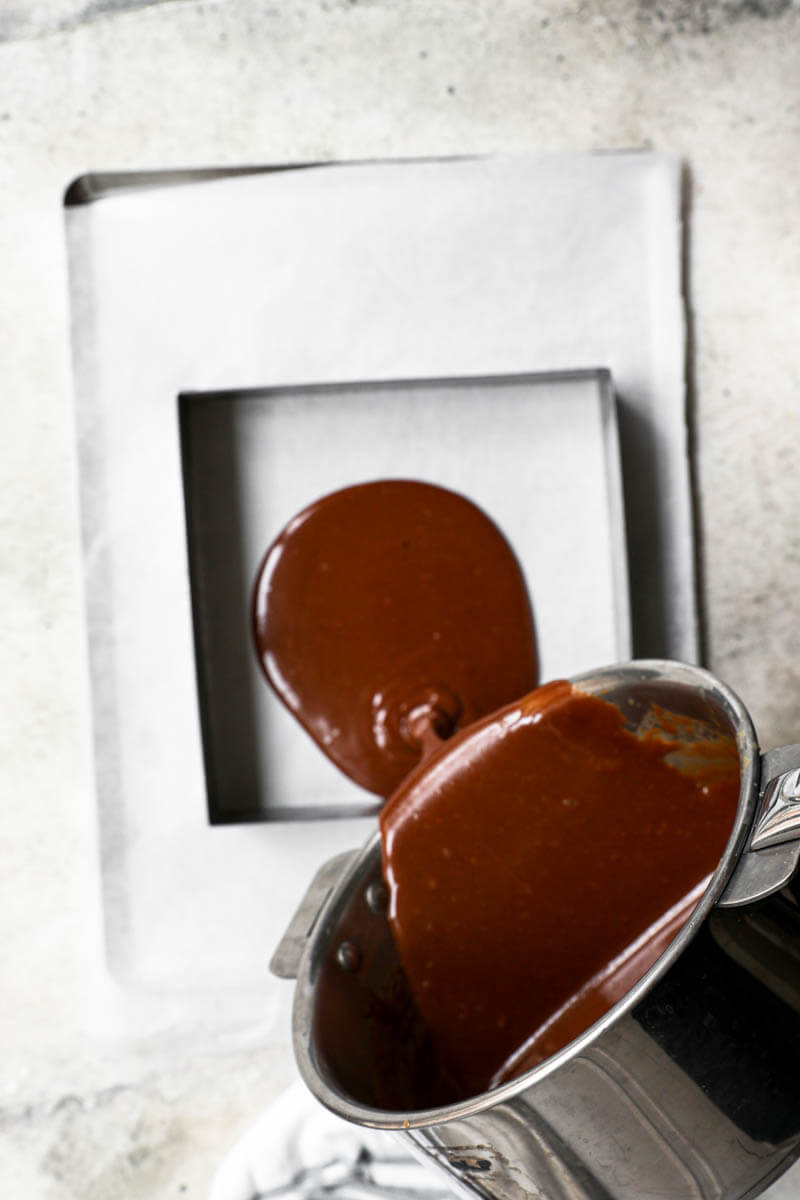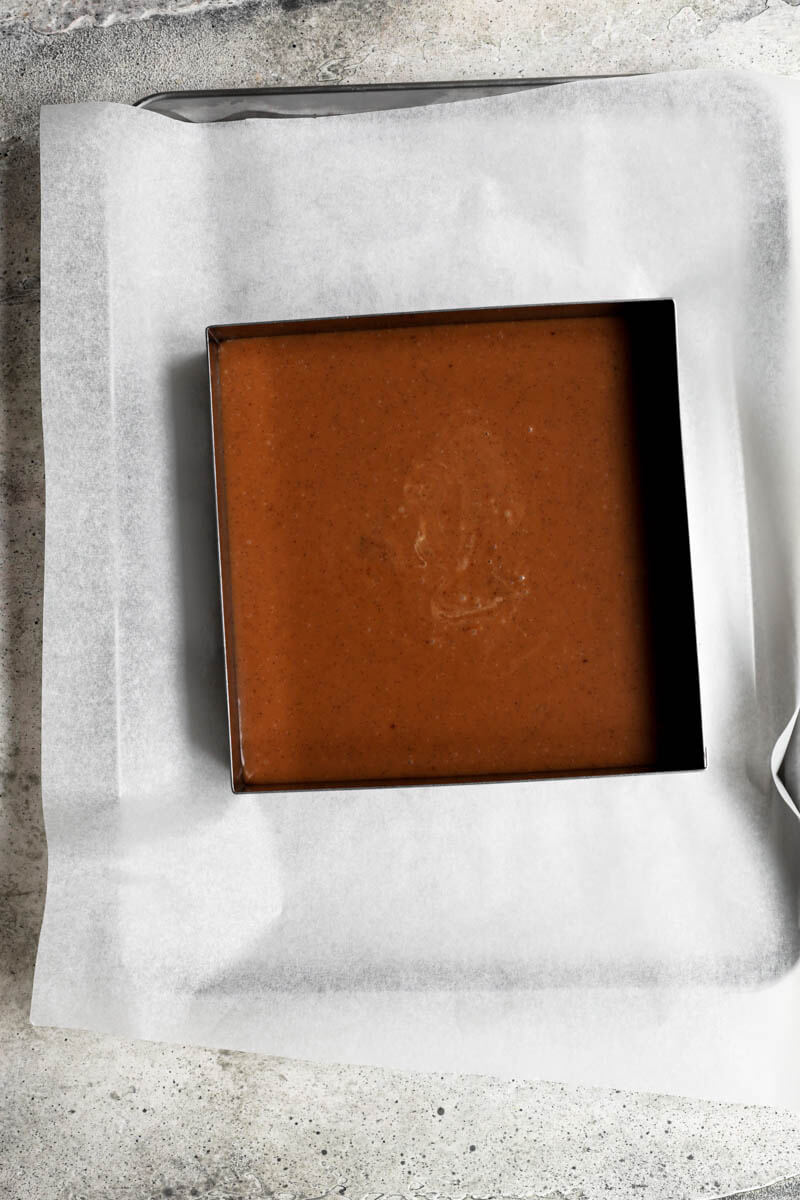 Recipe notes
Once you have lined the pan, place it somewhere safe. Put it somewhere it can stay overnight without being moved.
Use a large pot to cook your caramels, as sugar tends to make big bubbles. If you use a pan that is too small, it risks overflowing.
While cooking the sugar, brush the sides of the pan from time to time with ice-cold water to prevent sugar from crystallizing.
If it is raining (or you live somewhere with high humidity in the air), cook it to 118°C/ 244 F.
The size you cut the caramels is up to you. I like them on the smaller side of the things, but you can choose whichever size you like best. You can even have a mixture!
I recommend letting the vanilla caramels properly set overnight before cutting them. Your job will be easier, and they are less likely to stick to your knife.
If you notice caramels are sticking to the knife, grease your knife with a little baking spray or melted butter.
Expert Notes
The temperature you cook your sugar syrup will define the color of the caramel candy bars:
Lower temperature of syrup = lighter initial caramel = lighter (and softer) caramel candies
Higher temperature of syrup = Darker initial caramel = darker (and harder) caramel candies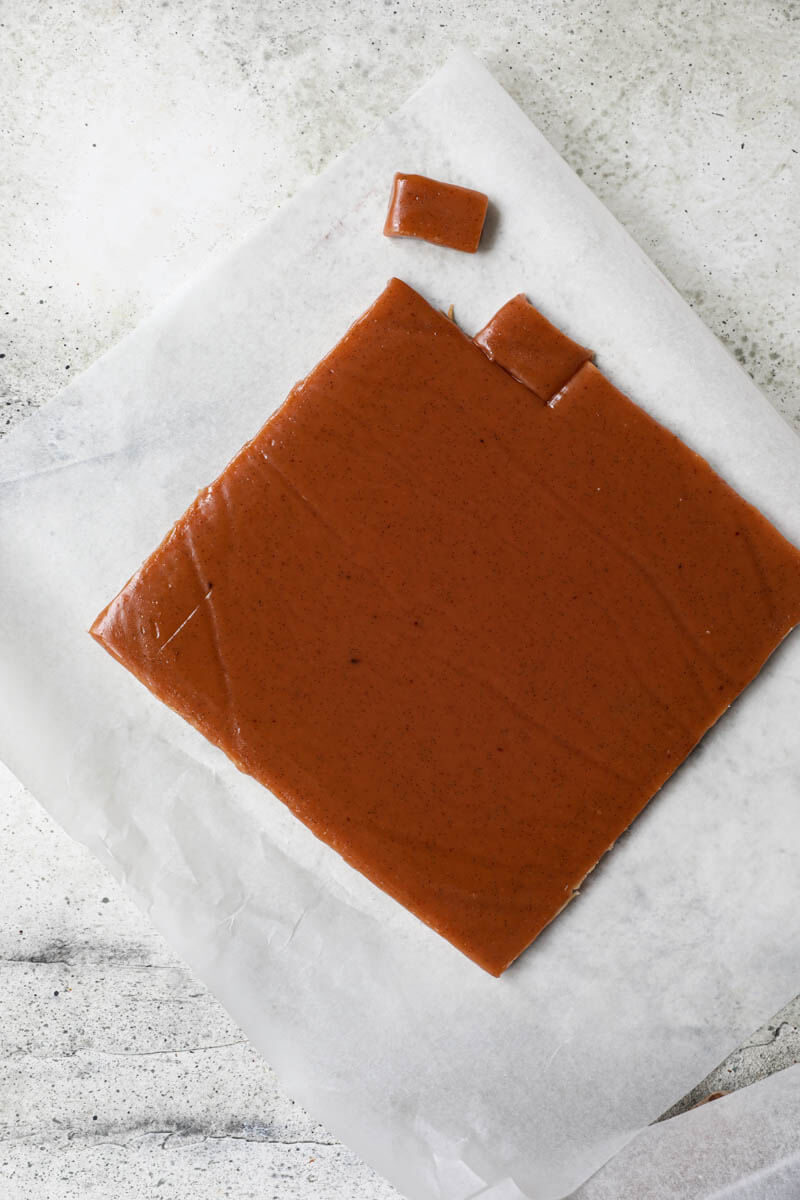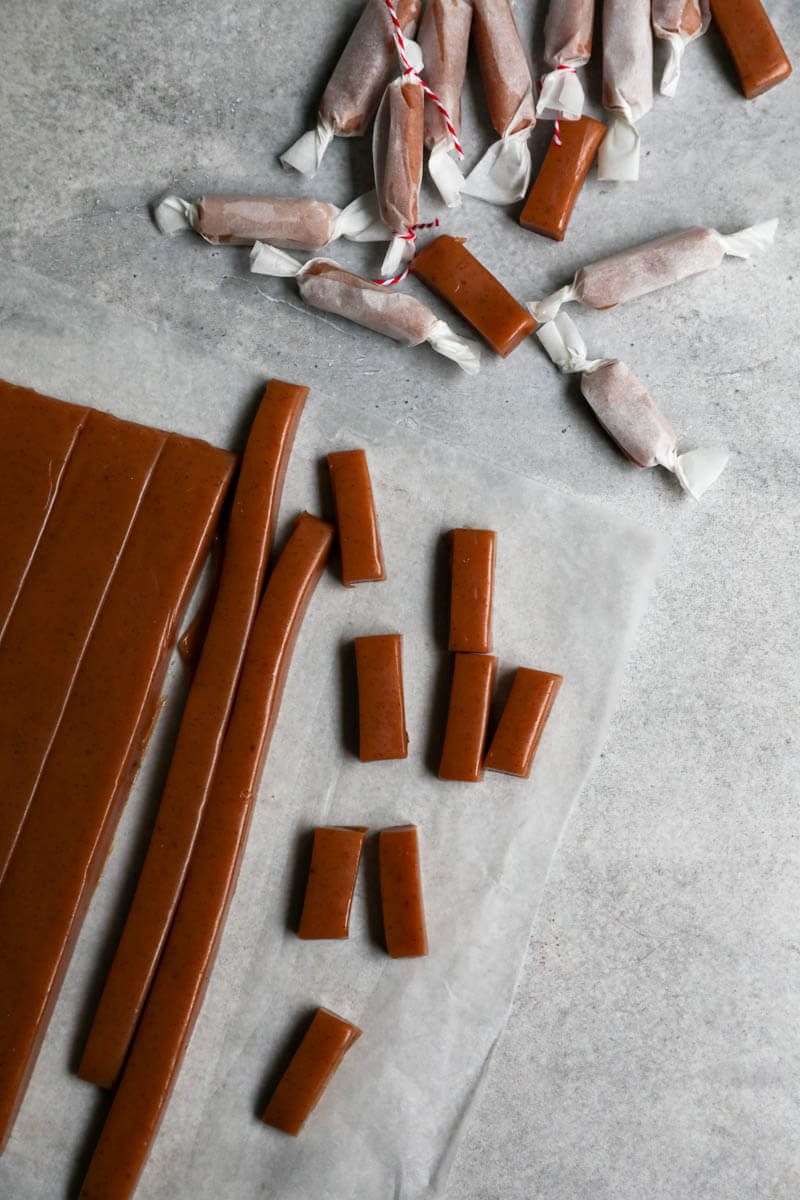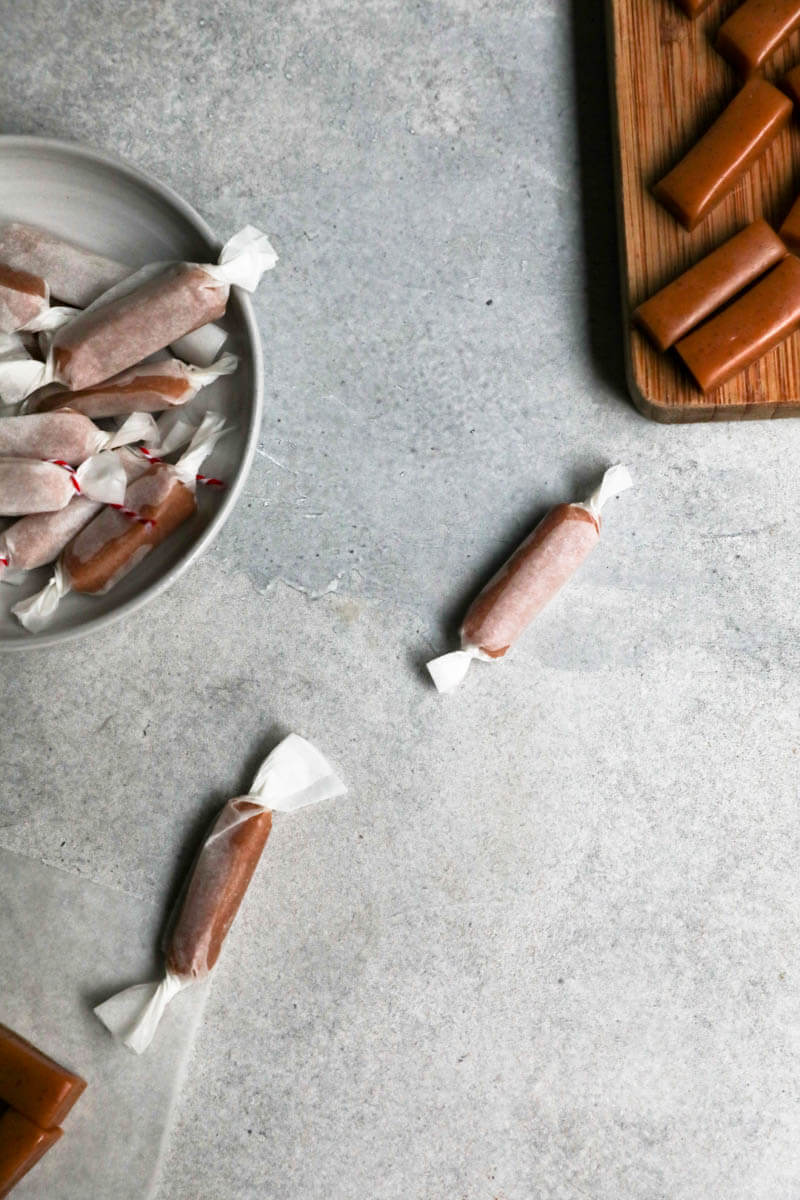 If the caramels turn out too soft:
There is too much cream in the recipe.
They were cooked to a lower temperature than this caramel candy recipe calls for which is 117 C°/243 F.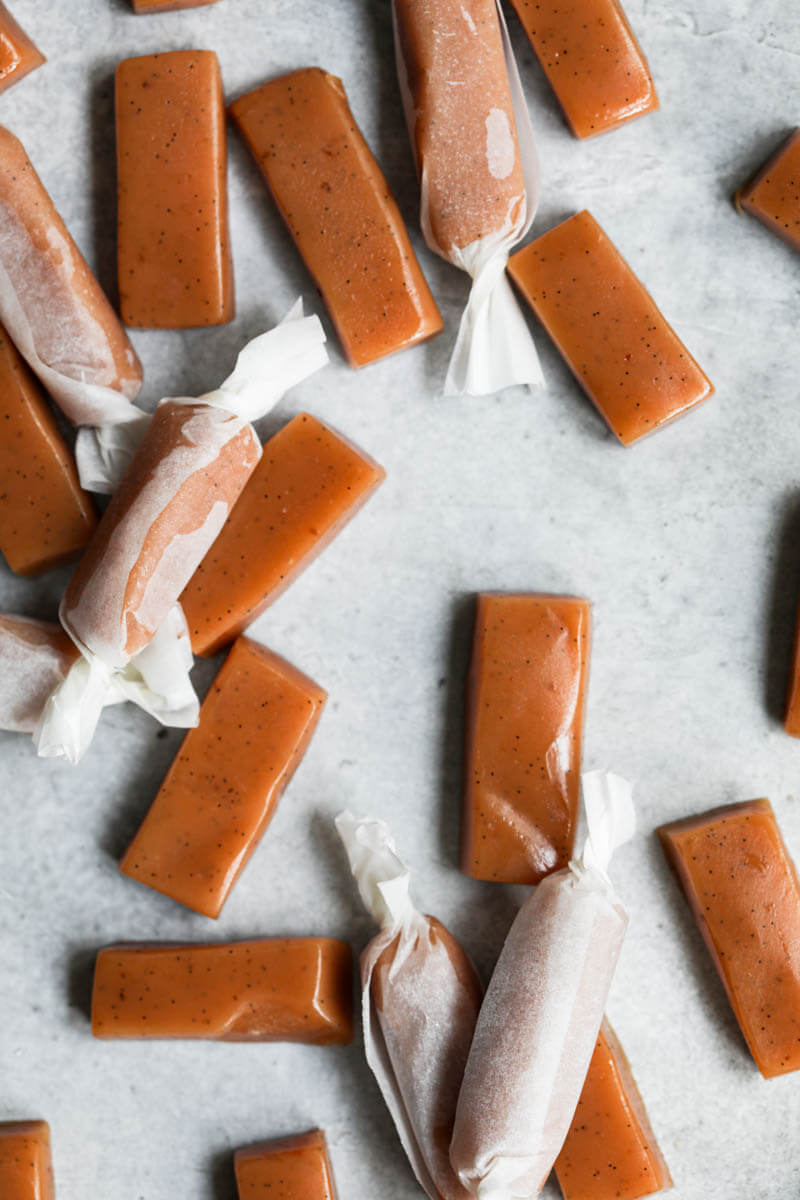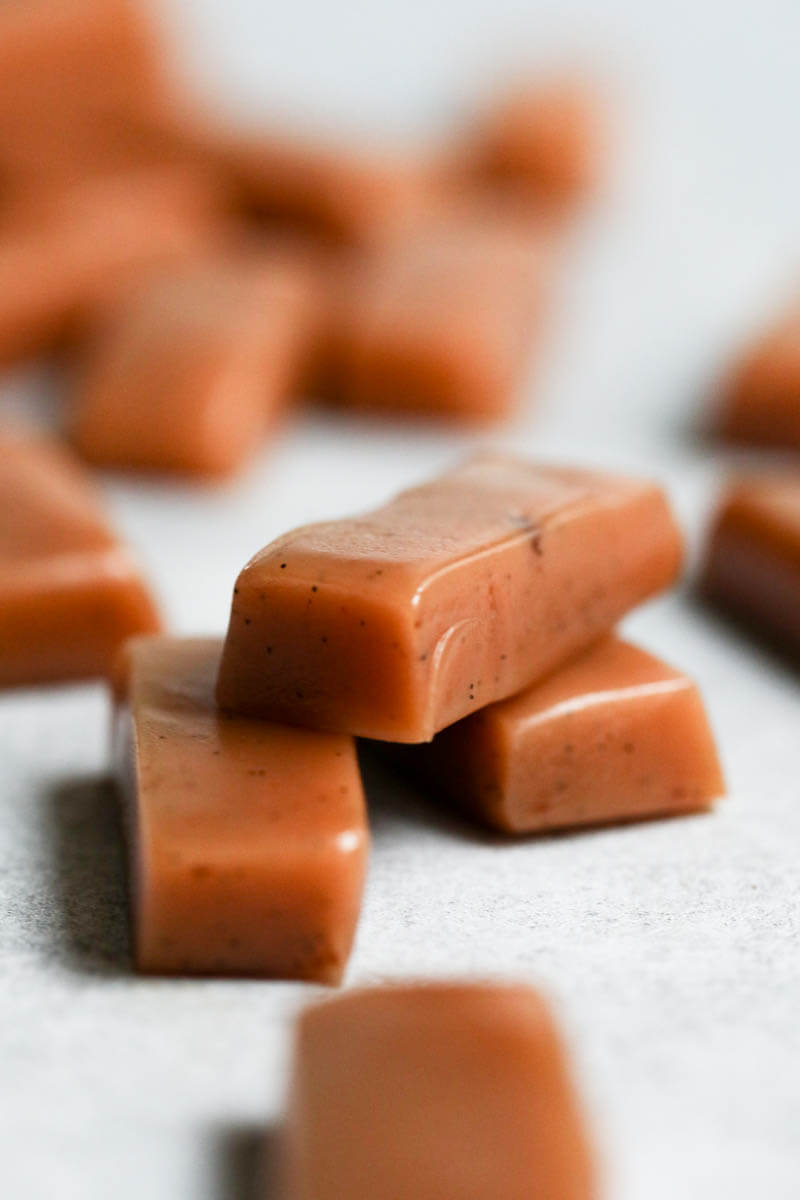 Storage Tips
Caramels can be kept, wrapped in wax paper or parchment paper for up to 2 weeks at room temperature.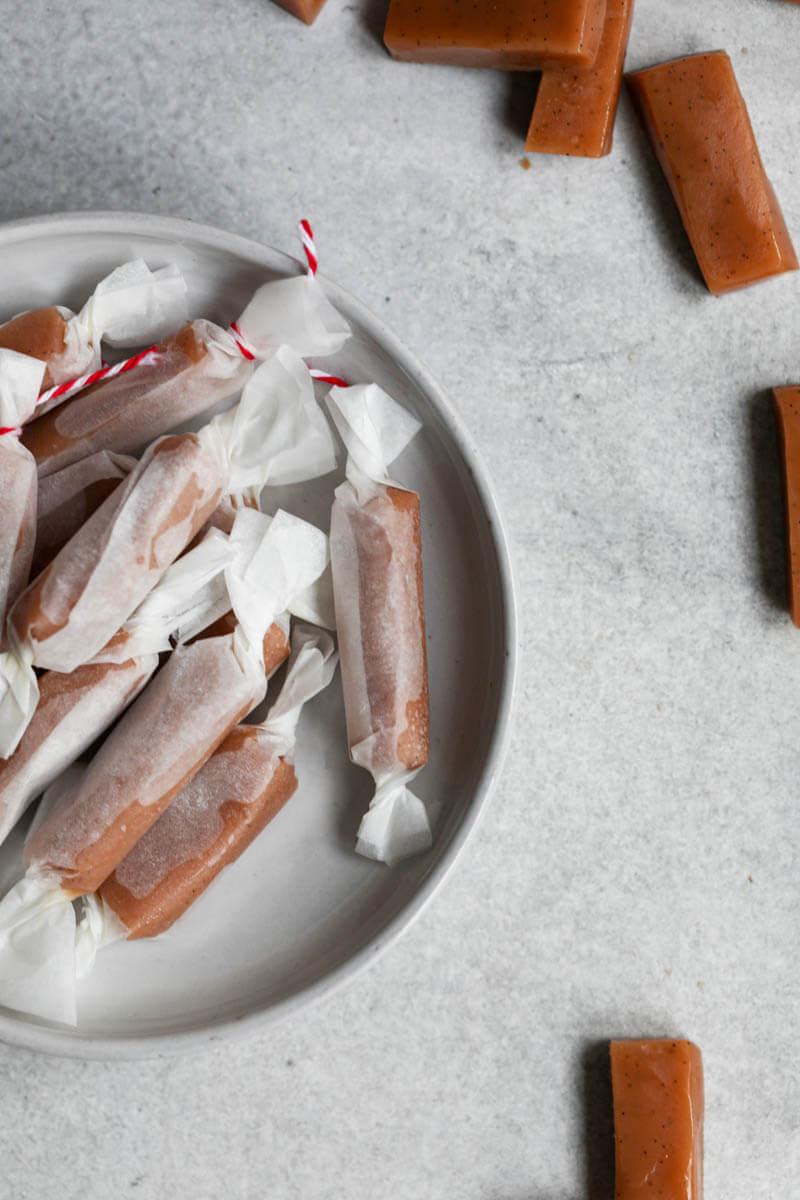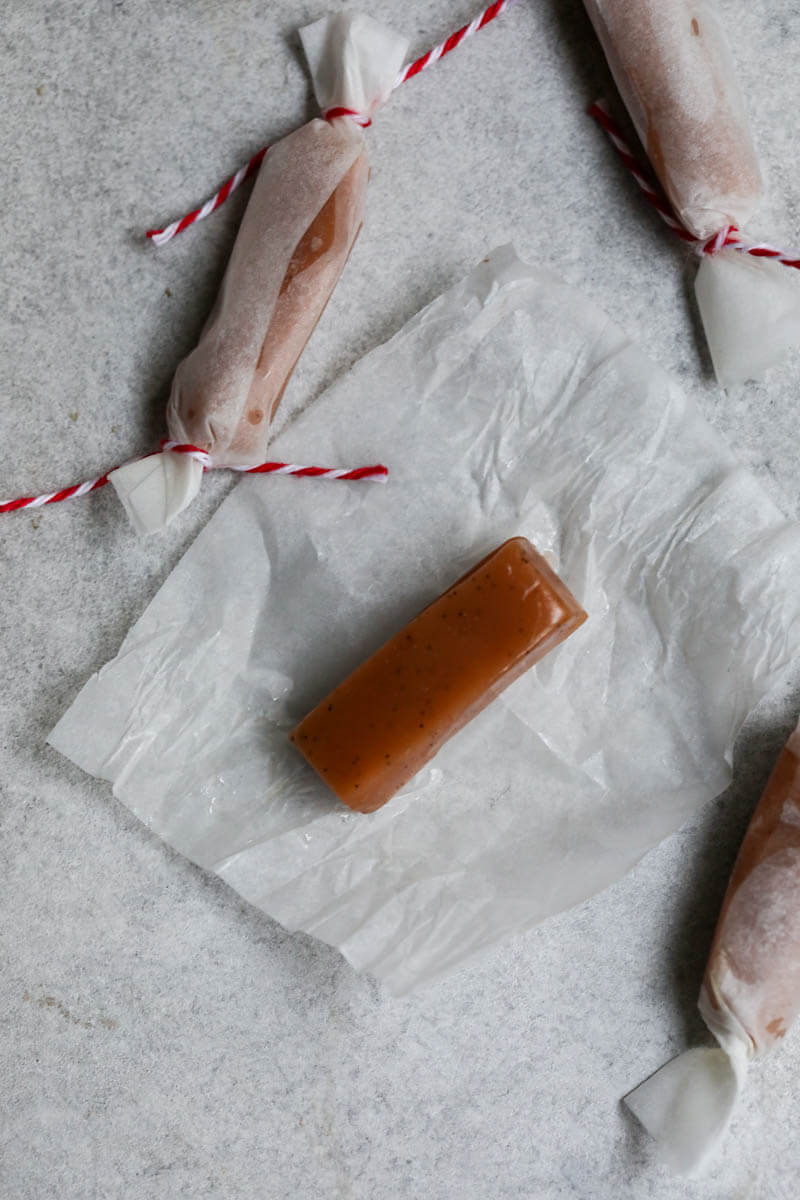 The ingredients used in all recipes on this site are measured using the metric system. I use a
scale
to be precise with my measurements and ensure good results. If you would also like to use a scale, here are some:
USA
,
Canada
,
UK
,
Australia
,
France
.
Subscribe to the newsletter
Total Time:
12 hours 45 minutes
---
Water

50 g

Glucose Syrup

200 g

Granulated Sugar

255 g

Vanilla Beans (scraped)

2

Whipping Cream (heavy)

330 g

Unsalted Butter

130 g
If you made this recipe I would really appreciate it if you leave a rating or comment below! Also, if you share on social media please use #cookwithbelula, I would love to see what you create!