Who can refuse a deep-fried pastry? Not me, for sure! These bugnes from Lyon also known as New Orleans style beignets, are so easy to make and require no proving, because guess what, no yeast! Just some rest time in the refrigerator so you can properly roll them out. Easy. Any excuse to make this a good with me. Hope you like them!
What is a bugne?
The word bugne means "beignet" in French, which means donut in English, but don't be confused they are not the same. They are an old pastry that existed already in Roman times and were consumed at the time of "carnival" or Mardi Gras. Almost every European country has its own version. I got to know this French version in school, and I loved them.
The bugne is a thin pastry, that uses baking powdered as a leavening agent, is scented with lemon scent, deep fried and then covered in sugar or dusted with powdered sugar.
Bugnes vs Beignets
Even though bugne and beignet mean the same thing, they denominate different ones: the former refers to thin pastry, scented with lemon, that is deep fried in hot oil and it's crunchy. It has no baker's yeast. The latter refers to donuts, a thicker dough, that has yeast and it is softer in texture. They can be filled with different creams, like these Raspberry filled doughnuts, and they can also be glazed. The bugnes from Lyon are just sprinkled with powdered sugar or rolled in regular sugar.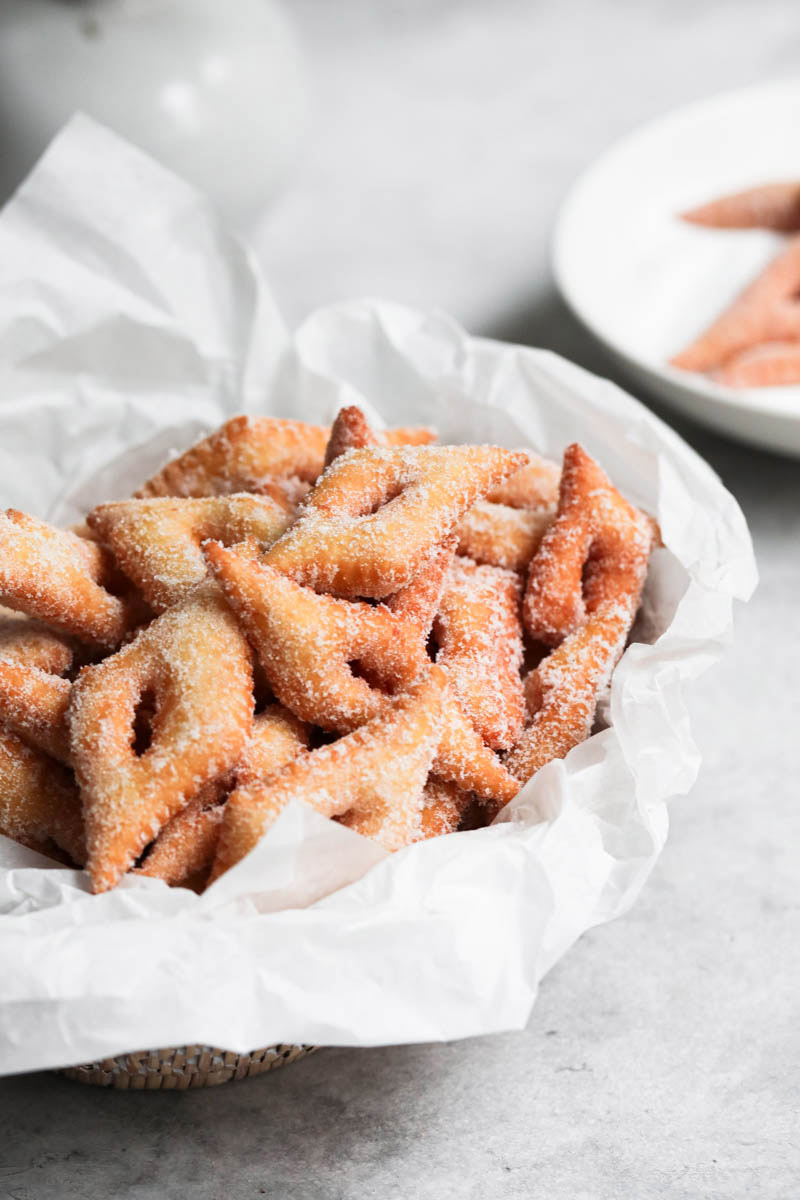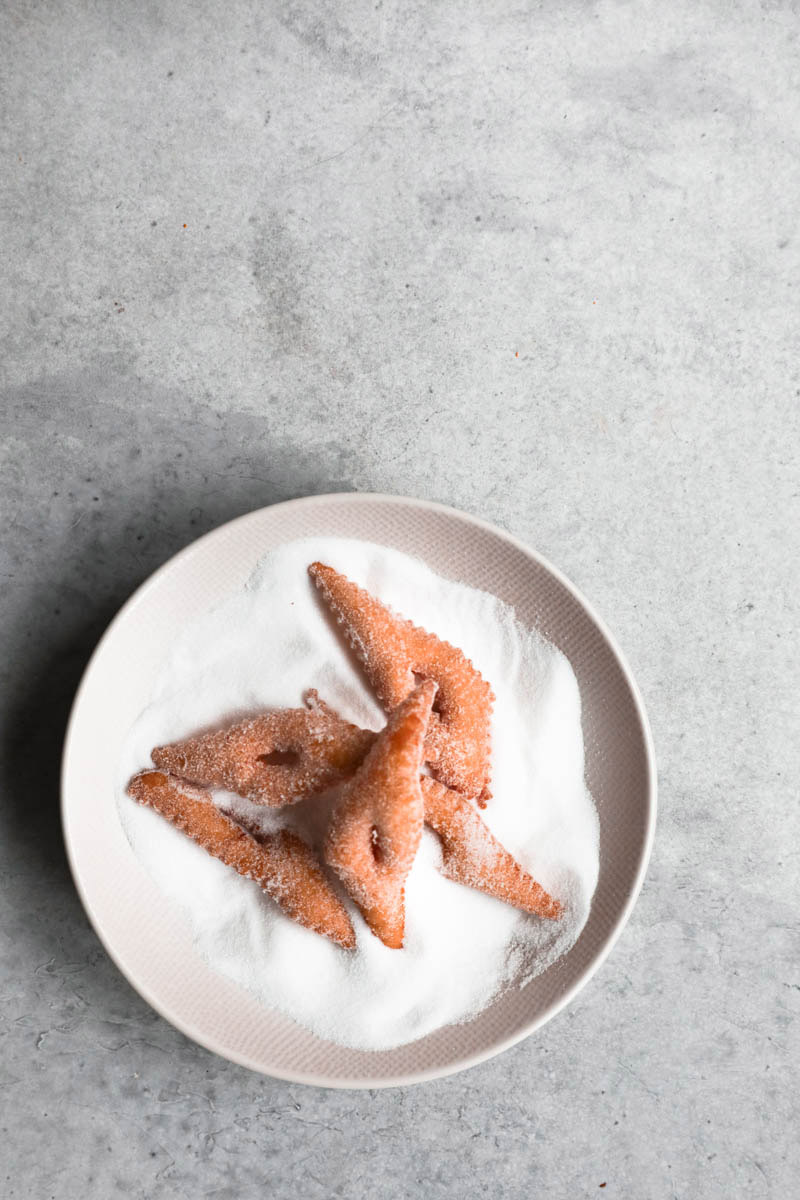 Making the dough
Making the bugne dough is straightforward:
In the bowl of a stand mixer mix all the dry ingredients – flour, salt, sugar, baking powder and lemon zest. Add the softened butter and using the paddle attachment mix it in.
Add the eggs one at a time and mix on medium speed. It might be a little sticky, even if you are tempted to add more flour, don't. It works. Just be patient.
Transfer the dough to lightly floured surface and gently knead the dough for a few minutes, by folding half the dough over itself on pressing with the palm of your hand. Repeat until it has come together. Do not over work it.
Roll it out up to half a centimetre, transfer to a baking tray lined with parchment paper (lightly floured also) and cover in plastic wrap or beeswax paper. Refrigerate for about an hour.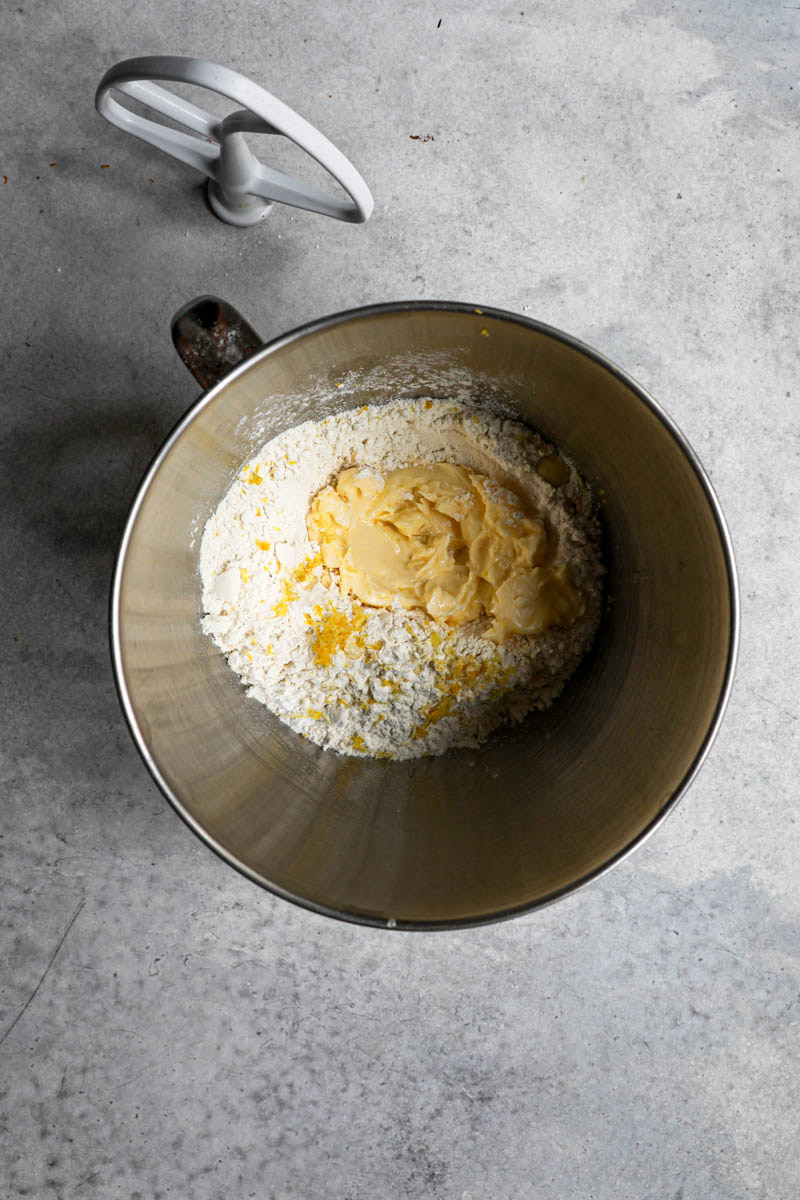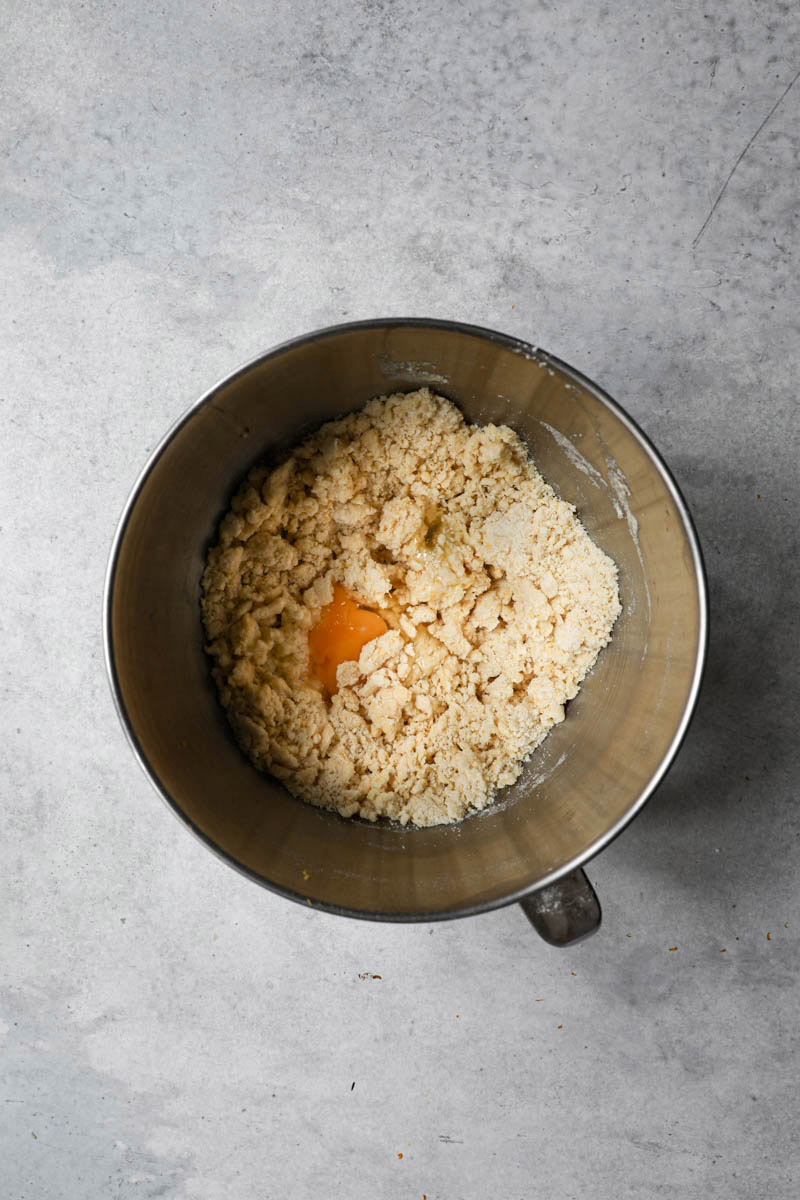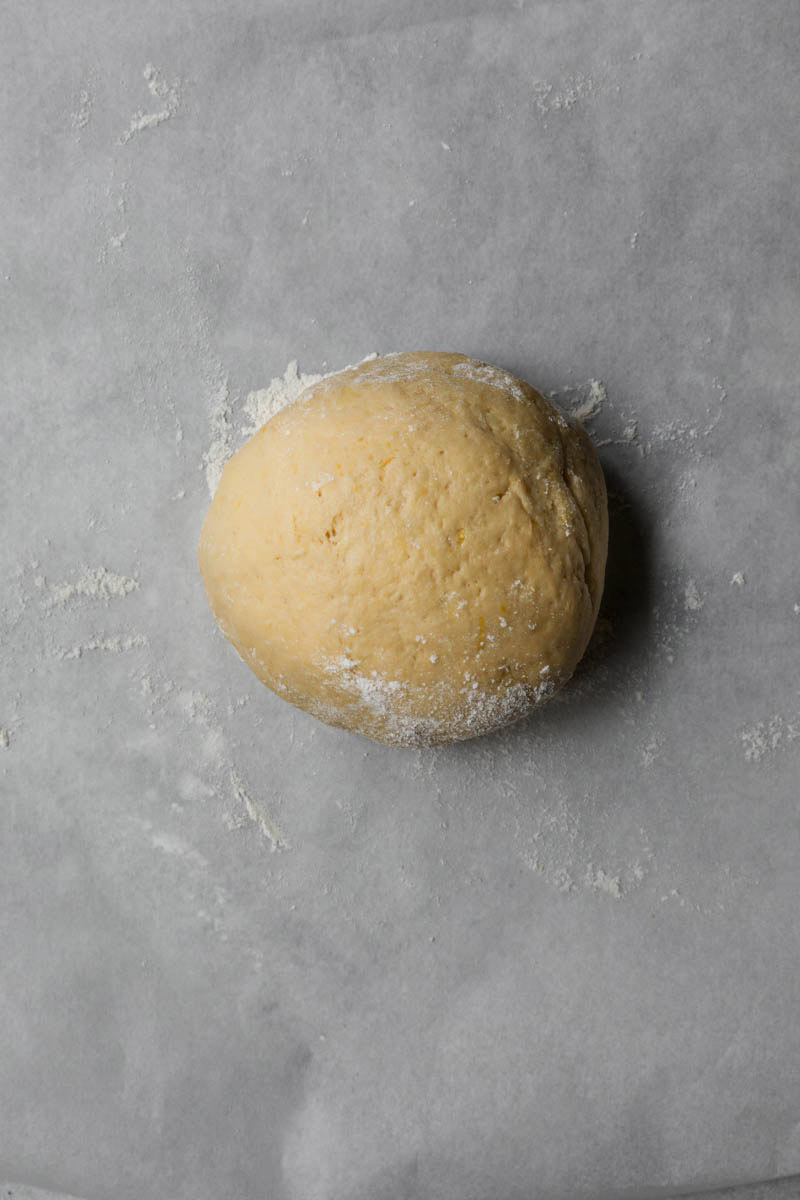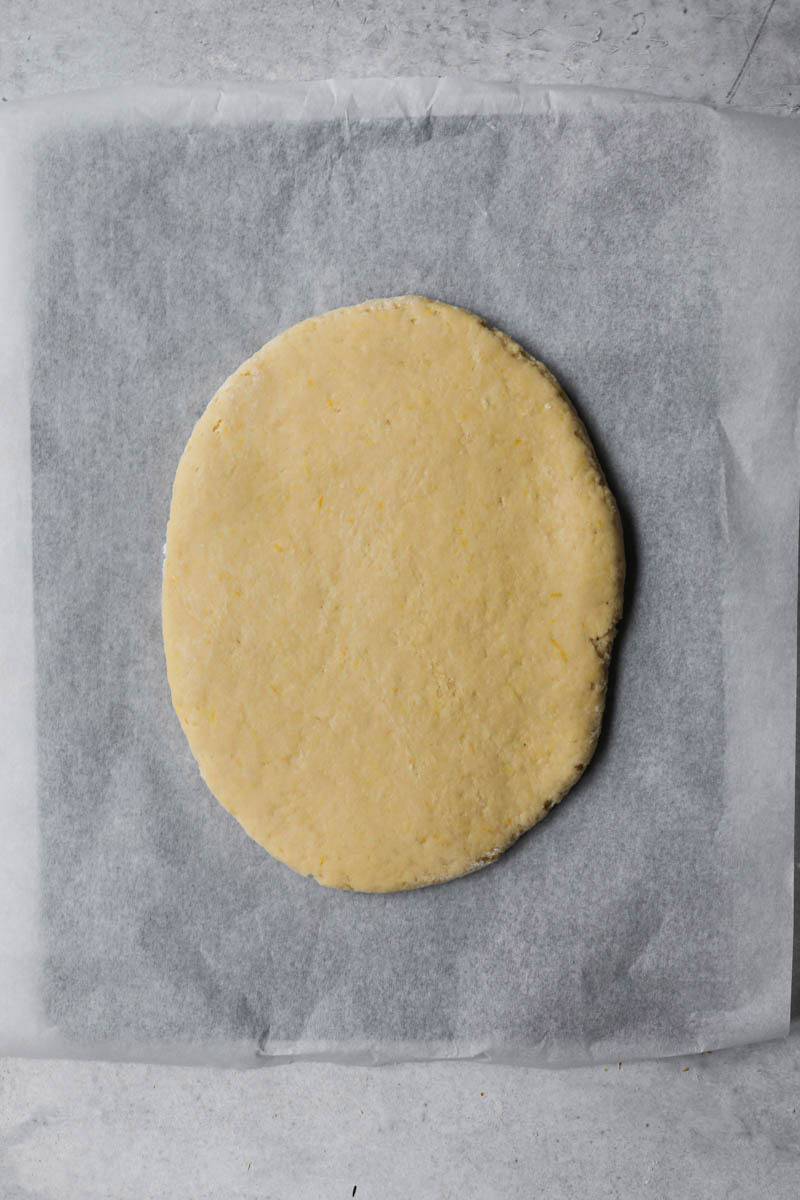 Rolling out the dough and shaping the bunges
Bugnes are easy to prepare. The tricky part is that the dough could get sticky when rolling it out so it's best to work with it when it's cold. You should:
Lightly flour your work surface and roll out the dough to about 1 mm (as thin as you can). This can prove tricky because the dough is pretty sticky... so make sure your work surface is always lightly flowered. It will prevent the dough from breaking and sticking to the table.
Cover with plastic wrap and refrigerate for about 20 minutes. It has to be cold so that you can properly shape the bugnes. Once it's cold enough, using a knife or a pasta cutter wheel if you have one, cut the dough into rhombus shapes (kind of like tilted rectangles). Finally cut a small window in the middle of the rhombus.
Note: if you feel the dough getting sticky and difficult to work with, cover once again and put the dough back in the fridge until it has hardened a bit. Patience is important in pastry making! I learned it the hard way!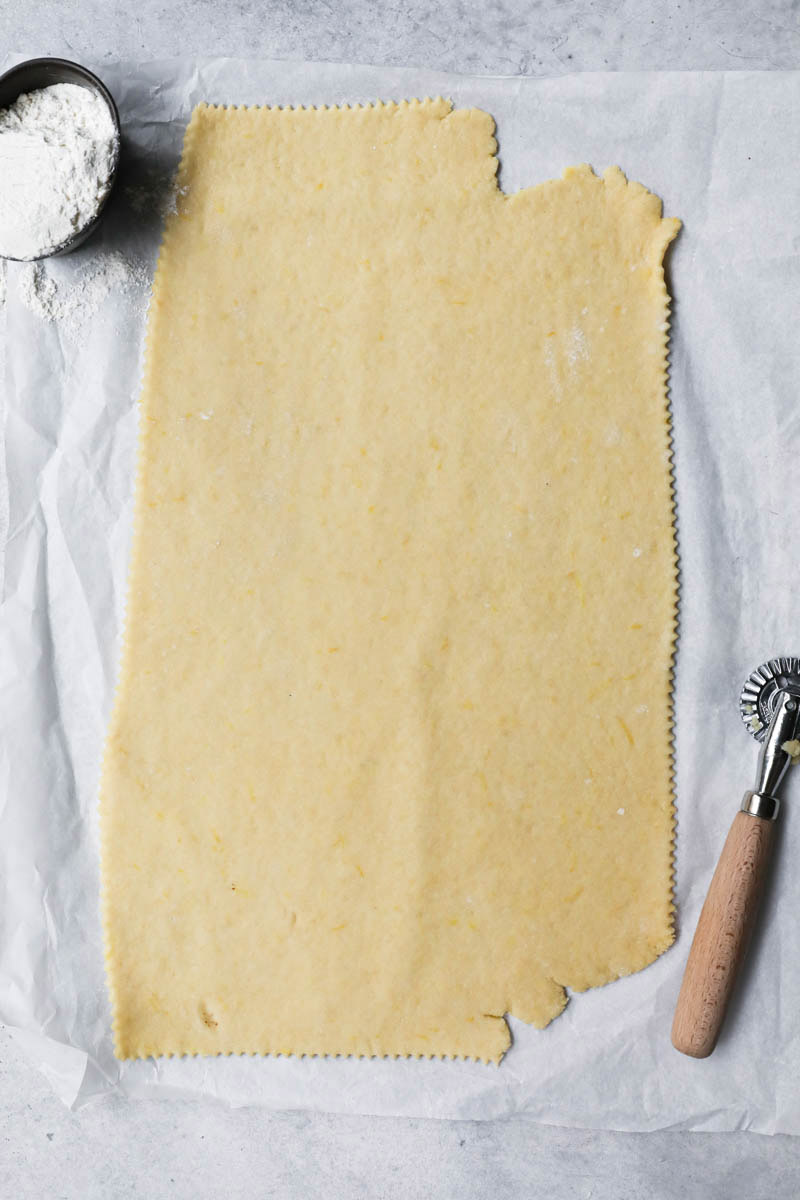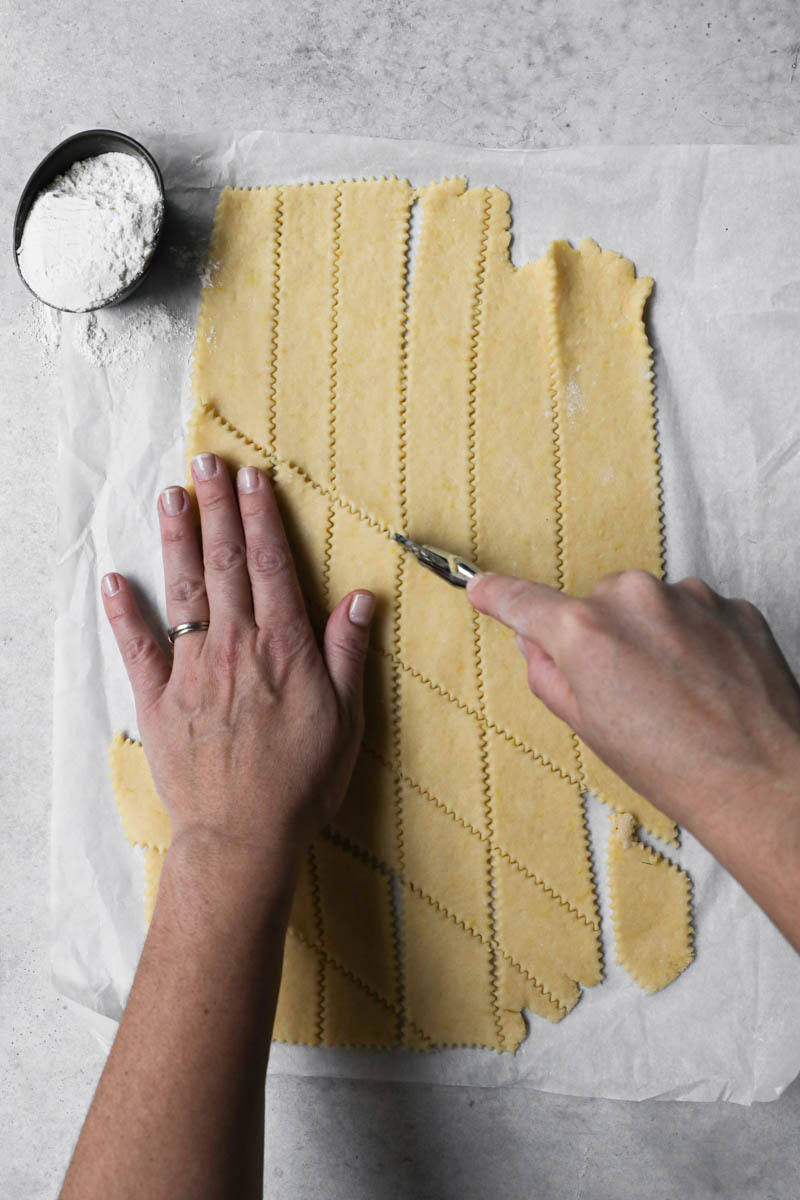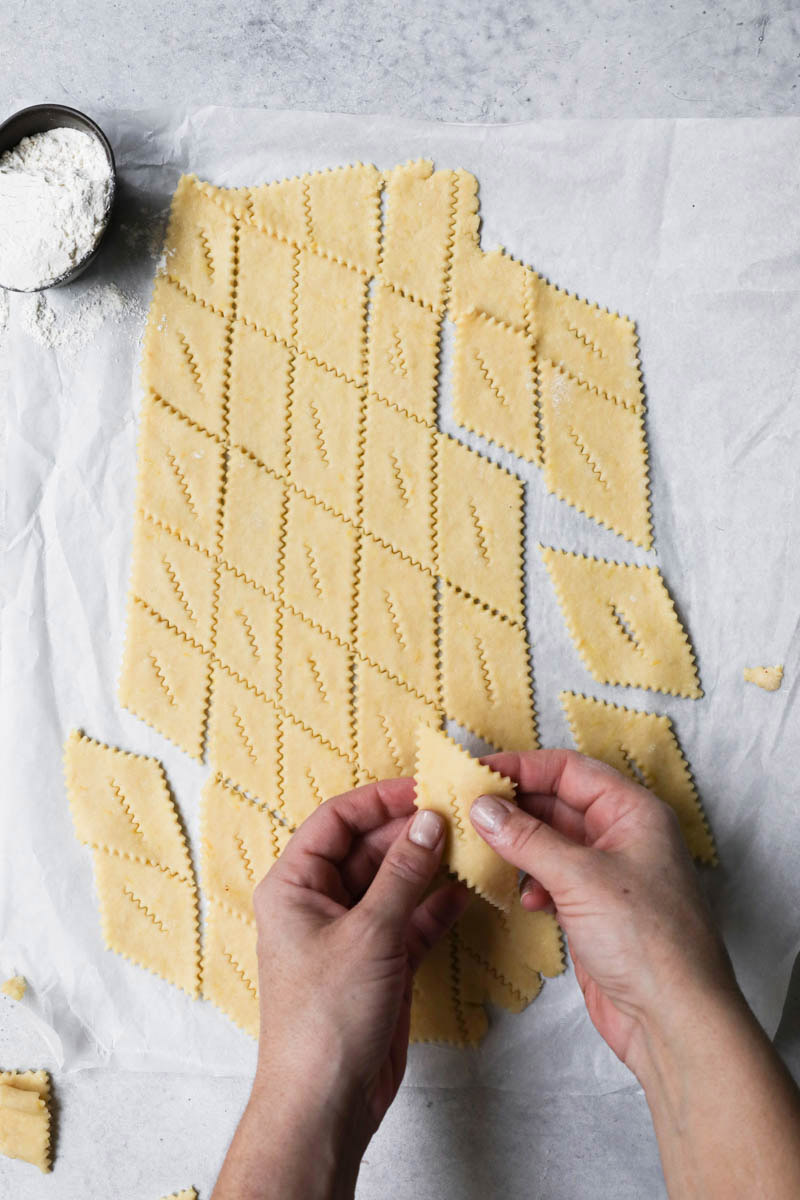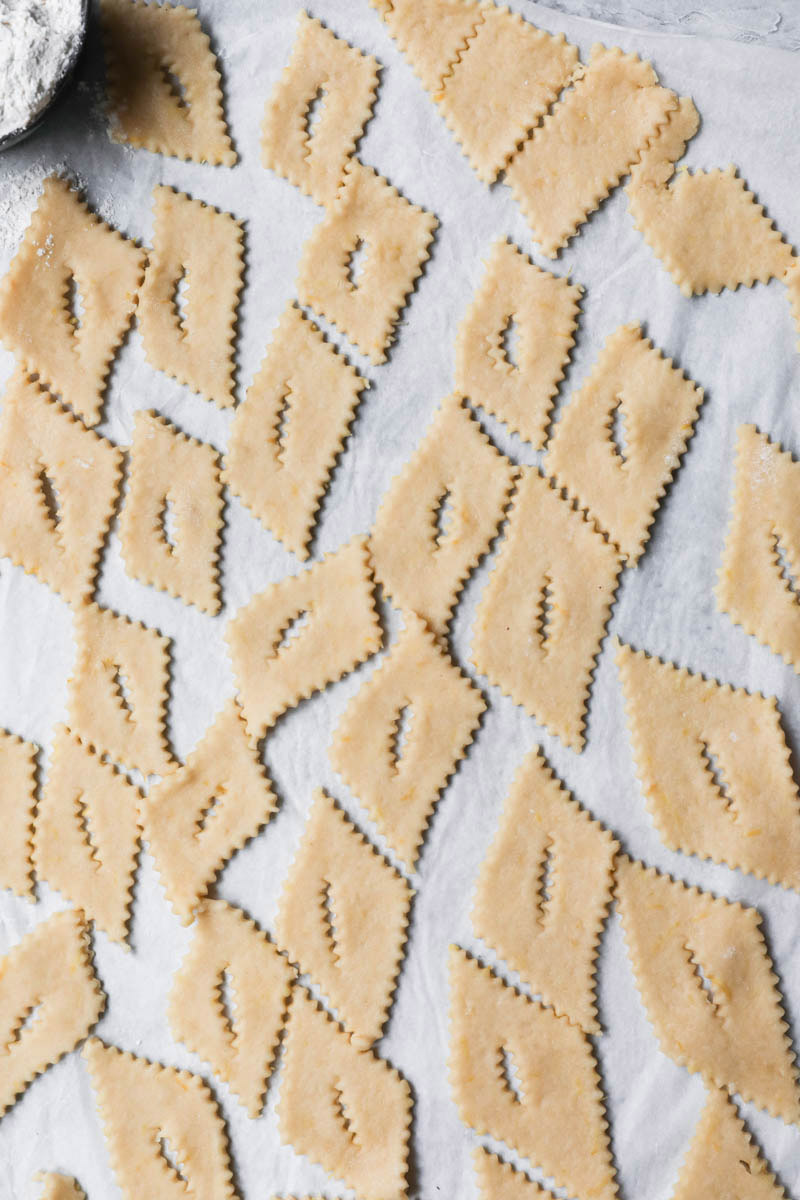 Frying the bugnes (spoiler, you can do this without a thermometer)
Before frying anything, you need to prepare your workspace so you can work calmly:
Fill a large pan with approximately 2 litters of sunflower oil. Heat it to about 170/180 degrees Celsius, check the temperature by clipping the thermometer to the side of the pan.
Line a baking tray with paper towel. Set a skimmer next to it. Prepare a bowl with plenty of sugar (or a fine mesh and powdered sugar).
Note: if you don't have a thermometer, you can test the temperature of the oil with small pieces of dough. It needs to start foaming right away and the piece of pastry should rise to the surface in no more than 5 seconds. Then your oil is at good temperature. Otherwise, it's still cold. Be patient and keep testing!
Once everything is set up:
Fry the bugnes in batches. How many per batch will depend on the size of your pan. I fried 5 or 6 at a time in a 20 cm pan.
Turn them over after 2 or 3 minutes (they must be beautifully coloured) and cook until golden.
Using a skimmer remove and set on the lined baking tray with paper towel.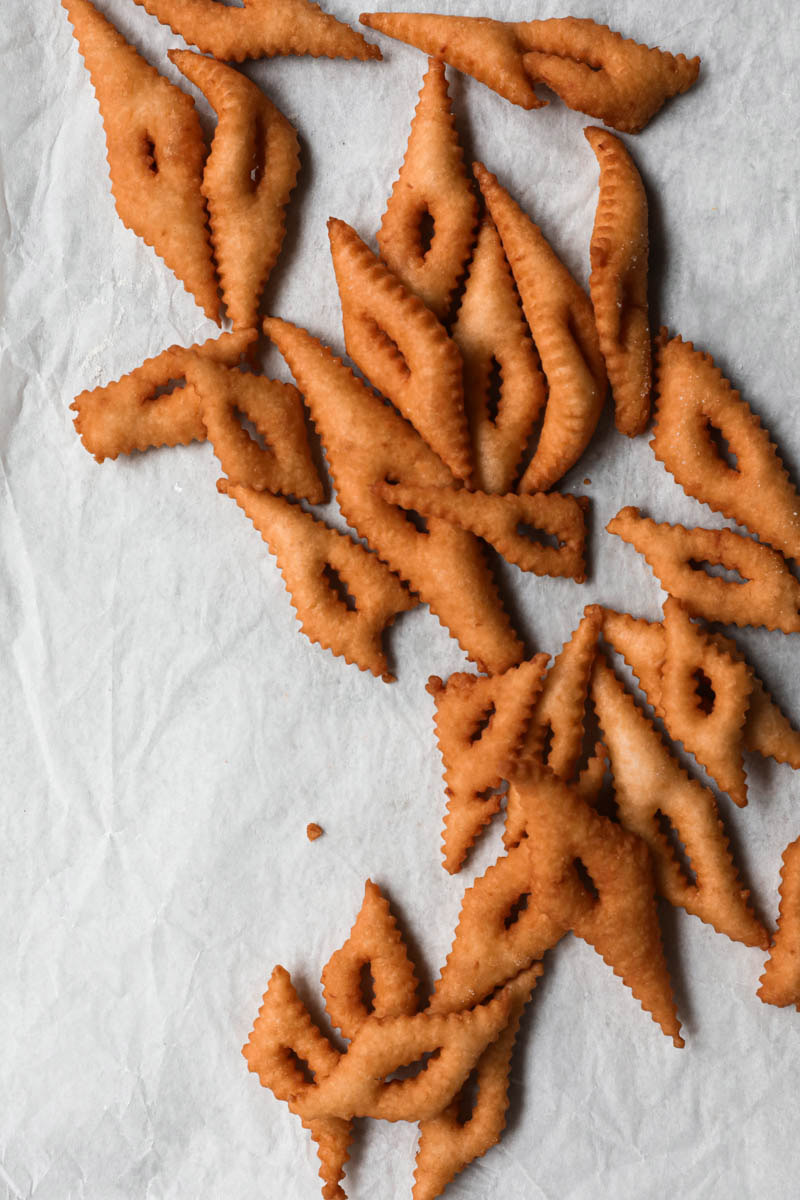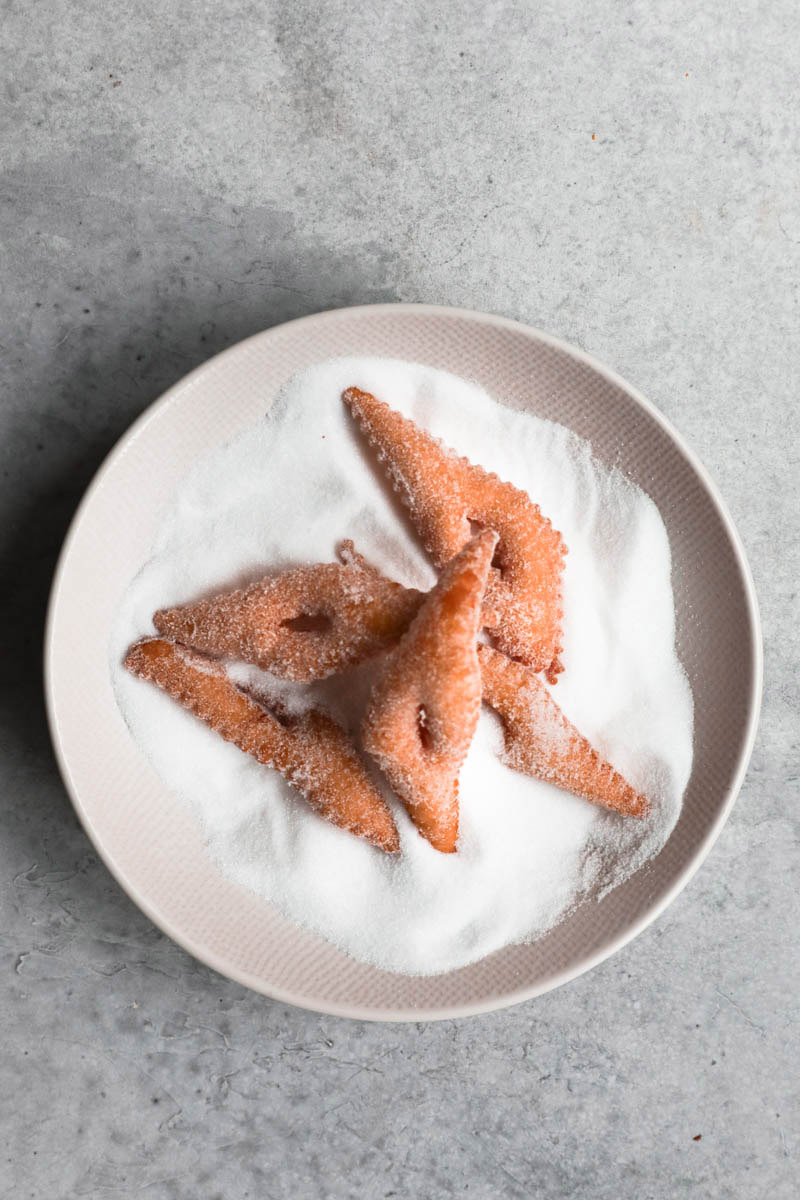 Granulated sugar or powdered sugar?
Once the bugnes are fried, dried up and still warm you should coat them in some kind of sugar. You have 2 options:
Transfer to the sugar bowl and roll the pastries in it until properly covered in sugar. To do this the bugnes have to be warm.
Or you can sprinkle them with powdered sugar.
The choice is yours! If you are going for a New Orleans style beignet, then most definitely sprinkle with powdered sugar! I prefer them rolled in regular sugar. Up to you!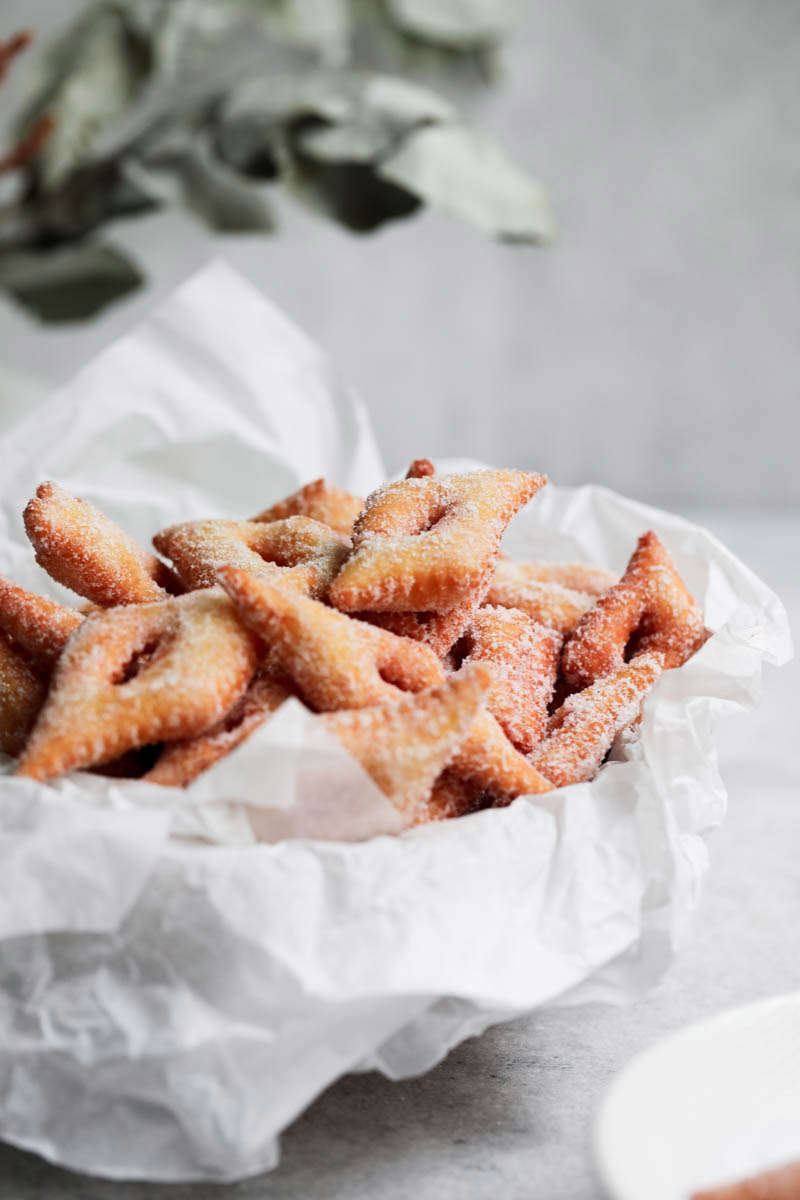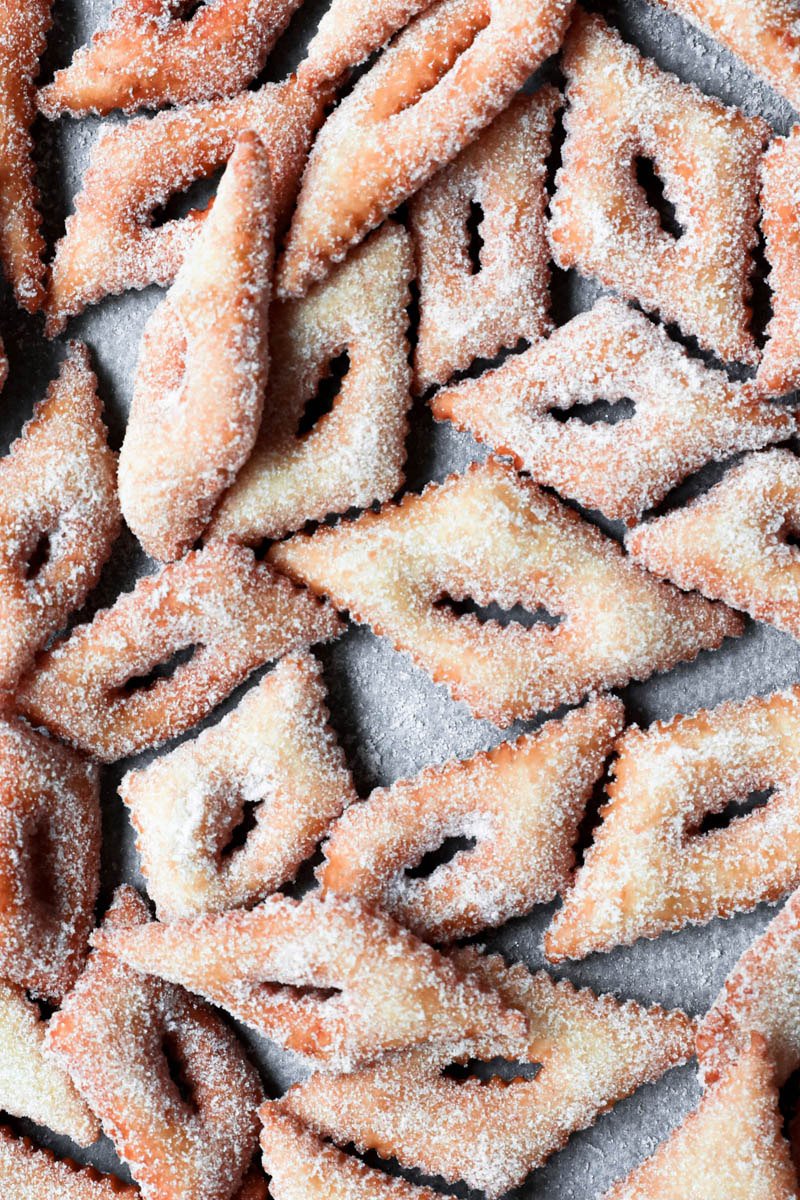 How long do they last?
They are best eaten when freshly made. However, they hold their ground for up to 1 day, they become hard after that.
Freezing bugnes
You can freeze the dough after you have shaped it into bugnes and before deep frying. They keep for up to 1 month properly wrapped.
To defrost: let them sit at room temperature over a piece of parchment paper for 1 hour or until soft enough to deep fry.
If you made this recipe I would really appreciate it if you leave a rating or comment below! Also, if you share on social media please use #cookwithbelula, I would love to see what you create!