Bread Pudding
Leftover Easter cake mixed with some milk, eggs, and sugar plus lemon and orange zest for flavor result in a delicious pudding baked like a crème caramel.
A few weeks back I made Easter Cake, and I made too much... I kind of always tend to go in that direction. Exaggeration could be my middle name. At the time I didn't know what to do with all that cake so I wrapped it in plastic - a lot of it - and stored it in the freezer.
Last week I decided to go through my freezer and organize it a bit; we are moving to new home soon so I have to use everything that's in there before we do so. That's when I came across the beautifully wrapped Easter cake. When I saw it I knew I had to make something of it, just wasn't sure what exactly. So I put it back in the freezer and went about my day.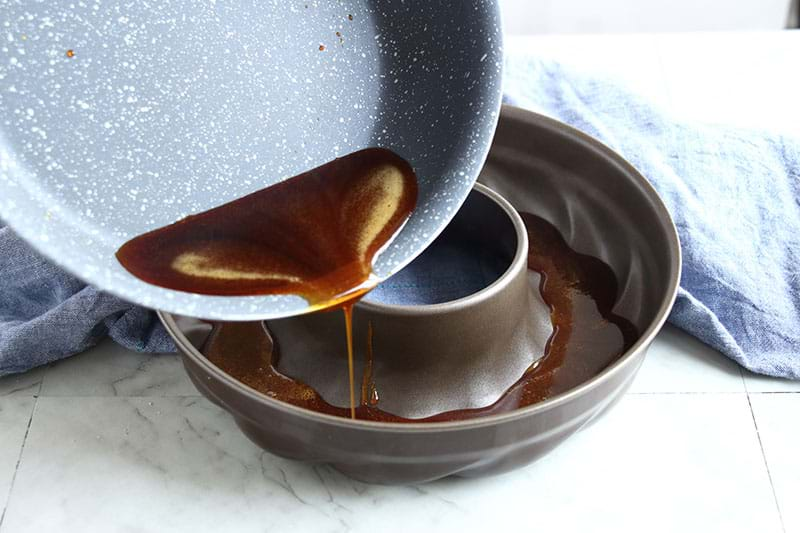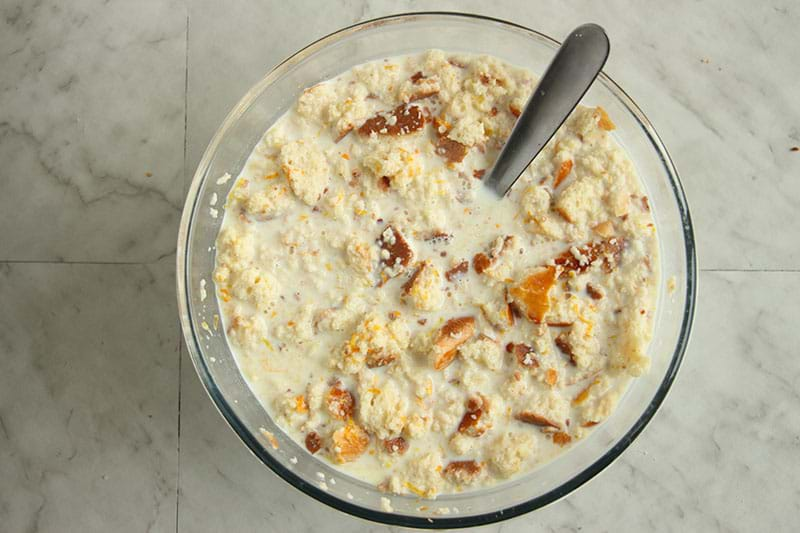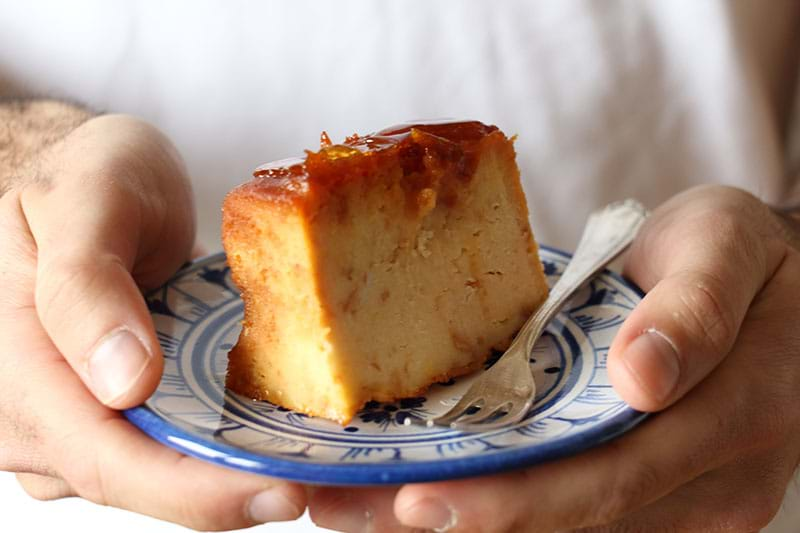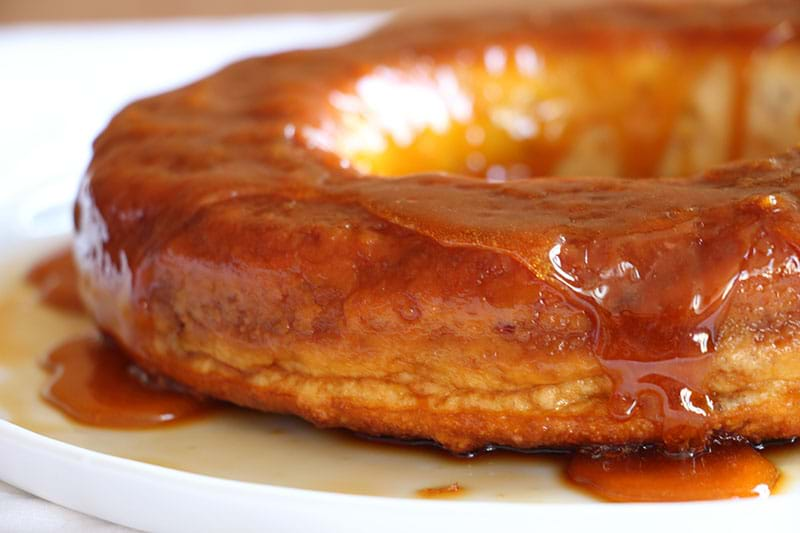 On Thursday I learned we were hosting lunch on Sunday for some friends and my mother and father in law. And that's when things came into place: me wanting them to impress them with my pastry skills, the frozen Easter cake and the memory of the Bread Pudding my mom loves. It was settled: I was making 'Budin de Pan'.
This dessert is usually made with old or stale bread, a very clever way to use leftovers and not throw food away really. It reminds me of childhood, and of how much my mother liked this dessert, and on how keen she was for us to like it too. Never really succeeding, until now. She's going to be happy when she learns this. Plus I made and extra one so she can try it herself when she arrives in Paris in a on Wednesday!
So leftover bread. You can actually do it with whatever you have leftover that you don't want to throw away; brioche, croissants and like in this case Easter cake. You have to soak your bread in milk for a bit to soften it, mix it with some eggs and then bake it in the oven crème caramel style. This means in a caramel lined mould in a "bain marie". So easy and so tasty.
I am happy to report mine was a big hit! I couldn't stop smiling when everybody had second servings!! I put out some dulce de leche and Chantilly Cream in case someone wanted a little something extra. By itself it's also very good though!
If you made this recipe I would really appreciate it if you leave a rating or comment below! Also, if you share on social media please use #cookwithbelula, I would love to see what you create!
Budín
Whole Milk

500 ml

Easter Cake (bread/brioche)

250 g

Sugar

60 g

Honey

2 tbsp

Eggs

3

Orange

1

Lemon

1
Caramel
Caramel

1. Pour the sugar on a pan over high heat and let it cook. When the sugar starts melting and changing colour you can mix using a wooden spoon. Because we are not using water there's no risk in stirring your caramel to make sure all the sugar is dissolving properly.
2. When it attains a darkish colour (not to light but not dark either. Remember caramel burns fast) remove from the heat and pour over the crème caramel mould. Properly and evenly distribute de caramel so that it has lined the pan.
3. Let it cool down.
4. Tip: Make sure you use a kitchen towel to distribute the caramel because it will make your mould very hot and you risk to burn your hands.
5. If you don't feel comfortable making caramel this way add 3 tablespoons of water and cook over high heat without touching it. Once it has changed colour and the bubbles have begun to reduce in size remove from the stove and proceed the same way.

Pudding

1. Pre-heat the oven to 160 degrees Celsius.
2. Prepare an oven tray and fill it with hot water.
3. Using your hands cut the bread in small pieces add the zests of the orange and the lemon. Soak it in the milk for about 15 minutes or until soft. This time will change depending on how hard your bread/brioche/croissant/Easter cake was to begin with.
4. Tip: If you have the time soak for a couple of hours so that the flavours can properly develop.
5. Mix the eggs, sugar and honey until combined.
6. Pour the egg/sugar mixute over the bread/milk mixture and mix until combined.
7. Place the previously lined mould in the oven tray filled with water.
8. Pour the batter into the mould. Bake for about 40 to 45 minutes. Verify by poking with a knife or a skewer; if it comes out dry then it's ready. Remove from the oven and let it cool down at room temperature.
9. Once it has cooled off refrigerate for a couple of hours.
10. Unmould just before serving.
11. Tip: Patience is very important to the unmoulding part of the equation. Run a knife through the edges and then turn the pudding upside down on your serving dish. Wait for a few minutes and verify if it has fallen from the pan. If it hasn't wait some more. It will eventually unmould. It always does.