Apple Yogurt Cake
This apple yogurt cake is an easy one bowl recipe. It takes almost no time to make and it is delicious, flavored with vanilla and super moist thanks to all the apples.
I never used to like fresh fruit in my cakes. And now I just can't enough of them! The apples give this yogurt cake recipe that extra moist and the delicious flavour. If you are all about cleaning as little as possible when you are in the kitchen, then this super easy recipe is for you. All you need is a whisk and one bowl. And the ingredients 😉. It is the prefect cozy fall dessert!
What is French yogurt cake?
It is a classic cake kids in France learn to make when they are small that uses plain yogurt or greak yogurt. It is a great first cake to learn because It's easy and the yogurt case can be used as a measuring cup for the rest of the ingredients.
You can then flavour the yogurt cake as you like, in this case I made it an apple cake. Still easy.
What does yogurt do in cake?
Yogurt makes cake extra moist because of its creaminess and a different flavour thanks to its tanginess.
It can be used instead of cream or mayonnaise in cakes. And it makes it a little healthier 😊.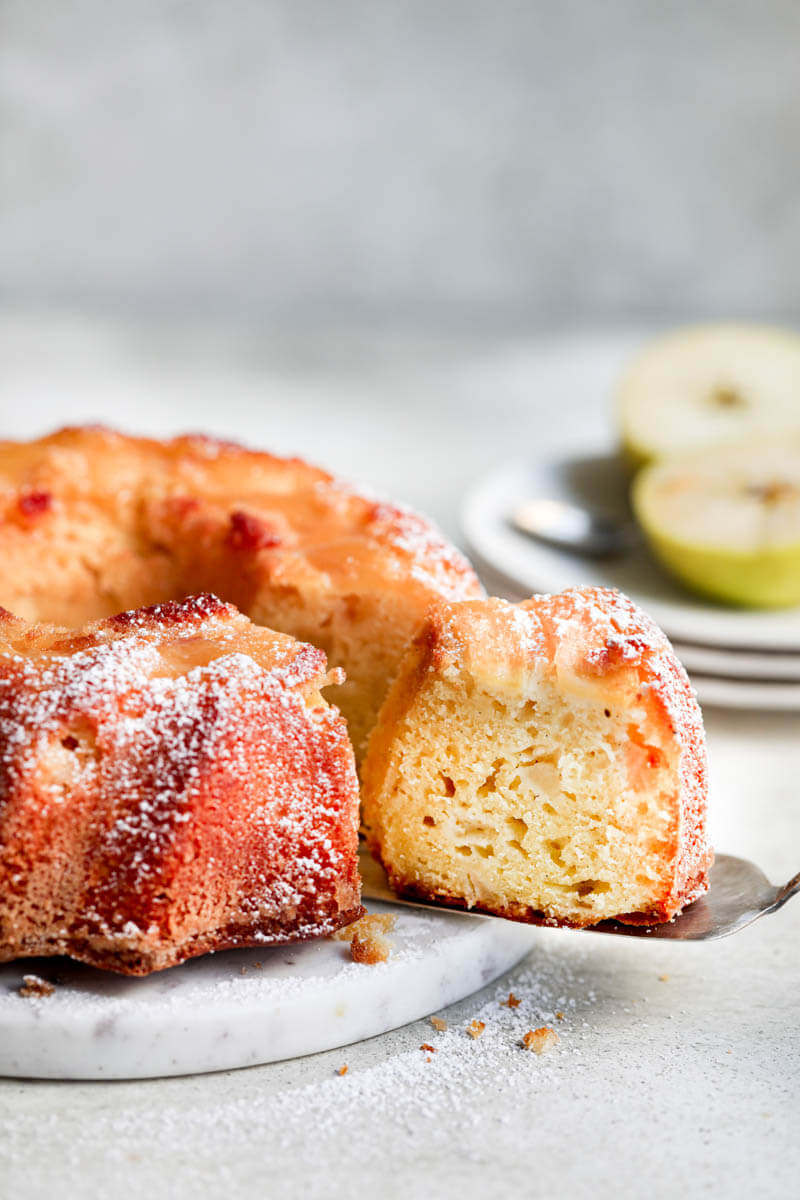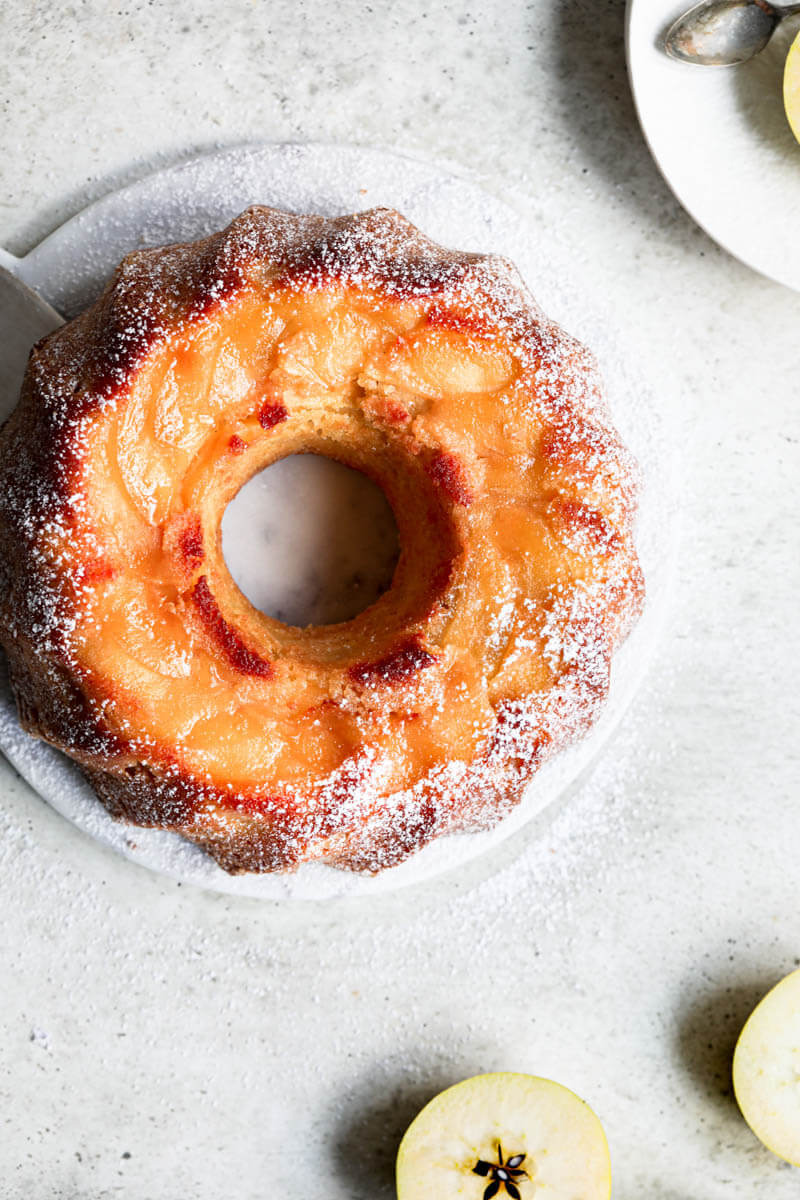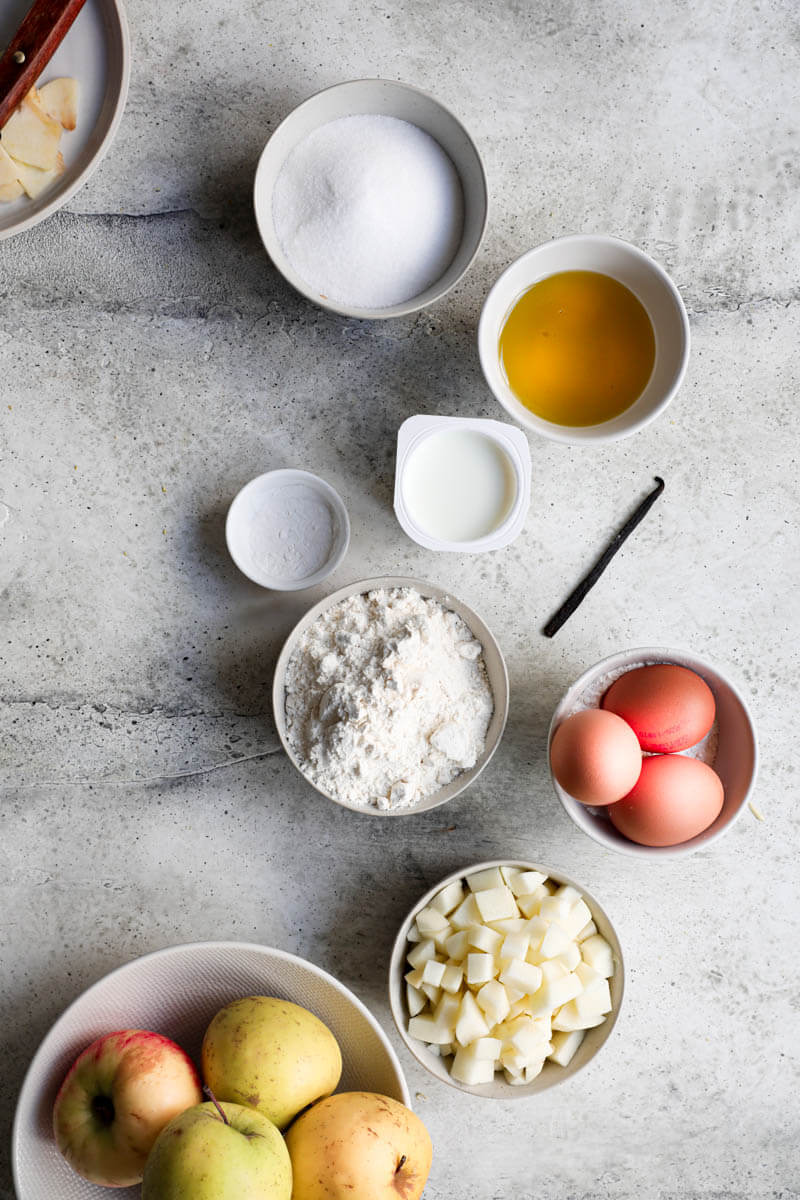 Utensils and ingredients to make apple yogurt cake
Yogurt: plain or Greek.
Olive oil: extra virgin olive oil, a good quality one.
Eggs: medium size and fresh if possible.
Vanilla bean: you can replace by vanilla extract too. Or add cinnamon instead if that is your preference.
Dry ingredients: baking powder, flour, salt, and sugar.
Apples: a kind that has low content water as Golden or Elstar.
A 20 cm in diameter round Bundt cake pan.
A brush, a mixing bowl, and a whisk.
How to make fresh apple cake?
To make this easy apple cake you must:
Butter the mould and cover it with sugar. The sugar will absorb some of the moist from the apples and create a little crunchier exterior layer.
Mix the yogurt with the eggs and the olive oil. Add the vanilla bean grated.
Whisk in the sugar. Mix until combined.
Add the dry ingredients (salt, baking powder and flour). Mix until combined and there are no more lumps present.
Fold in the apples cut into small cubes.
Cover the bottom of the pan with thinly sliced apples and brush with melted butter.
Fill the cake tin with the cake batter. Spread it out evenly.
Bake until golden brown. About 45 minutes. Let the cake sit for about 10 minutes then unmould, brush the top with melted butter, sprinkle with sugar and re-bake until the apples on the top have caramelized!
Let it cool down over a wire rack.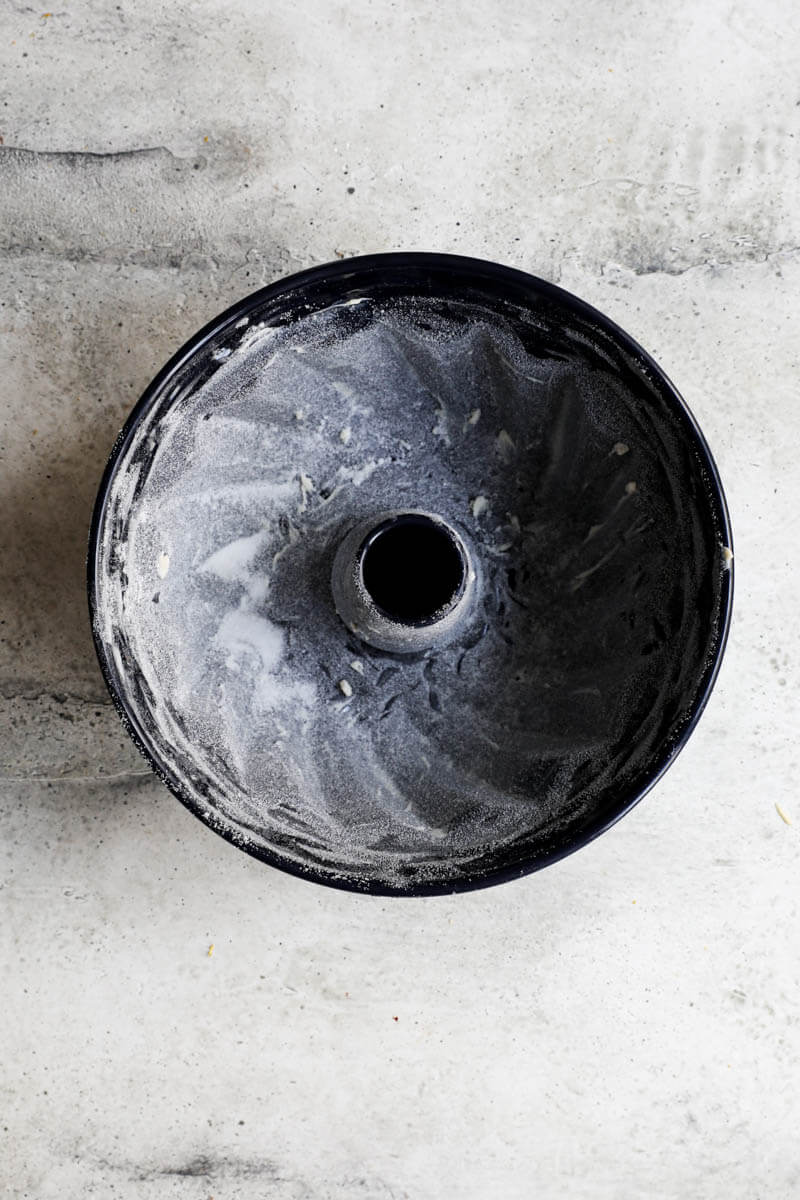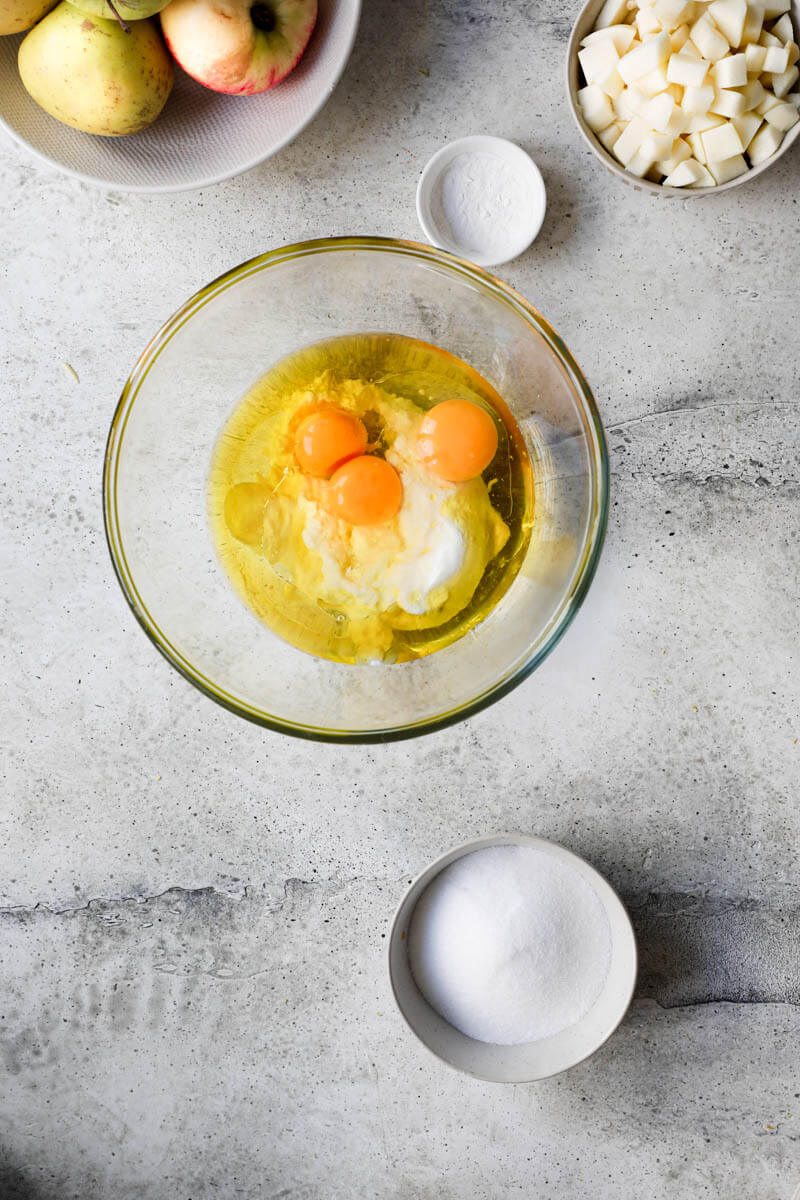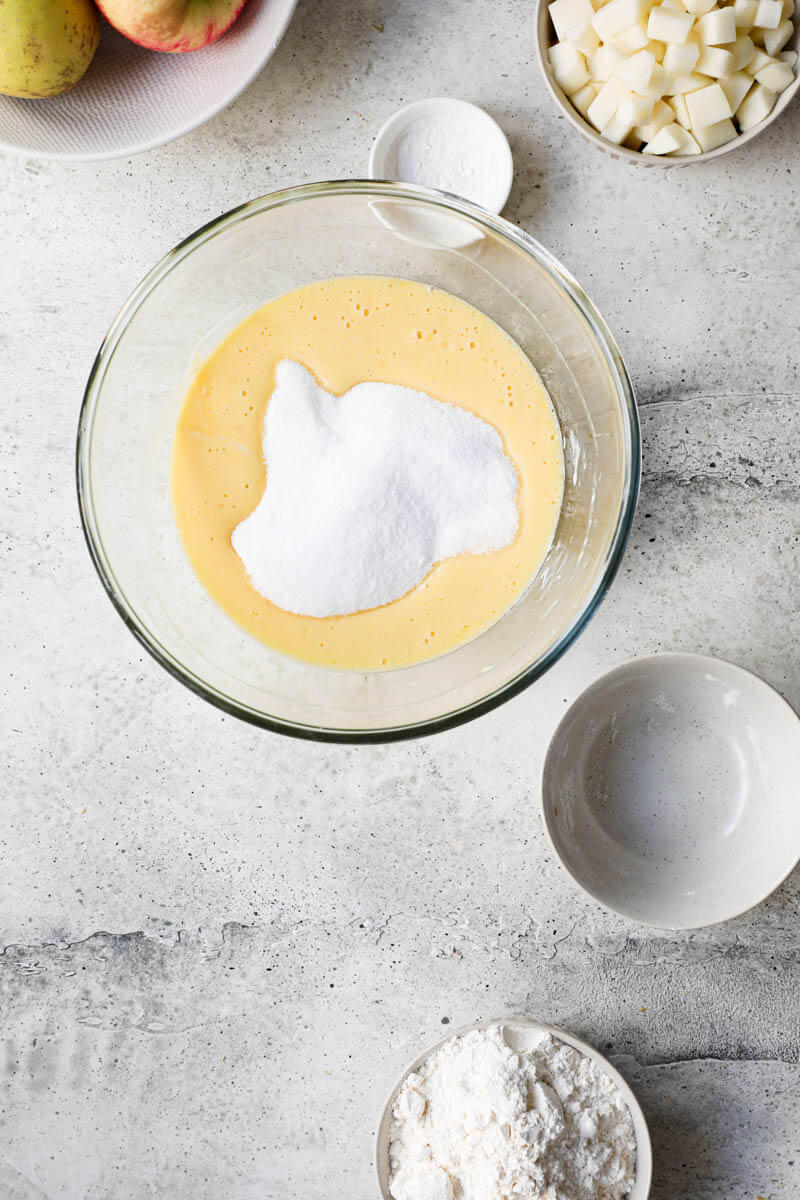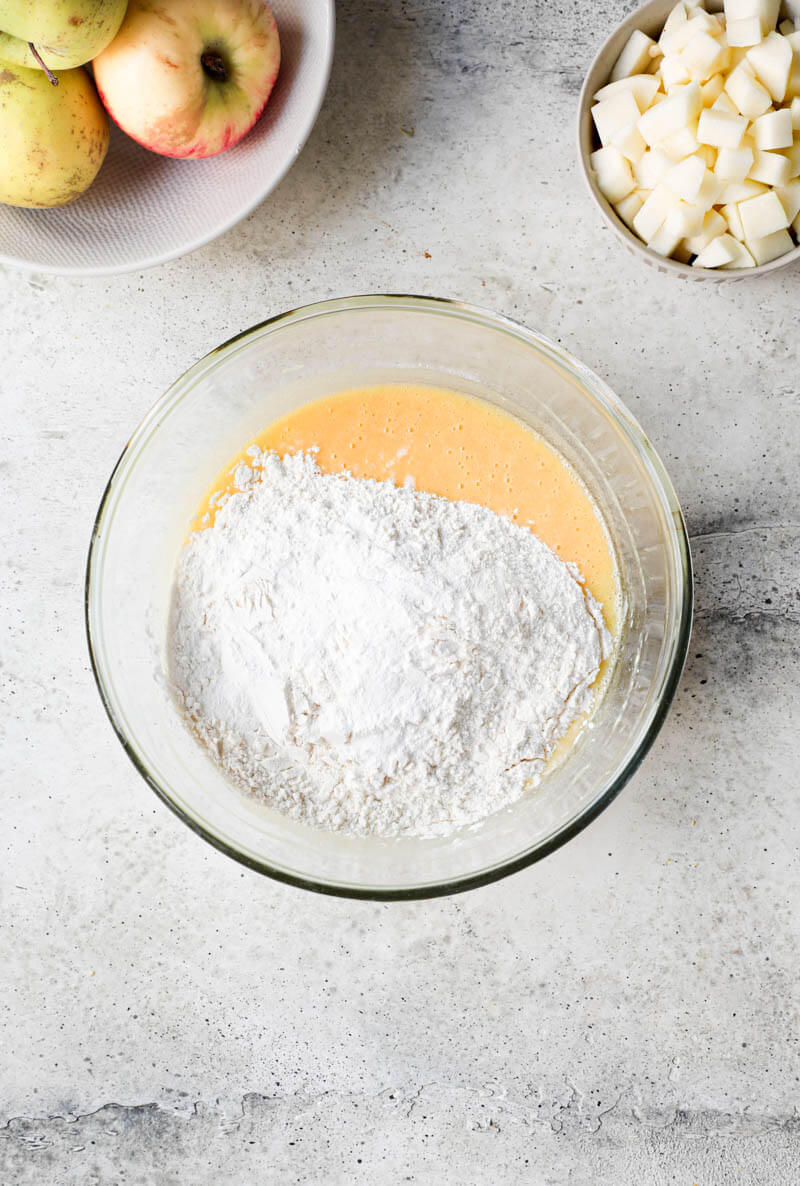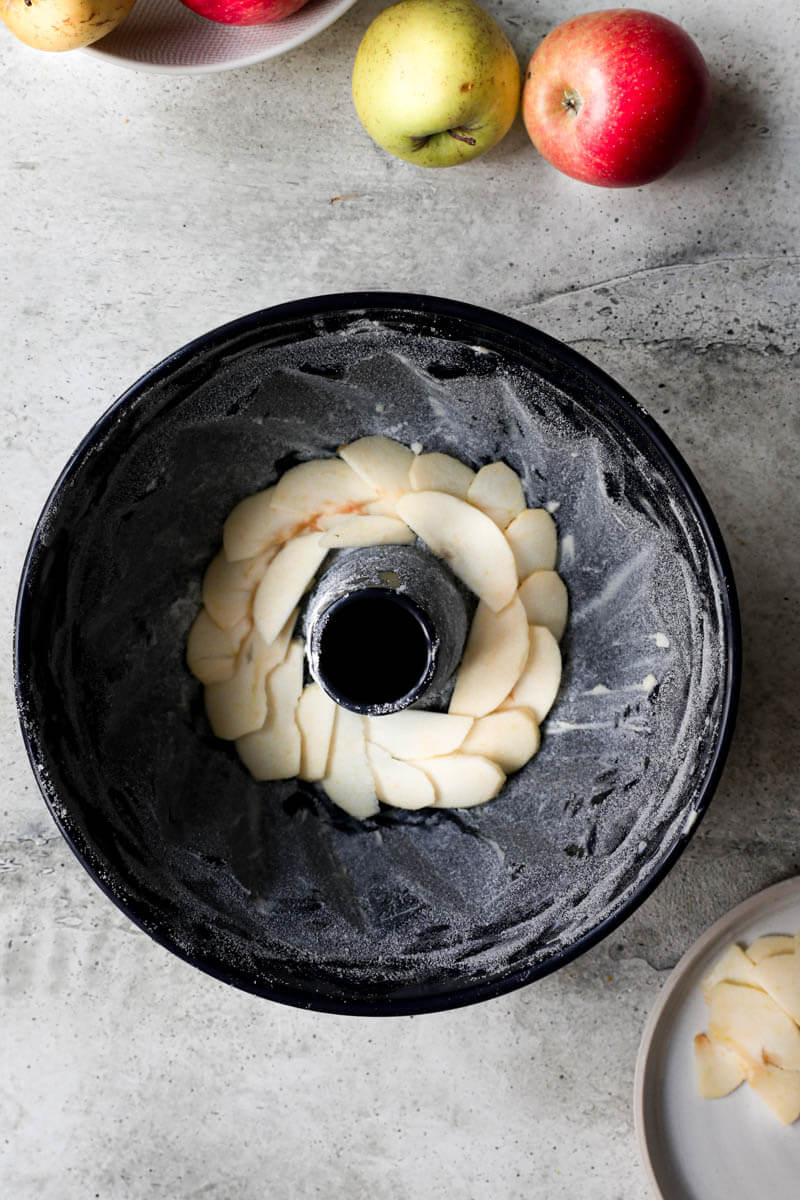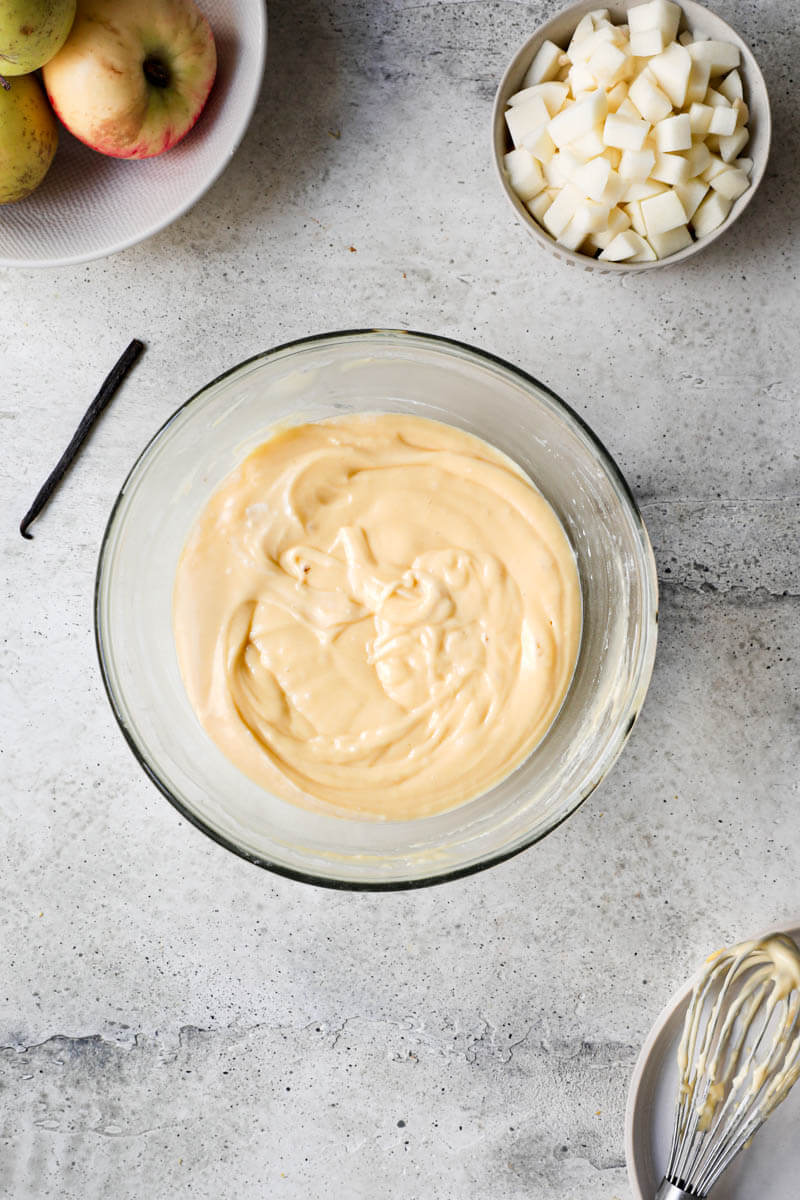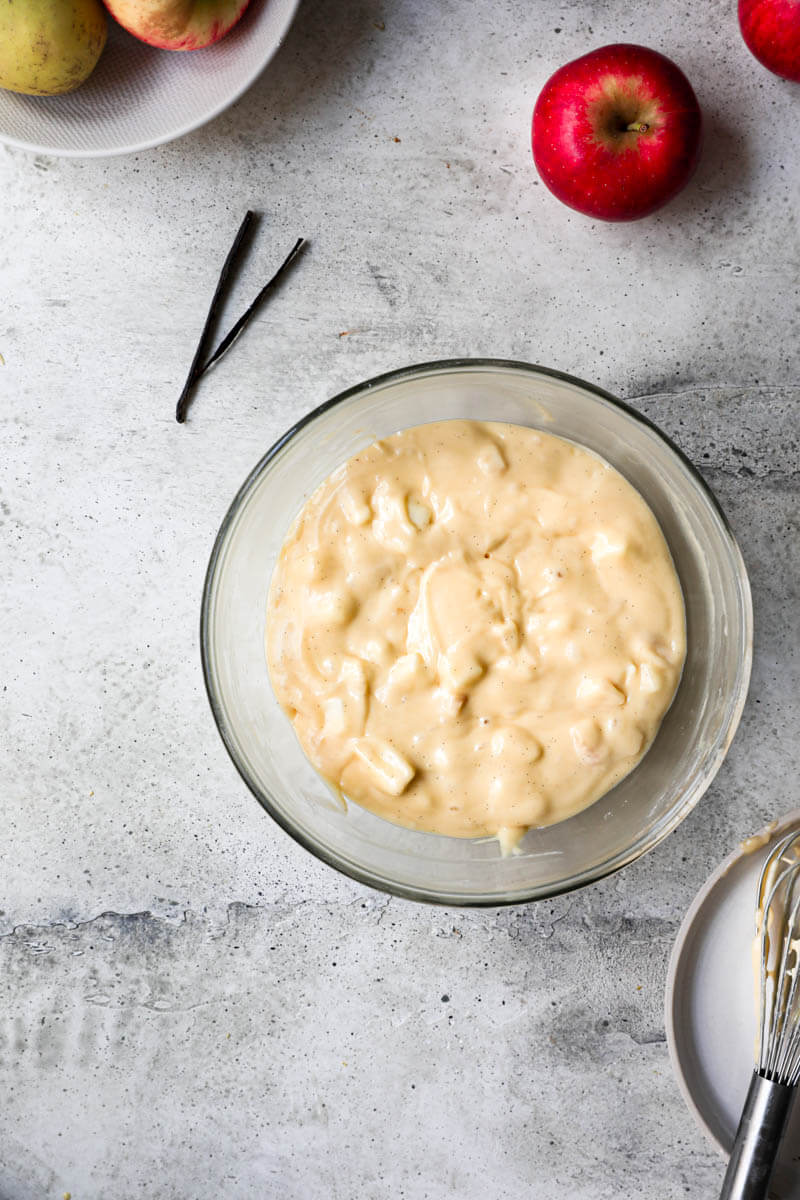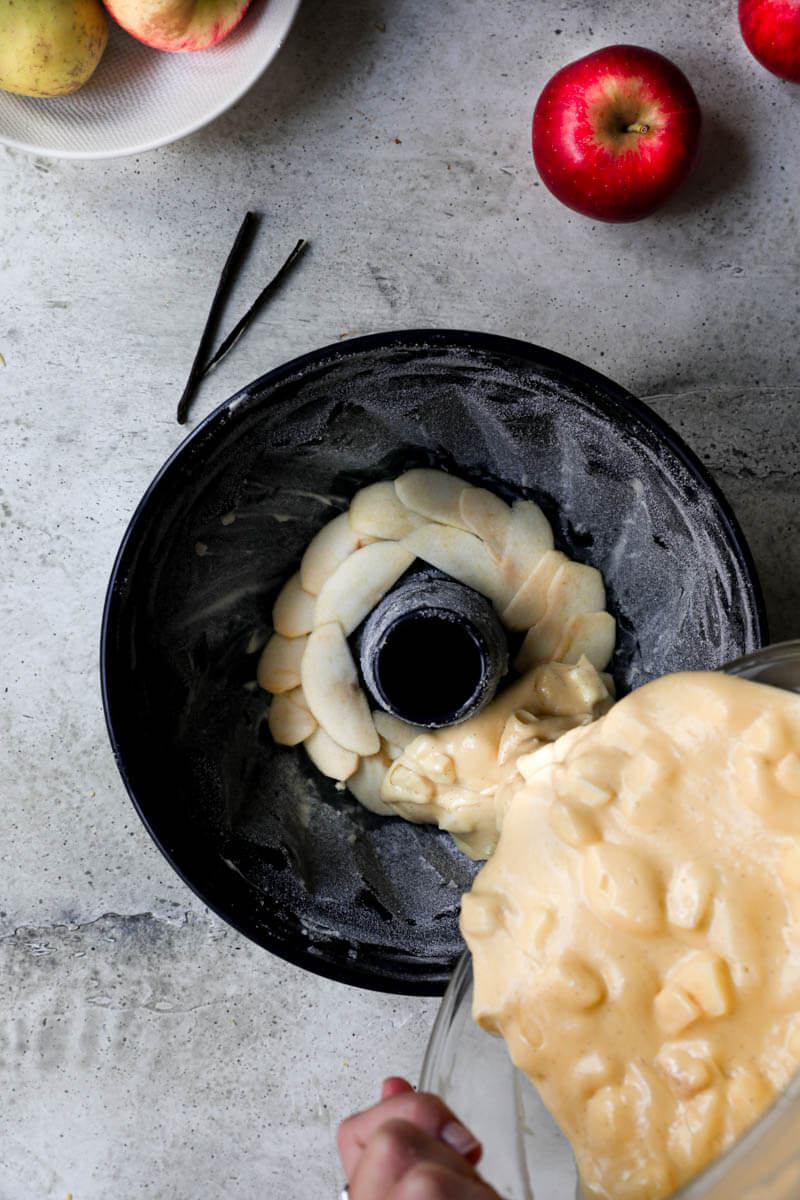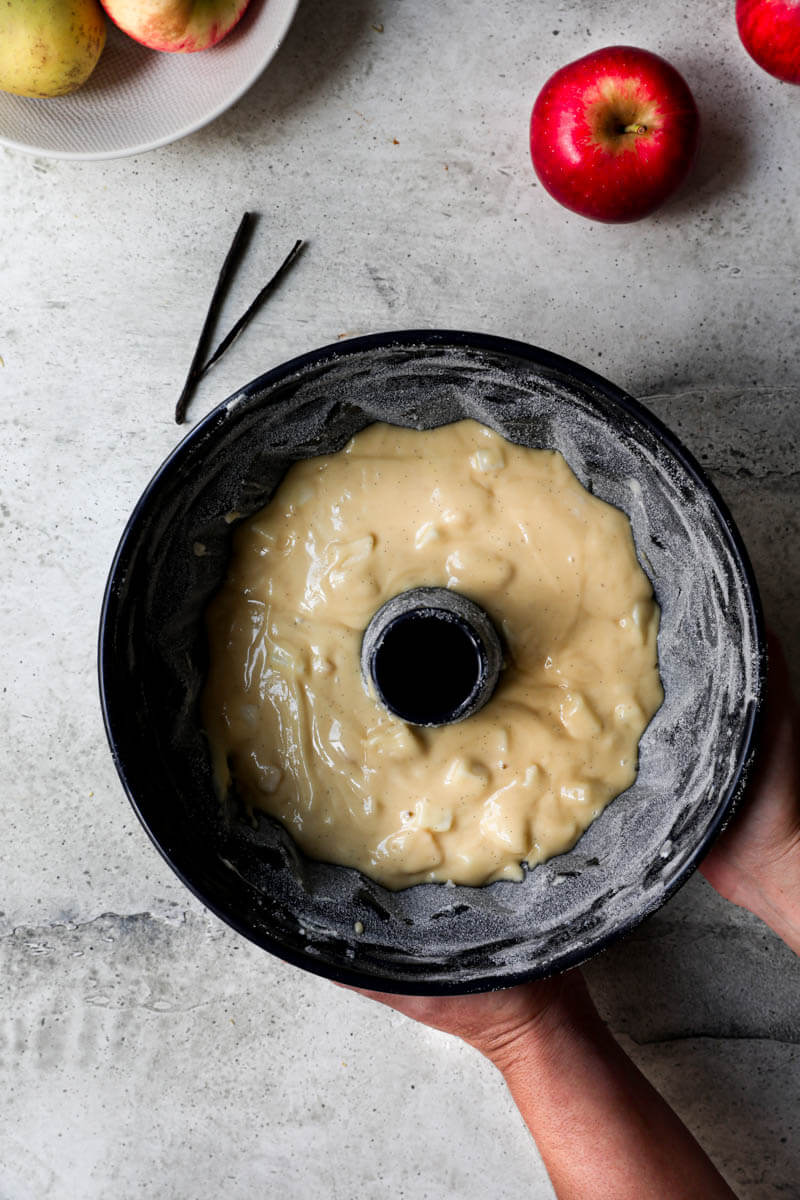 How long will apple cake keep?
This one bowl apple cake will keep for about 5 days at room temperature. Apple cake does not need to be refrigerated; it can sit out on your counter.
Can you freeze yogurt cake?
Plain yogurt cake can be frozen. After it has cooled off, cover and transfer to a freezer friendly container. Keep for up to 1 month.
This apple yogurt cake however, I do not recommend freezing on account of all the fresh fruit inside that will make the cake soggy once defrosted.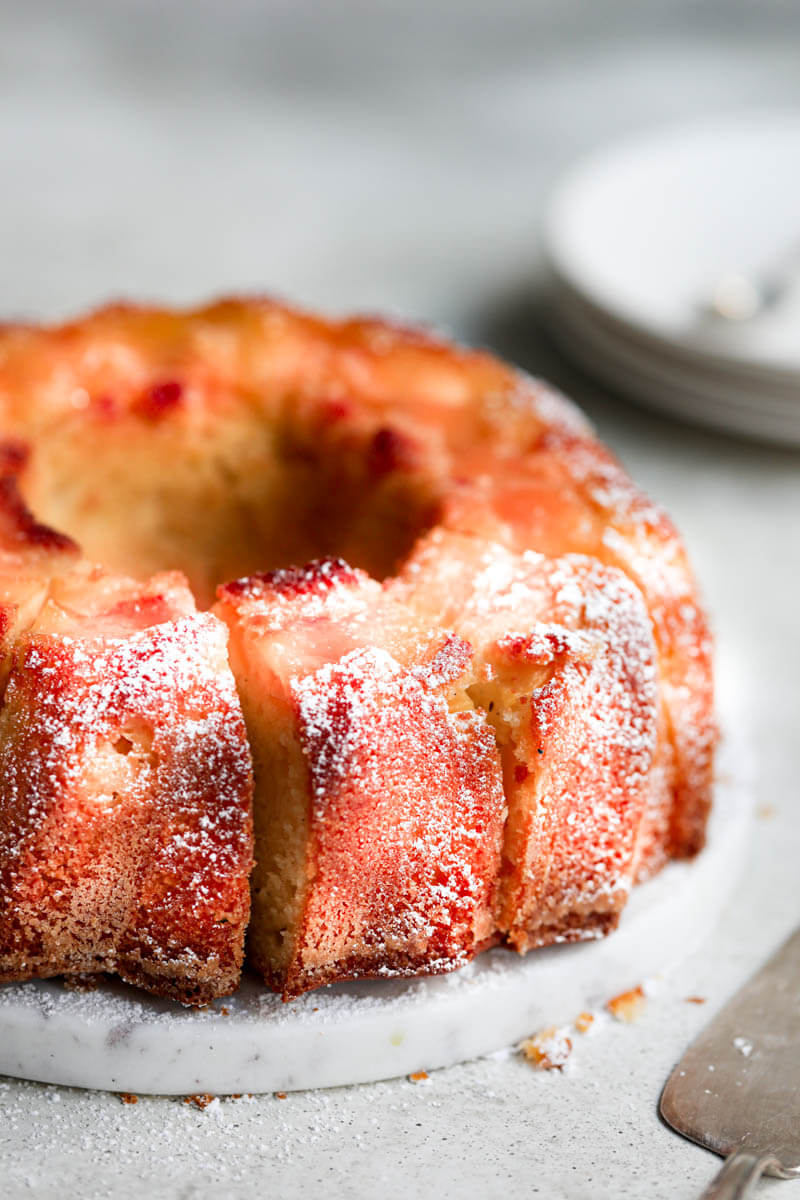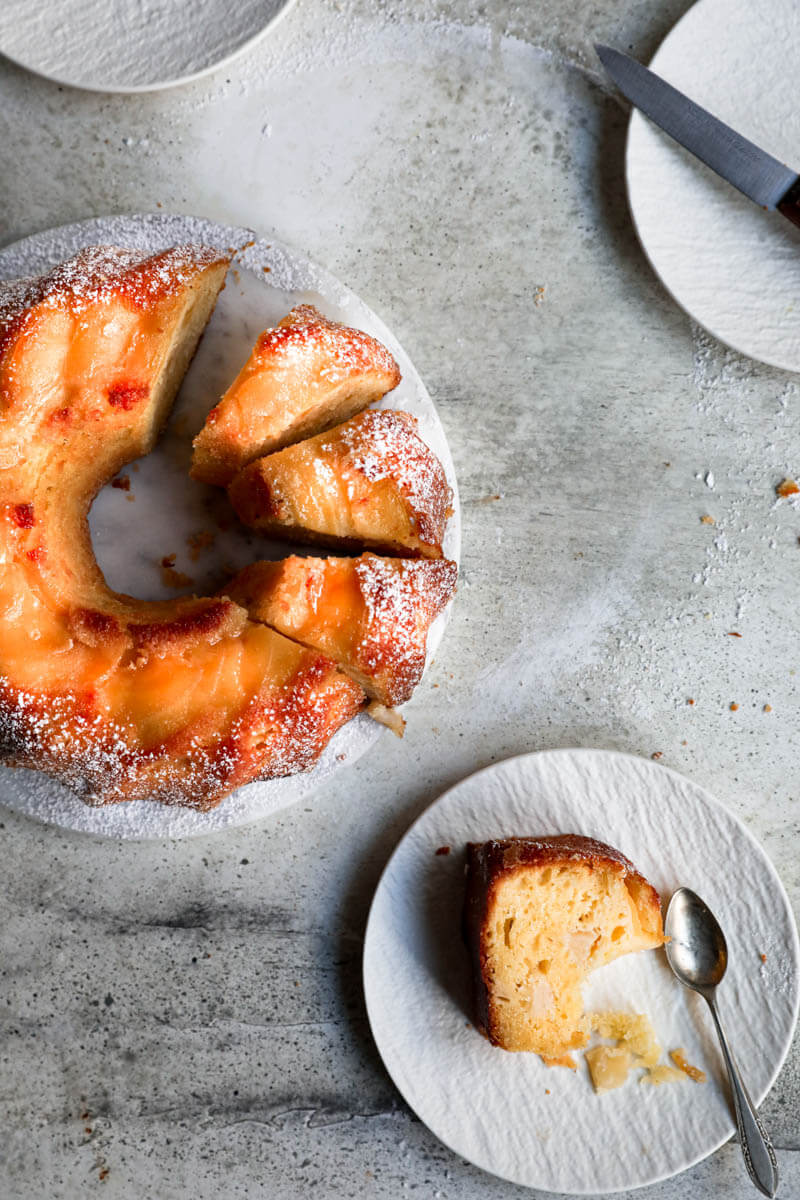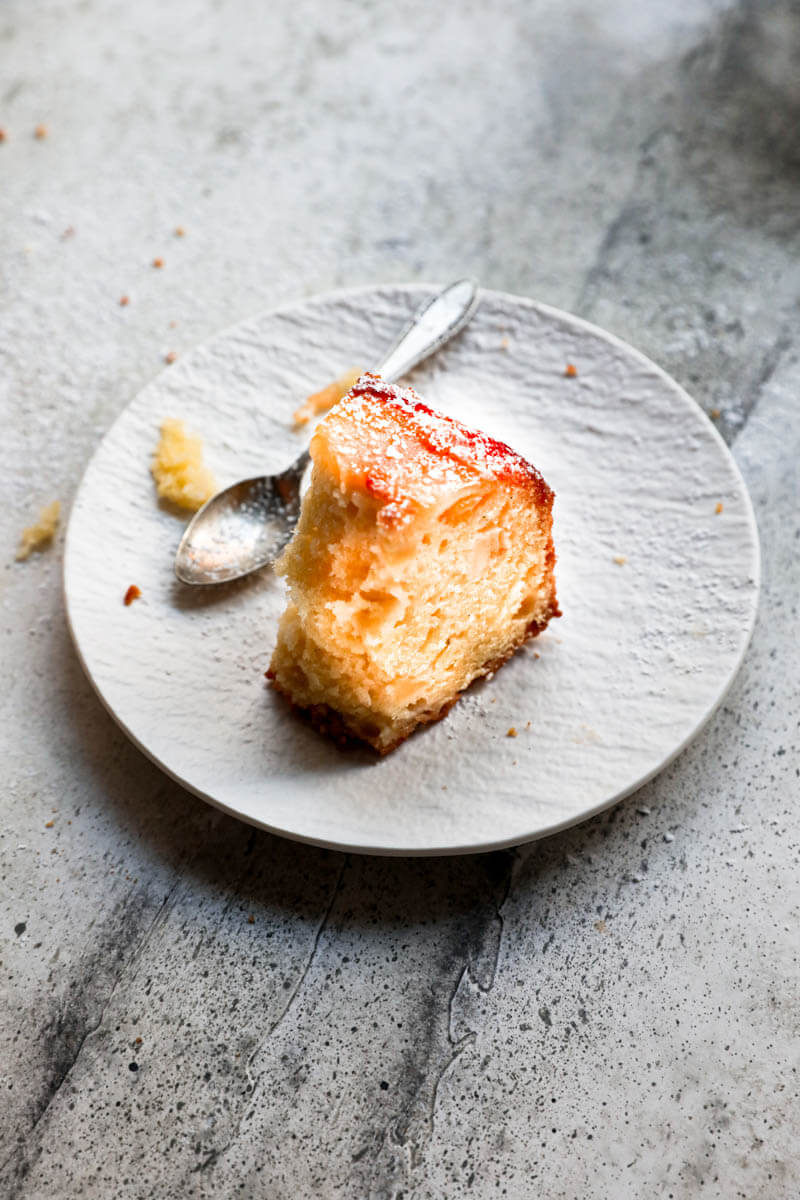 The ingredients used in all recipes on this site are measured using the metric system. I use a
scale
to be precise with my measurements and ensure good results. If you would also like to use a scale, here are some:
USA
,
Canada
,
UK
,
Australia
,
France
.
Subscribe to the newsletter
Total Time:
1 hour 5 minutes
---
Plain Yogurt

125 g

All-purpose Flour

225 g

Sugar

150 g

Olive Oil

75 g

Eggs

3

Baking Powder

8 g

Vanilla Beans (scraped)

1

Salt

1 pinch

Apples (Golden or Elstar)

4

Melted Butter (for caramelization)

50 g

Sugar (for caramelization)

50 g
If you made this recipe I would really appreciate it if you leave a rating or comment below! Also, if you share on social media please use #cookwithbelula, I would love to see what you create!