Yule Log
A rolled cake filled with a rich chocolate & dulce de leche ganache.
One week until Christmas!! I'm so excited to be going home to Argentina for the holidays! We get to enjoy summer and be with family! Great combination. Also, I'm planning what my collaboration for Christmas Eve dinner will be! We always get together with by big family, cousins and aunts and uncles and brothers and sisters and their kids. A big bunch. And everybody takes something so that the host doesn't have to do all the work! I'm thinking this year I'll make Panettone, a Yule Log cake, a Pavlova (we have summertime Christmas in the Southern hemisphere 😊) and caramelized almonds. And maybe some rolls for dinner, because we do eat before dessert!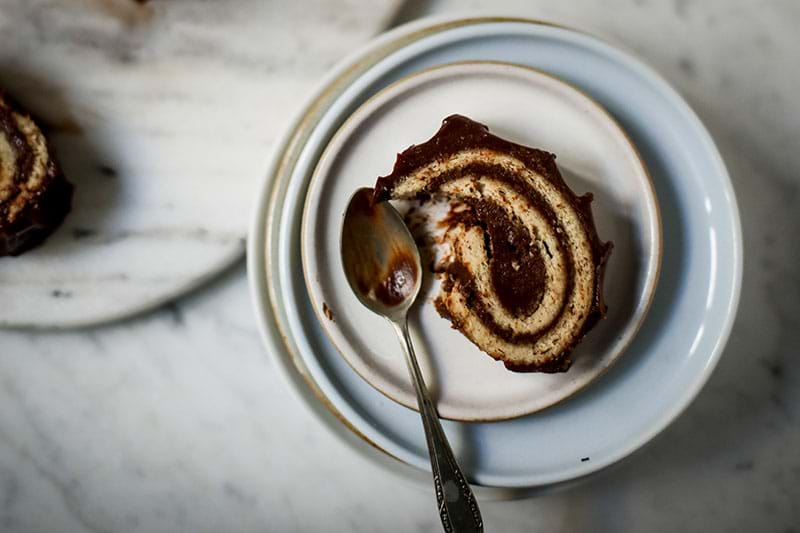 For now, let's focus back on our recipe. Yay! It's time to plan for dessert if you haven't already. Here's a traditional French Christmas dessert "Bûche de Noël", simple and easy to make. And the best part is that you can prepare everything in advance and only do the assembly of the cake on Christmas Day or Christmas Eve depending on when you celebrate this holiday!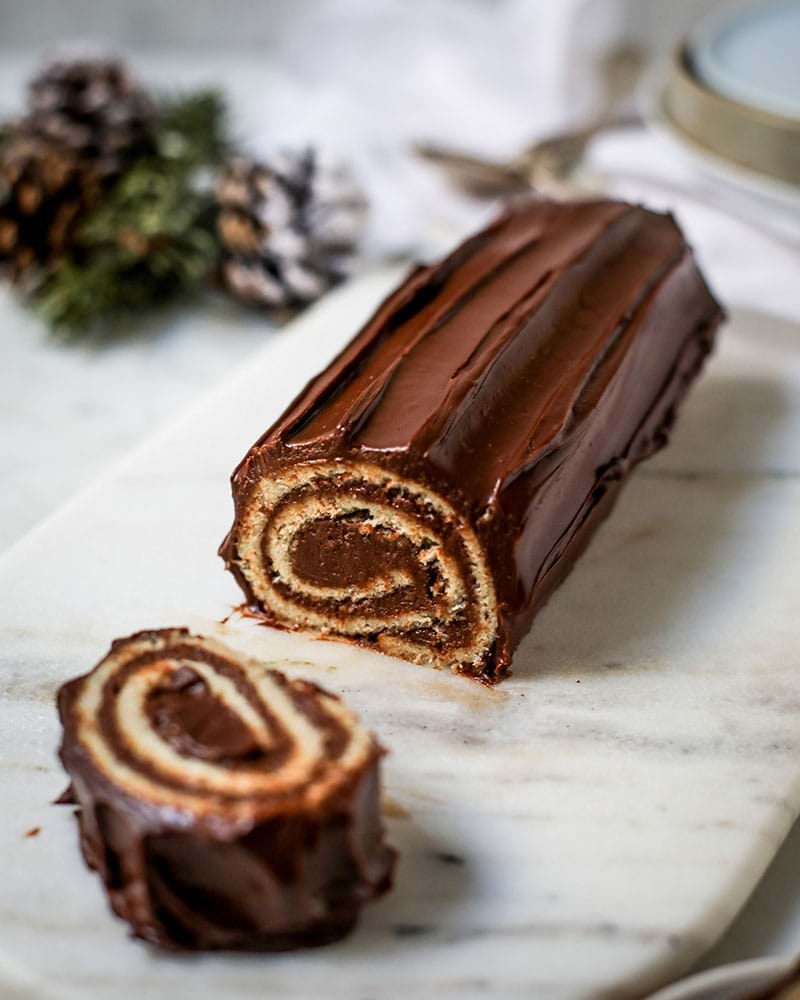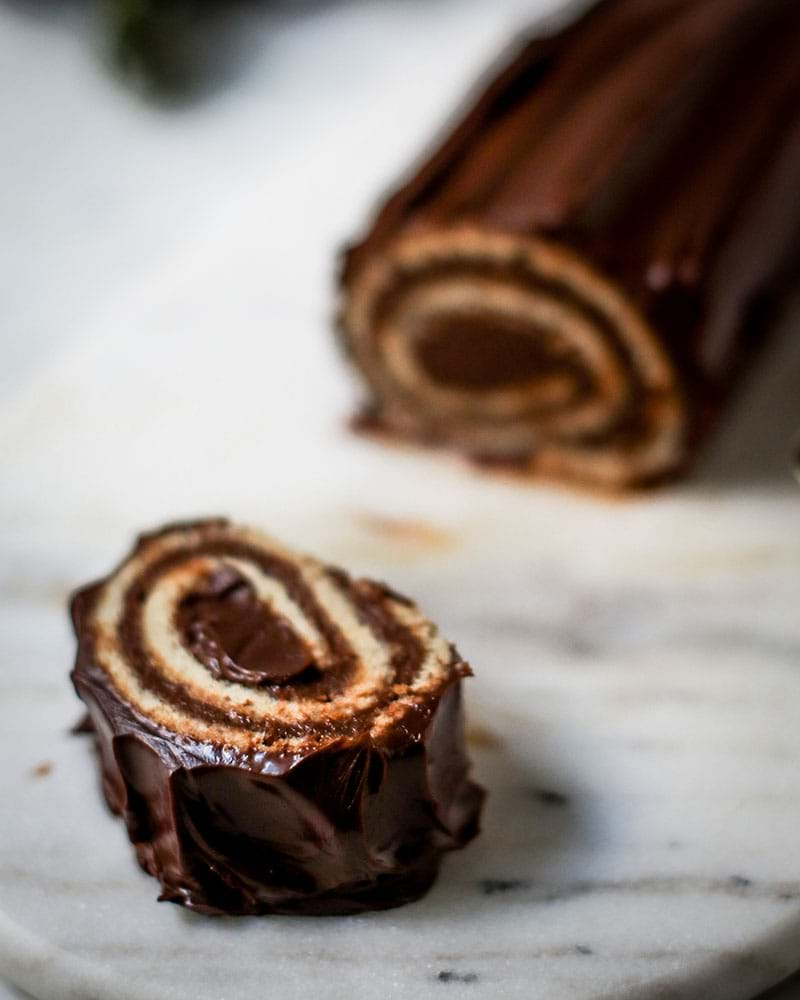 There are a million variations to this cake. The modern version has layers and many different components, but it's a lot more complicated 😊 We can try one next year if you are up for it. For this year I went for a simpler version, where no special molds are needed and you can put together rather quickly in any kind of climate!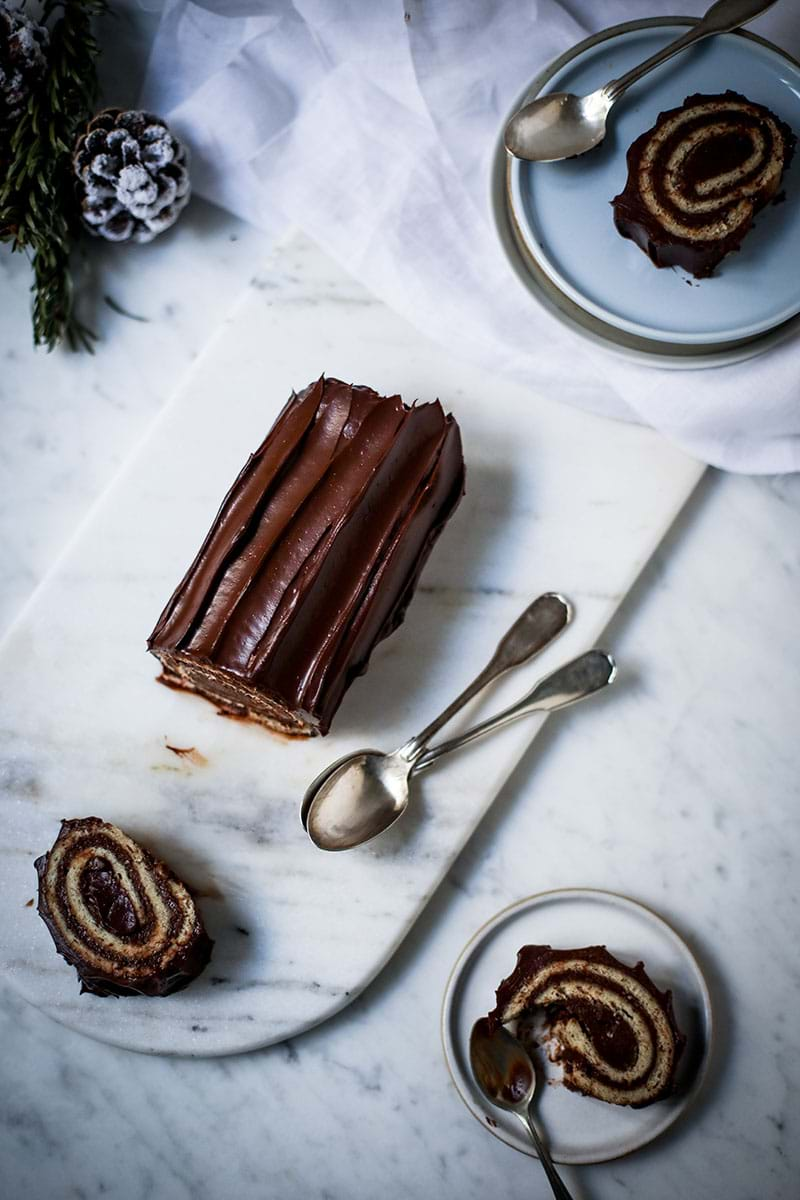 If you made this recipe I would really appreciate it if you leave a rating or comment below! Also, if you share on social media please use #cookwithbelula, I would love to see what you create!
Cake
Almond Flour

70 g

Powdered Sugar

70 g

Flour

20 g

Eggs (aprox. 2 eggs)

100 g

Butter

15 g

Egg Whites

70 g

Sugar

15 g
Ganache
Butter

30 g

Heavy Cream

200 g

Dark Chocolate

200 g

Dulce de Leche

220 g
Cake

1. Pre-heat the oven to 220 degrees Celsius. Line a 30x40 baking tray with parchment paper. Use butter or baking spray to stick the paper to the pan, this will make it easier to spread the cake later.
2. Melt the butter and set aside.
3. Whisk the almond flour, powdered sugar and the eggs until they gave doubled in volume (10 minutes in the stand mixer). Set aside.
4. Beat the egg whites with a little of the sugar. Once they are almost done, increase the speed of the stand mixer to maximum and add the rest of the sugar.
5. Add the butter to the almond/egg/sugar mixture. Now add the egg whites very delicately to the batter. This is very important it's what's going to make your cake light and airy.
6. Transfer to the lined baking tray and spread to cover it completely as evenly as you can. You can use on off set spatula if you have one or the back of a big spoon if you don't 😊.
7. Bake for 7 minutes. Let it cool at room temperature. If you won't use it right away, cover in film wrap and keep in the refrigerator for up to 2/3 days. If you do this let it come to room temperature before assembling the cake.

Ganache

1. In a bowl place the dark chocolate previously chopped and the dulce de leche.
2. Heat the cream (it doesn't have to boil!) and pour it over the chocolate/dulce de leche mixture. Let it rest for about 3 minutes. Using a small whisk start stirring very slowly at the center of the bowl. Once you notice that the color begins to change, meaning that the chocolate and cream are coming together nicely, you can speed up your movement!
3. The most important thing when making a ganache is: keep your whisk really perpendicular to the chocolate/cream mixture and mix really slowly. This will result in a really smooth, free of bubbles, shiny ganache!
4. Add the butter and mix until combined.
5. Cover and let it cool down and set at room temperature.

Assembly

1. Now it's time to assemble your Christmas "Bûche"!
2. Trim the edges of the cake so that it's proper. Transfer to a clean piece of parchment paper, the shortest side should be looking at you.
3. Add 5 generous tablespoons of ganache on to the cake and spread evenly covering almost all the cake. Leave 3 cm free of ganache on the opposite side of the cake that's facing you. (Set aside the left-over ganache for later)
4. Now using the parchment paper roll the cake delicately turning it slowly and tightly as you go. Keep covered with the parchment paper and add film wrap to be safe. Refrigerate for one hour minimum, or until you are ready to assemble.
5. Once you are, take out the log from the fridge and place on a cutting board. Cover with the rest to the ganache and transfer to a serving plate using a long bread knife or a off set spatula if you have one.
6. I didn't add anything extra to decorate, but you can. Caramelized almonds sound good for this combination for example, or little meringues. Some ideas.