Lemon Meringue Cupcakes
Moist, light and lemony cupcakes topped with meringue.
Sometimes mistakes turn into great things. This is one of those times. I was attempting something completely different, I was trying to make fluffier, lighter financiers, but they turned out too light when I first tested them. I needed a solution to my problem. And then I remembered cupcakes. As it happens, I had plenty of paper molds at home, and I thought to myself the planets are aligning. Suddenly my financier frustration became cupcake hope.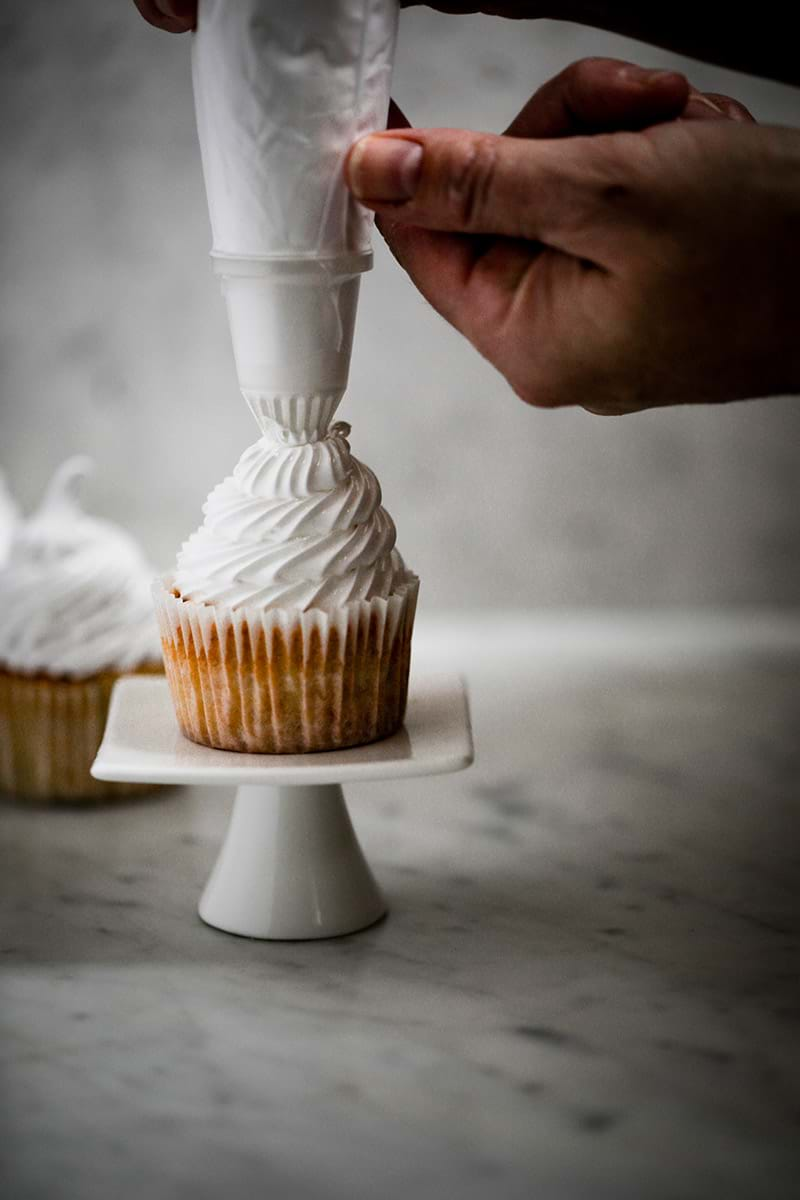 This is the lightest, moistest, most delicious lemon cupcake you will ever try. It's incredible. And it's all thanks to the egg whites: beat egg whites to be more precise. It's a game changer. And the brown butter. Always the butter. You know I live in France, right? We can't go without butter long. 😊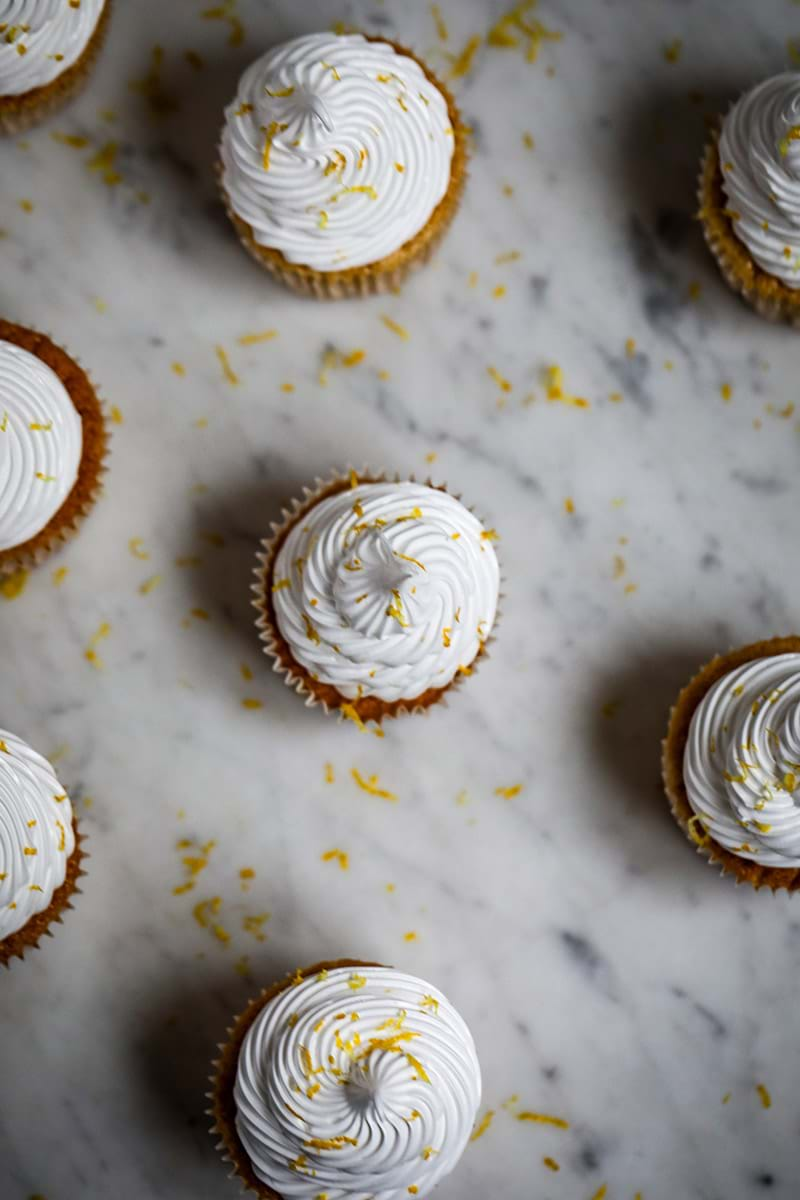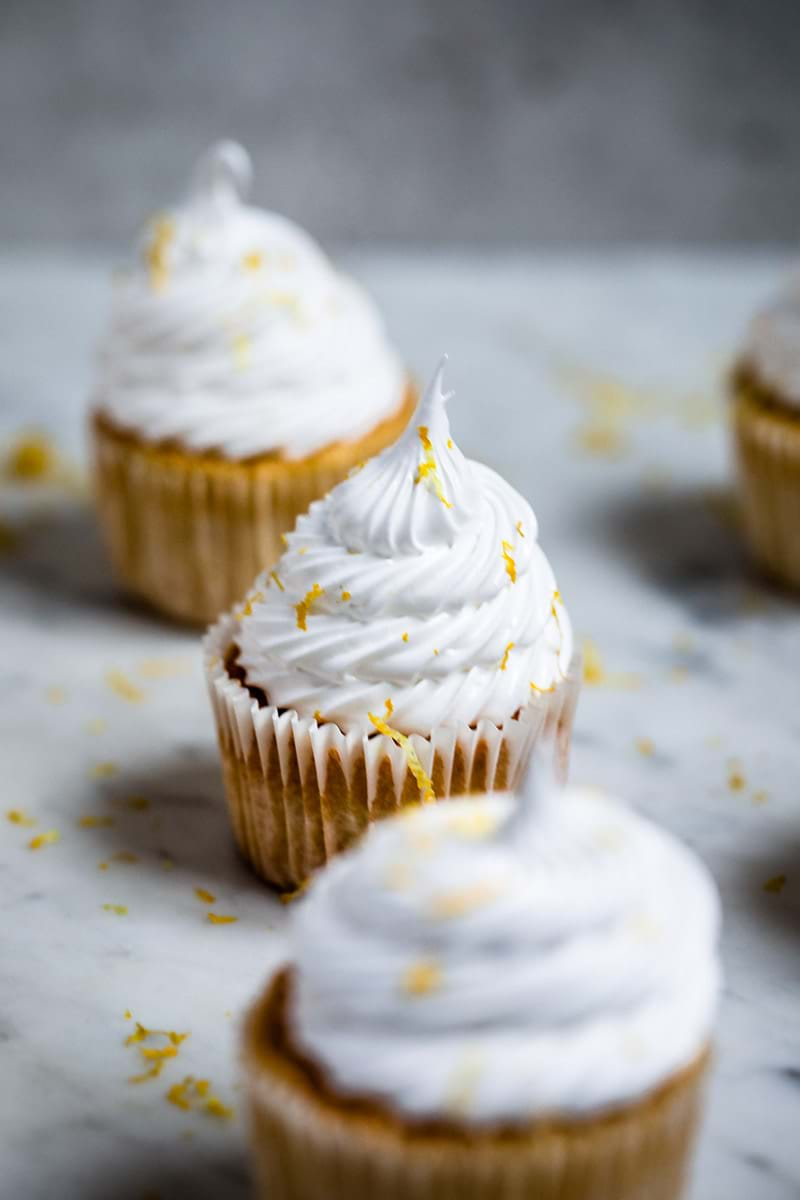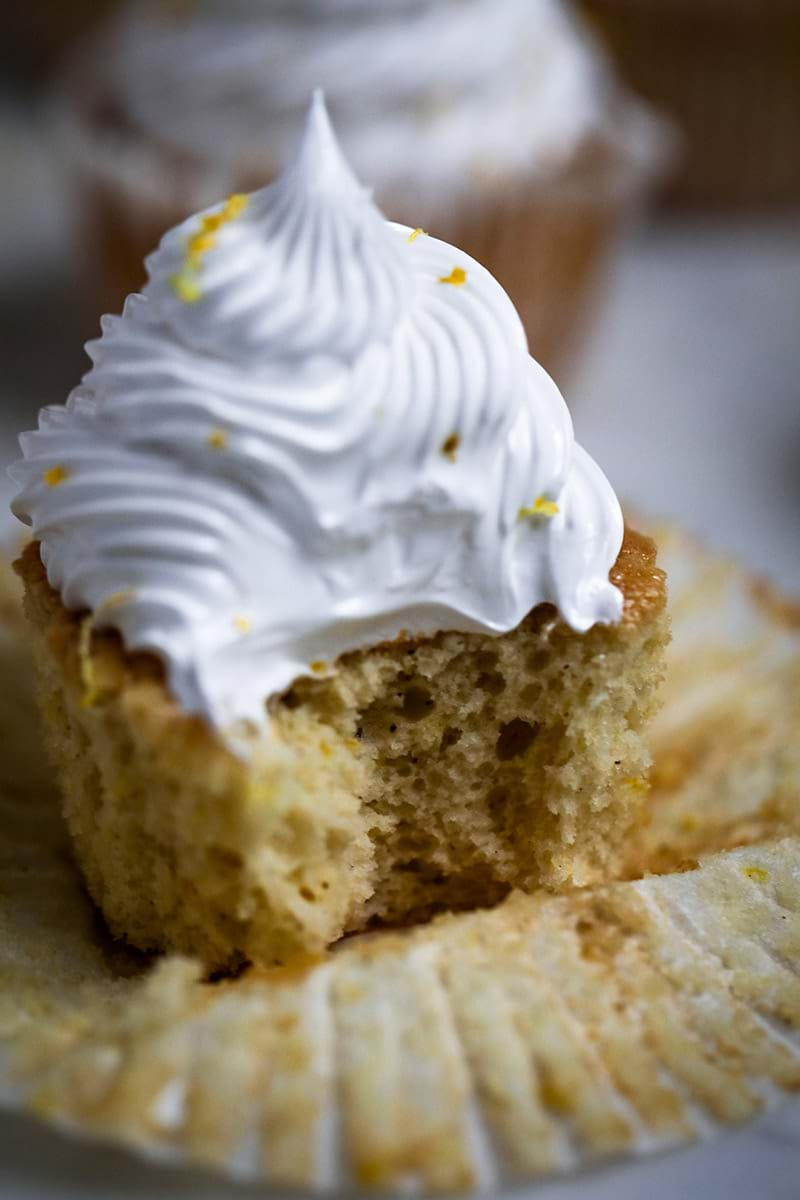 I took these (some, because some had to stay at home!) to a dinner party I was invited to, and they were a success. Two of my friends had had their birthdays recently so we even sang happy birthday and blew out candles. They could be a cute mini birthday cake. 😊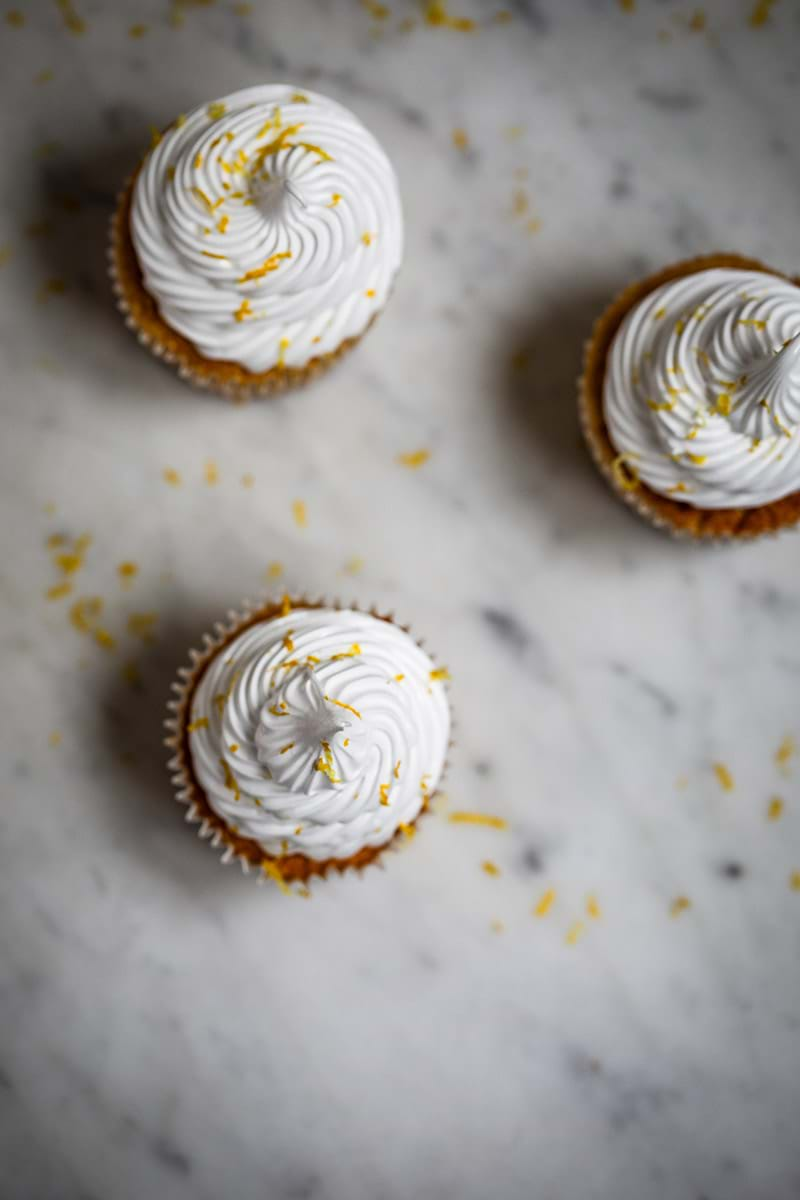 If you made this recipe I would really appreciate it if you leave a rating or comment below! Also, if you share on social media please use #cookwithbelula, I would love to see what you create!
Cupcakes
Powdered Sugar

140 g

Almond Flour

20 g

All-purpose Flour

75 g

Baking Powder

2 g

Butter

100 g

Honey

25 g

Lemon Zest

2

Salt

5 g

Egg Whites

215 g

Sugar

40 g
Swiss Meringue Frosting
Powdered Sugar

300 g

Egg Whites

150 g
Cupcakes

1. Pre-heat the oven to 170 degrees Celsius (340 F). Line a muffin tray with muffin papers.
2. Brown the butter over low heat (this is called "beurre noisette", because of the hazelnut color the brown butter) and pour over the honey. Keep aside.
3. Mix the powdered sugar, the almond flour, the flour, the baking powder and the salt.
4. Whisk the egg whites until there are no visible bubbles, and then add the 40 g of sugar. Continue to whisk until the whites hold stiff peaks.
5. Add half of the dry ingredients and fold in gently, then add the rest and repeat. Add the brown butter/honey mixture plus the grated lemon zest and again fold in gently. We don't want to lose the airiness of the meringue.
6. Transfer the batter to a piping bag and fill in the muffin molds until about 2 cm from the edge. You can do this using a ladle if you don't have a piping bag. It works perfectly. Just be careful not to spill batter onto the tray because it will burn in the oven!
7. Bake for about 25 minutes, until golden. To test insert a cake skewer or a knife in the middle of the cupcake, if it comes out dry, they are ready to come out of the oven. Let them cool down on a cooling rack.

Swiss Meringue Frosting

1. In the bowl of a stand mixer mix the egg whites and the powdered sugar. Heat over a double broiler (indirect heat) while whisking from time to time. The mixture should be about 60 degrees: sugar has dissolved completely, there are almost no bubbles and the surface it's kind of white. <b>You don't want to cook the egg whites.</b>
2. At this point transfer the bowl to your stand mixer and whisk at high speed until the meringue holds stiff peaks. It should be shiny 😊.

Finishing Touches

1. Now transfer the meringue to a piping bag with a tip and pipe out a tall swirl onto your cupcakes. You can either burn the meringue if you have a blow torch or you can grate some lemon zest on top for decorating purposes. Or go white 😊 Up to you.