Crème Caramel
A traditional dessert that's so easy to make you won't believe it. Soft, delicious and covered in caramel.
I spent the holiday season in Buenos Aires, where I come from. And I think all we did was eat. Because over there everything is organized around food. You get together with friends and family either to have breakfast, lunch, tea (we do this a lot, it's kind of big deal), aperitif or dinner. Take your pick.
We take food seriously down there. In my family it's a very serious matter. Usually we make enough food to feed an army, because nothing worse than not having enough to feed your guests!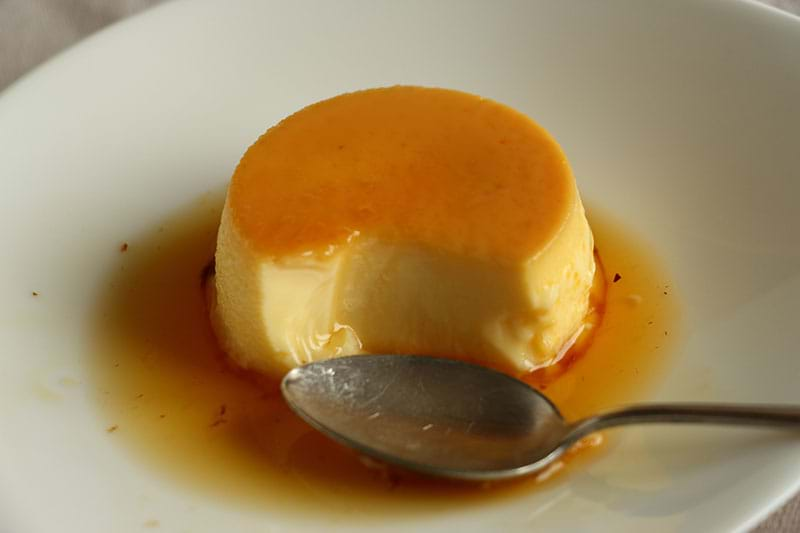 My grandamother invited us over lunch and I knew I should maybe skip breakfast. There was Manena (my grandma), me and my boyfriend. Only three. And you can't imagine all the food there was!! And the best part was the Crème Caramel we had for dessert, or as we call it in Argentina "El Flan" that was accompanied by a small scoop of dulce de leche! The one you can see in the picture below is the one we had that day!
Before I left her house I made sure to take the recipe with me. For some reason I never asked for it before. It's never too late though. When I went to write it down I copied it from an old notebook where she keeps all her recipes handwritten. Just too cute. I loved it.
It's been too long anyway we've had "flan" for dessert in this house. And we can't have that!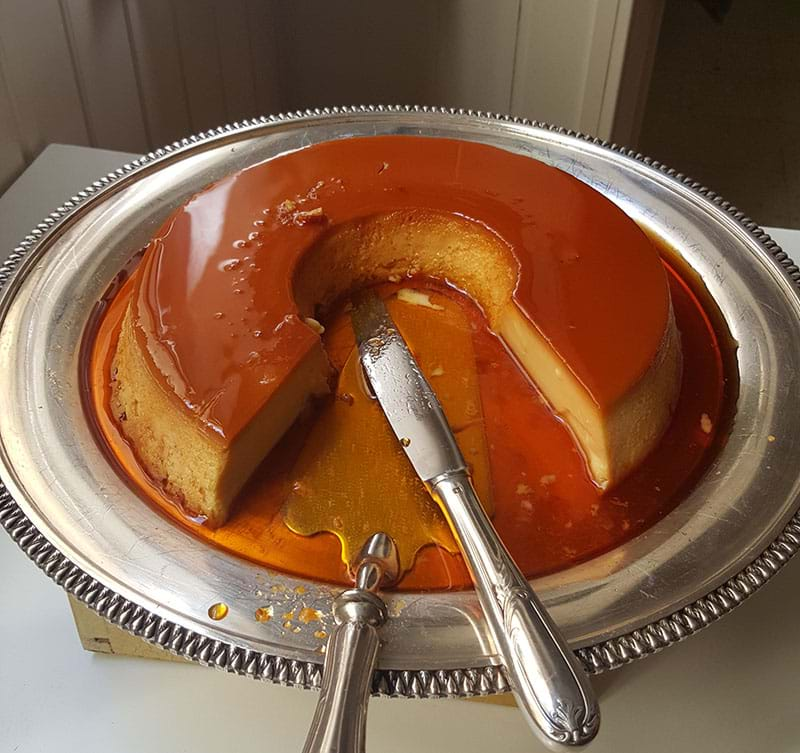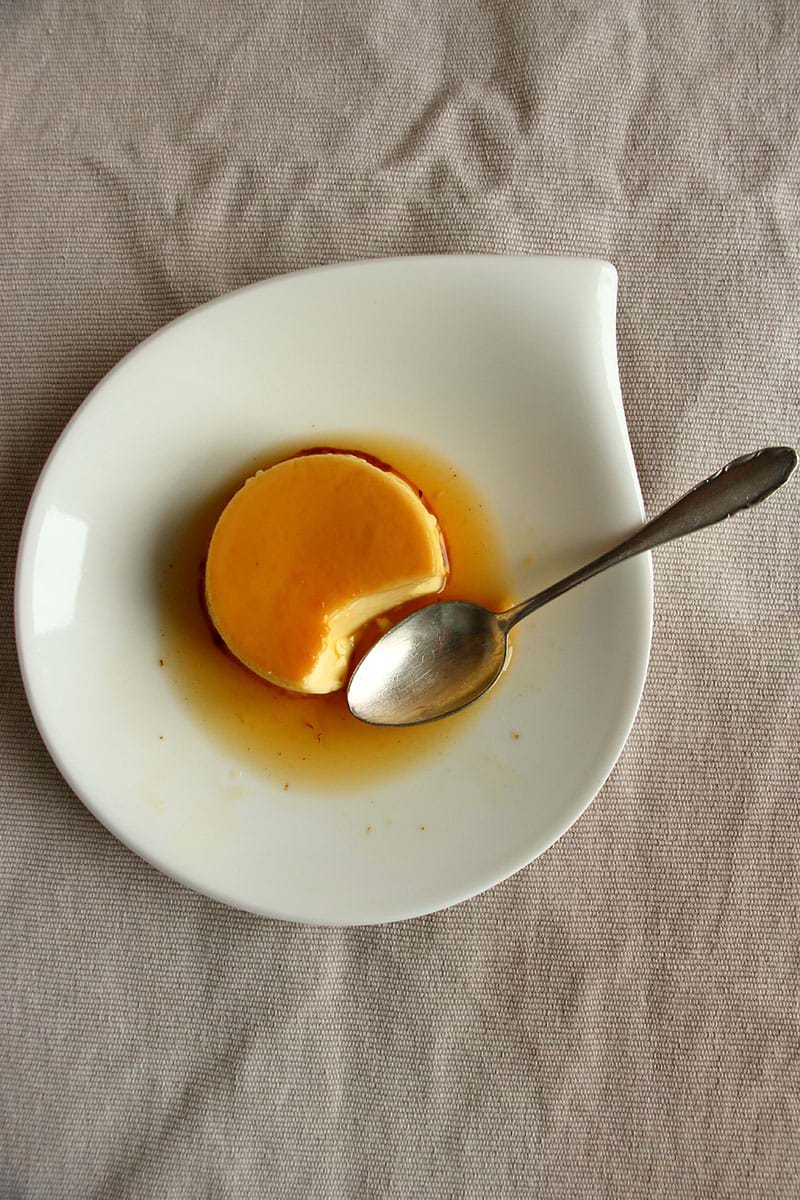 The ingredients used in all recipes on this site are measured using the metric system. I use a
scale
to be precise with my measurements and ensure good results. If you would also like to use a scale, here are some:
USA
,
Canada
,
UK
,
Australia
,
France
.
Subscribe to the newsletter
Total Time:
2 hours 30 minutes
---
Crème Caramel
Egg Yolks

10

Eggs

6

Sugar

10 tbsp

Whole Milk

1 l

Vanilla Beans (or vanilla extract)

1
Caramel
Caramel

1. You can use the traditional crème caramel mold - a round one with a whole in the middle. Kind of like a bundt cake mould but shorter. At least that's the typical one we use to make this dessert in Argentina. That is if you have one. I didn't so I used 3 small brioche moulds plus a small cake mould. You can use the mold and format you like. If you have individual crème caramel moulds that works wonders!
2. Pre-heat the oven to 150 degrees Celcius.
3. Put the sugar in a pot and cover it with the water. Cook over high heat until it changes color to light brown. Don't overcook the caramel or it will taste bitter.
4. Line the mould (or moulds) with the caramel so that it is completely and evenly covered. This is done by holding the mold in your hands and moving it from side to side so that the caramel (still at it's liquid state) is evenly distributed.
5. This part of the process is important because it will allow you to properly remove the crème caramel from the mould once it has cooked. If some part of it is not covered in caramel your "flan" will very likely stick to it and will break when you'll attempt the removal.
6. Set aside and let the caramel cool off.
7. Tip: Be very careful when lining the mould with caramel because it's very hot! Use something to protect your hands. I used a kitchen towel.

Crème Caramel

1. In a pot mix the milk, half the sugar and the vanilla bean (scraped) and bring it to a boil. Turn of the heat and leave to infuse covered in plastic wrap for 15 minutes. I didn't have vanilla bean, so I replaced it by a dash of vanilla extract that I added to the eggs!
2. In a bowl whisk together the eggs, the yolks and the other half of the sugar.
3. Remove the vanilla pods from the milk and pour over the eggs stirring all the time.
4. Cover the mixture and let it rest for 15 minutes.
5. In the meantime, place the mould in a baking tray and pour hot water up to 2/3 of the mould or ramekins. We are cooking the Crème Caramel in a "Bain Marie".
6. Pour the crème caramel into the mould or ramekins and cover with aluminum foil. After 15 minutes of remove the foil and continue baking. This will prevent that a crusts forms on the surface. If your oven (like mine) cooks strong from above you might want to keep the foil during the complete baking time. It will take longer!
7. Bake for 45 minutes or until set. It took me 35 minutes to bake the individual ramekins.
8. Tip: The cooking time will depend on the size of the mold you are using. Just check by moving the mold gently to see if the crème has set. If you make the whole recipe in one big mold it will probably take you twice the time: 1 hour and 30 minutes.
9. Remove from the oven and let it cool down at room temperature. Then refrigerate until cold.
10. To unmould invert onto a plate. If it doesn't do the trick, run a knife along the edges of your mold and then invert the crème caramel onto a plate.
11. Tip: If you happen to have some, serve with a small scoop of dulce de leche :)
If you made this recipe I would really appreciate it if you leave a rating or comment below! Also, if you share on social media please use #cookwithbelula, I would love to see what you create!