Butternut Squash Cannelloni
Homemade filled pasta with butternut squash topped with a Parmesan cream and baked in the oven.
I'm exited. Hosting dinners more regularly each week means I get to create new recipes more often. And I love this. I love cooking for others. I love seeing the look on their faces while they are having their first bites. It says a lot, if not everything. I love how nervous it makes me feel, a good kind of nervous. The anticipation. Ahhh...
And when they smile, oh the smile... That is what I look for. Every time. Every dinner. Every new dish I serve.
Because fall is here to stay, I came up with some new recipes that are appropriate for the season, and off course butternut squash had to be involved. I read recently (I cannot remember where for the life of me) that pumpkin/squash is to fall as gin is to tonic. I thought it was right on the spot!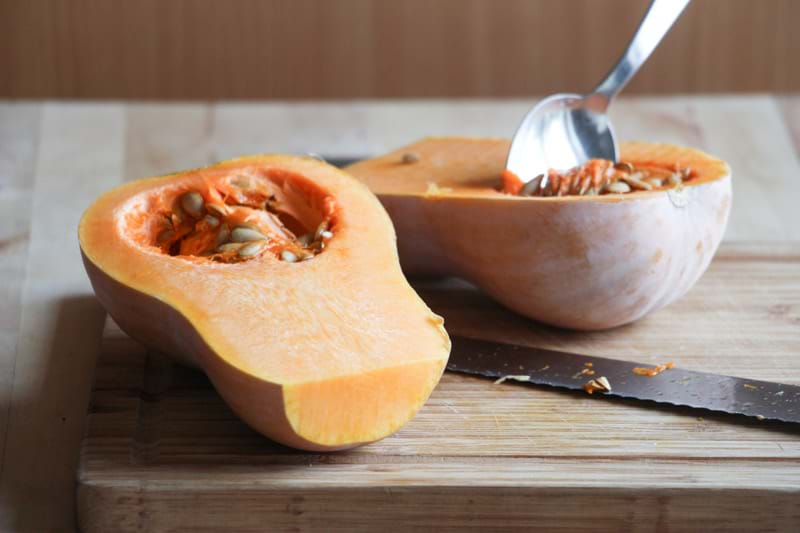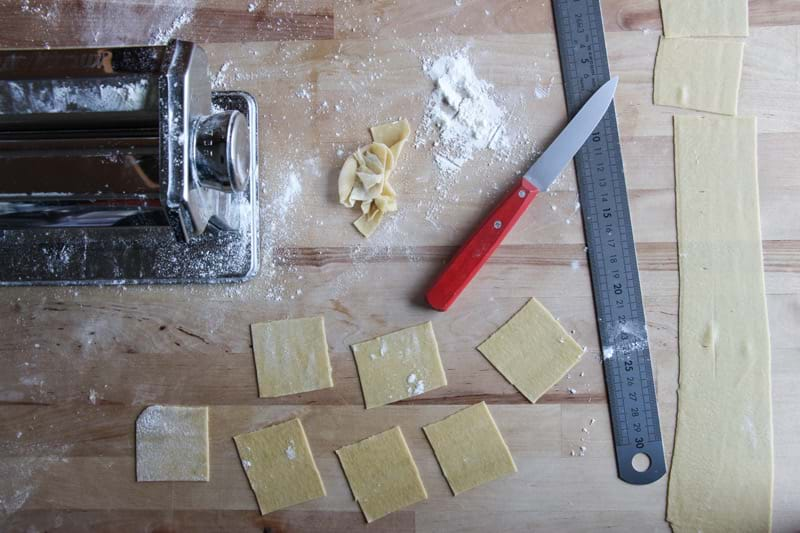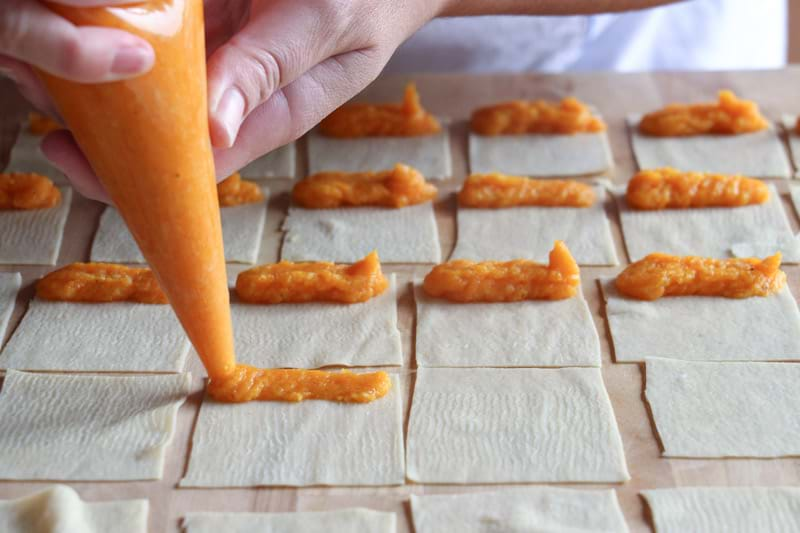 Two years ago I went to a restaurant here in Paris and one the things we had were butternut squash tortellini. I absolutely fell in love with the flavour. If I may say, pasta and squash also go together as gin and tonic. So I decided to make some kind of pasta using this delicious, orange, beautiful vegetable.
I'd done tortellini and I'd done ravioli... I wanted to change. So I decided to make cannelloni. Also, when coming up with a menu I have limitations: namely only 2 stoves and a small electrical oven. I have to serve a whole meal using only this, so I have to be organized and choose right. Otherwise nobody will eat his or her meal hot at the same time. :)
Because cannelloni I can prepare before hand and only bake in the oven before serving it looked like a pretty good idea. Plus did I tell you I absolutely love pasta and butternut squash together? I think I have.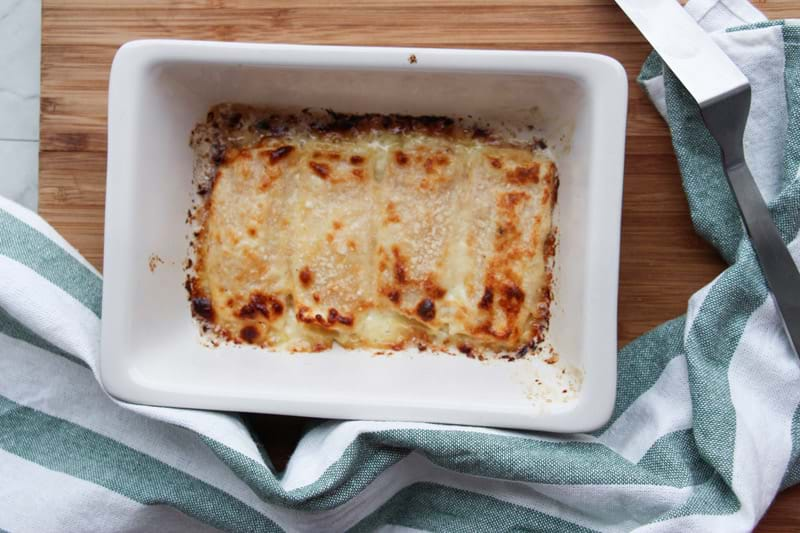 If you made this recipe I would really appreciate it if you leave a rating or comment below! Also, if you share on social media please use #cookwithbelula, I would love to see what you create!
Total Time:
1 hour 25 minutes
---
Pasta Dough
All purpose Flour

105 g

Durum Wheat Flour

105 g

Eggs

2
Butternut Squash Filling
Egg Yolks

1

Parmesan (grated)

100 g

Butternut Squash Purée

500 g

Salt

Pepper

Nutmeg

Breadcrumbs

20 g
Parmesan Cream
Pepper

Salt

Parmesan (grated)

100 g

Cream

300 g
Finishing Touches
Pasta Dough

1. On your kitchen counter make a fountain with both flours and make a whole in the middle. Add the eggs and mix until the flour has absorbed the eggs.
2. Knead until you obtain homogenous and smooth dough. Wrap in plastic and chill in the fridge for two hours.

Filling

1. Using a serrated knife slice the butternut in half. Season with salt, but only a little, we will adjust the seasoning later on. Wrap in aluminum foil and roast in the oven for about an hour or until softened. Using a spoon empty the butternut puree onto a bowl.
2. Add the Parmesan, the breadcrumbs, the egg yolk, salt pepper and nutmeg. Mix until you obtain a homogenous mixture. Taste and adjust seasoning to taste.
3. Transfer onto a hermetic container and chill in the fridge.

Cooking the Pasta

1. Divide the pasta dough into 5 or 6 pieces. Roll it out the using a pasta machine (if you have one) or by hand using a rolling pin. If you belong to second group, roll up your sleeves and prepare to work out! It's worth it though. You should roll it out very thinly.
2. Once you have rolled out each piece of dough keep it in between parchment paper and covered with a humid kitchen towel.
3. At this point you can bring salted water to a boil and prepare a bowl with ice cold water.
4. Cut squares of 5 cm x 5 cm if like me you are making mini-cannelloni. If you decide to make regular ones, make them 10 cm x 10 cm. You can do this using a knife.
5. Once the water has come to a boil start cooking the pasta squares in groups of 5 (it depends on the size of you pot!) for literally 10 seconds. Transfer immediately onto the ice water. Repeat the operation until you have cooked every single square.
6. Dry your pasta using paper towel.

Cream & Parmesan Sauce

1. Whip the cream.
2. In a small pot mix together the Parmesan and the cream. Let it cook over low heat until it has reduced by about half and has thickened. I mean real low heat!
3. Season to taste. Cover with aluminum and reserve.
4. This may take a while. So go ahead and proceed to the next step while your sauce slowly reduces over the stove. Go take a look from time to time.

Assembly of the Mini-Cannelloni

1. Transfer the filling onto a piping bag. If you don't have one, you'll be using a spoon to fill the pasta.
2. Butter a baking tray with the softened butter using a brush. Be generous. This will prevent the cannelloni from sticking to the tray :).
3. Dispose the pasta squares evenly on your work surface. Pipe a tube of filling on the bottom of end of every square. Roll the cannelloni and transfer onto the tray.
4. Cover with de Parmesan cream, sprinkle with Parmesan and Bake until golden brown!
5. Tip: If you are not going to eat them right away, you can assemble de cannelloni, set them on the baking tray, cover in plastic wrap and refrigerate. Only cover with sauce before baking. You can assemble them the day before. Not more!